August 19th, 2012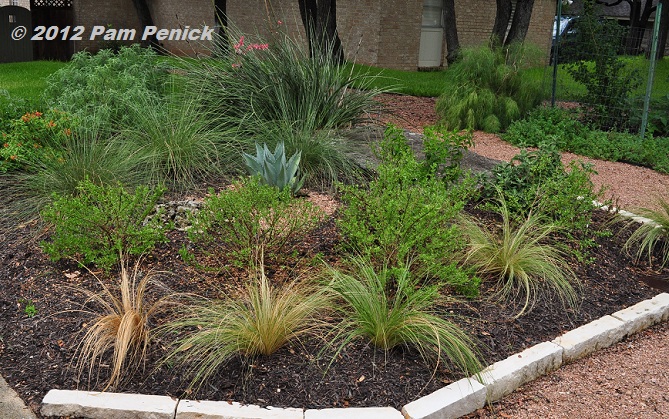 August is a waiting game for central Texas gardeners—waiting for fall rains to arrive, waiting for the muggy blanket of heat to lift and a cool breeze to blow in from the north, waiting for nurseries to fill up with their fall shipments of new plants, waiting for October, the beginning of our best planting season.
Yesterday we got a teaser of fall goodness, with rain showers and a cooling cloud cover. Between showers I went out to look at the sodden garden and pull a few weeds from the softened decomposed granite, and I snapped these pics to remind myself of how much everything has grown this summer, even though at this point in summer the plants don't look their best. Pictured above is my neighbor's streetside garden, which I designed and planted to blend with mine. We share a decomposed-granite path that runs between our garden beds.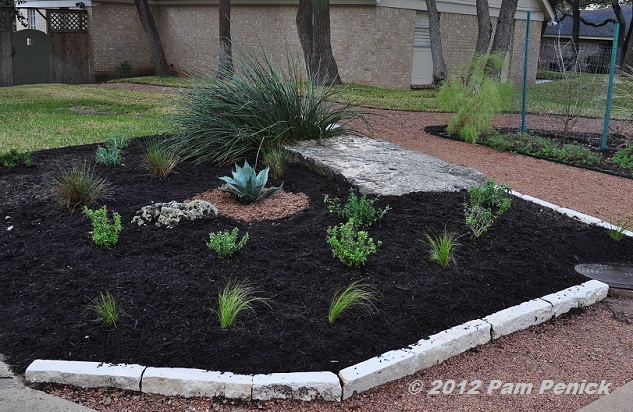 Here's how it looked right after I planted it in early February.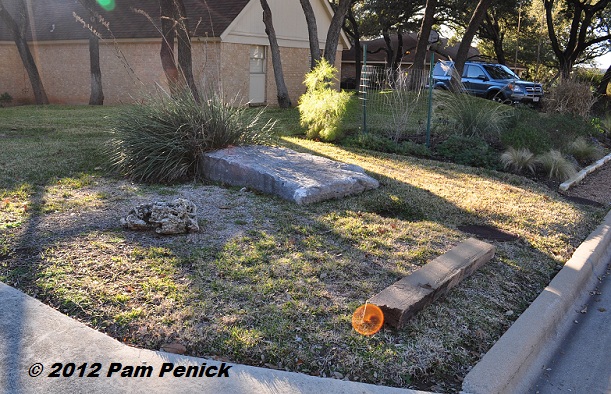 And even before that. Now it's a lawn-gone garden, and in another month or so the salvias and grasses will burst into fall bloom.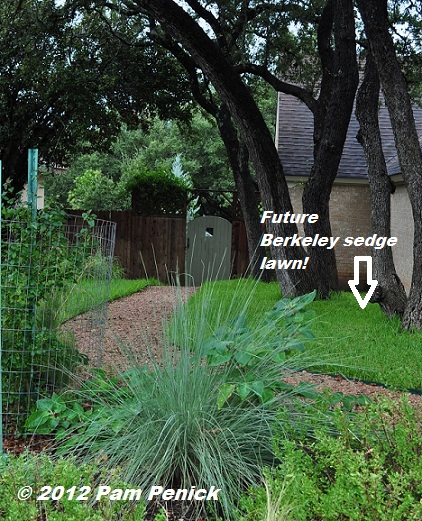 Panning to the right, to my own streetside garden, you see a 'Pink Flamingos' muhly grass that'll be blooming in another month or so. (According to Plant Delights, 'Pink Flamingos' is a hybrid, from Peckerwood Garden, of Muhlenbergia capillaris and Muhlenbergia lindheimeri.) Behind it is an expanse of shady St. Augustine lawn that I plan to convert into a simple Berkeley sedge lawn. But first I need to have a retaining wall built up by the house, and that'll have to wait for a while.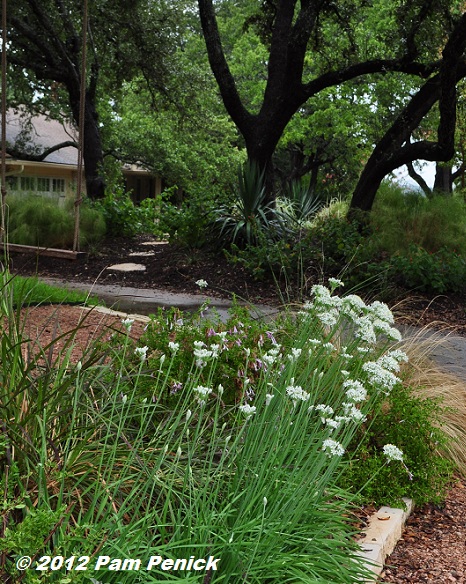 Garlic chives are blooming along the curb—yay, a sign that summer is on the wane!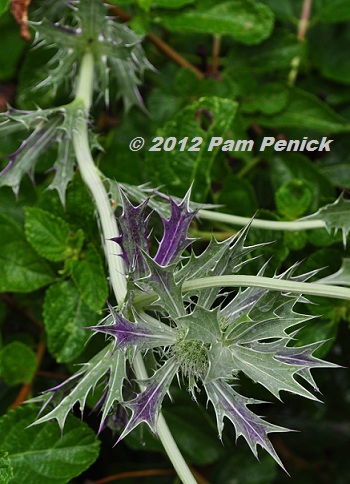 And this eryngium that I grew from seed shared with me by Michael at Plano Prairie Garden is starting to "purple up"—another sign of fall.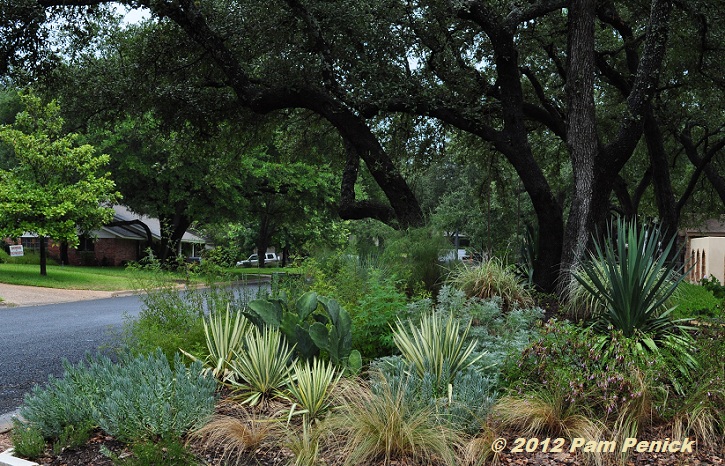 The island garden—a live oak-studded berm that was marooned by the circular drive when the house was built—is wearing the tawny shades of a long, hot summer, but plenty of silvers are there to cool things off visually. Year-round structure is provided by 'Color Guard' yuccas, a wavy-leafed spineless prickly pear (shared by Jean of Dig, Grow, Compost, Blog), and a big softleaf yucca. Without them, the garden would be a blurry mass of fine-leaved perennials and grasses.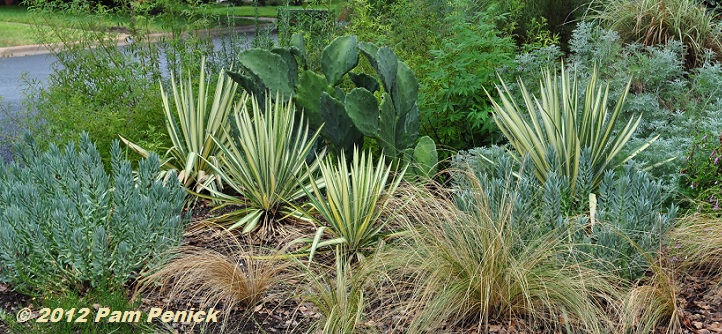 I simply adore the 'Color Guard' yuccas. But the plant I get asked about by every person who stops to look at the garden is the silver-blue gopher plant (Euphorbia rigida). Do the deer bother it, they ask? Only once—the irritating latex sap inside the stems taught them to leave it alone. The gardener needs to use caution as well—i.e., gloves and maybe eye protection—when trimming it.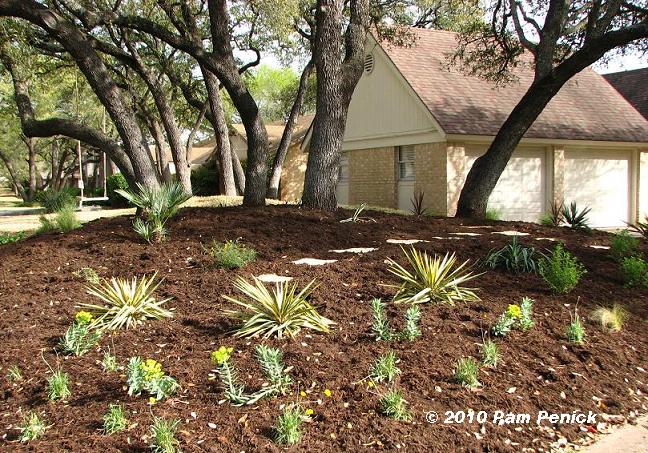 To appreciate how much this garden has grown in 2-1/2 years, here's how it looked in March 2010, right after planting.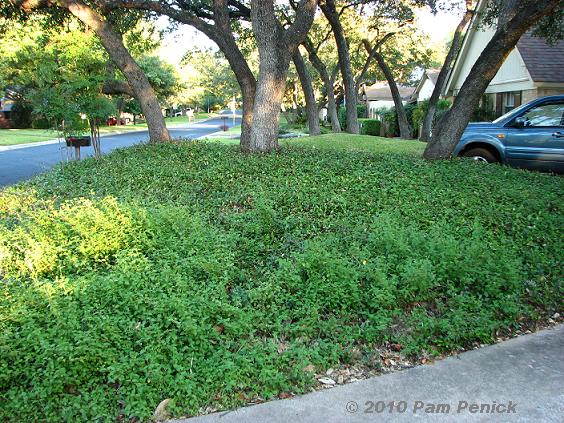 And before that—just tangled Asian jasmine, purple lantana, and a few scraggly nandinas. Easy-care, certainly, and nothing wrong with that, but it was not going to satisfy this plant-a-holic.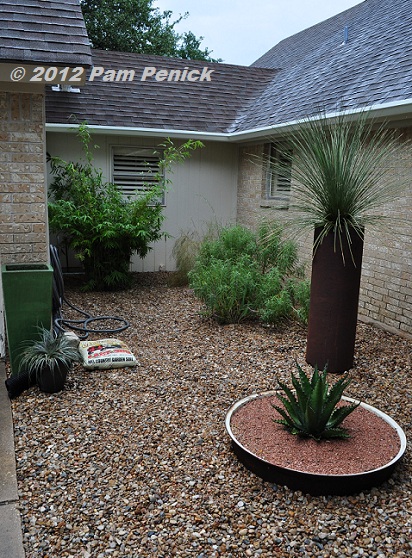 Let's see—other gardens in transition. Here's the brand-new gravel garden by the front door. An 'Alphonse Karr' clumping bamboo hides some pipes in the left corner. Mexican bush sage (Salvia leucantha) will add purple flower spikes on the right in another month. Agave gentryi 'Jaws' occupies the circular planter, toothless sotol (Dasylirion longissimum) the pipe planter. I found the tall, green pot on sale at Natural Gardener recently and plan to add a 'Red Star' cordyline. The little pot in front contains a pretty but vicious dyckia.

But what the heck is going on in the deck bed? (This is the view straight down from the deck.) I have struggled with this space for four years. At first it was a dumping ground for many of the sun-loving plants I brought with me from my previous garden. And then I realized that it didn't have enough sun for many of them—doh!—but it did seem to get blistering part-sun, so shade-appreciative plants suffered. I'm happy with the recent semicircle of 'Color Guard' yucca that echoes the lines of the curving path around the stock-tank pond. But the mishmash of flowering perennials and a few holding-bed agaves behind the yuccas is just a mess. I think I'm going to move all those this fall and plant a curving line of yellow-green bamboo muhly to echo the yuccas.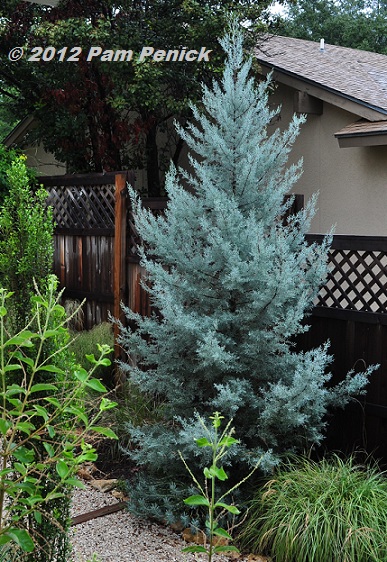 Nearby, the 'Blue Ice' Arizona cypress is simply stunning. I can't believe how much it's grown since I planted it three years ago.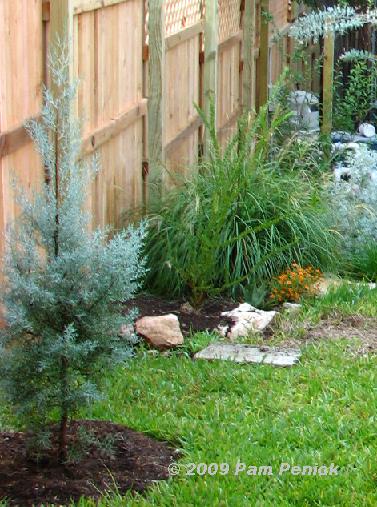 Here's how it looked then. Whenever you think nothing's happening out there, it pays to look at old photos.
So are you making fall garden plans too?
All material © 2006-2012 by Pam Penick for Digging. Unauthorized reproduction prohibited.
posted in
2nd garden--2012
,
Agaves
,
Bamboo
,
Containers
,
Design
,
Grasses
,
Lawn Gone!
,
Palms/Cycads
,
Paths
,
Pruning
,
Trees
,
Xeric plants