August 15th, 2012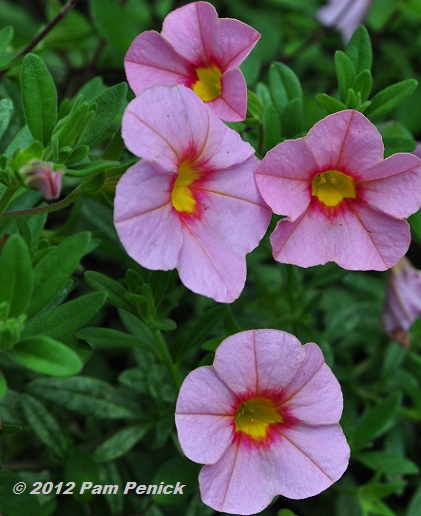 Last week I took a quick trip to central North Carolina to visit my dad, who lives in the charming Fearrington Village planned community. (Pics of the Fearrington House Inn garden coming soon.) Many of his neighbors—and this is a neighborhood of retirees—have opted out of extensive and time-consuming front lawns and instead left their pine tree-shaded lots largely natural and mulched with fallen pine straw, planting some evergreen shrubs and a few flowering perennials by the front door.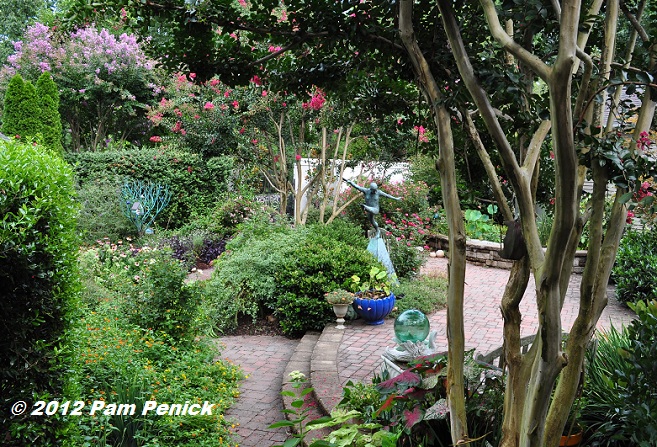 That's an easy-care, lawn-free approach for sure, but Dad and his wife wanted a courtyard garden in which to entertain, with seating and lots of flowers. So they hired a designer and had a wall constructed around half of their front yard, creating enclosure, privacy, and protection from deer, and filled it with a lovely mix of evergreens, flowering trees for shade, flowering shrubs like hydrangeas and roses, and seasonally blooming perennials. This is the view from the front porch; you can glimpse the white stuccoed wall in the background. The steps lead to a small guest house on the left that forms part of the courtyard enclosure. An attached garage forms the right-side wall.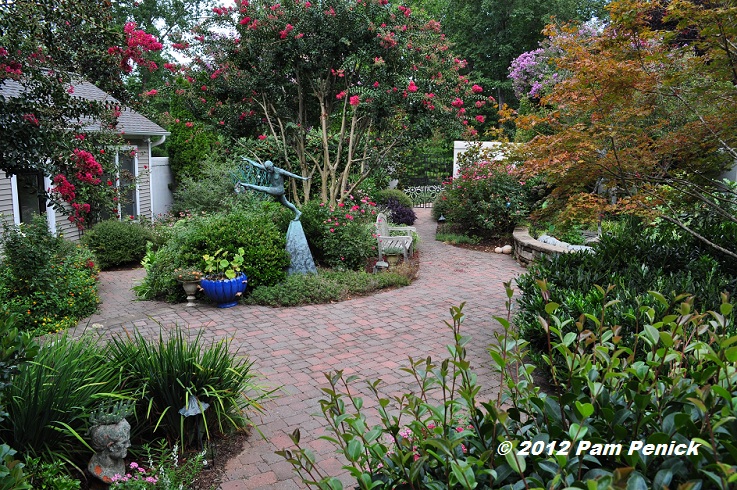 The paver path from the gate simply widens as it approaches the front door, creating inviting patio spaces that open up the garden and keep the extensive plantings from feeling claustrophobic. A wooden bench overlooks a raised-edge pond with goldfish, and just past it you can see a double wrought-iron gate, which they used to leave open during the day. However, Dad recently surprised a deer munching his impatiens up by the front porch in broad daylight, so now they keep the gate closed.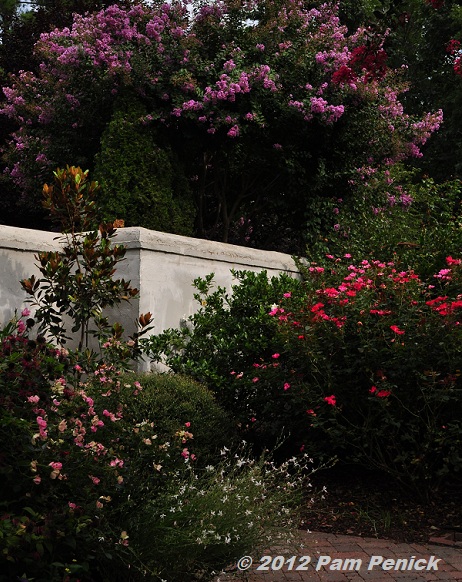 Summer is the best season in the garden, with pink and watermelon-red crepe myrtles in bloom, along with Knock Out roses, guara, coneflowers, and lantana.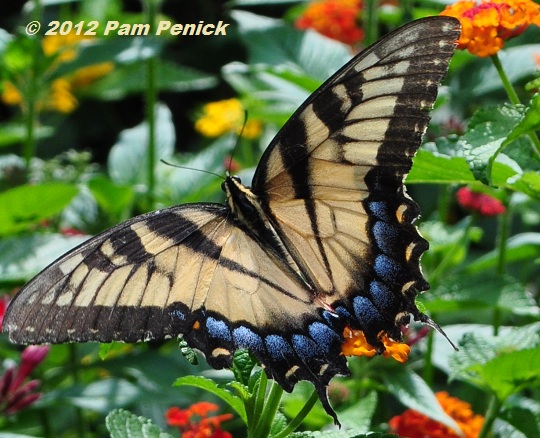 The place was swarming with tiger swallowtails.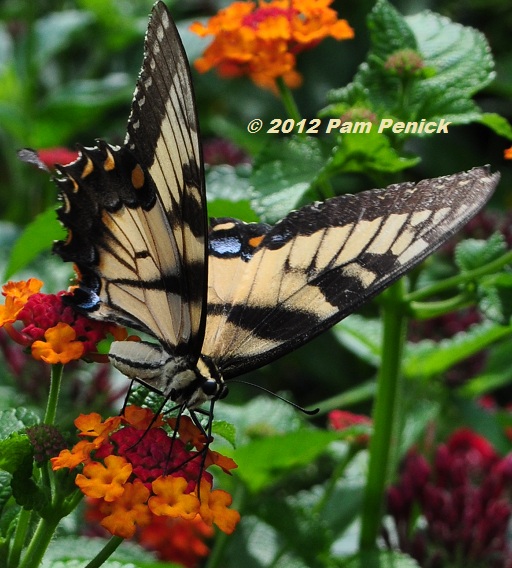 You couldn't walk through the garden without them drunkenly flying into you as they fluttered from flower to flower.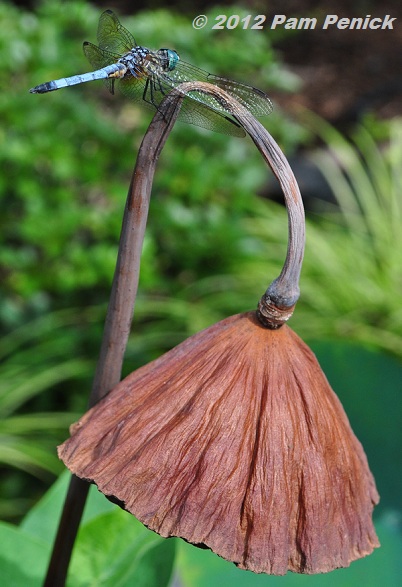 A blue dragonfly made a more sedate appearance on a faded lotus flower.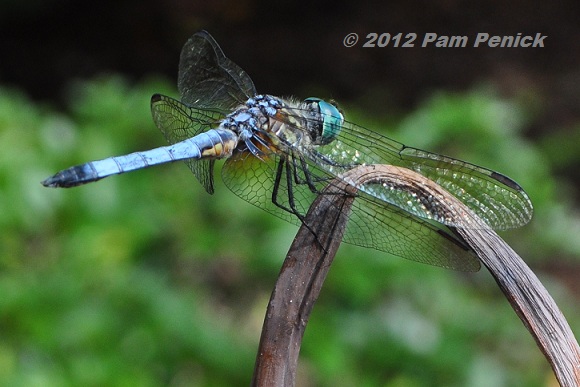 Its coloring and angular lines seemed to echo…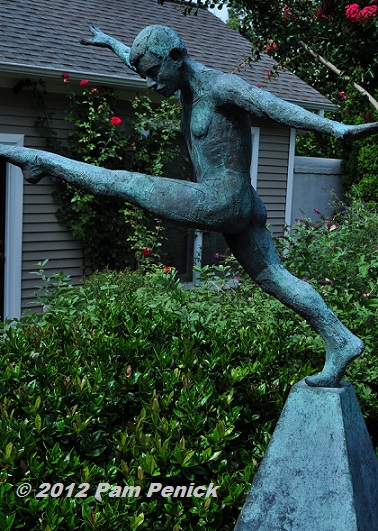 …the dancing man sculpture in the center of the courtyard.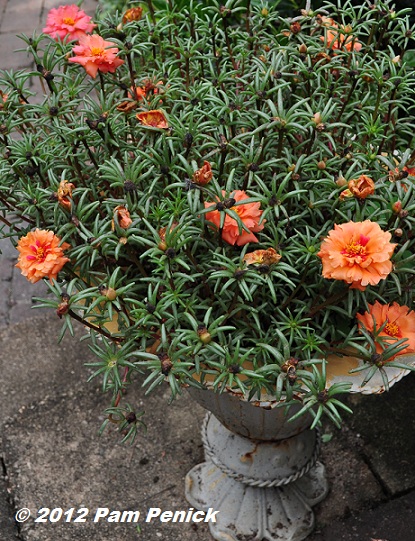 Portulaca flowers in a rusted, white-painted urn—a Victorian touch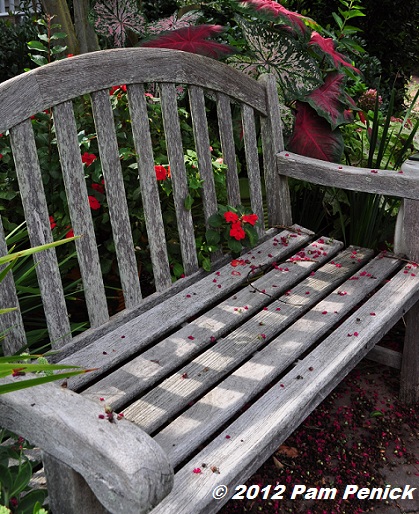 Several benches offer places to sit and enjoy the garden.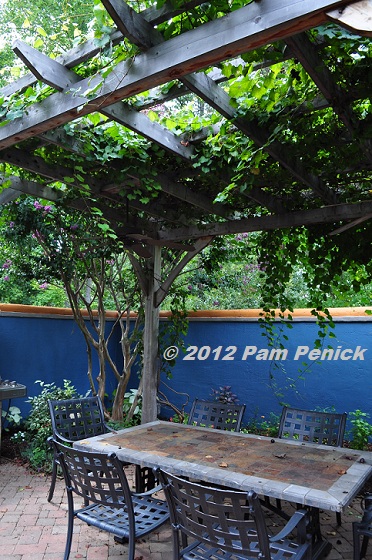 Hidden in one corner of the courtyard, tucked away behind a tall hedge with an arched doorway cut out of the hedge, is a dining area shaded by a Mustang grape arbor.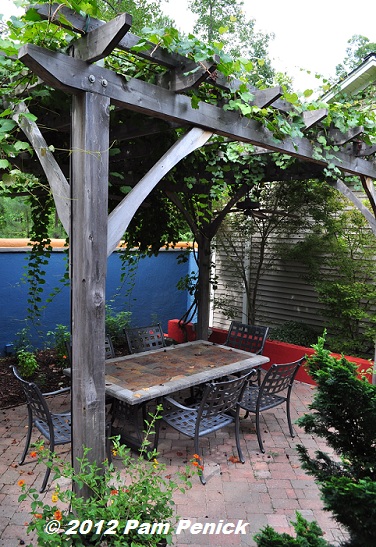 Surrounding walls are painted for a burst of color. It was cool enough for us to have dinner here one evening—very pleasant.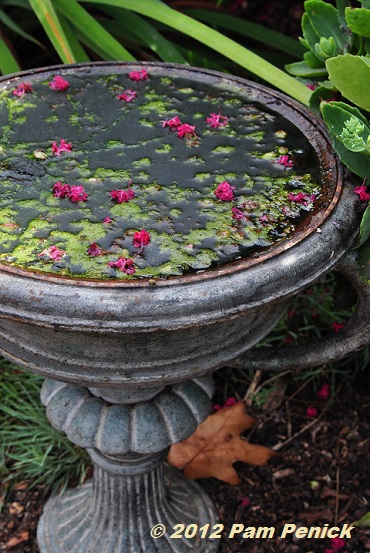 Recent rains had filled this empty urn, and confetti-like crepe myrtle blossoms floated on the surface.
Happy Bloom Day, and I hope you enjoyed the tour. I posted about Dad's garden last summer too, so just click for more pics. For more Bloom Day posts, visit meme hostess Carol at May Dreams Gardens. And remember, it's Foliage Follow-Up tomorrow!
Update: For a look at the shops, patio gardens, and, yes, Oreo cows of Fearrington Village, click here.
All material © 2006-2012 by Pam Penick for Digging. Unauthorized reproduction prohibited.
posted in
Arbors
,
Bloom Day
,
Butterflies/Moths
,
Containers
,
Dragonflies
,
Garden art
,
Garden tours 2012
,
Gates
,
Lawn Gone!
,
Paths
,
Patios & decks
,
Roses
,
Sculpture
,
Seating
,
Succulents
,
Summer color
,
Travel
,
Trees
,
Walls
,
Water features