August 9th, 2012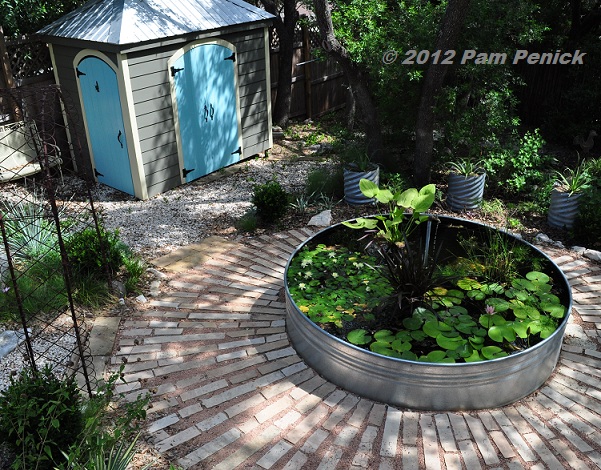 OK, so my days haven't been too lazy. I have been working on my book, after all. But as summer winds down (by the school calendar, not by any actual cooling from the 100sF), I've given myself the gift of some unscheduled leisure time so that I can enjoy being with the kids before they go back to school and in order to do a little cleaning up in the garden. I'm taking time, too, to enjoy my stock-tank pond, with its blooming water lilies, darting fish, and trickling spigot-fountain.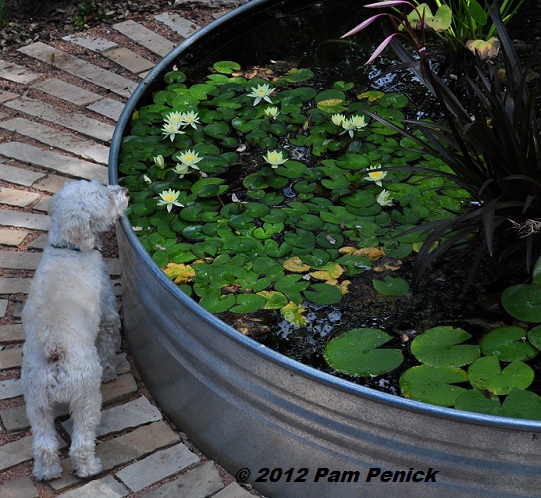 Our new dog, Cosmo, seems to be checking on the starry blooms of the 'Helvola' water lily. But really he was curious about the thirsty honeybees lined up along the pond's rim, and he's lucky he didn't get stung on the nose. A few perturbed buzzes and he got the message.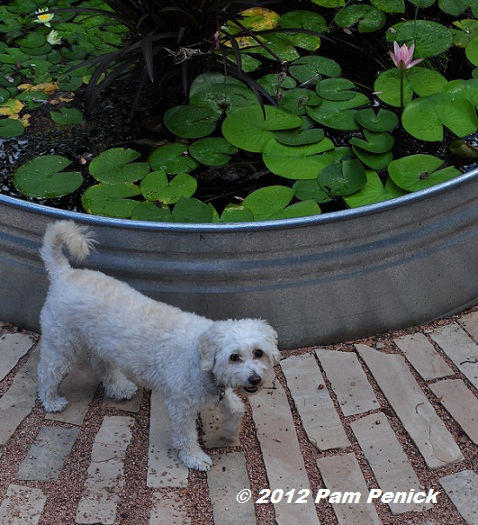 "I didn't really care about those silly bees anyway." That's a 'Colorado' water lily just opening up behind him.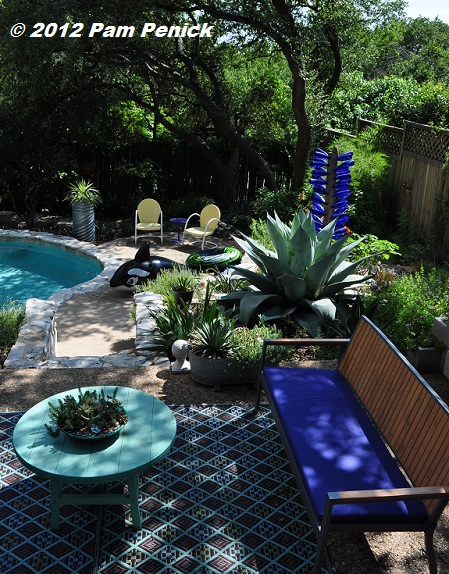 The view from the back steps, looking down at the upper patio and, below that, the pool patio. I'm liking how that cobalt cushion echoes the color of the bottle tree. The big agave—now 4 feet tall and nearly 6 feet across—is my beloved 'Whale's Tongue' (Agave ovatifolia). I'm still watching anxiously for a bloom spike. Maybe it'll last another year or two before it blooms—I hope!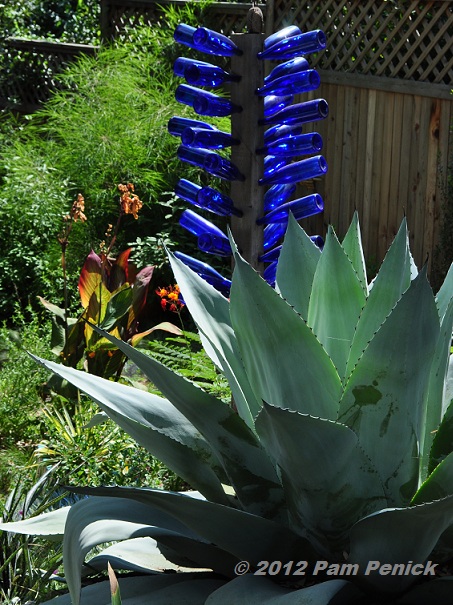 This sunny spot is looking more and more tropical, I realize, especially since I added the 'Tropicanna' canna and orange-flowered pride of Barbados (Caesalpinia pulcherrima). The chartreuse foliage behind them belongs to a Mexican weeping bamboo (Otatea acuminata subsp. aztecorum), and of course that's the 'Whale's Tongue' agave in front. These plants love the heat of summer a lot more than I do, but they help me enjoy it too.
All material © 2006-2012 by Pam Penick for Digging. Unauthorized reproduction prohibited.