August 7th, 2012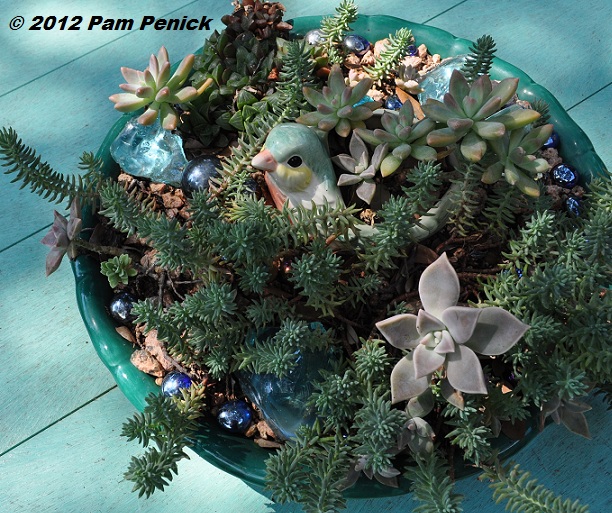 During the lazy days of summer, the last thing I feel like doing is standing for an hour with the hose in my hand while the Death Star beats down on me or mosquitoes suck me dry. So I skip right over all those magazine stories about making colorful potted arrangements of leafy tropicals or thirsty annuals and put water-thrifty succulents, cactus, and the occasional grassy groundcover in all my garden containers. As a bonus, they look good all year and don't require switching out plants with the seasons. Here's an old chip-and-dip set my mother gave me that's now an easy-care succulent dish, accented with chunks of turquoise slag glass and glass beads. I've got a blue theme going here…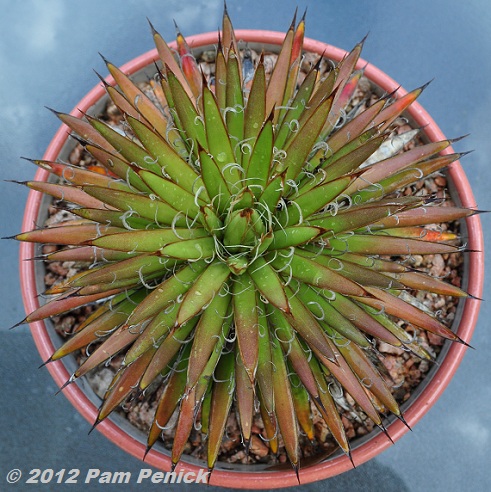 …but here's a serendipitous color match with the salmon-colored rim of the container and the sunset colors of a small Agave leopoldii. Some succulents respond to the stress of drought or heat with a change of color. I assume that's what this one is doing. It gets absolutely baked on the sunny deck during long summer days, and I often forget to water it.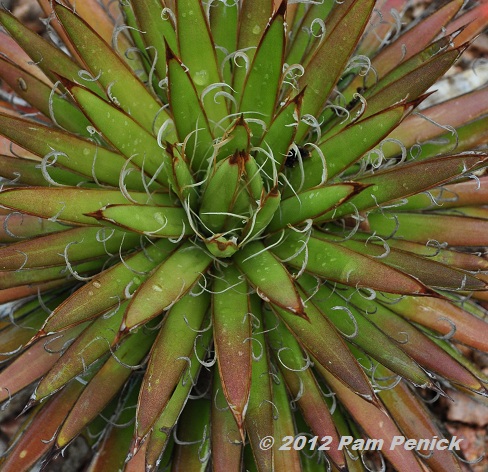 I think it's pretty this way.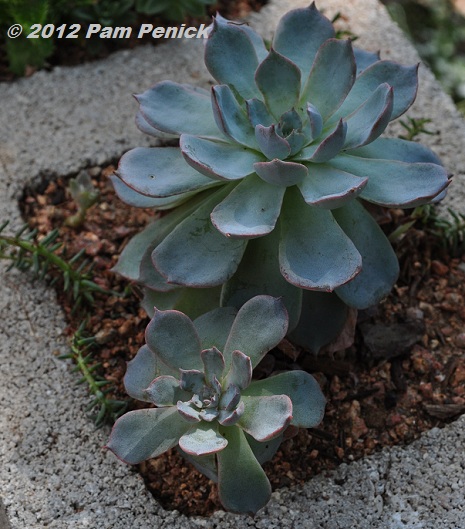 Succulents like echeveria and sedum require a lot more shade in our climate. I grow them only in dappled shade or a little morning sun.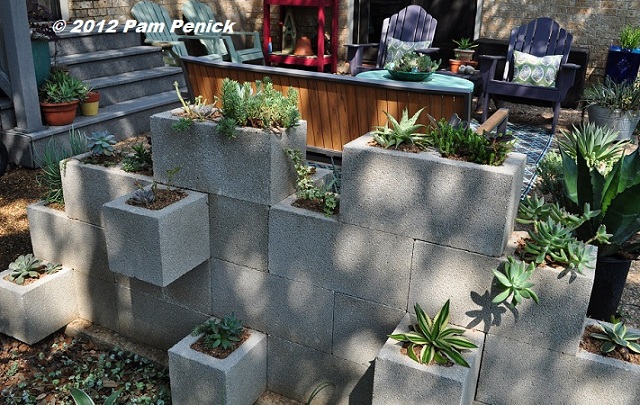 I'm growing an entire wall of them in my cinderblock planter wall. (Click for a how-to on constructing a cinderblock planter wall of your own.)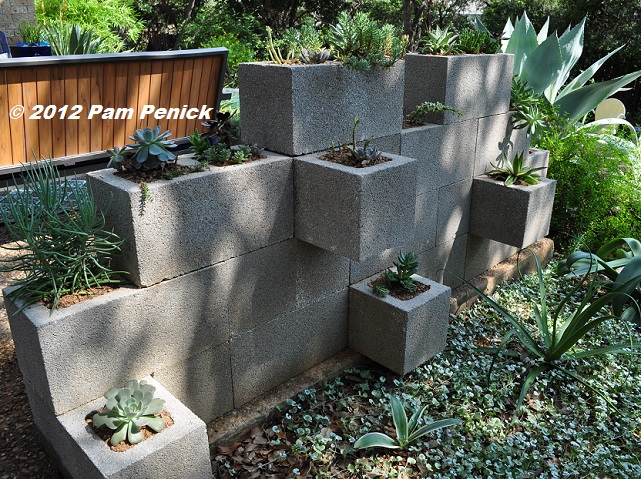 Another view. Cardinals have been nipping off the fleshy leaves of some of my succulents. I guess they find them tasty—like a juicy watermelon?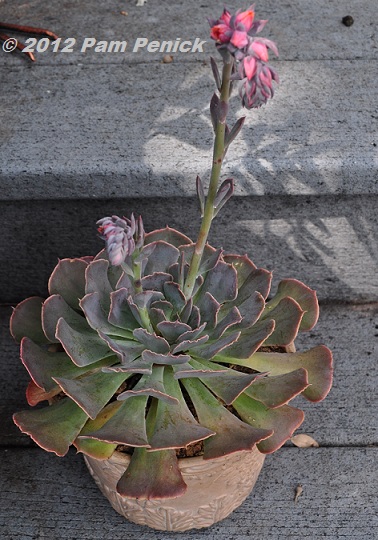 Echeveria in bloom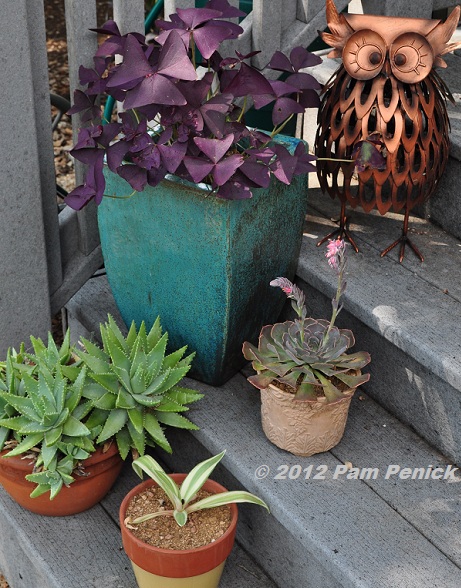 Its companions on the back steps are equally tough, although the purple oxalis does require watering at least twice a week.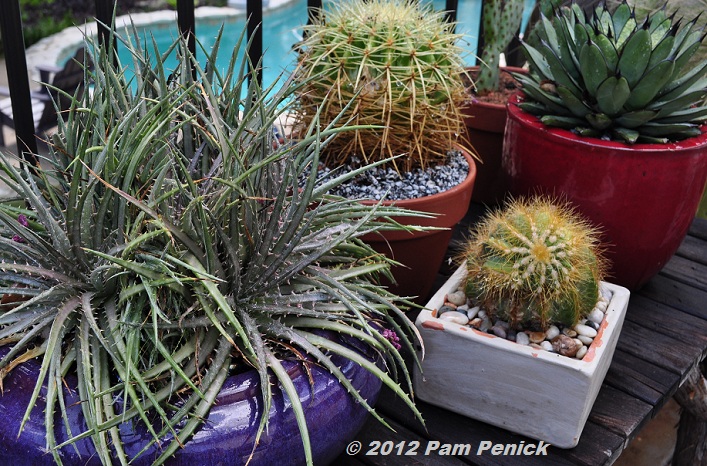 These are tougher bad boys, requiring water in summer only once every week or two: Dyckia, a misshapen ball cactus, golden barrel cactus, and 'Royal Spine' agave.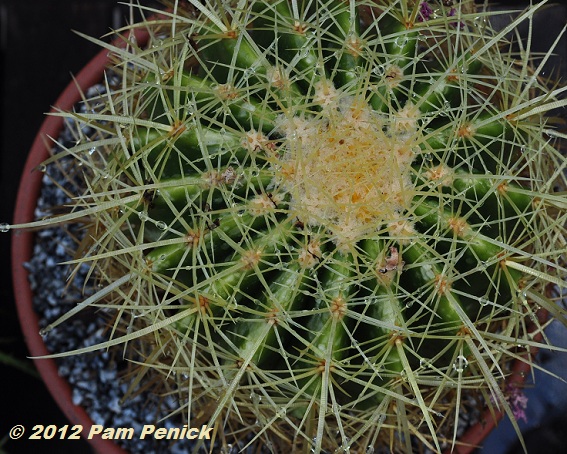 You can go on vacation for a while and they'll be fine. I like that.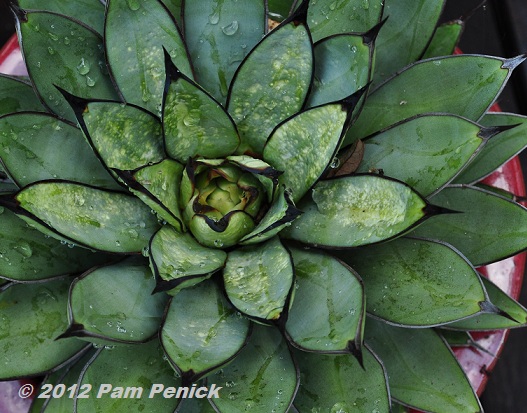 Sadly, my fairly new 'Royal Spine' agave has some off-coloring that is not due to drought or heat. I suspect some type of sucking insect damage and need to treat it. Anyone ever seen this problem before?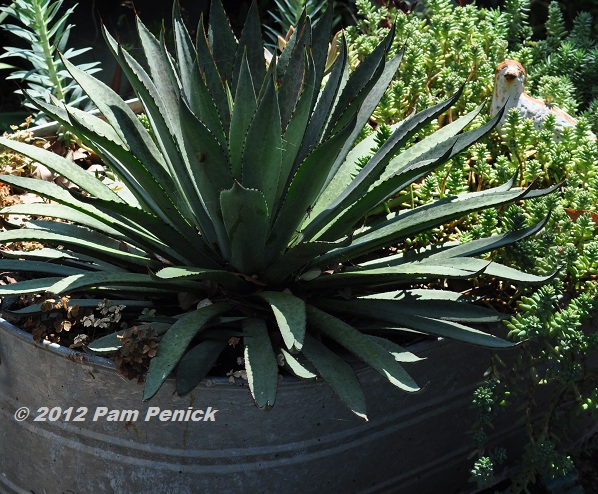 'Bloodspot' mangave
Well, they're mostly trouble-free.
All material © 2006-2012 by Pam Penick for Digging. Unauthorized reproduction prohibited.