July 30th, 2012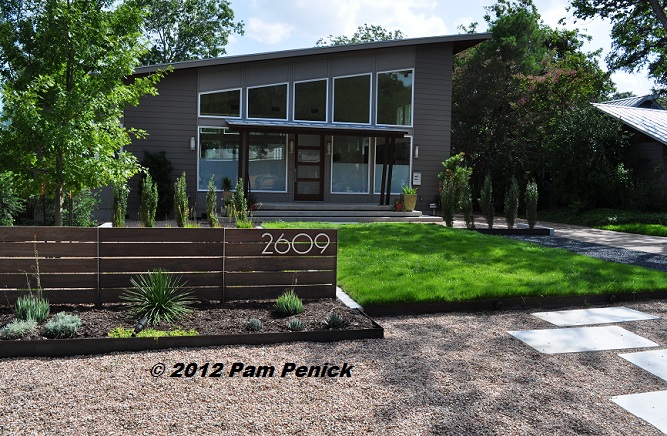 Driving around north Austin last week, I spotted quite a few nontraditional front yards, where the owners had traded in the typical expanse of St. Augustine or Bermuda for a smaller plot of grass, a sedge lawn, or a garden instead of lawn. No matter the style, every one expressed the individuality of the homeowner, which is something that a traditional lawn can never do.
Pictured above is a modern garden with a reduced lawn that occupies only about one-fourth of the yard. Elevated with a rusted-steel edge, this plush throw-rug of grass (what kind, I wonder?) is set off like a work of art. It also acts as negative space and a welcome block of color.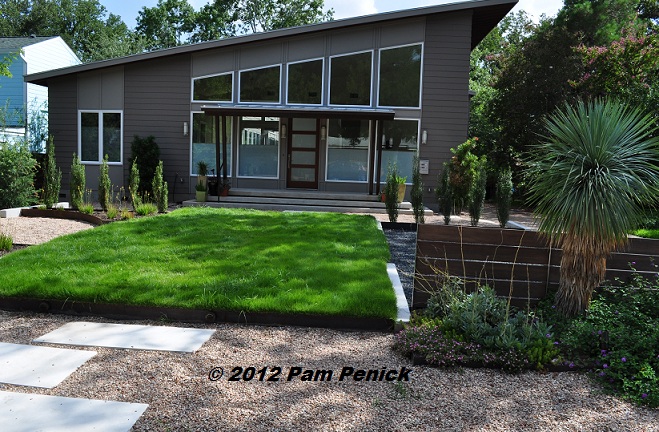 Taking up nearly half the space is a gravel parking strip/entry path, with offset, rectangular slabs of concrete leading visitors to the elevated lawn. I find it a little odd to direct visitors to slog across a lawn because one's feet always get wet or heels sink into the soil; plus, if you have many visitors, they'd wear out the grass in the middle. I like a solid-surface path, myself. But it's certainly an interesting approach, and I do enjoy seeing something different.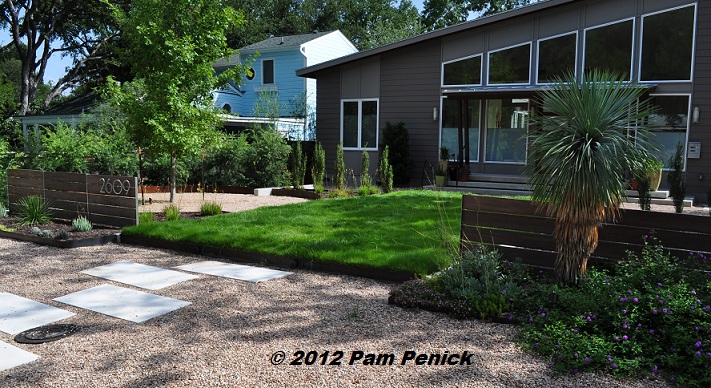 A low, horizontal-board fence (dubbed a hipster fence by my friend David Cristiani) on either side of the lawn separates the public space from the private. Behind it on the left, you can just spot a circular gravel patio encircling a tree. On the right, a rectangular space paved in Texas Black gravel can be seen in the 2nd photo above.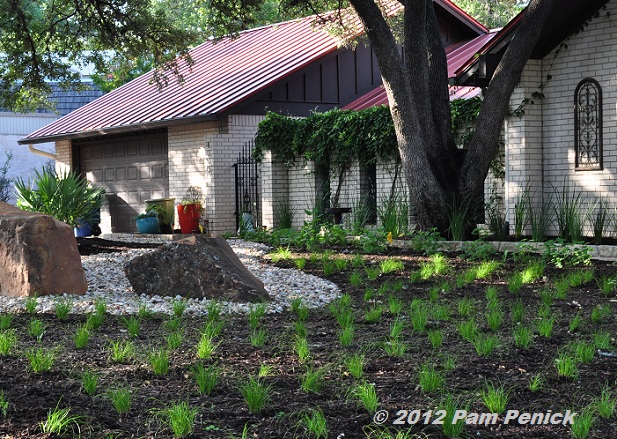 A quieter, more meditative design has just been installed in the front yard of one of my neighbors. Under a half-dozen live oaks, which shaded out the former St. Augustine lawn (the drought turned the last blades to dust), newly planted plugs of Texas sedge will eventually fill in to create a tufty "lawn." Large boulders set in gravel provide a vaguely Asian-style focal point. On the left (not visible), a few shade-tolerant palms offer contrasting height and texture.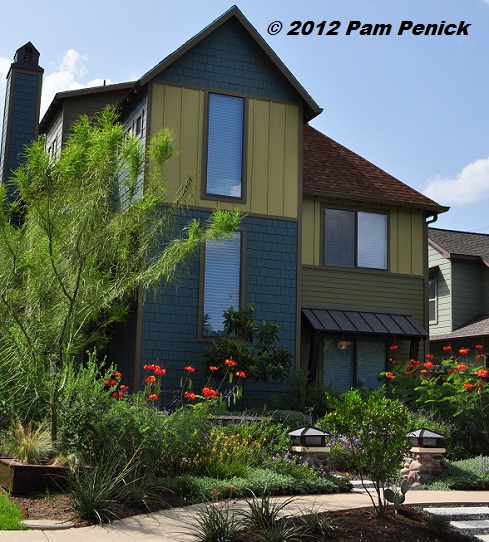 Infill construction a few years ago created this colorful contemporary-storybook house—or at least that's how I think of it. The tiny front yard could easily have been sodded and forgotten about, but instead the owner created a xeric cottage-style garden with an exuberance of plants and color.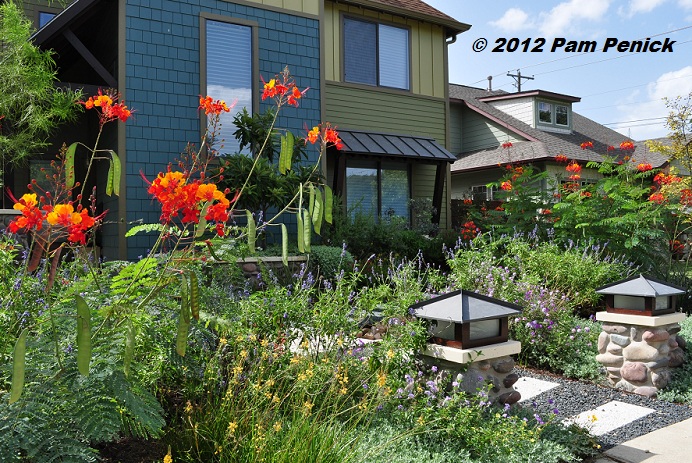 Short pillars of river stone capped with Craftsman-style lights clearly mark the entry and function much the way an arbor would—defining public vs. private space, and offering an invitation for visitors. They also, of course, illuminate the front walk at night.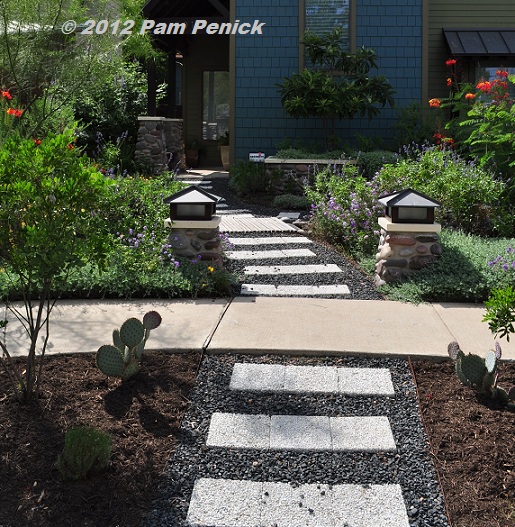 The walk itself is composed of trios of textured concrete pavers set in Texas Black gravel. It curves invitingly through the garden to the front door.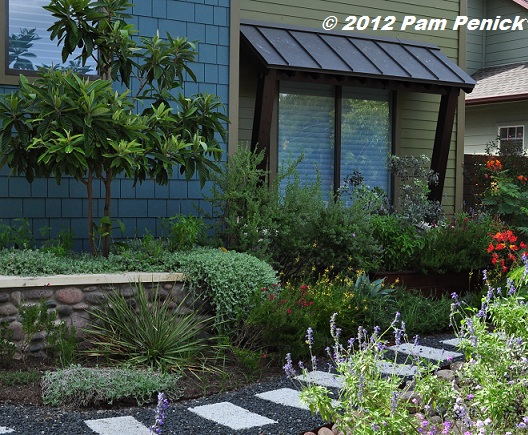 Looking to the right, a side path traverses the front of the house, leading through the garden to the side fence.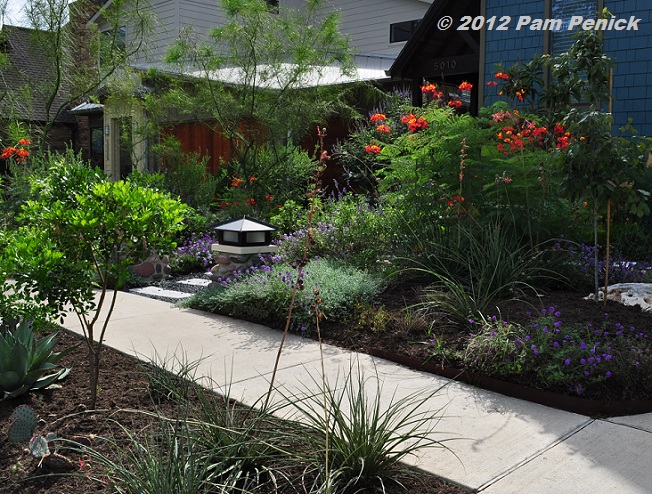 This colorful garden just begs you to explore it—or at least admire it from the sidewalk. Could a standard lawn do that?
All material © 2006-2012 by Pam Penick for Digging. Unauthorized reproduction prohibited.
posted in
Cactus
,
Design
,
Drive-By Gardens
,
Fences
,
Groundcovers
,
Lawn Gone!
,
Lawns
,
Paths
,
Summer color
,
Sustainable Gardening
,
Texas natives
,
Trees
,
Tropicals
,
Xeric plants
,
Yuccas