July 15th, 2012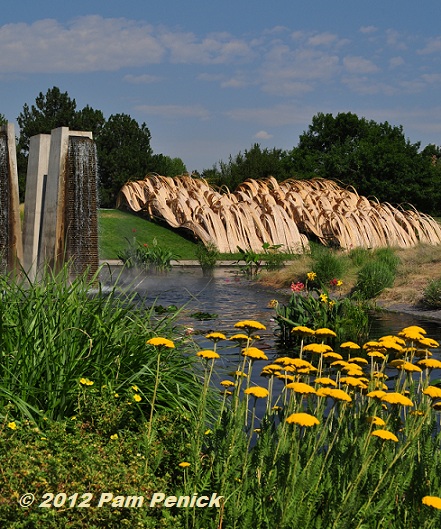 Before vacationing in Rocky Mountain National Park earlier this month, we stopped in Denver to visit the Denver Botanic Gardens, which I'd long wanted to see. Though the day grew hot, reaching 100 degrees F, the gardens did not disappoint, glowing with high-country color against a bright-blue sky and accented with monumental bamboo sculptures like the one flowing down a slope in this image.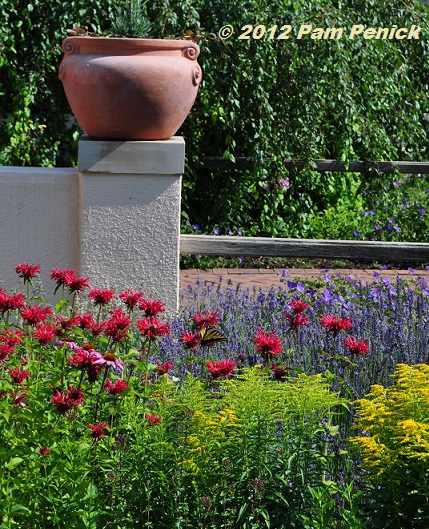 Although Denver Botanic Garden is compact, sandwiched as it is amid downtown streets, it's divided into numerous and varied types of gardens—too many to show in one post. Since today is Bloom Day, I'll start with images of flowering, xeric perennials from the Birds & Bees Walk and the O'Fallon Perennial Walk—like these monarda, goldenrod, and lavender visited by a swallowtail butterfly.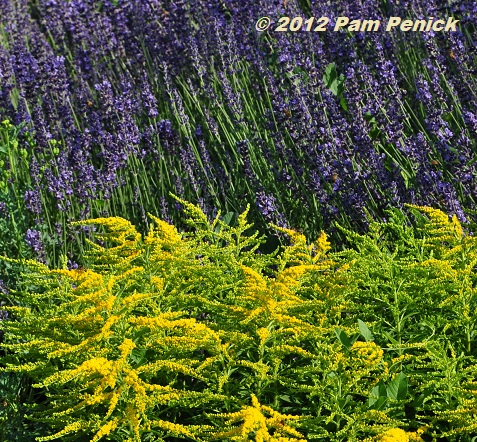 Lavender and goldenrod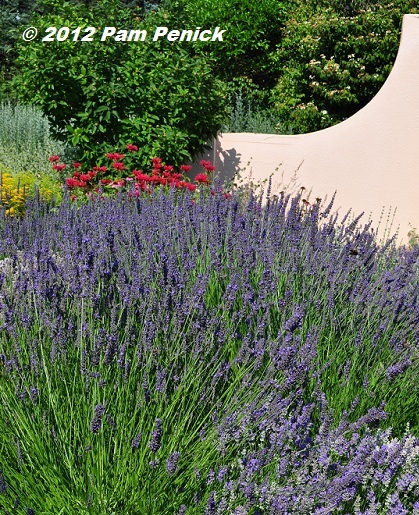 A southwestern look: lavender flowering against an adobe-style wall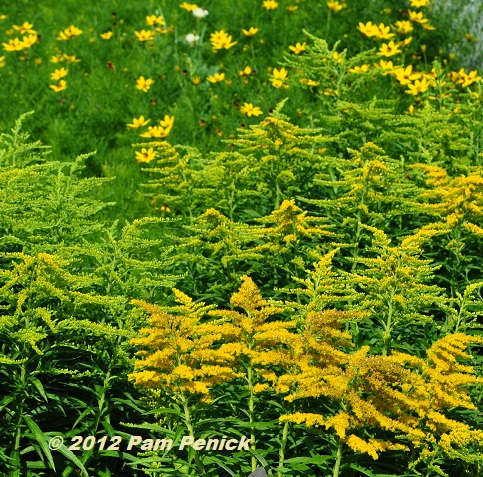 Goldenrod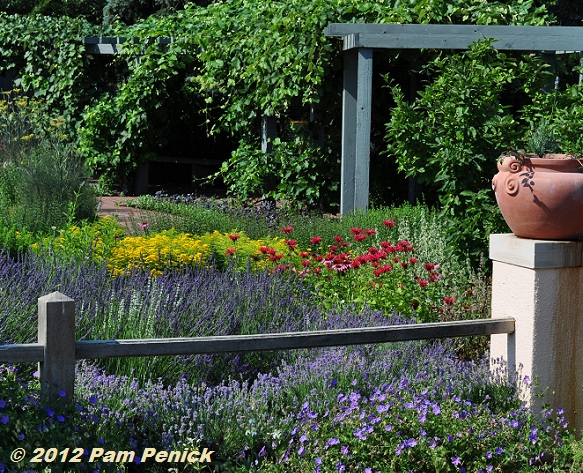 A grape arbor offers respite from the sun, while perennials flower with abandon along the fence rails.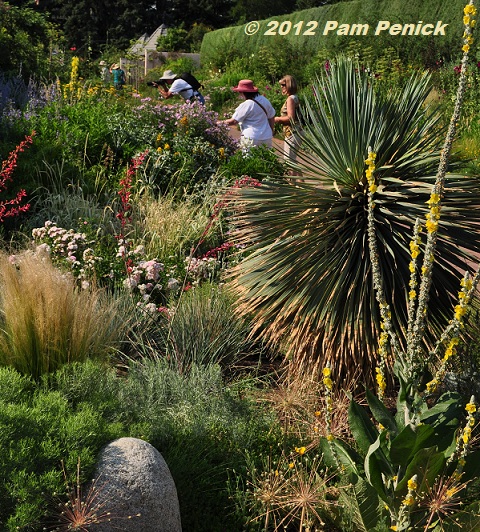 A drier but no less beautiful garden greets you near the entrance, in the long perennial borders flanking a main walkway, hedged with green walls on either side.

We arrived right at opening, 9 am, but you can see that even then the sun was high and intensely bright, making photography a challenge. A number of eager visitors and photographers, like us, were there right as the doors opened.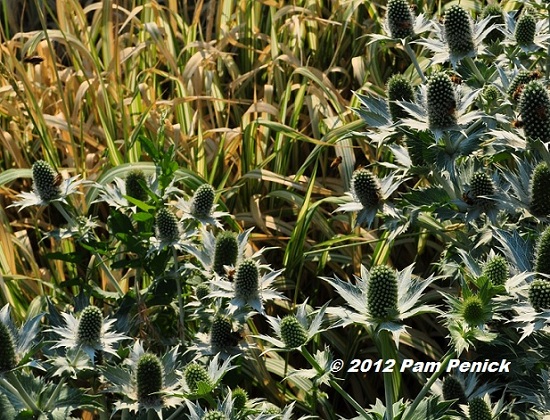 Eryngium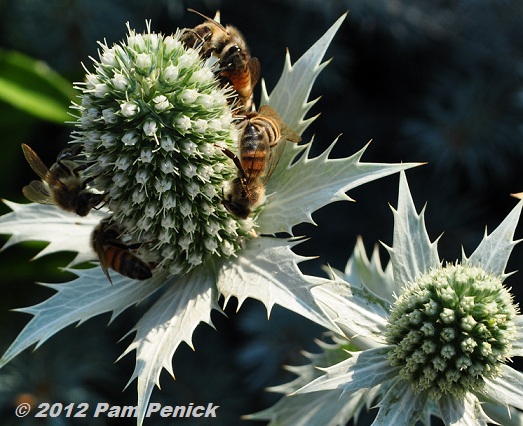 The bees loved these ghostly, prickly flowers.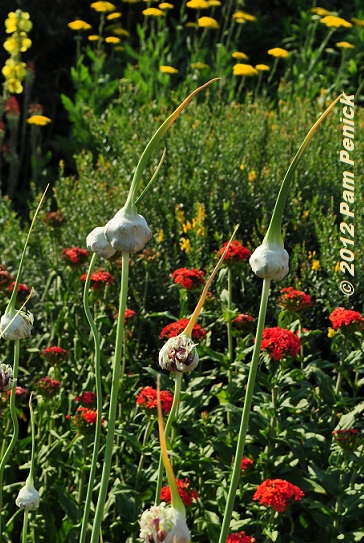 Garlic seedheads stood like comical elfin hats.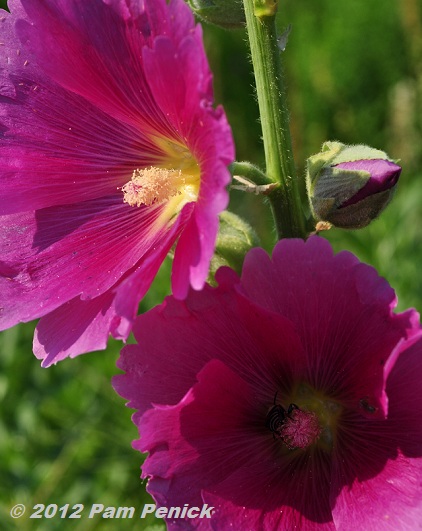 Hollyhocks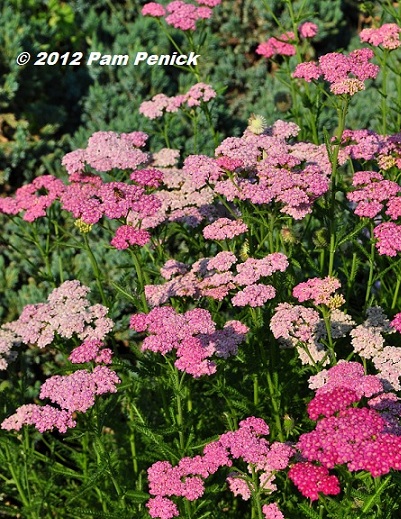 Candy-colored yarrow

I don't know this plant but admired its burgundy leaves and yellow flowers. Update: Fairegarden Frances thinks it's Lysimachia ciliata.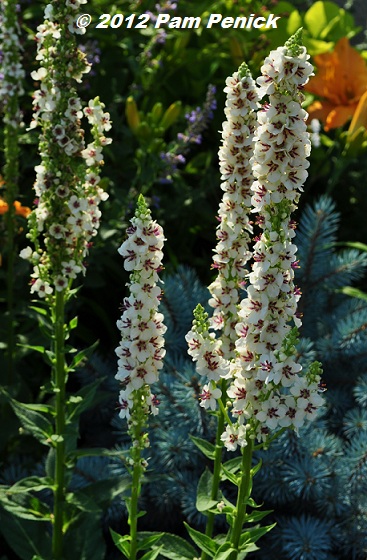 Verbascum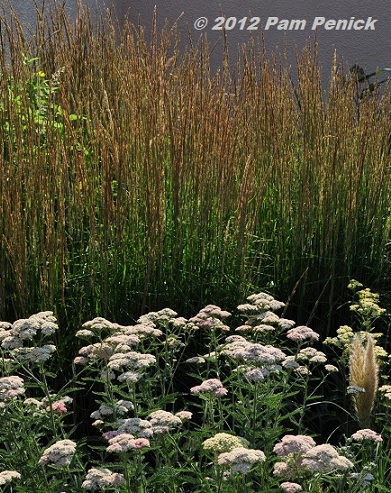 As we left the perennial walk we entered a sunny plaza rustling with ornamental grasses.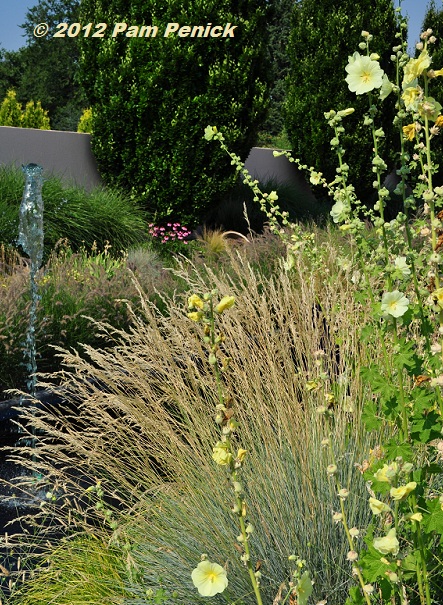 A long, rill-like waterway, with vertical fountains spouting up at times, was bordered by several varieties of ornamental grasses, and these pale-yellow hollyhocks.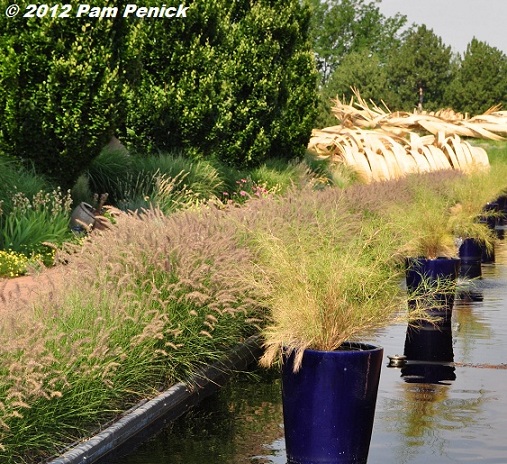 In a line down the middle of the waterway stood blue pots of bamboo muhly grass.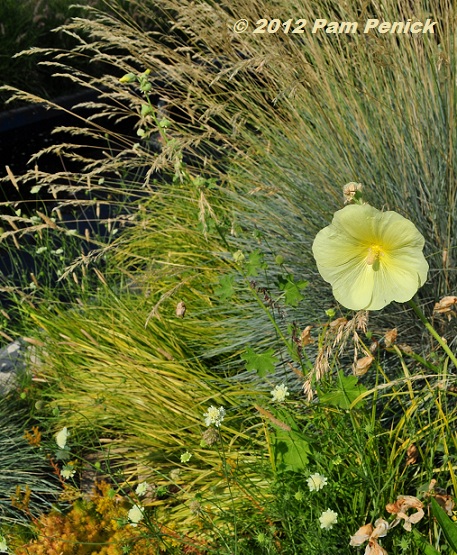 Beautiful texture and color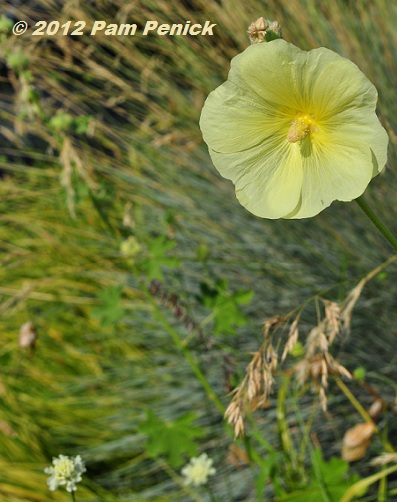 A closer look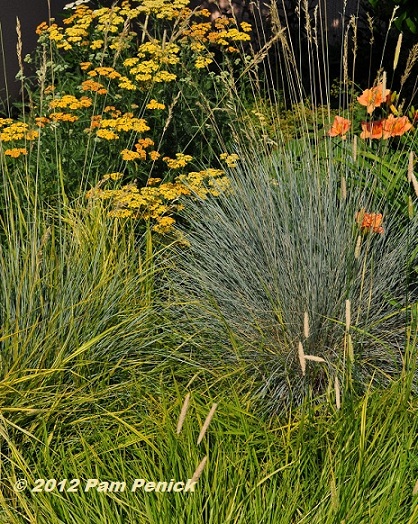 Swirling grasses in gold and blue played against hot-colored perennials.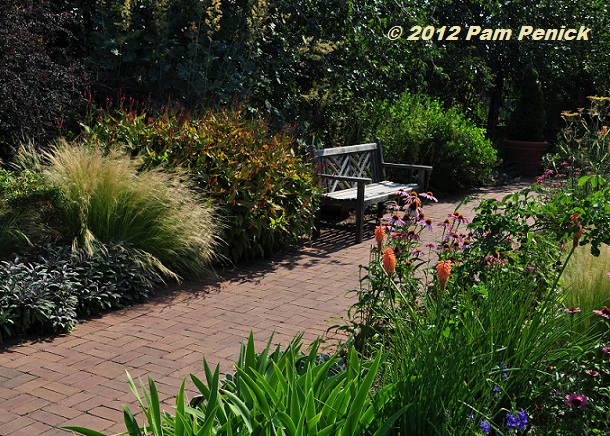 Bright, bright sun, but something caught my eye over here by this bench.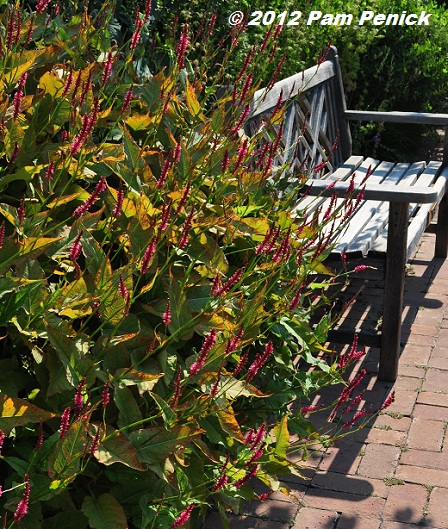 Pretty persicaria, much taller than any I've ever seen in Austin, but that's not what I noticed.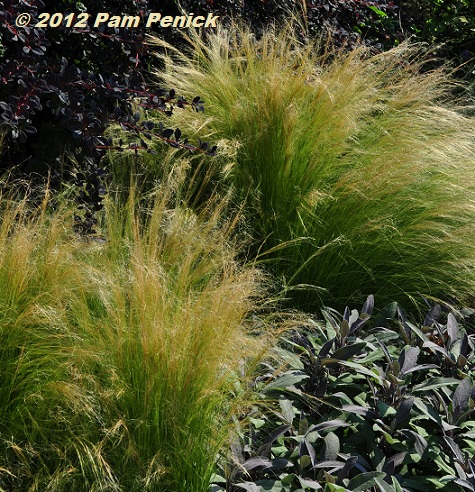 It's this simple combination of Mexican feathergrass (Nassella tenuissima) and purple sage (Salvia offinalis purpurea), which I have in my own garden at home. Hey, it looks even prettier with the burgundy leaves of barberry behind it. We could also use loropetalum at home.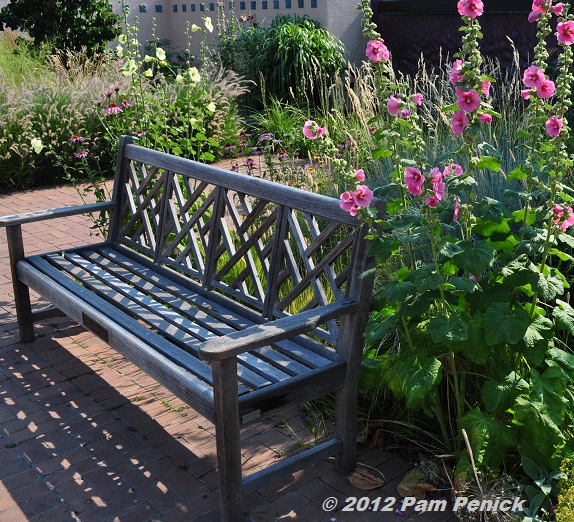 And I leave you with a last glimpse of sweet hollyhocks. I'll have more tomorrow from Denver Botanic Gardens—DBG's Grasses & Cholla for Foliage Follow-Up—and for several posts to come. Please click the links for more posts about my visit to the gardens.
For more Bloom Day posts from around the world, visit May Dreams Gardens.
All material © 2006-2012 by Pam Penick for Digging. Unauthorized reproduction prohibited.
posted in
Bees
,
Bloom Day
,
Botanic/Public Gardens
,
Fountains
,
Garden tours 2012
,
Grasses
,
Sculpture
,
Seating
,
Summer color
,
Travel
,
Walls
,
Water features
,
Xeric plants