December 4th, 2012
Agaves: Living Sculptures for Landscapes and Containers
, a Timber Press release from earlier this year.
Starr lives in Tucson, Arizona, and owns and operates Starr Nursery, a mail-order nursery specializing in cacti and succulents, particularly agaves. He's made numerous trips throughout Mexico and the U.S. Southwest in order to photograph agaves in their native habitat and collect seed from those in bloom, and also, I dare say, simply for the thrill of the hunt. In other words, he's an agave nut. Along with Mexican botanist Jose Angel Villarreal, Starr is the one who named a beautiful, wide-leaved agave discovered by Texas plantsman Lynn Lowrey—Agave ovatifolia, commonly known as 'Whale's Tongue' agave, one of my very favorites and the star of my own garden.
How did Starr get the privilege of naming this agave? By dint of serious plant sleuthing, as described by
Tony Avent at Plant Delights
:
"The fabulous Agave ovatifolia was first brought into the US by the late Lynn Lowery [sic], who found it growing between 3,000′ and 7,000′ elevation in Nuevo Leon, Mexico. It was planted around Dallas and survived for decades unscathed by drought or cold….Agave expert, Greg Starr, curious to know its identity, retraced Lynn's route and found the original population in Mexico, where it was determined to be a new species and subsequently named in 2002."
Starr writes humorously about finding these beautiful but very spiny plants in their native habitats—inevitably on jagged limestone hills in Mexico, where he scrambles amid sharp rock and thorny plants to find the perfect photo op. He conveys a real sense of what it's like to go on a plant-hunting expedition, as in his field notes for Agave pelona:
"Once at the ranch, we had to drive along a nasty, deeply rutted four-wheel-drive dirt road to get near the habitat. The plants here occur on steep, rocky slopes composed of sharp, flesh-eating limestone, necessitating one to be outfitted with full body armor and an excellent pair of rugged hiking boots to prevent damage to tender skin. However, the narrow, spicate flower stalks covered with large, cherry red to deep wine flowers are an incredible sight and worth the effort!"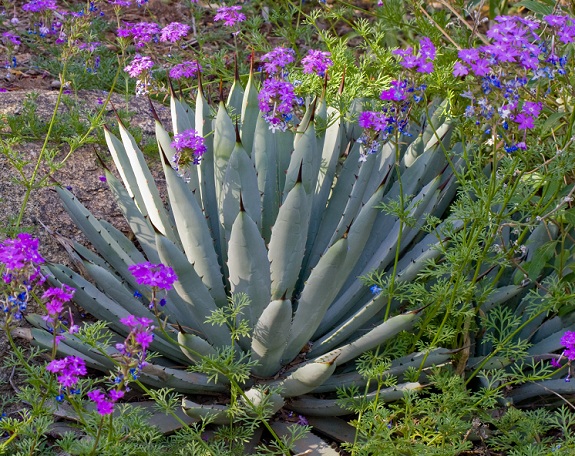 Agave macroacantha and purple verbena. Photo by Greg Starr, courtesy of Timber Press.
My own plant hunting will be restricted to the nursery or friends' plant swaps, thank you very much, and no body armor required. Starr's book is supremely helpful for that too, as you make your wish list or if you find yourself in possession of a new agave and you aren't sure what conditions it requires. He profiles 80 kinds of agaves — "species, varieties, cultivars, and hybrids that are available to the agave enthusiast, including some species that are most suitable for container culture in areas where frost occurs" — which means it's likely that, whatever you're growing, Starr's book covers it.
Each featured agave is given a multi-page treatment with numerous color photos, along with field notes about how it grows in its native habitat and where to find it; a thorough description of shape, bloom, and growth habit in the wild and in cultivation; growth culture including cold- and heat-tolerance, how much and what time of year to water it, and soil preference; and how to use it in the garden, including plant pairing suggestions.
Starr helpfully includes a chapter on distinguishing among look-alike agaves, as well as a list of agaves organized by size, which is useful when selecting one for your garden or a container. Another chapter provides over-wintering tips, pest-control info, and planting instructions.
The biggest takeaway for me is the diversity of plants in this genus, not only in size and shape but also in preferred habit. Some like baking sun, others dappled shade; some demand frost-free hothouse luxury, others cooler mountain temperatures. This book will help you figure out which is which and choose agaves that will thrive in your garden's conditions. But ever the agave thrill-seeker, Starr urges the reader to try even a few marginal agaves if you like them. Once you've seen his photos and read his descriptions, you may find yourself crossing over into agave-nut territory yourself.
Disclosure: Timber Press sent me a free review copy of this book. I read and reviewed it at my own discretion and without any compensation. This post, as with everything at Digging, is my own personal opinion.
All material © 2006-2012 by Pam Penick for Digging. Unauthorized reproduction prohibited.
Do you have an agave lover on your holiday shopping list? Or do you want to know more about these marvelous, architectural plants yourself? Or maybe, just maybe, you fantasize about plant hunting on rocky, treacherous hillsides in remote Mexico? Then check out Greg Starr's