July 9th, 2012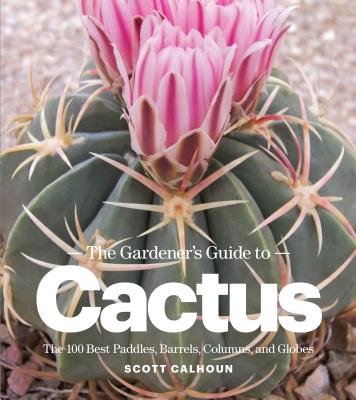 Cactus is one of those categories of plant that is either hated or adored. One either shuns cactus altogether or turns into a cactus nut, acquiring as many species as possible, filling one's garden with spiny specimens, and building greenhouses (always more than one) to house freeze-tender collections. The average gardener, unless he belongs to the local cactus society or reads tomes written for the enthusiast-collector, may feel decidedly ignorant about these intriguing, dangerous-looking plants. And unless you live in the desert Southwest, your local garden center is likely no help either. You may find windowsill-sized specimens in the houseplant section, but they're often labeled simply "Cactus," with no other identifying or care information.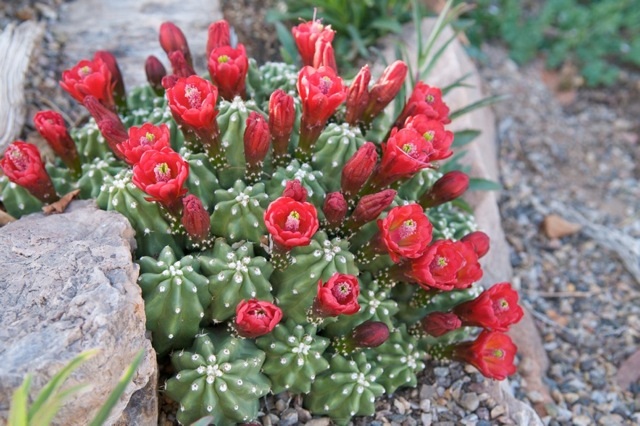 Spineless hedgehog in bloom. Photo courtesy of Scott Calhoun.
Arizona plantsman, garden designer, and writer Scott Calhoun seeks to bridge this gap between cactus know-nothings and aficionados with his new book, The Gardener's Guide to Cactus: The 100 Best Paddles, Barrels, Columns, and Globes (2012). Categorizing cactus by shape simplifies the organization of his book, making it newbie-friendly, and tacitly acknowledges that the architectural form of these unusual-looking plants is a large part of their appeal. I mean, what gardener wouldn't want a few globes or columns or Mickey Mouse-eared plants after seeing how much structure and charisma they lend to even the softest, leafiest garden?
Calhoun has the advantage of living in a cactus-hospitable climate, and certainly the most charismatic ones can be grown in the ground only in frost-free (or nearly so) climates. But he points out that even temperate-climate gardeners can grow cactus in pots provided they're given winter protection. And many cactus species are surprisingly cold-hardy. Opuntia, commonly known as prickly pear, for example, is found naturally throughout the country, and cactus are native to every state in the continental U.S. except for Maine, New Hampshire, and Vermont, says Calhoun.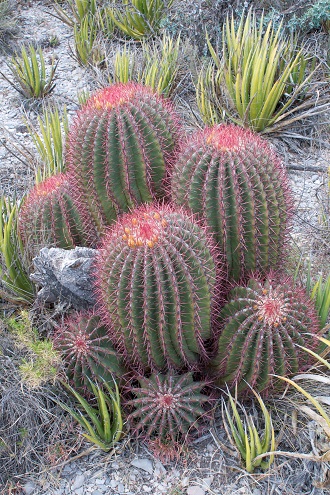 Mexican fire barrels. Photo courtesy of Scott Calhoun.
His keenly descriptive and often humorous writing style makes all of his books a pleasure to read, and this one is no exception. Describing Ferocactus emoryi subsp. rectispinus, he observes, "The spines of the Baja punk rock barrel…are as straight and gravity defying as a super-glued Mohawk hairdo….[T]he spine length is variable—ranging from long to "whoa daddy…." Each of his top 100 cactus picks is given a full page of description, including mature size, hardiness zone, flowering season, and, helpfully, design suggestions for using it in the garden, plus a color photo. Certain plants are given two-page prominence, with an extra photo of fruit or flower or some other special attribute.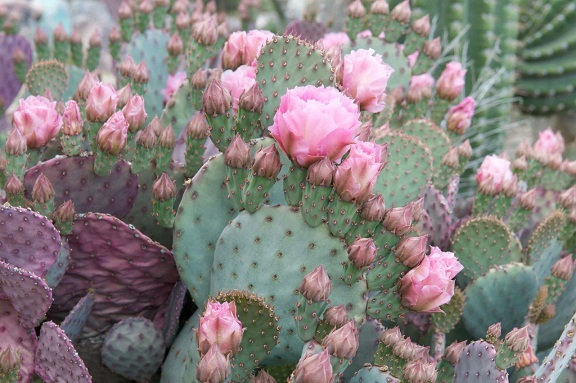 Baby Rita Opuntia in bloom. Photo courtesy of Scott Calhoun.
If his beautiful photos aren't enough of a sell (and they are), Calhoun makes the case for cactus by appealing to our senses of smell, taste, and even touch: "[I]f your first thought about growing cactus is 'ouch'—this book is designed to get you past that. Imagine cactus flowers heavily scented of honey and chocolate; a hedgehog species with fruit that tastes like strawberries; and a lumpy, thornless, lime-green column whose skin feels like melted wax." With features like those, I'm already sold on trying a few more cactus in my garden.
Currently I have only a few prickly pears, both potted and in the ground, and a couple of potted barrel cactus. I'd love to try a few more cold-hardy varieties (for my zone 8b), like horse crippler, the Baby Rita prickly pear pictured above, and the thornless bishop's cap. While most cactus will have to be potted in my garden, both for drainage and for visibility in a leafier environment than they'd exist in naturally, I'd love to add some more paddles, barrels, columns, and globes as striking accents. Now that I have Calhoun's helpful guide, I know where to start.
Disclosure: Timber Press sent me a free review copy of this book. I read and reviewed it at my own discretion and without any compensation. This post, as with everything at Digging, is my own personal opinion.
All material © 2006-2012 by Pam Penick for Digging. Unauthorized reproduction prohibited.