June 5th, 2012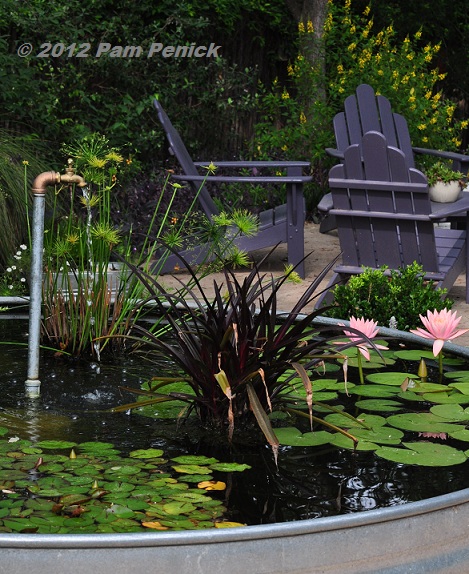 A big shout-out and thank you to my handy husband, who created this plumbing-pipe-and-spigot fountain for me for Mother's Day. I'd come home from a visit to my friend Cat's garden in love with the look after seeing one that she and her husband made for their pond. The genesis for hers was the desire to put to good use an old spigot that had belonged to her grandfather. We didn't have a spigot with that kind of history, so my husband chose a brass version with a twist-knob on top. It turned out great! Didn't he do a fine job?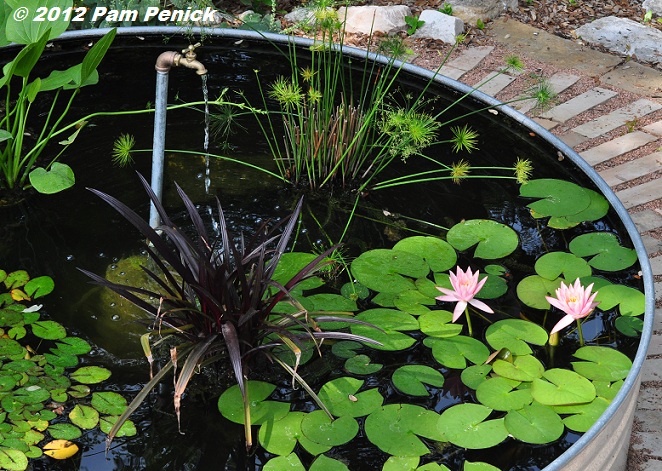 We placed it in the middle of the pond to reduce any water loss due to splashing. The galvanized plumbing pipe complements the galvanized tank.
To allow the pipe to stand unsupported in the middle of the pond, he ran the pipe through a bucket with a hole cut in the bottom just big enough for the pipe to fit into, and then he poured concrete in the bucket and let it harden for a few days. When it was cured, the bucket slid right off the concrete. The pipe sticks out about an inch from the bottom of the concrete, allowing for the attachment of flexible tubing, which attaches at its other end to the pump itself. The flexible tubing gives us leeway so we can move the fountain around, while the pump sits conveniently close to the edge for easy cleaning. Stacked bricks under the concrete support the pipe-fountain while leaving room beneath for the projecting inch of pipe and the tubing. The pump's cord hangs over the far edge of the tank and is attached to an outdoor extension cord, which runs through a buried PVC pipe to a GFI-protected outlet in the shed.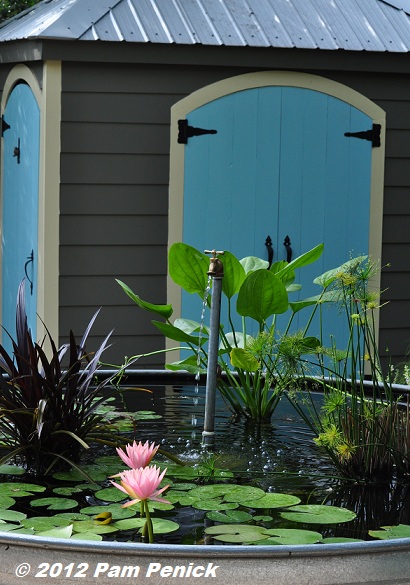 From all directions, the view looks great, and the sound of running water is music to my ears and is already attracting more birds. I've always said that you do not need to have a pump to make a successful container pond, and that's still true. But I do like the sound and sight of the moving water, and now I feel comfortable adding goldfish to the pond, since the pump will provide aeration and help cool the surface of the water. Before, this pond supported native gambusia fish only, which are hardier in warm water than goldfish.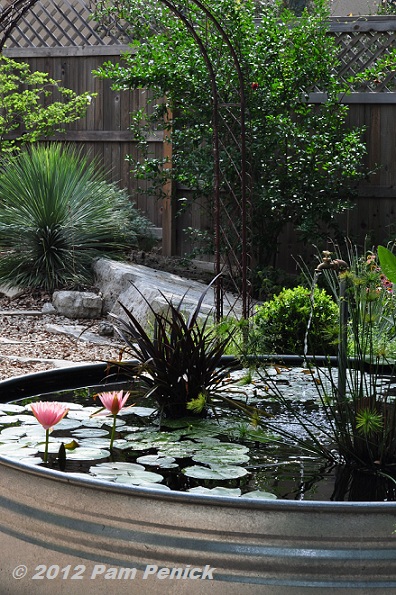 I took this image in the morning as the 'Colorado' water lilies were opening. I didn't think I could love my stock-tank pond any more, but now I do!
All material © 2006-2012 by Pam Penick for Digging. Unauthorized reproduction prohibited.
posted in
2nd garden--2012
,
Fountains
,
How I did it
,
Paths
,
Ponds
,
Seating
,
Sheds
,
Stock tanks
,
Water features
,
Water gardening
,
Yuccas