June 4th, 2012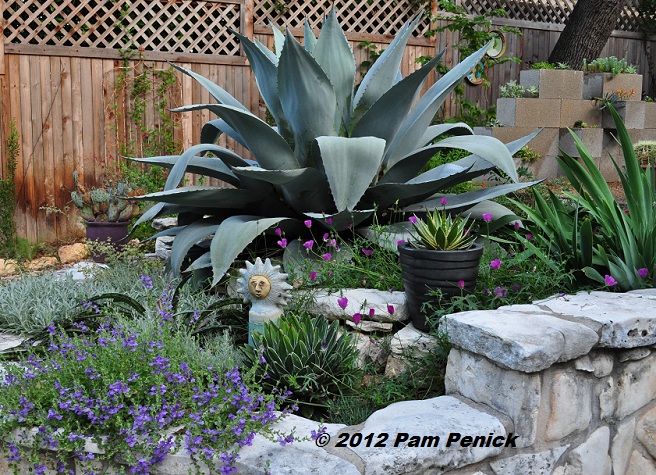 Whew, after all my posts about the cool, mountain gardens of Asheville, it's time to get back to the hot, humid reality of home. We actually enjoyed a cool front last weekend that brought temps down to the low 90s and kept humidity low. I broke my own rule about not planting after April and replanted the area around my bottle tree (pics to come later). I've been watering and weeding my new garden beds. And one of my neighbors is ripping out lawn along the street in order to put in a neat gravel parking strip (shout-out to Tom and Sherry: it looks great!), and another is ripping out old, overgrown foundation plants to put in drought-tolerant salvias and grasses (shout-out to Donna: way to go!). So there's a lot of gardening excitement here and at the neighbors' these days.
What's looking good right now? The raised bed with the 'Whale's Tongue' agave (A. ovatifolia), whose flukes are now approaching 6 feet in diameter. Natives purple skullcap (Scutellaria wrightii) and winecup (Callirhoe involucrata) continue to cascade and bloom.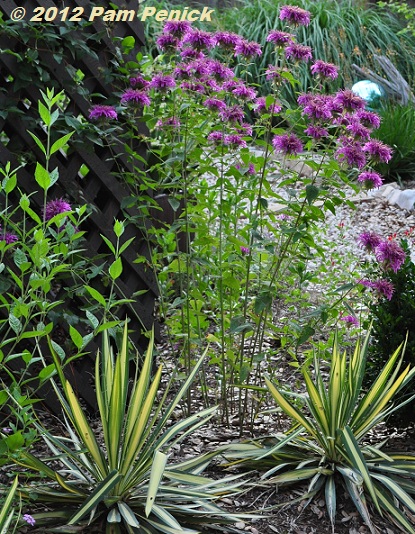 'Peter's Purple' monarda is adding violet poufs above the 'Color Guard' yuccas.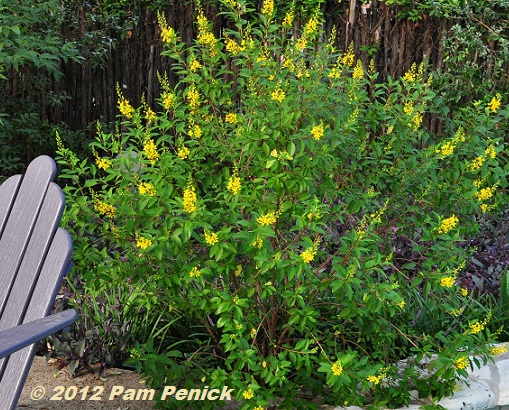 More yellow is brightening up the pool patio thanks to golden thryallis (Galphimia glauca).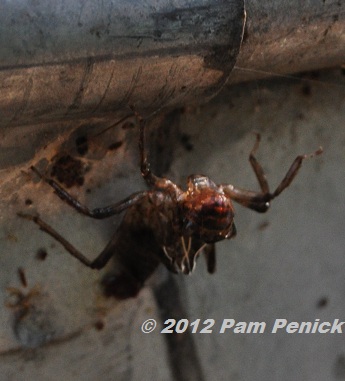 I noticed this dragonfly nymph shell hanging onto the edge of the stock-tank pond, a newly hatched dragonfly perched atop it.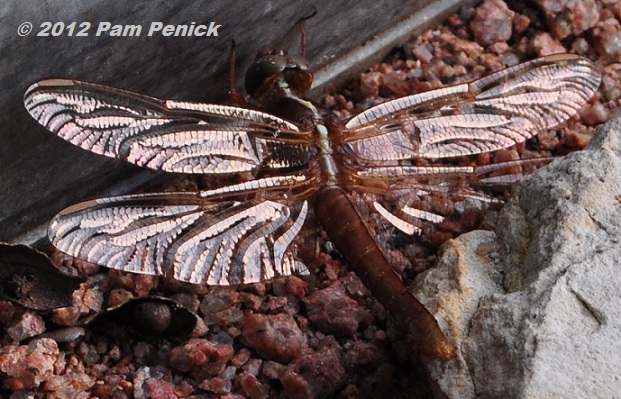 The color of a new-minted copper penny, the dragonfly fluttered to the ground on shiny cellophane wings. A moment later, it was gone.
All material © 2006-2012 by Pam Penick for Digging. Unauthorized reproduction prohibited.