June 2nd, 2012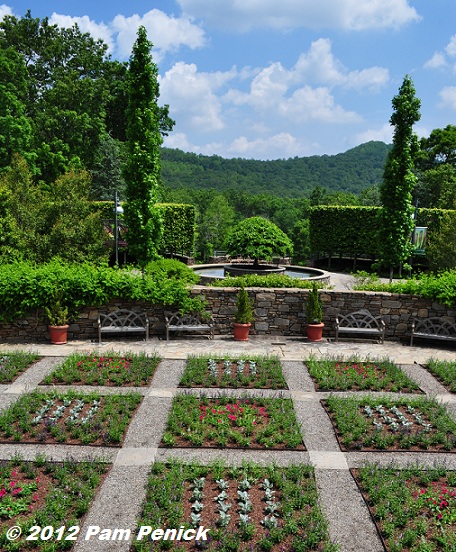 The North Carolina Arboretum in Asheville, one of our stops during the recent Garden Bloggers Fling, offers not only formal gardens, naturalistic gardens, a Professional Landscape Garden, and a bonsai exhibit, to name a few, but miles of trails on hilly terrain and framed views of the Blue Ridge Mountains.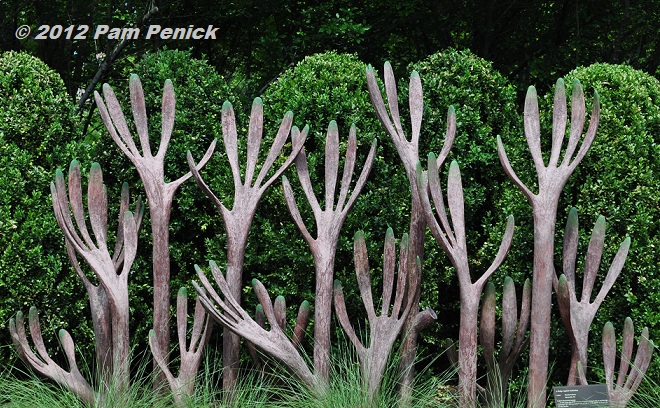 I strolled through the gardens and came upon this finger-like sculpture. Recognize it? It's the image from the Asheville Fling banner. The sculpture, by Martin Webster, is called A Hedge Against Extinction.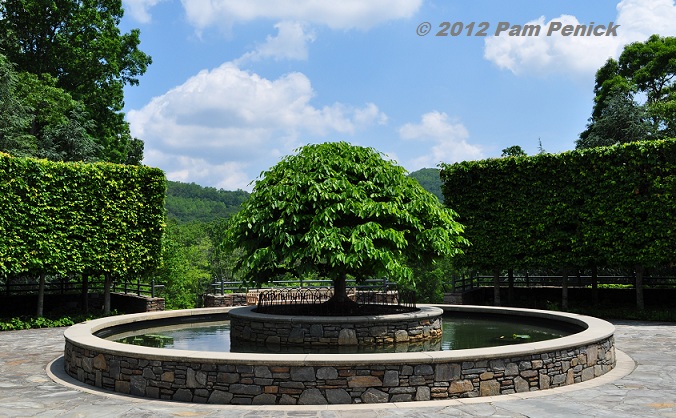 Hedges there were aplenty, as well as iconic trees, as befits an arboretum.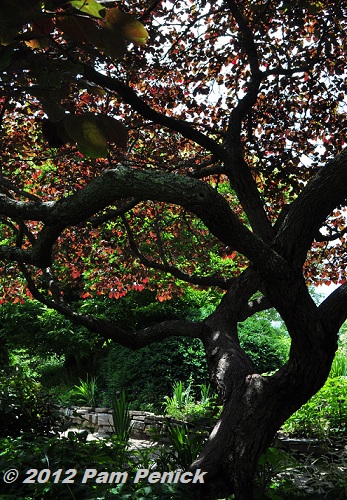 A beautifully contorted Japanese maple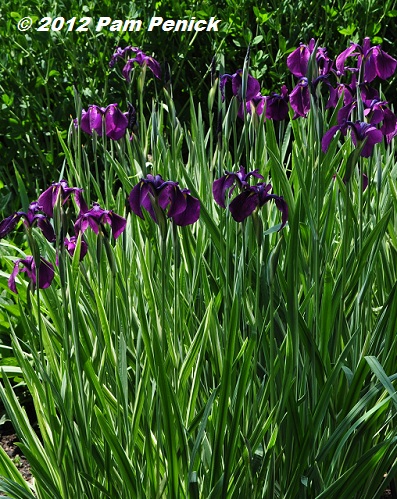 Iris were in bloom…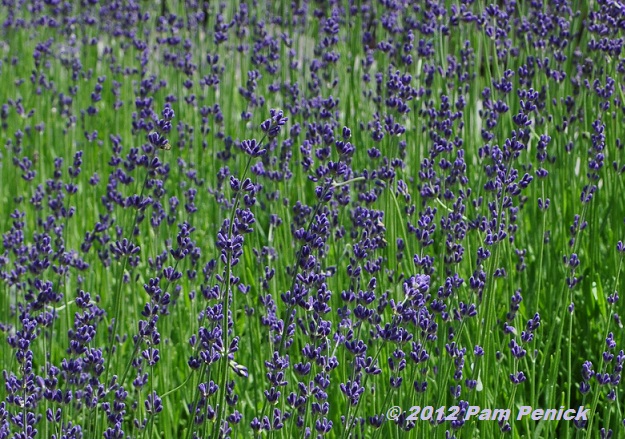 …as well as lavender.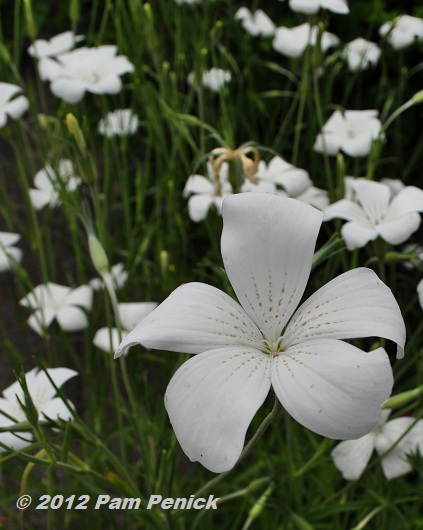 I was smitten by these white flowers with pale, freckled faces.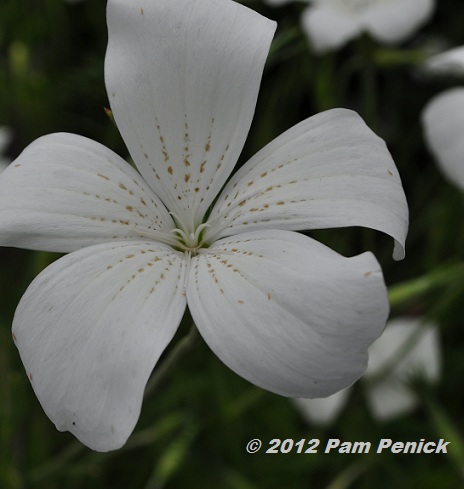 Does anyone know the name? Update: Agrostemma githago 'Ocean Pearls.' My thanks to Kaveh for the ID.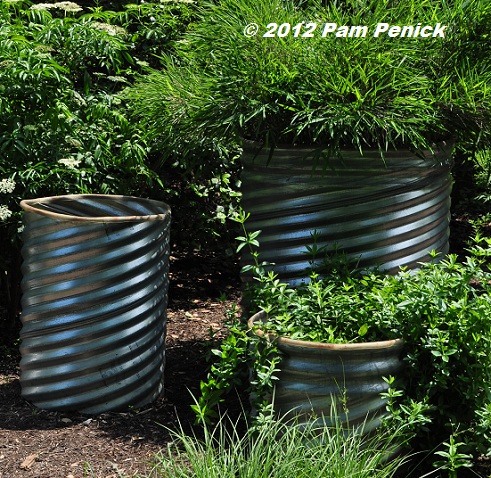 This was a surprise: culvert pipe planters, like the ones I've got in my own garden. I never expected to see funky, construction-material reuse at a botanic garden. But then again, this is Asheville, where recycled materials adorn the local gardens. These do seem a bit underplanted, however.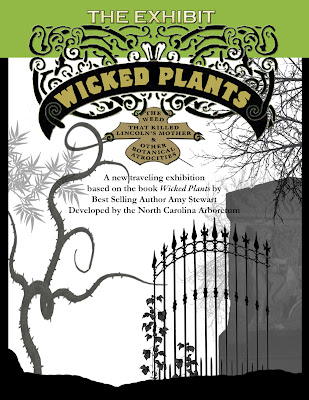 My favorite part of our visit was the chance to explore "Wicked Plants: The Exhibit", a macabre display based on author Amy Stewart's Wicked Plants: The Weed That Killed Lincoln's Mother & Other Botanical Atrocities.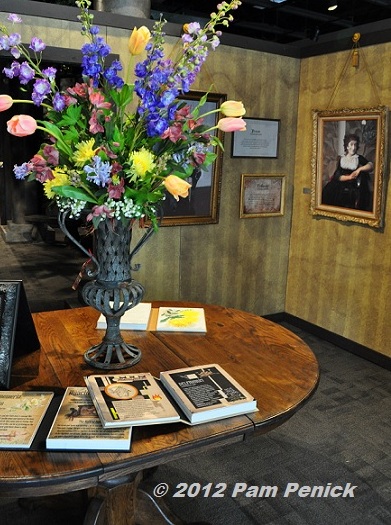 The exhibit is set up to resemble a decrepit, eerie house, with sinister portraits on the walls, peeling wallpaper, faded Victorian furniture—the works. It was convincingly constructed.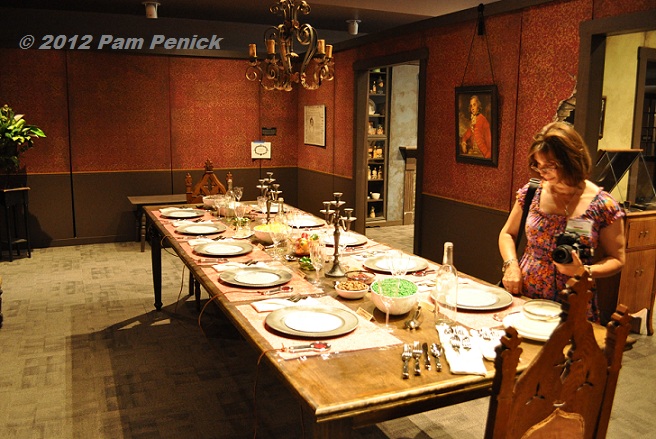 As you explore the various rooms, you can handle the props, like the place settings at this table, which contain questions and clues about killer plants. In one room a corpse (fake, of course) actually lies sprawled on a table, and you soon realize you're trying to solve a mysterious death by examining the evidence in the room—personal letters, framed newspaper clippings on the walls, and "old" books lying on the tables—to determine what killed her. (Hint: it's plant related.)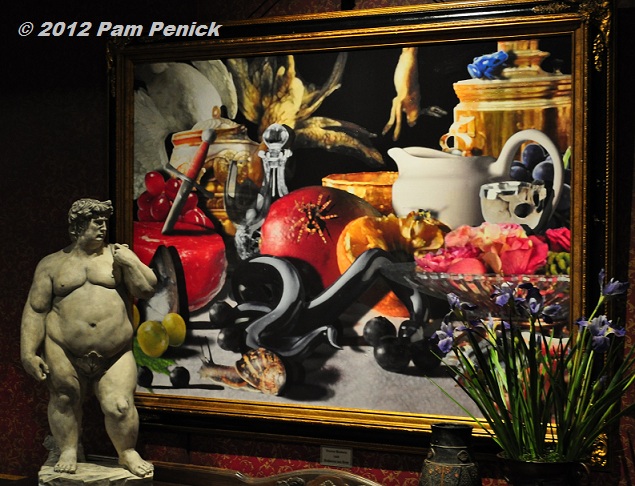 I found it marvelously engaging, satisfyingly creepy, and even educational. The exhibit remains at the North Carolina Arboretum until September 3, and then it will begin touring the country. If you get a chance, go see it. And take the kids—they'll love the eeriness and hands-on nature of the exhibit.
For a look back at the Biltmore House gardens, click here. Next up, my final post from the Asheville Fling: A stroll through the White Gate Inn's cottage-style garden.
All material © 2006-2012 by Pam Penick for Digging. Unauthorized reproduction prohibited.
posted in
Books
,
Botanic/Public Gardens
,
Containers
,
Fling Asheville
,
Garden art
,
Garden tours 2012
,
Ponds
,
Sculpture
,
Travel
,
Trees
,
Water features