November 5th, 2006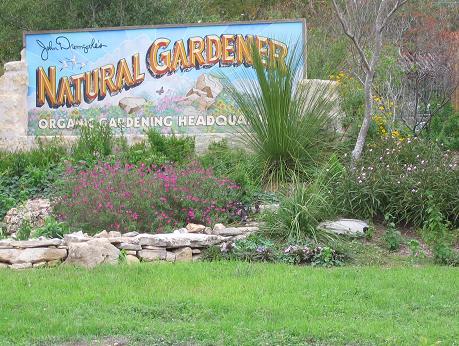 In the spirit of my recent Open Days tour, I took my camera along during an afternoon trip to Natural Gardener nursery for a pot of oxalis. It was a simple enough errand, and the cool, gray skies made a tour of the nursery's gardens very appealing. I love fall's cool, cloudy days, though I won't complain about bright blue skies either. Cool is the key.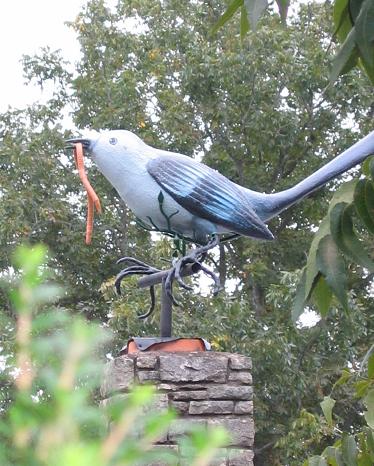 A giant mockingbird with a worm in its beak perches on the chimney of the building that houses the sales desk. Quirky details like this make a trip to the nursery lots of fun, especially with children.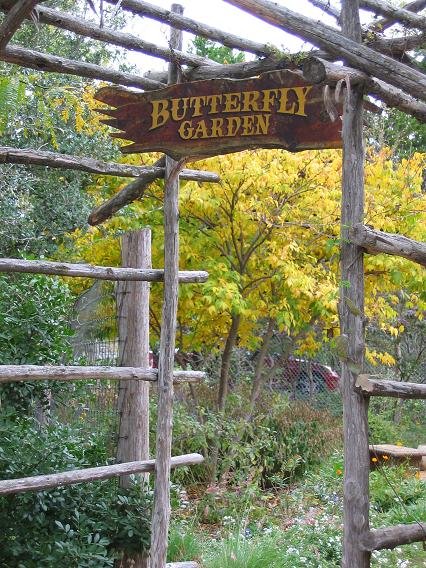 Aside from a great native- and adapted-plant selection, what I really love about Natural Gardener are its grounds and gardens. It's a long drive out to Oak Hill (just forget about it during rush hour) from my house, but I can easily spend an hour poking around once I get there. Everywhere you turn, enclosed gardens display beautiful Hill Country plants, and the rolling, cedar hills around the nursery—rapidly filling up with apartments and new homes, I'm afraid—add to the country appeal. Pictured above is the entrance to the butterfly garden, located right off the parking lot.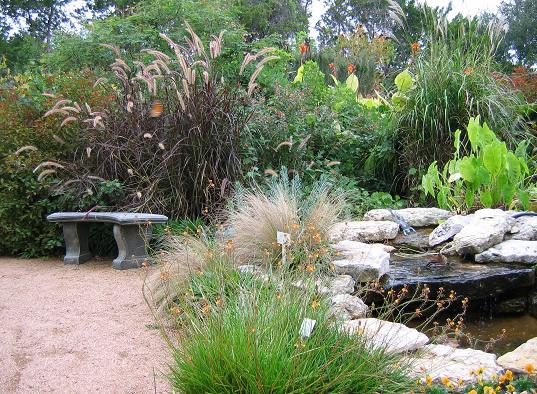 Inside the cedar arbor, you see a small pond and hear the trickle of a fountain. I read somewhere that this garden is shaped like a butterfly, as viewed from above. It's beautiful no matter the season . . . thanks to deer-proof fencing.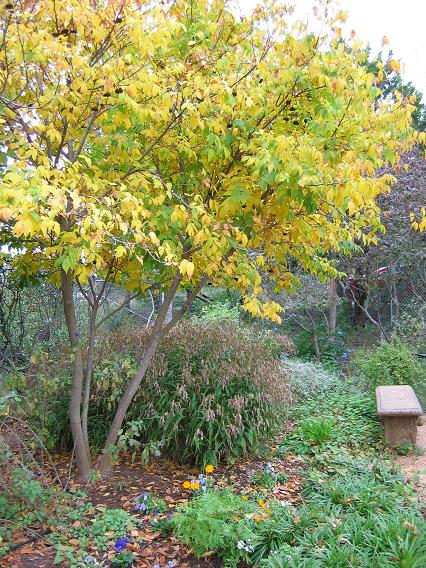 A Mexican buckeye steals the show with bright yellow leaves. Austin doesn't usually see much fall color, which makes me want to run right out and buy one of these trees for my yard.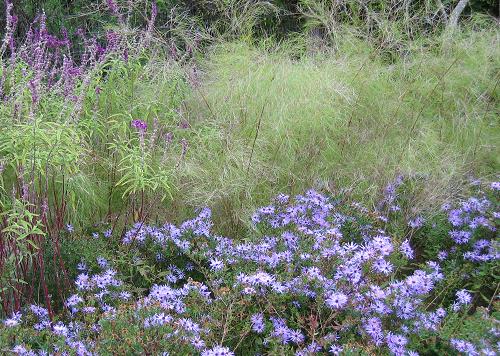 Around the bend, bamboo muhly feathers up around fall aster and Salvia leucantha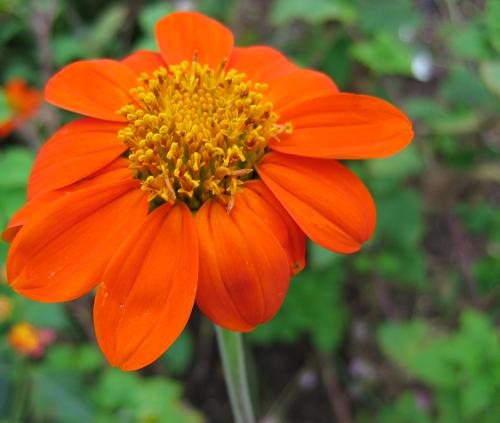 Flowers like this one keep the butterflies happy.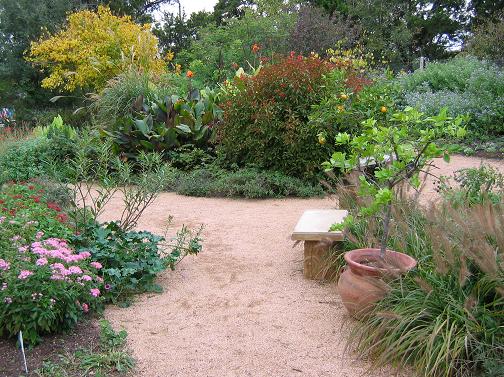 Looking back toward the entrance, you can see the yellow foliage of the buckeye again.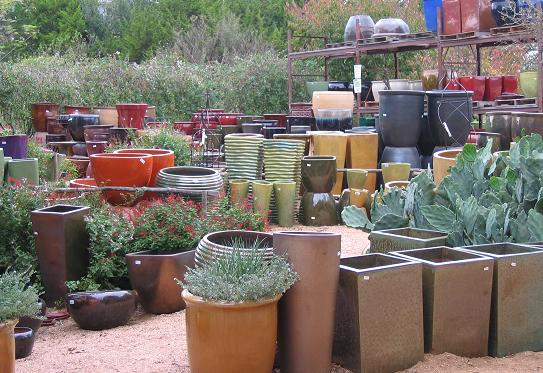 The nursery has a great selection of pots, eye candy for the garden.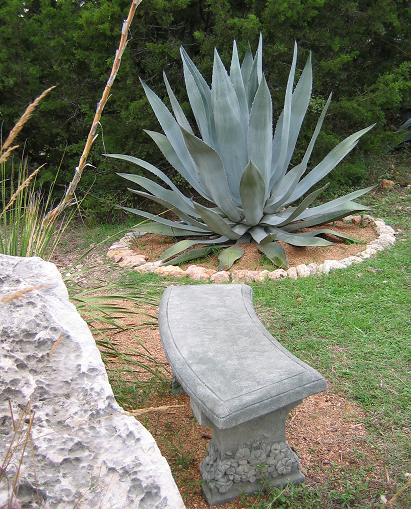 Large agaves that would make Tom Spencer sigh with envy stand like living sculptures.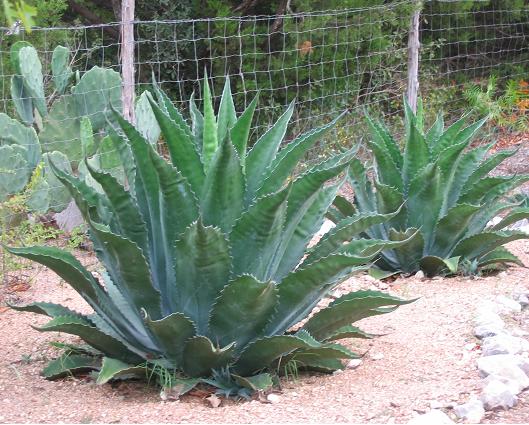 These agaves are absolutely enormous, making me wonder how long they've been growing here.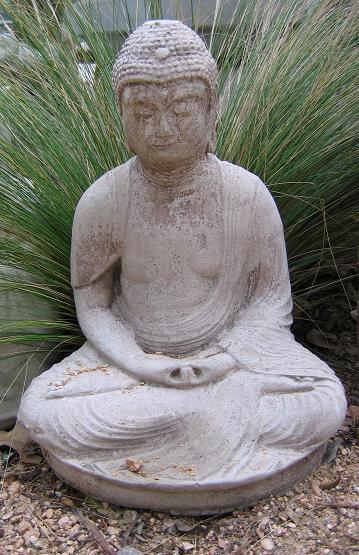 A sense of New Age spirituality is on display in the gardens. That's not my thing, but it works fine here and makes for interesting explorations. Among the statuary, several different kinds of buddhas, angels, St. Francises, and Madonnas are for sale, and many of them have been placed throughout the gardens, along with Tibetan prayer flags and a Native American tepee. A labyrinth accented with diminutive buddhas culminates the display.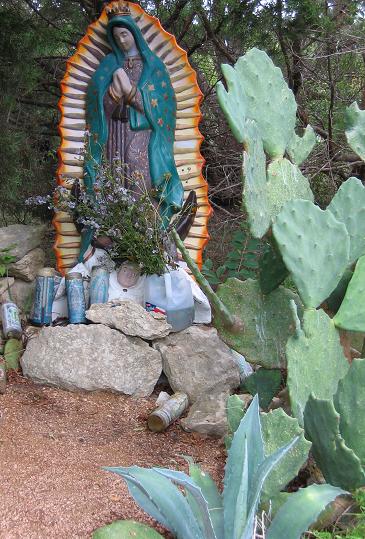 A shrine to Madonna with candles and cut flowers is tucked under some junipers near the labyrinth. I saw a rabbit dart into the brush right here as I approached.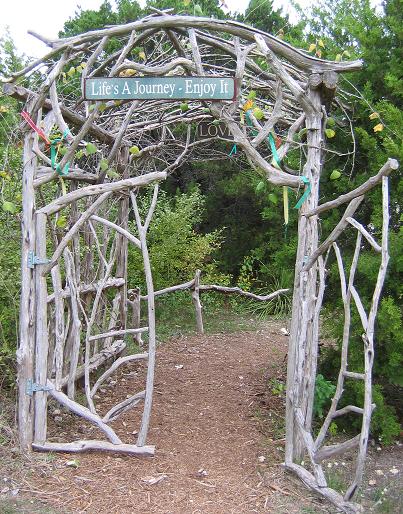 I love the homemade cedar arbors, gates, and fences that accent the gardens. This is the entry to the labyrinth and the tepee area.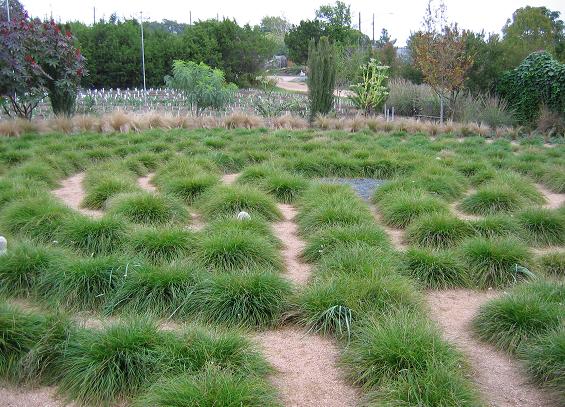 My kids' favorite feature—they love to run (not reflectively in the least) the labyrinth. Tufts of sedges outline the maze-like path that turns back on itself many times before leading you to the center. If you walk it as you're meant to—slowly and thoughtfully—it can take a good fifteen minutes to follow the path into the center and then out again. You pass buddhas with small stones or coins in their laps.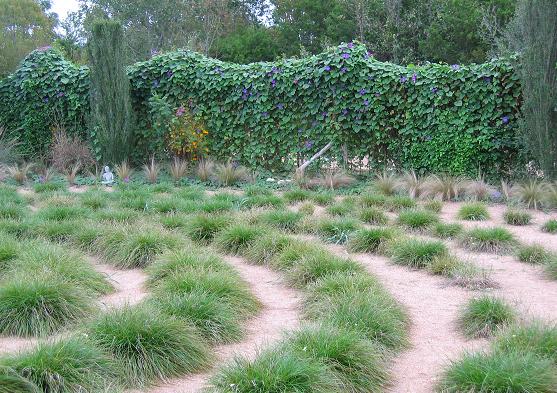 It's a lovely garden feature in its own right. Along the side, Will Fleming yaupons provide vertical lines, and morning glory drapes the deer fence in blossoms, shielding the labyrinth from the driveway on the other side.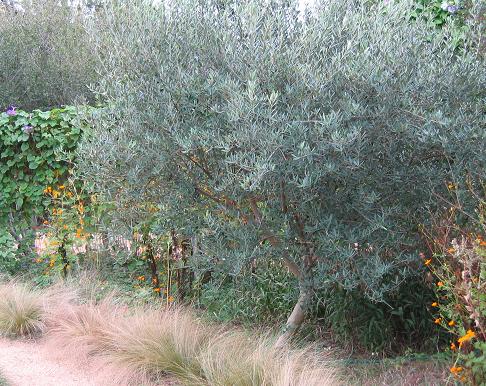 A good-sized olive tree grows nearby.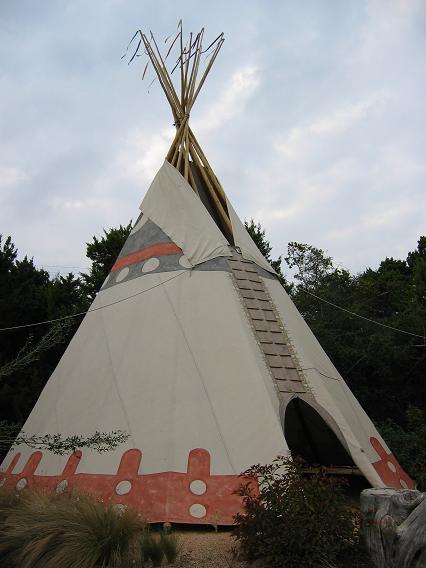 The tepee is adult-sized and presented next to the labyrinth. It's quite dramatic. I imagine drum circles occur here.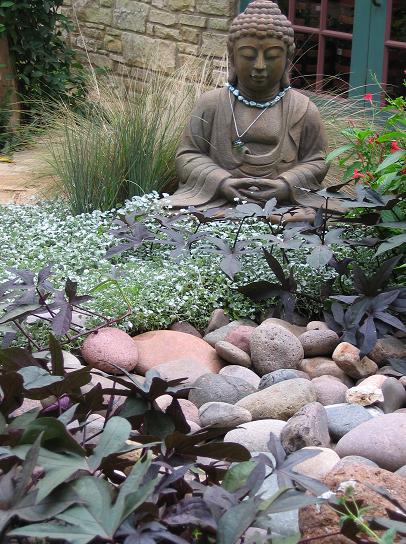 Heading into the main part of the nursery, you pass this lovely vignette. The colors, the textures, the river-like sweep of it—I'd love to have this in my garden, buddha and all.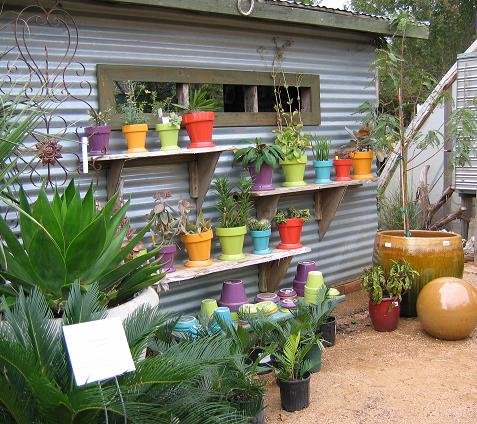 In the succulent garden, a cheerful display of colorful pots line the walls of a shed.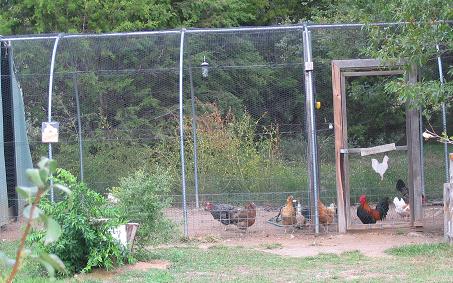 A chicken coop adds a little cock-a-doodle-doo to the grounds. Kids of all ages can be found here, poking blades of grass, roly-polys, or their own fingers through the chicken wire.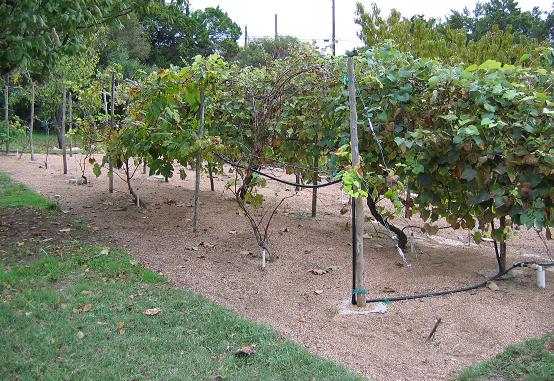 The orchard contains grapes, plums, and . . .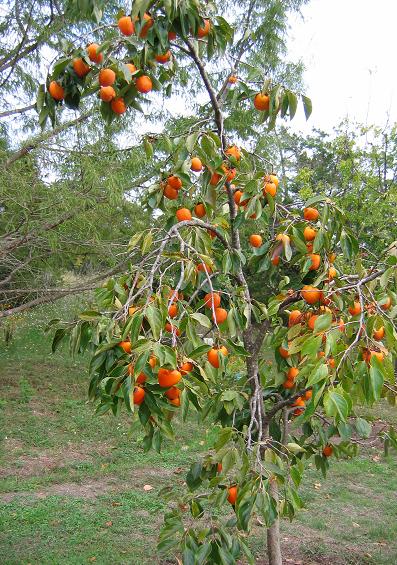 . . . this mystery tree persimmon in full fruit.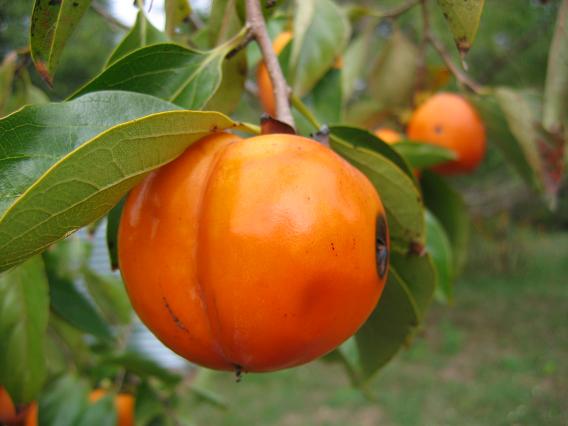 Bright orange fruit, cloven like a peach. Anyone know what this is? An oriental persimmon, according to the commenters below. (Thanks, guys!) I should probably know but . . .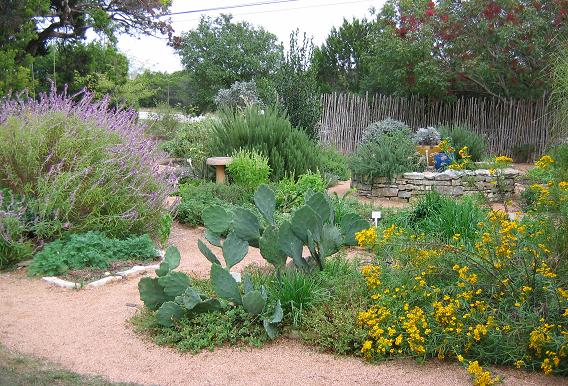 The herb garden not only smells good but looks good in concentric circles, the center one raised. I also love the cedar post fencing behind the garden.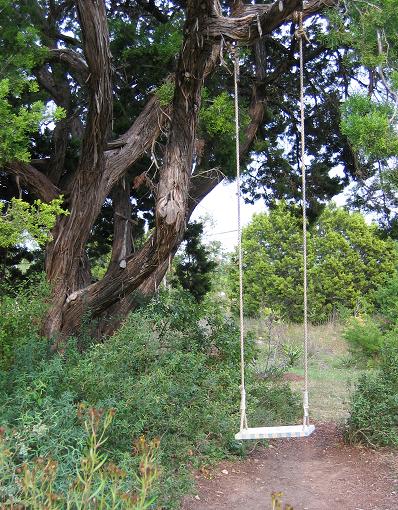 A child's swing hangs from a large juniper (what Texans like to call cedar) tree by the herb garden, offering old-fashioned swinging pleasure for restless visitors.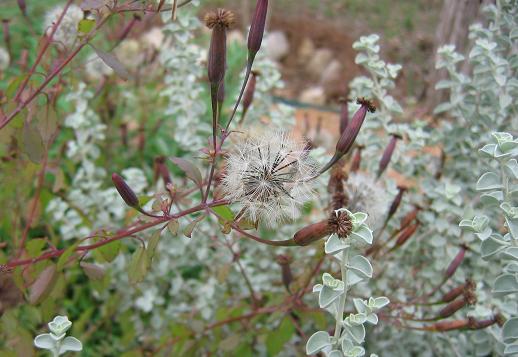 Herb garden textures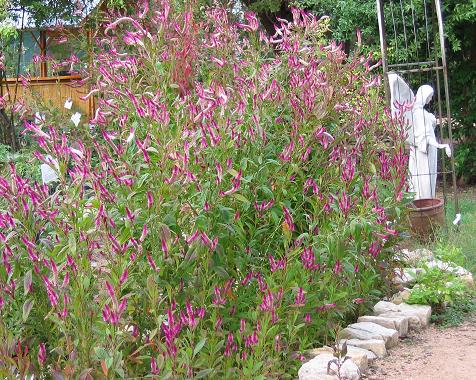 Amaranthus and angel. Remember this plant from the Hornickle garden? I sure do.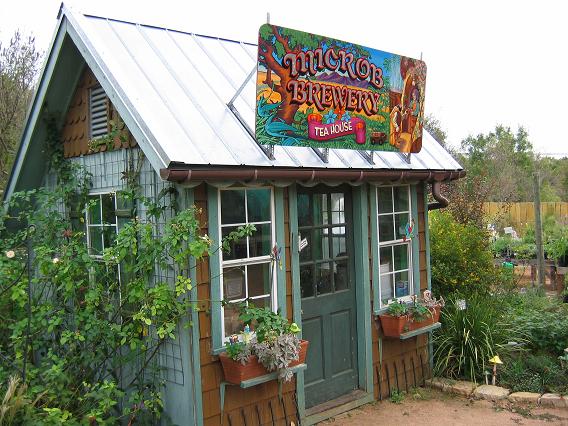 The Microb Brewery is where you can get compost tea for your garden. I've never tried it, but the sign is cute.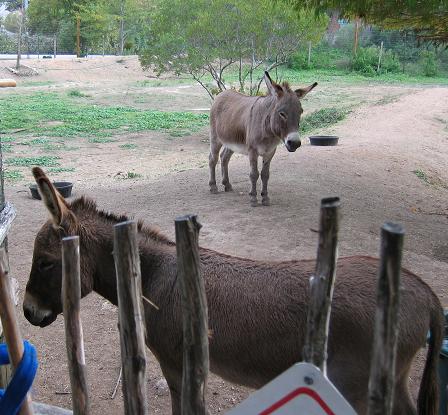 Two vocal donkeys add to the country ambiance. Let's see, that makes chickens, donkeys, several cats, wild rabbits, and numerous birds and butterflies common sights at the nursery. No wonder my kids love to visit.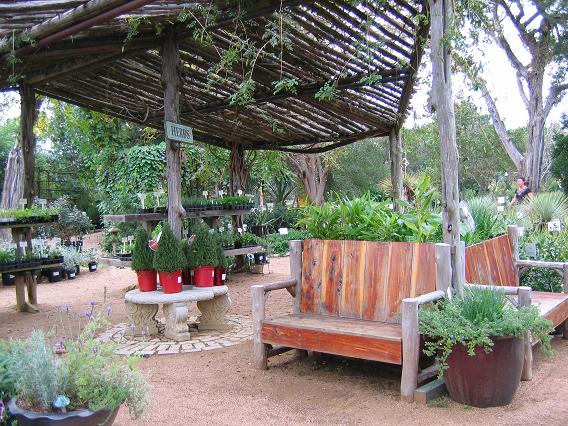 A cedar shelter and benches provide shady comfort for both plants and shoppers.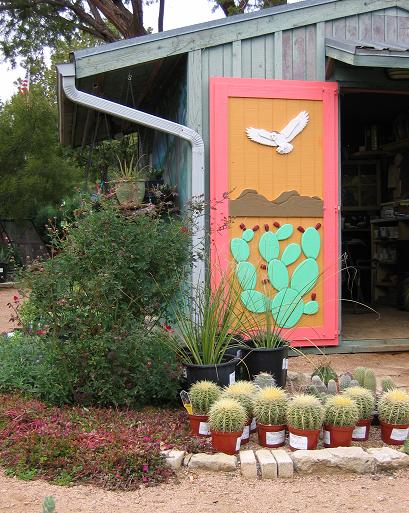 A help desk (shed, really) stands amid the cacti and succulents. This beautiful door is just one more accent I enjoy at this lovely nursery.
I always like coming to Natural Gardener, but seeing it through my camera lens made me conscious of what I really love about it. My other favorite nursery is Barton Springs Nursery, and I think I'll do a photo tour there the next time I go.
Which nurseries in your town inspire you?
posted in
1st garden--2006
,
Agaves
,
Arbors
,
Birds
,
Cactus
,
Chickens
,
Containers
,
Decor
,
Edibles
,
Fall color
,
Garden art
,
Grasses
,
Nurseries & Shops
,
Paths
,
Ponds
,
Roses
,
Sculpture
,
Seating
,
Sheds
,
Succulents
,
Texas natives
,
Trellis
,
Vines
,
Xeric plants