May 25th, 2012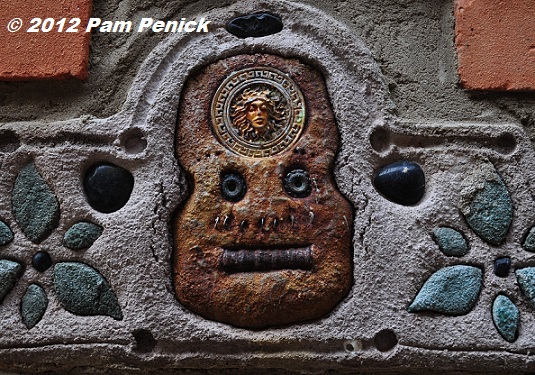 Skulls, skeletons, gravestone fragments, gargoyles, and other eerie tokens are tucked into nooks and crannies…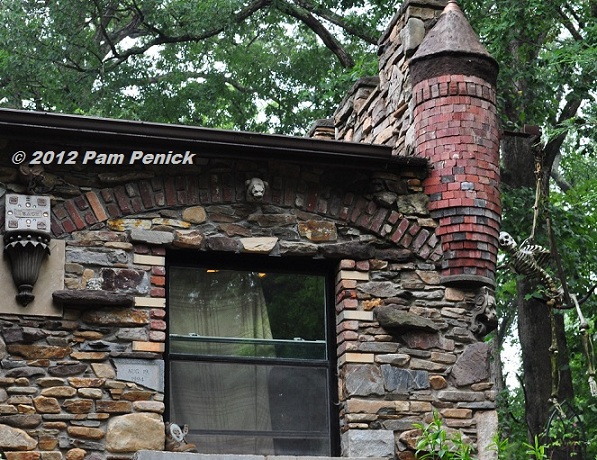 …and dangle from the eaves throughout Wamboldtopia, an art-filled garden (or garden of art) and stonemason's paradise located off Wamboldt Avenue in west Asheville.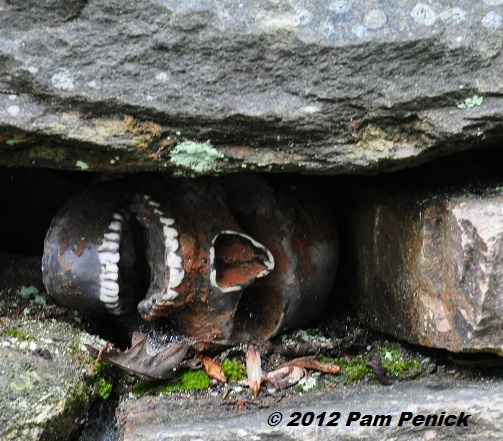 The Goth accents…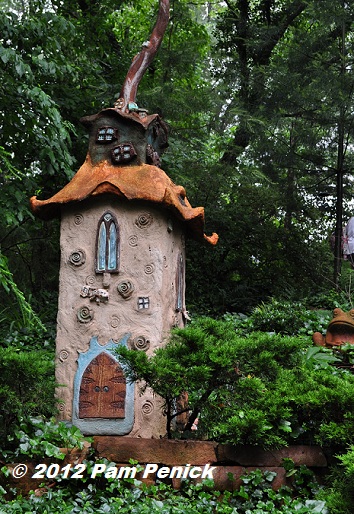 …are countered by a slew of whimsical fairy houses…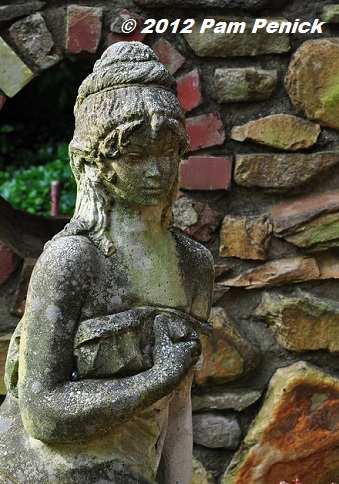 …stone maidens and other garden guardians…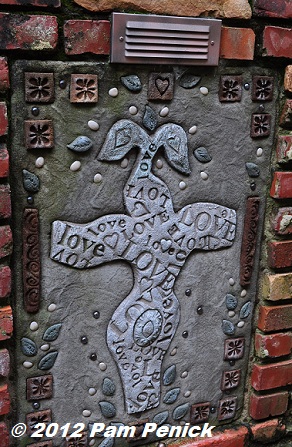 …and life-affirming messages.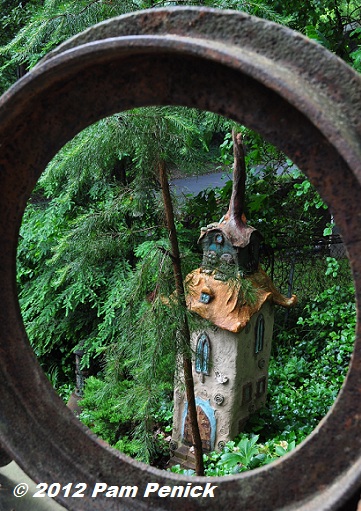 Light and dark, life and death—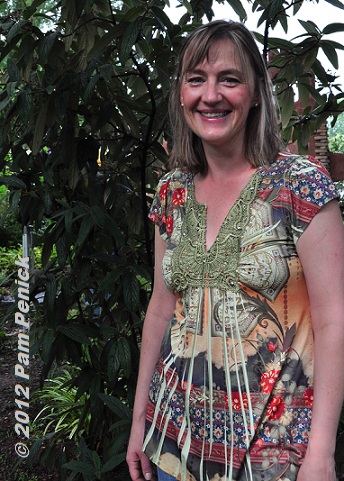 It's all represented in this joint creation by artist Damaris Pierce…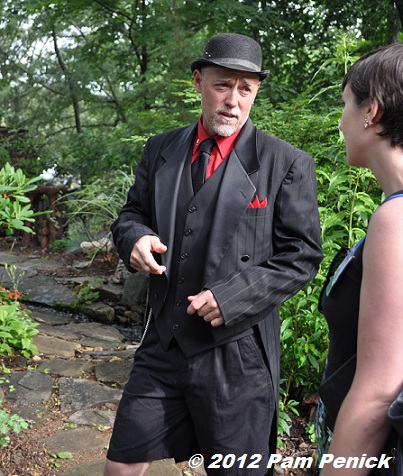 …and dapper stonemason Ricki Pierce…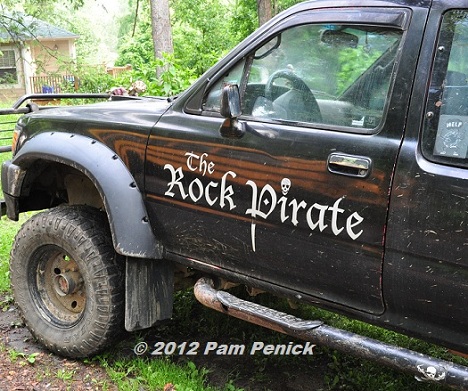 …aka the Rock Pirate.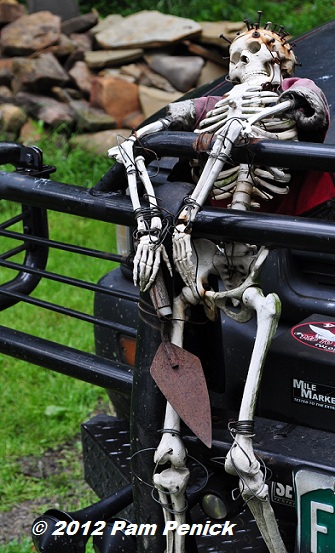 Hood ornament on Ricki's truck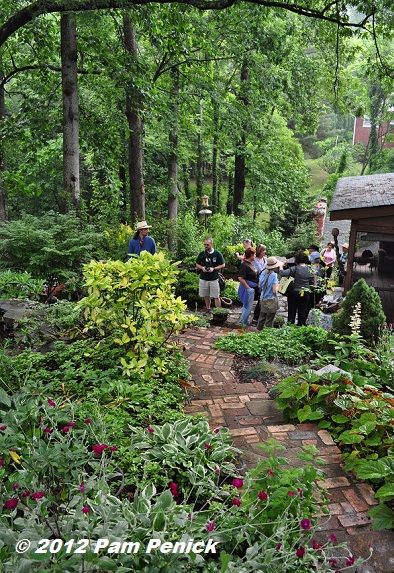 Formerly a couple but still friendly collaborators, Damaris and Ricki jointly created the hillside garden that is their home (each has a house on-site), office, experimental play space, and art gallery.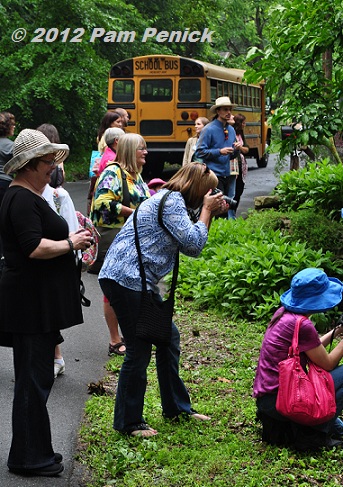 Our first stop on last week's Garden Bloggers Fling, Wamboldtopia was our introduction to Asheville gardens, where recycled and handmade art often stand on equal footing with the plants that mingle in a lush tangle and cascade down steep hillsides.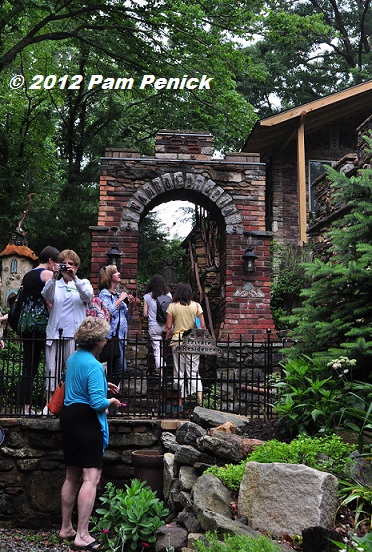 From the street, a stairway rises through a brick arch, leading up to the houses and into the garden. The arch spells out "Wamboldtopia."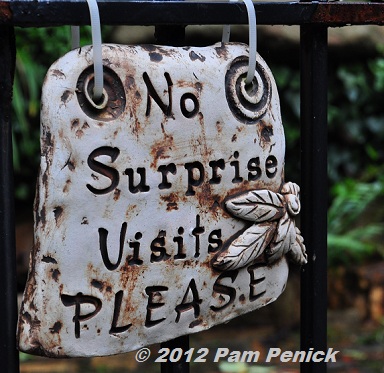 I'm sure the owners, who are gracious and welcoming, are often surprised to find unannounced visitors poking through the fantastical garden. What a nicely worded sign asking for a little advance notice.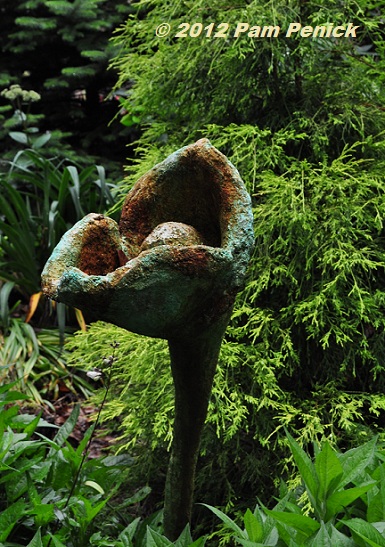 Handmade sculpture adorns the garden at every turn. This one is reminiscent of Georgia O'Keefe's paintings, with a vaguely floral sexuality, don't you think?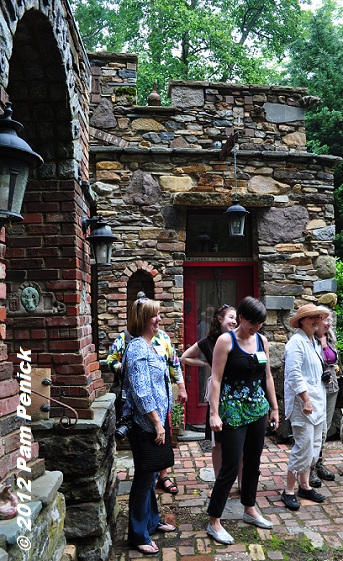 The stonework has a hobbity, fantasyland appeal.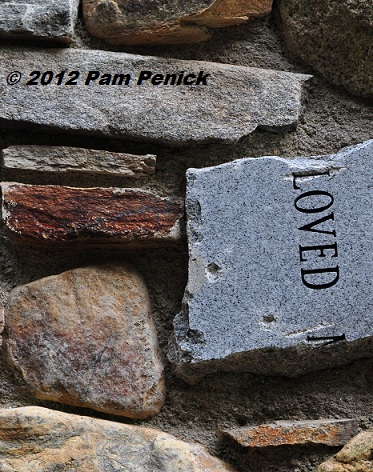 This gravestone fragment is simultaneously Goth and life-affirming.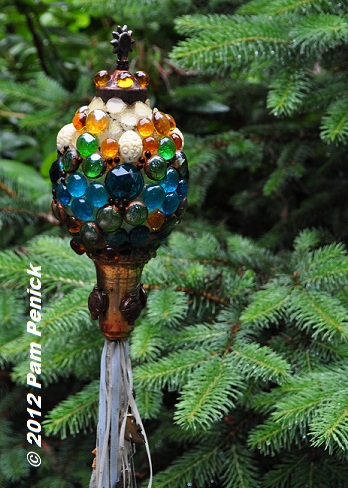 A jeweled scepter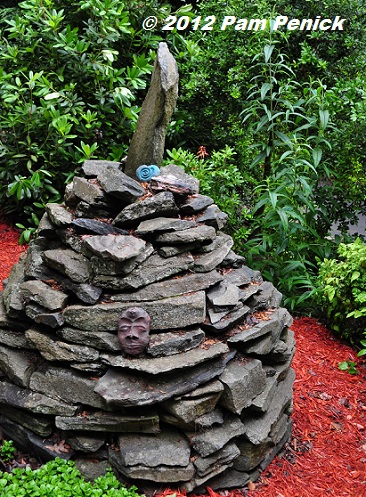 Rock cairn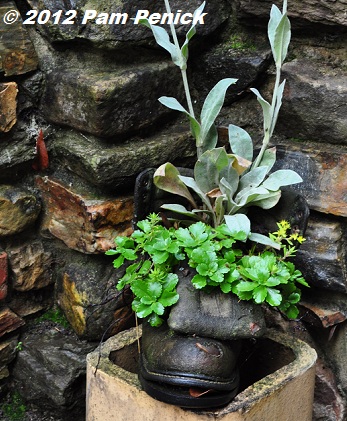 An old boot turned into a planter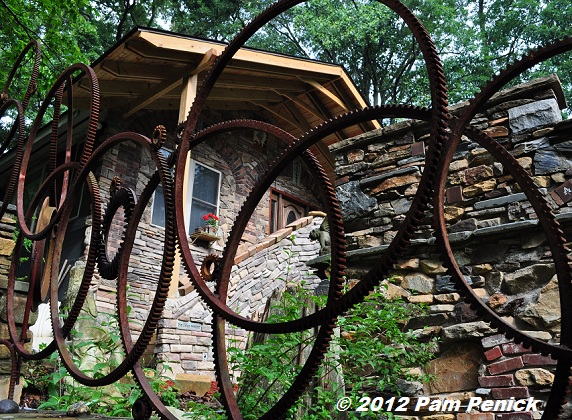 OK, so I'm still on the entryway. I love this repurposed hoop installation along the stair rail, which seems to be bouncing down the stairs.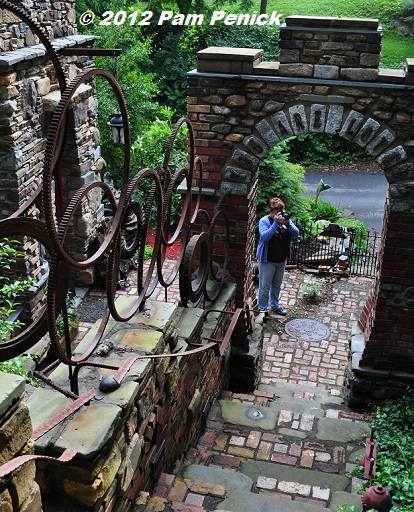 There's Dee of Red Dirt Ramblings at the bottom of the stairs. The back of the arch spells out "You are loved."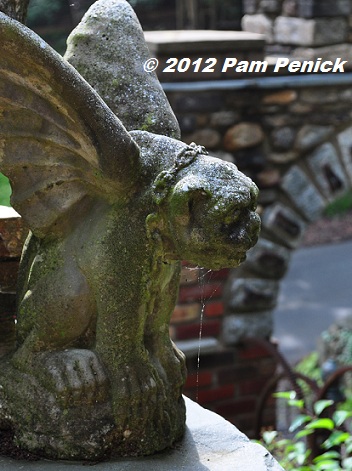 Drooling gargoyle? No, that's a spiderweb catching the morning light.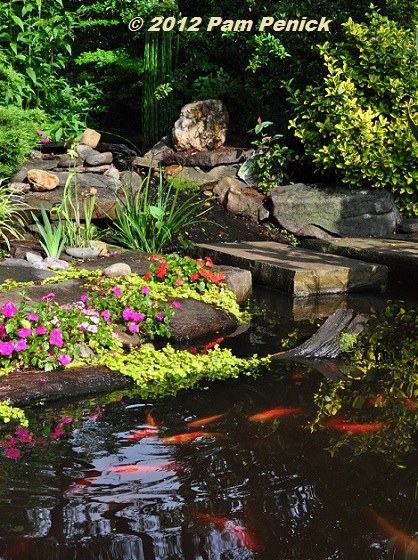 As you reach the main level of the garden, the part that surrounds the two houses, you see this pretty fish pond at eye level as you ascend the stairs.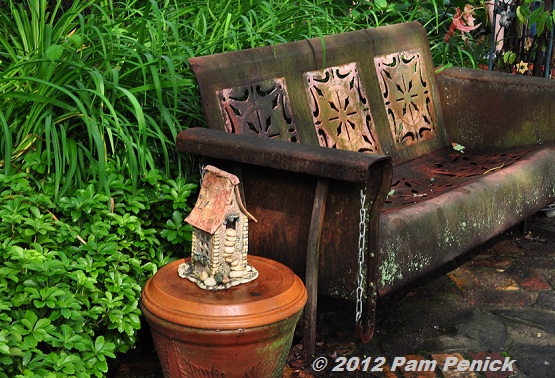 Rustic seating offers a place to sit and admire the view.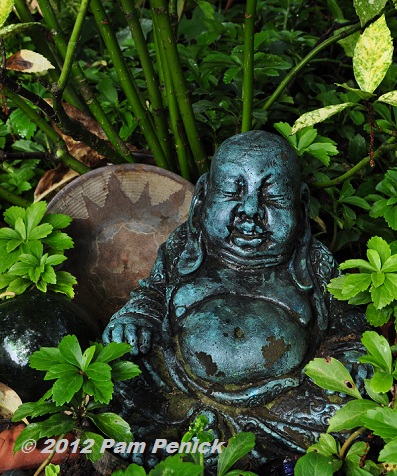 That's what Buddha's doing.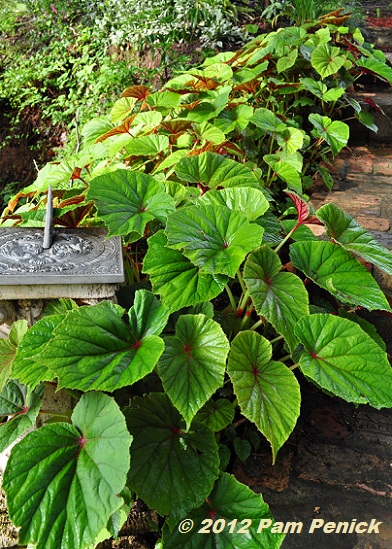 I love this groundcovering plant with big leaves with a red eye at the center and rosy undersides. Update: It's Begonia grandis, or hardy begonia. Thanks to Jenn, Les, and Lisa for the ID.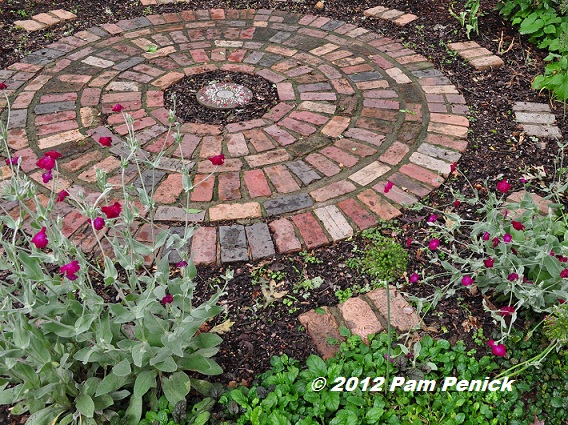 A tiny circular patio, like a fairy ring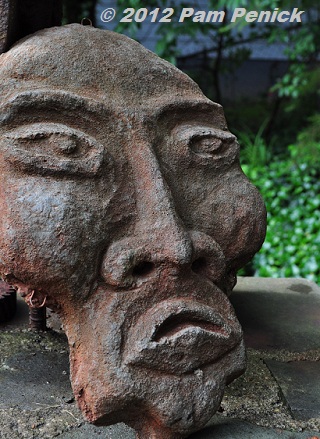 Another guardian face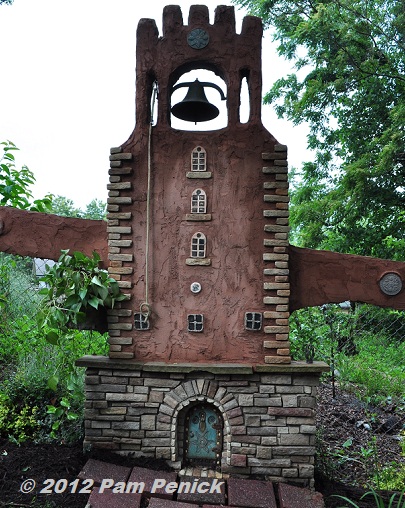 The back of the garden is fenced with chain link. Damaris and Ricki have taken a creative approach to disguising it, by plastering a concrete-like mix onto a chicken-wire framework and making a fantasy-scape of belltowers…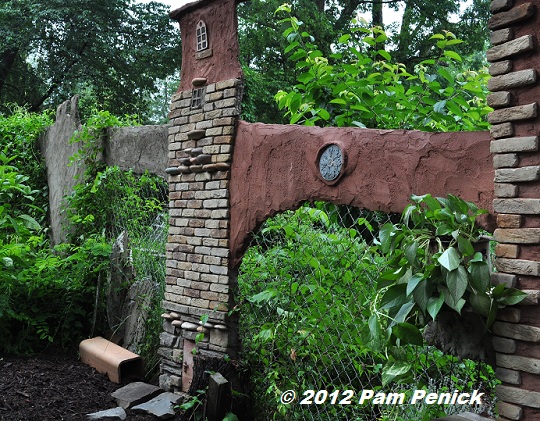 …fairy houses and archways.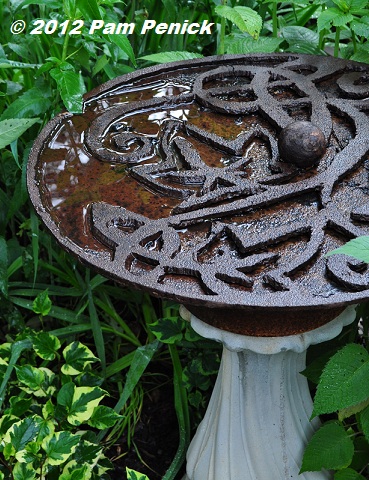 The marriage of recycled and handmade art…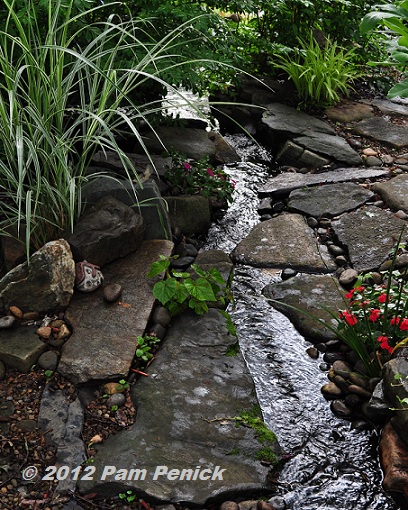 …and a naturalistic hillside garden made for the perfect introduction to Asheville's arty-hippie scene and great natural beauty.
For a look back at the Curve Studios garden, which blends lovely plant combos with recycled metal hardscaping, click here. Next up: A snapshot of the Burton Street Community Peace Garden and Sunny Point Cafe garden.
All material © 2006-2012 by Pam Penick for Digging. Unauthorized reproduction prohibited.
posted in
Containers
,
Decor
,
Fish
,
Fling Asheville
,
Garden art
,
Garden structures
,
Garden tours 2012
,
Gates
,
Groundcovers
,
Hillside
,
Paths
,
Patios & decks
,
Ponds
,
Rivers & creeks
,
Sculpture
,
Seating
,
Travel
,
Trees
,
Walls
,
Water features