May 24th, 2012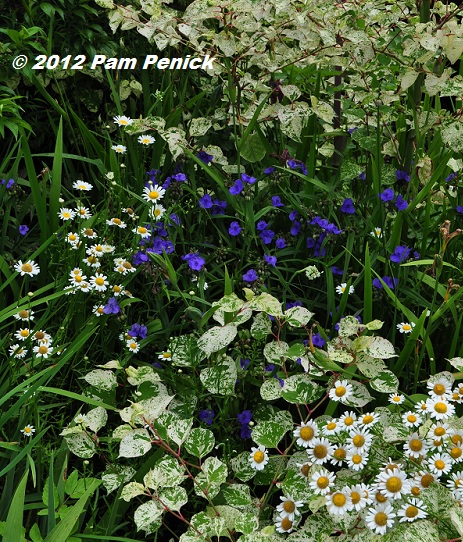 Lunch on the first day of the Garden Bloggers Fling in Asheville, North Carolina, was billed as BBQ and gourmet ice cream from The Hop—yum! Shopping for locally made pottery and art at Curve Studios was promised as well—and was fantastic. But what I didn't expect was the charmingly quirky garden filled with repurposed metal artifacts, pulled perhaps from the surrounding warehouses-turned-art-studios.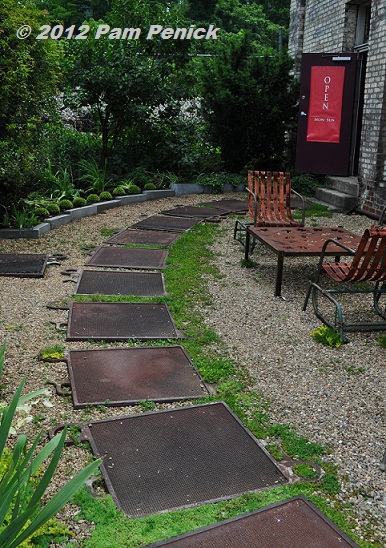 The garden is the creation of textile artist Pattiy Torno, who cheerfully introduced herself as she took her own photos of the bloggers noshing on BBQ throughout the garden. She has a talent not only for plant combos like the one pictured at the top of this post but also for creatively reusing cast-off materials, like this curving path of metal plates set in gravel.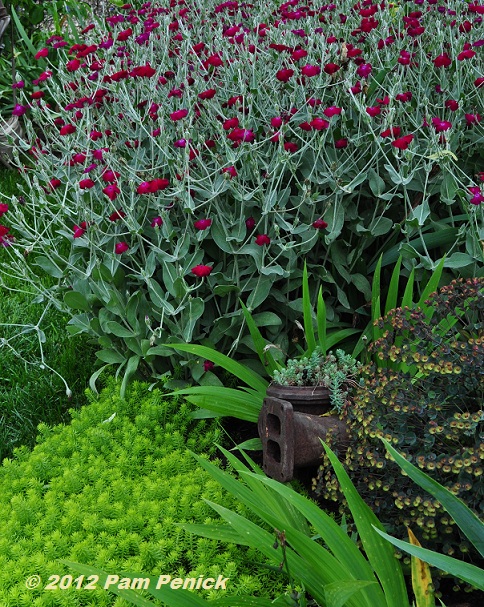 Other repurposed objects are more subtle, like this tiny sedum planter made out of an old…what is that? I don't know, but it's cool. Surrounding it is a beautiful medley of rose campion, 'Blackbird' euphorbia, iris, and 'Angelina' sedum.

A closer look at the metal planter and the blooming 'Blackbird' euphobia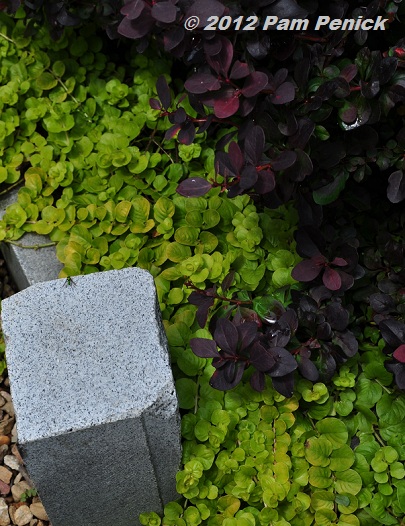 Pacific Northwest-style combos of glowing chartreuse and burgundy foliage appear too, like this pairing of creeping Jenny and barberry. A chipped granite block punctuates the outer corner of the stone-edged bed.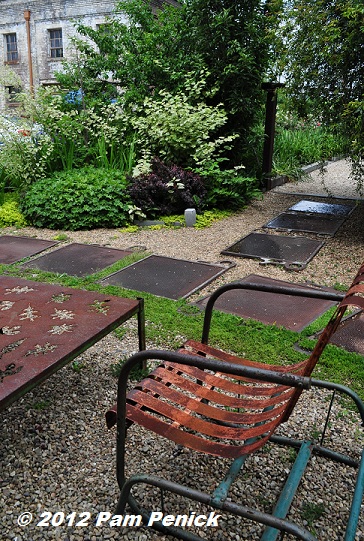 The garden stretches half the length of the parking lot between two art studios. A large shrub-and-perennial border along the sidewalk hides the interior of the garden from view, sheltering a formally shaped gravel patio which is entered on this side through an arbor and the metal-plate path.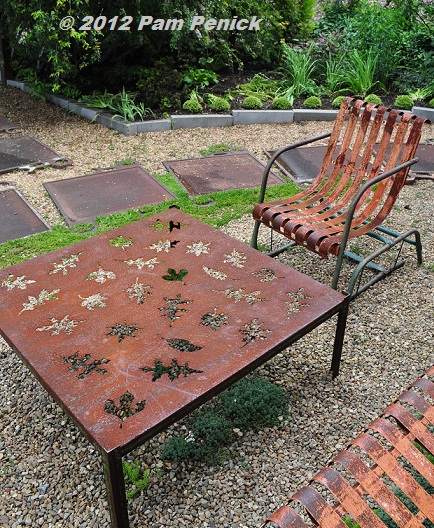 A closer look at the rusty garden seating, and that beautiful table with leaf cut-outs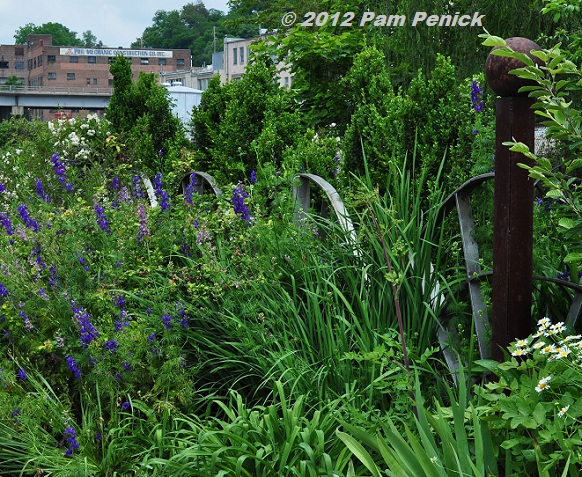 If I hadn't read on the Curve website that Pattiy designed the steel fence herself and hired a local craftsman to build it for her, I'd have thought it was made of salvaged material too. Doesn't it have the look of creatively repurposed wheels or something?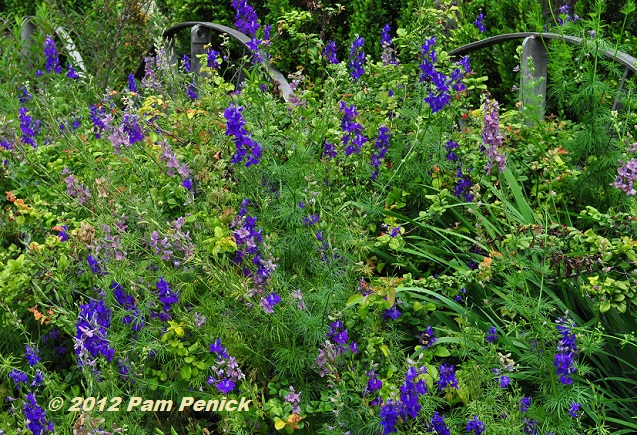 Larkspur blooms in abundance in front, nearly obscuring the fence.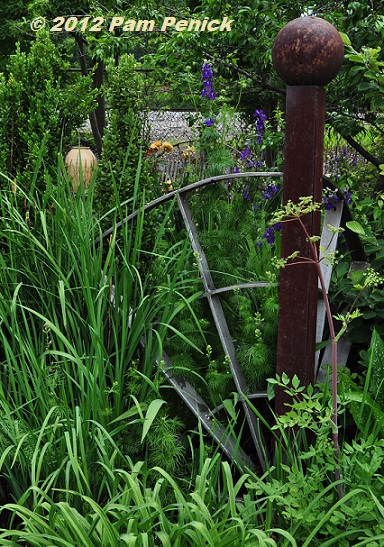 A rusty metal post topped with a metal orb serves as a tall corner post.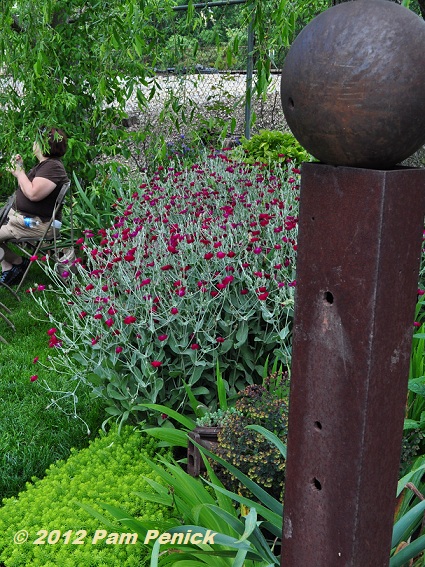 Here's another one that marks the doorway between the gravel patio and a lawn beyond.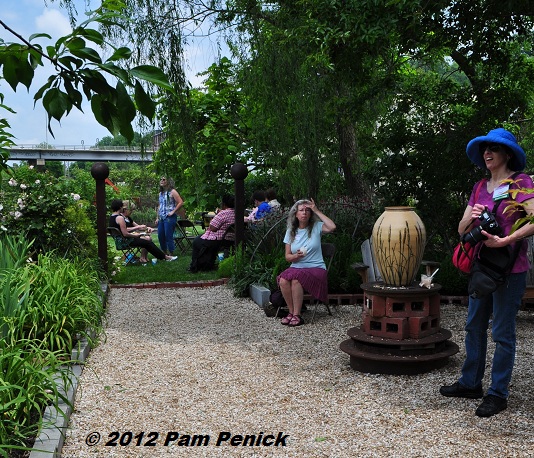 A wider view: gravel patio in front (with Frances of Fairegarden and Barbara of Mr. McGregor's Garden) and two metal posts at the far end that mark the transition to the lawn garden.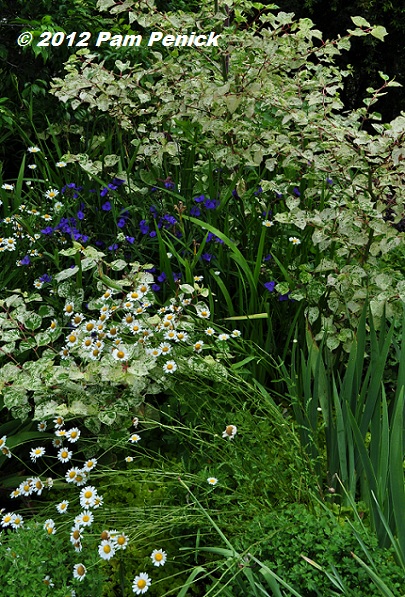 The variegated, nearly white shrub in back is unknown to me, but I love the way it echoes the daisies in front, with purple spiderwort providing contrast in-between. Update: Lisa has ID'd it as variegated Japanese knotweed.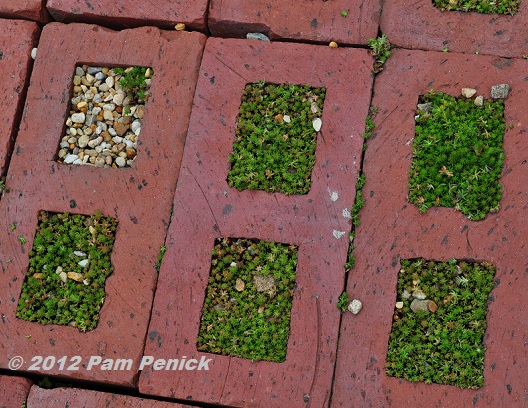 The living sidewalk in front of the garden is paved in recycled bricks turned on their sides, filled with gravelly soil, and planted with tiny sedum.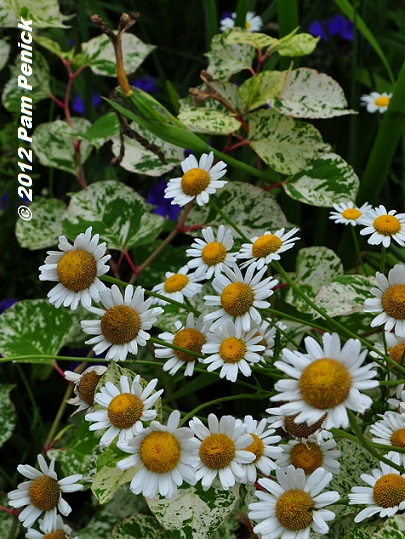 What a lovely place to enjoy our lunch!
For a look back at my post about the mountainside Gentling Garden, click here. Coming up next: The Goth-meets-fairy garden of Wamboldtopia.
All material © 2006-2012 by Pam Penick for Digging. Unauthorized reproduction prohibited.
posted in
Containers
,
Fences
,
Fling Asheville
,
Garden art
,
Garden tours 2012
,
Groundcovers
,
Paths
,
Patios & decks
,
Seating
,
Succulents
,
Travel