May 23rd, 2012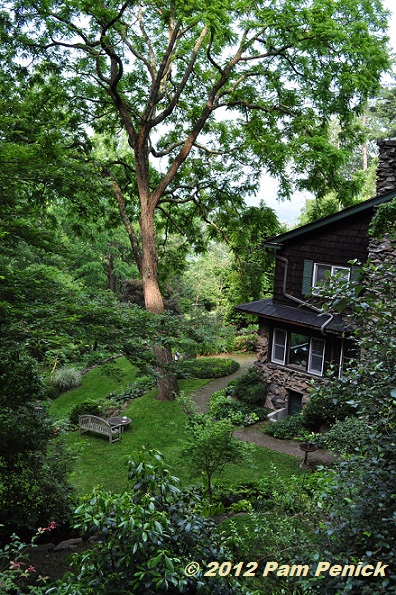 The first thing you learn about gardens in Asheville, North Carolina, on the slopes of the Blue Ridge Mountains, is that they have a lot of stairs. We're talking serious elevation changes. What does this mean for the gardeners who live here? Well, for one thing they are fit and have great legs. For another, they are able to capitalize on stunning views that most of us can only dream of.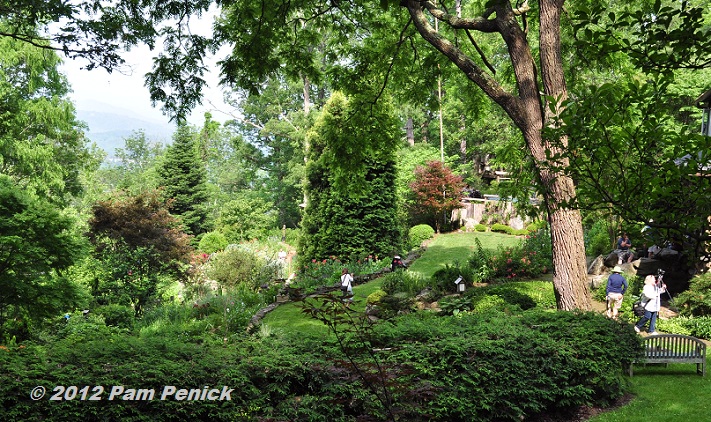 Last Thursday through Sunday I toured Asheville gardens with 90 or so fellow garden bloggers for the 5th annual Garden Bloggers Fling. (Previous Flings have been held in Seattle, Buffalo, Chicago, and Austin; next year's will be hosted in San Francisco.) We were bused around Asheville and nearby Clyde on two buses, sometimes on mountainside roads with steep drop-offs and hairpin turns. On the second day we spent all morning and had lunch in the gardener's garden of Peter and Jasmin Gentling, my favorite stop among many delightful gardens of the whole weekend. The Gentling Garden is big enough to ramble and get lost in, even with dozens of other garden bloggers, cameras snapping madly, fanning out to capture the scene.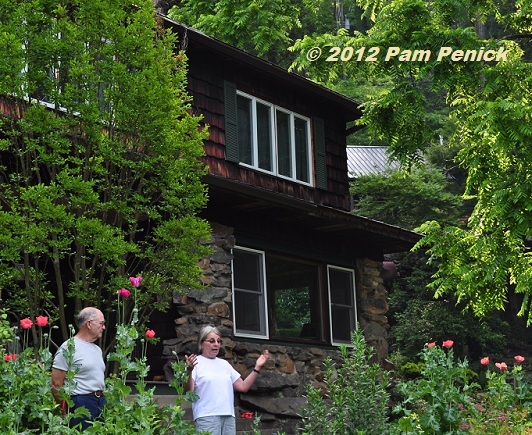 Jasmin and Peter welcomed us into their garden with humor and generosity, giving us the history of their historic home and its terracing that was buried under rampant undergrowth when they moved in, explaining that Jasmin likes flowers while Peter values evergreen structure and foliage, and pointing out that there is plenty of seating throughout the garden because they believe in sitting and being in the garden, not just working in it.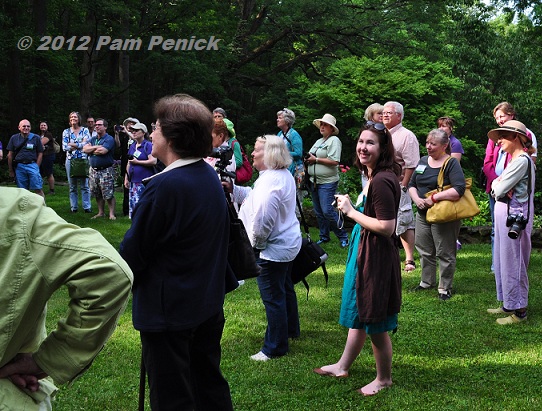 We listened attentively with cameras at hand, ready to spring forth and capture the morning light. One nice thing about touring gardens in the mountains is that you can sleep in and still get great light, as the sun has to clear tall trees and maybe a mountain or two before it can light up the garden.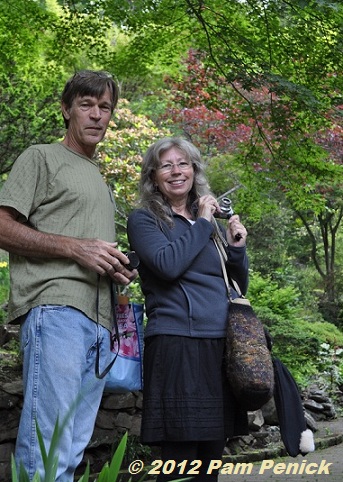 Two of our most excellent Fling hosts: Christopher C., aka the Planner Man, of Outside Clyde, and Frances of Fairegarden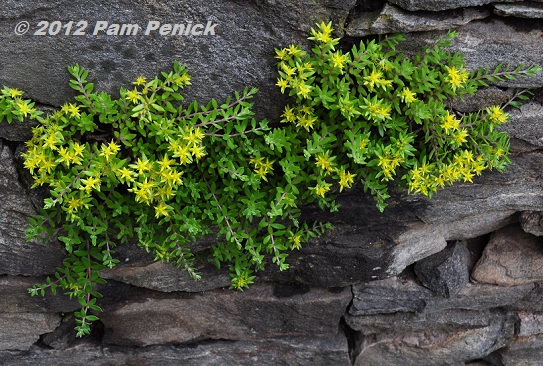 Another thing you need to know about Asheville gardens is that they use a lot of stone and therefore often have a rugged, timeless character.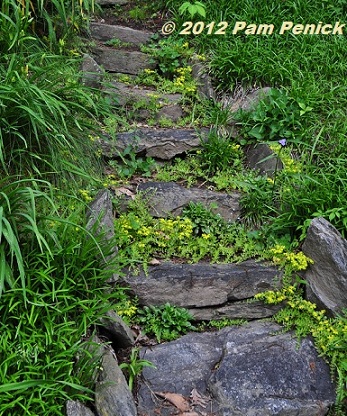 Christopher had instructed us that we would need sturdy shoes on the Fling, and he was right. Irresistible, primitive stone stairs like these beckon you to explore hidden overlooks and other secret spaces.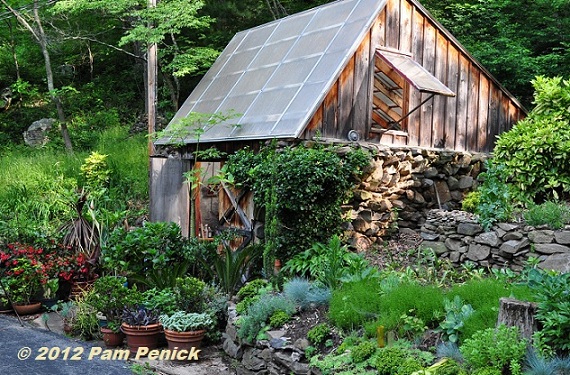 Above the house, along the driveway, sits Peter's painting studio, a charming stone-and-wood-sided structure with a translucent roof for good lighting.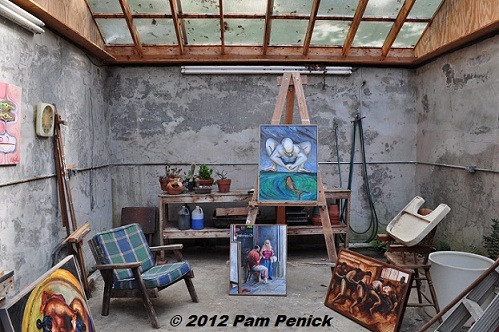 Inside, a peek at Peter's artworks. Some of the pieces appeared to depict sumo wrestlers, and I noticed other evidence of Japanese influence in the garden…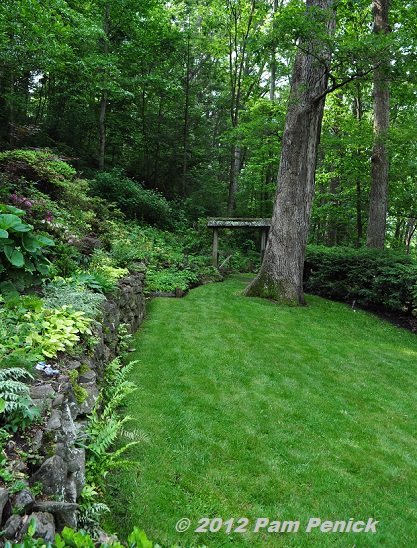 …like this Japanese-style gate…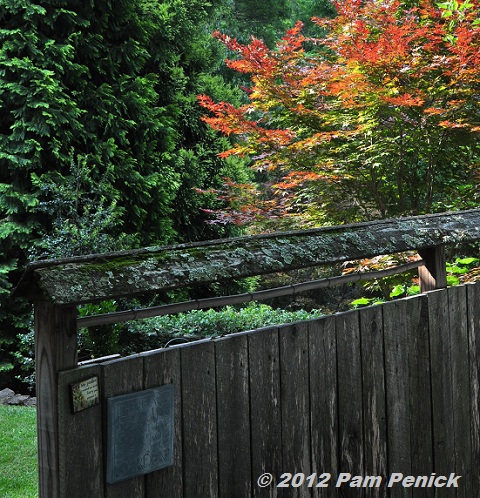 …and this fence, with a red-leafed Japanese maple blushing above it.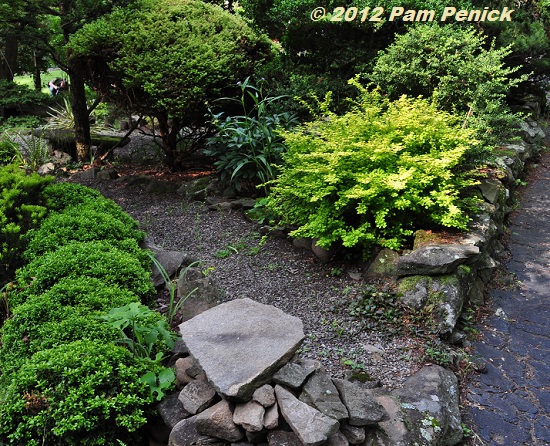 Peter said something rather extraordinary before setting us loose: he said that winter is their garden's best season. How many of us can say that (assuming you have a real winter, as Asheville does)? Looking around the garden, I began to understand why. Rock walls and terracing, evergreen shrubs along garden paths, and graceful trees whose shapely trunks are revealed in winter must all contribute to the garden's good bones, and I can imagine how lovely it looks under a soft blanket of snow.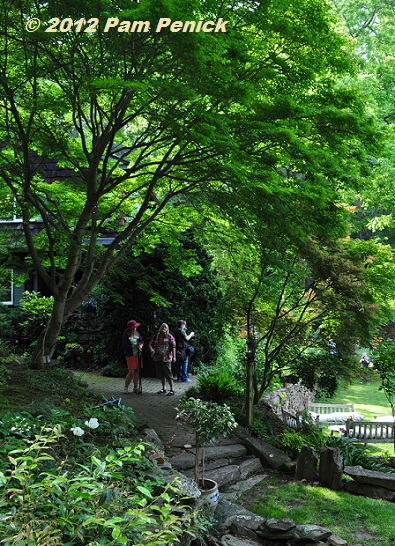 Near the house, a collection of Japanese maples and other trees offers shade.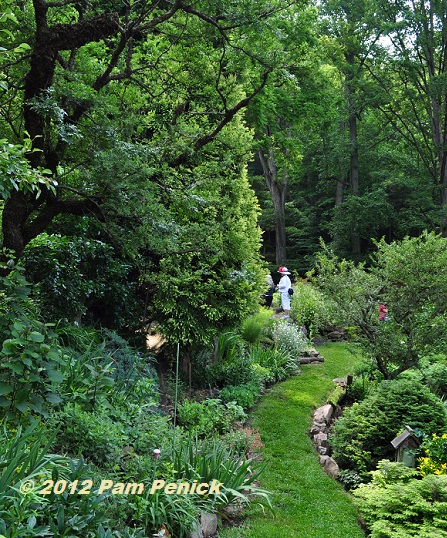 Grass paths lead from garden to garden, enticing you along.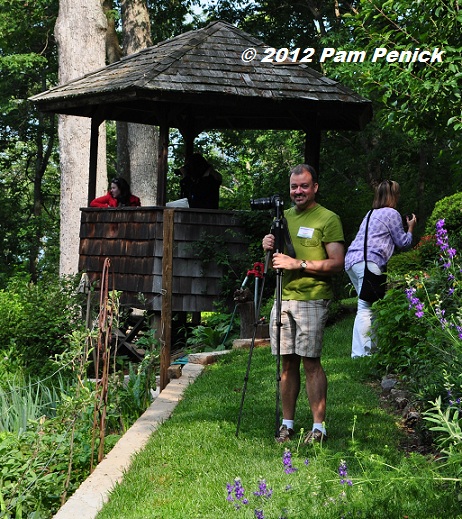 I ran into Phillip Oliver of Dirt Therapy here; visit his blog for more gorgeous pics from the Fling.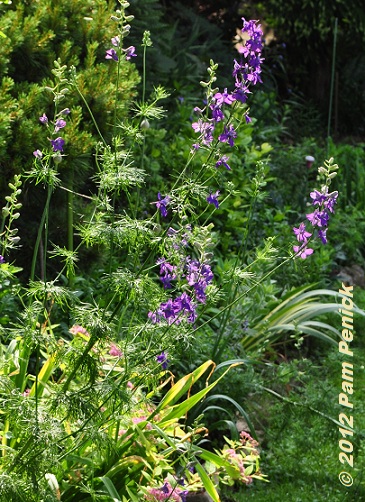 Larkspur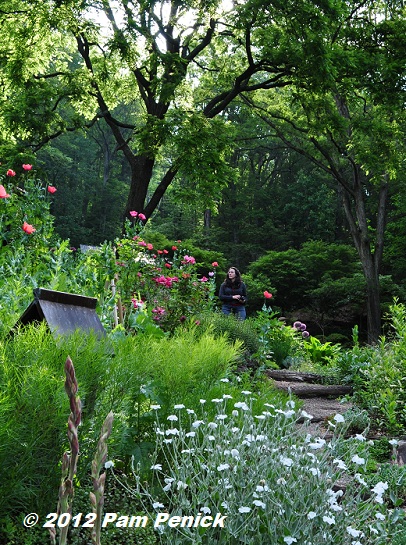 In the sunny, open center of the garden, white rose campion, Arkansas bluestar, and roses offer seasonal color.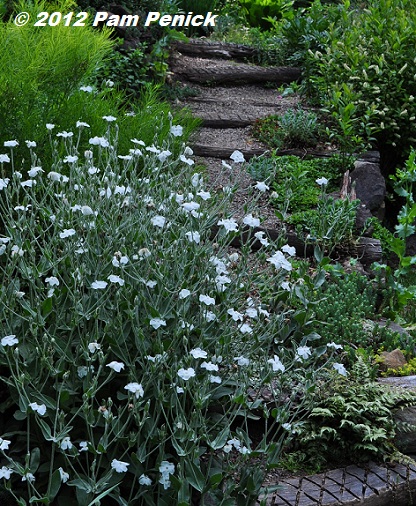 Another look at the rose campion and the crosshatched timbers that make up the stair treads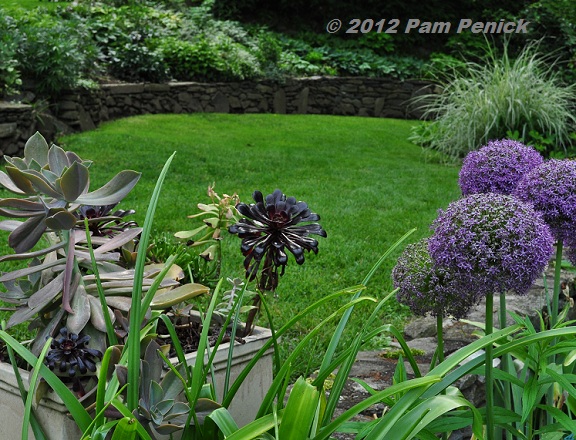 Pocket lawns appear here and there throughout the garden. Stone retaining walls frame the lawn and offer places to sit. In the surrounding garden beds grow giant allium and variegated grasses, punctuated by planters filled with succulents.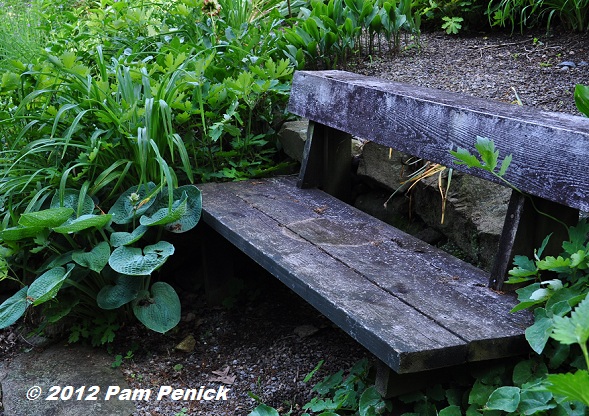 You can always find a place to sit and contemplate the garden.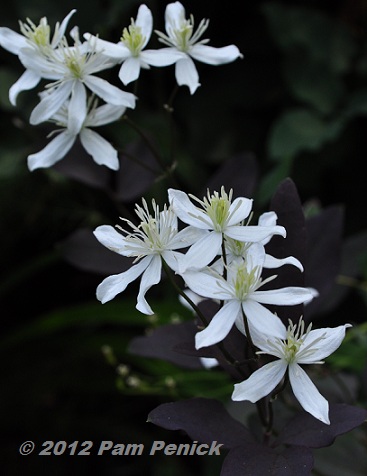 Does anyone know what this flower is? The foliage is dark purple and lovely. Update: It's possibly Clematis recta 'Midnight Masquerade.' Thanks to Freda Cameron for the ID.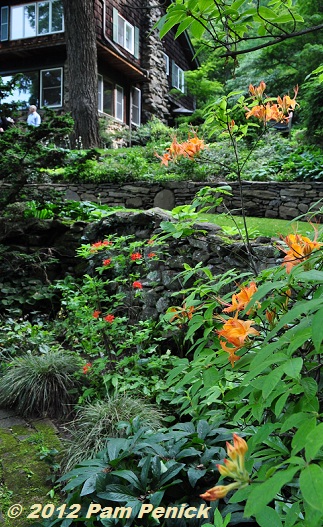 An unseasonably early spring caused us to miss the big azalea and rhododendron display, but a few native azaleas were in bloom.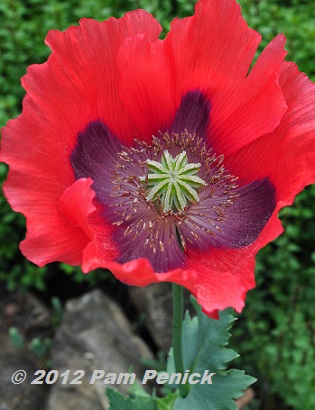 Poppies too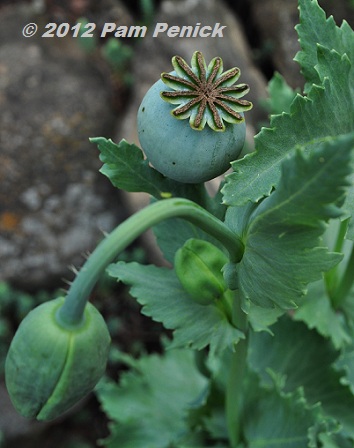 I like them just as well when they've gone to seed.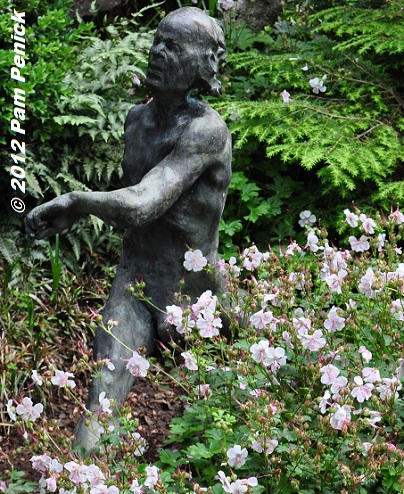 Small sculptures, thoughtfully placed, appear throughout the garden, like this nude striding through pink geraniums…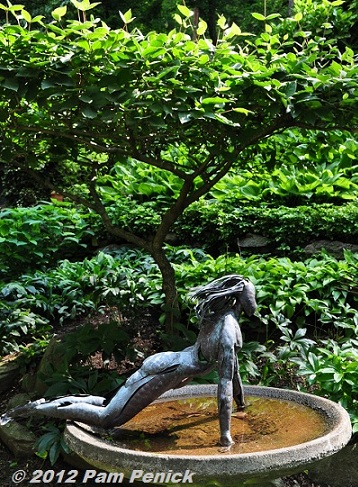 …and this one perched in a birdbath.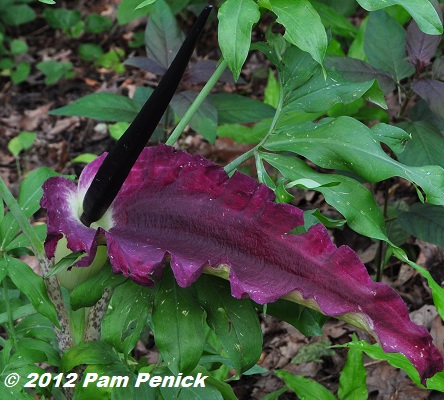 Plant curiosities abound too. This voodoo lily in bloom wafted its stinky odor a little way up the hill.

Silver-dollar plant. See the seeds silhouetted inside the flat, round pods?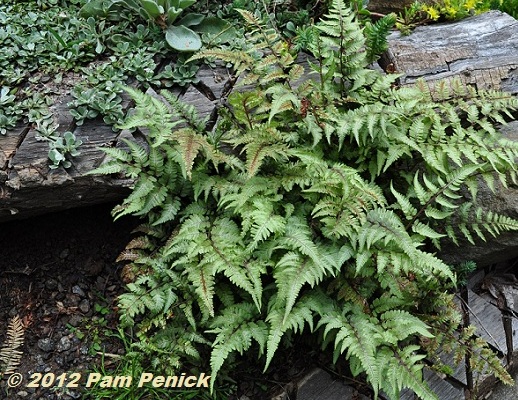 Crosshatched timbers become nurse logs for other plants.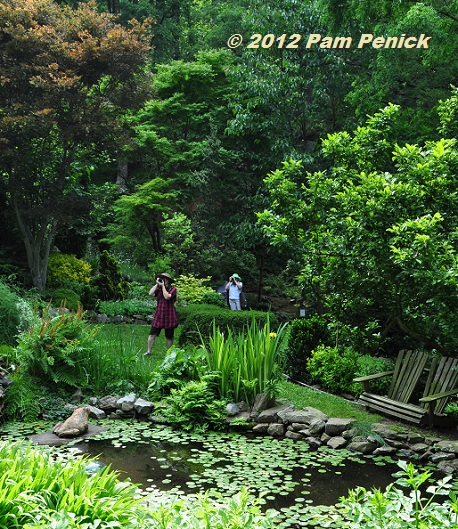 A pond with water lilies occupies a lower terrace, framed by surrounding trees.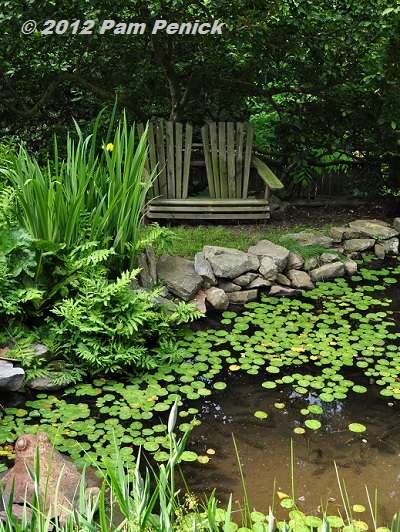 What a great place to sit and watch dragonflies darting or birds coming in for a drink.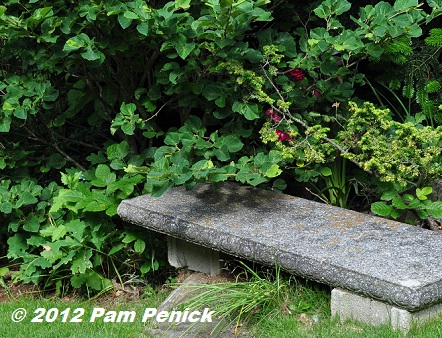 Another charming garden bench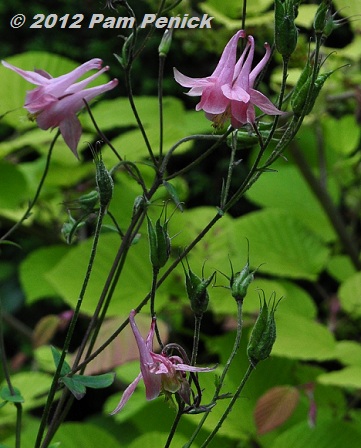 Frilly pink columbines were blooming in front of a chartreuse-leaved plant…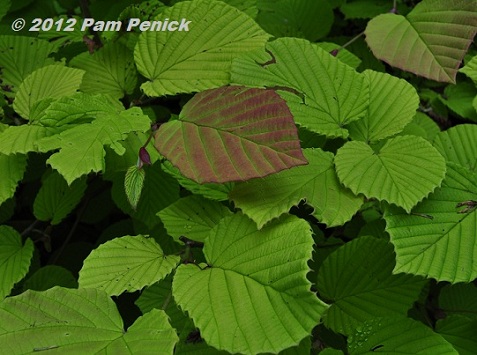 …that also sported a few blushing-pink leaves. What a lovely shrub. Does anyone know what it is? Update: Corylopsis spicata 'Aurea.' Thanks to Scott Weber for the ID.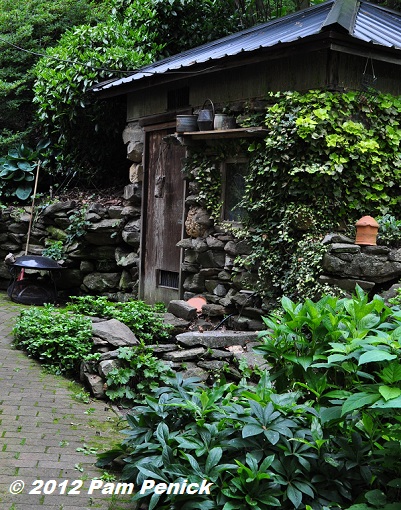 When lunch arrived, a group of us headed around back of the house to the rear terrace, passing this rustic, hip-roofed shed.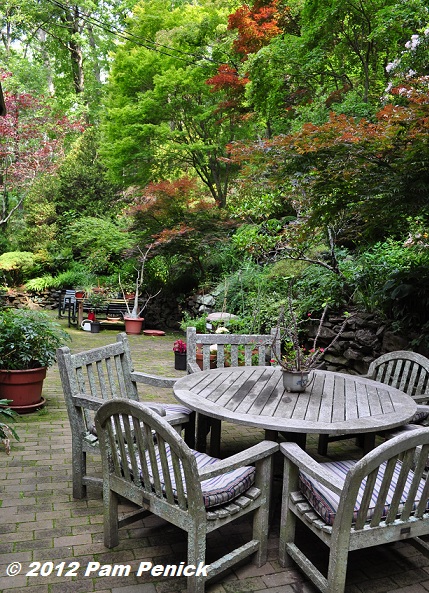 The large, brick terrace has room for several seating areas, including this oversized table and chairs…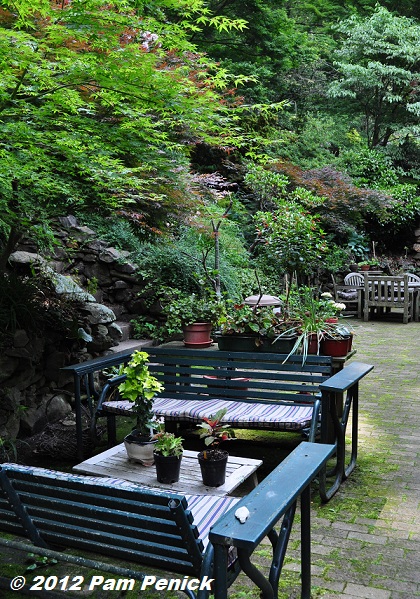 …and facing gliders. A steep hillside on the left is held back by a series of retaining walls swathed in cascading foliage, which makes the terrace feel like a secluded hideaway.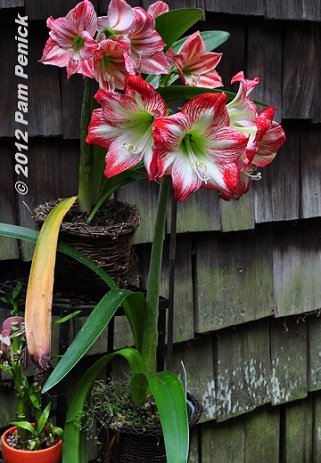 Candy-striped amaryllis were blooming by the back door.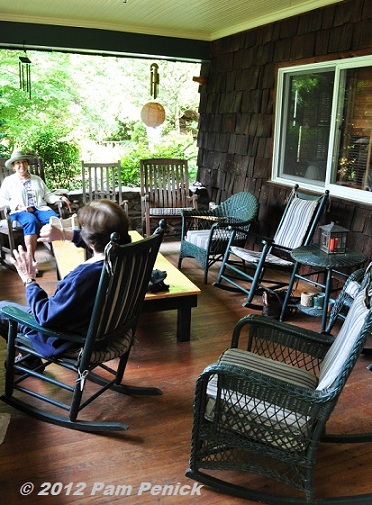 The front porch is equally charming, with rocking chairs galore. Rocking chairs are the official seating of Asheville, or so I believe after seeing them in the airport and on nearly every front porch in town.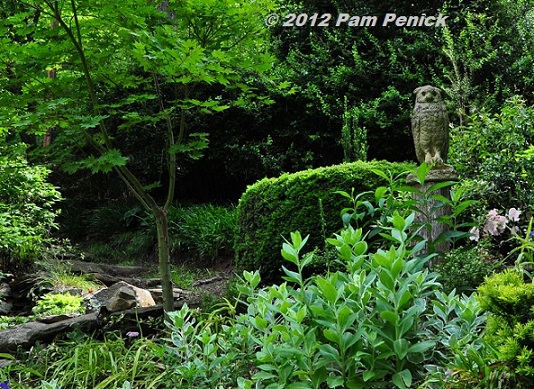 After lunch it was time to say goodbye. Peter and Jasmin generously promised that any of us could stop by and visit again, should we find ourselves in Asheville. I hope to take them up on their kind offer one of these days, maybe one crystalline winter morning, if I'm lucky.
Tune in tomorrow for the lush garden beds and creatively recycled hardscaping of the garden at Curve Studios.
All material © 2006-2012 by Pam Penick for Digging. Unauthorized reproduction prohibited.
posted in
Containers
,
Edibles
,
Fences
,
Fling Asheville
,
Fountains
,
Garden art
,
Garden blogging
,
Garden structures
,
Garden tours 2012
,
Gates
,
Grasses
,
Hillside
,
Lawns
,
Paths
,
Patios & decks
,
Roses
,
Sculpture
,
Seating
,
Sheds
,
Succulents
,
Travel
,
Trees
,
Views
,
Water features