May 15th, 2012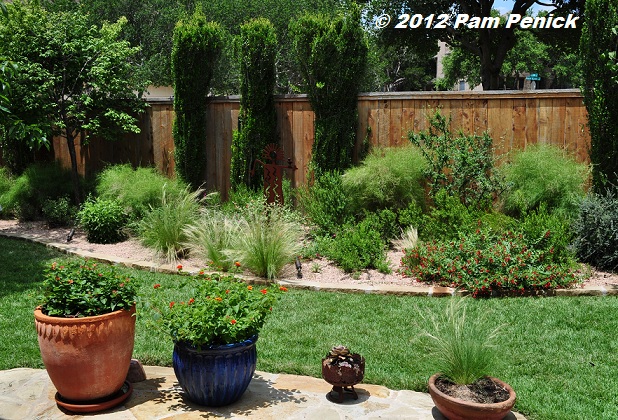 The third garden on this year's Wildflower Center-sponsored Gardens on Tour, at 6400 Zadock Woods Drive in southwest Austin, was perhaps my favorite of the bunch because of the cheerful native-perennial beds out front, the inviting, shaded patio in back, and the attractive mix of enclosing garden beds (bermed streetside beds out front; fenceline beds in back) and reduced, gently curving lawn. None of the gardens on the tour was truly a gardener's garden (always given away by quirky little plant collections, jam-packed beds, and a knowledgeable homeowner out talking with visitors), but this one, I thought, provided the greatest inspiration to regular people (as opposed to the plant obsessed) who want a beautiful low-maintenance, low-water garden and would be willing to put in a couple of trimming and weed-pulling days each month to keep it up—or hiring an experienced gardener, not a mow-and-blow crew, to do it for them. I could imagine many of my clients wanting a garden like this one.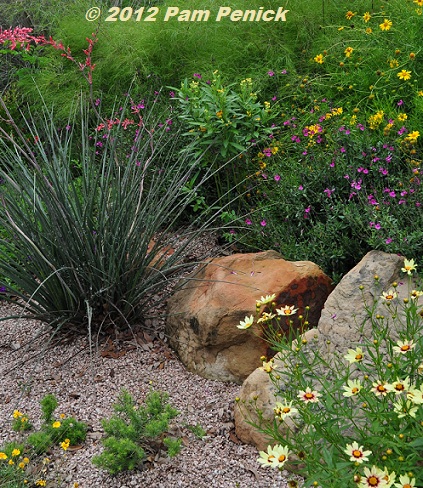 Let's start out front, where I took a lot of tight shots to avoid the hordes of people studying this garden and to focus in on the sun-loving, flowering perennials, grasses, and woody lilies. Here we have red yucca (Hesperaloe parviflora) with bamboo muhly (Muhlenbergia dumosa), copper canyon daisy (Tagetes lemmonii), Autumn sage (Salvia greggii), and 'Redshift' coreopsis. The boulders are retaining the bermed-up bed, which is planted along the sidewalk (with a reduced lawn on the inside), and crushed Marble Falls granite is used as mulch, giving the plants excellent drainage.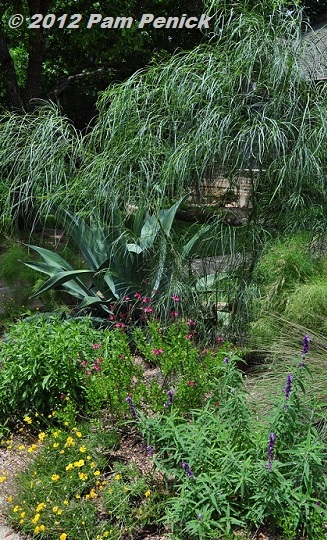 Agave weberi and Australian native shoestring acacia (Acacia stenophylla) preside over flowering Autumn sage (Salvia greggii), four-nerve daisy (Tetraneuris scaposa), and Mexican bush sage (Salvia leucantha).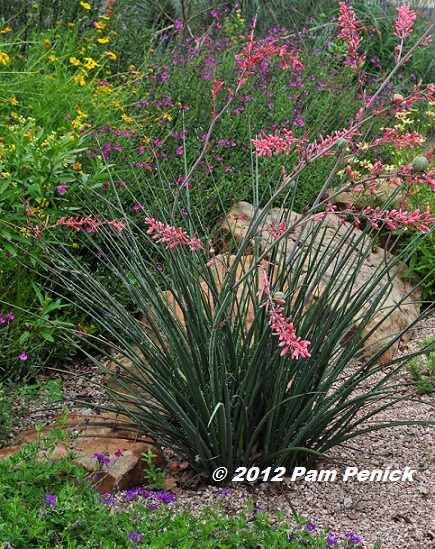 Beautiful red yucca in full bloom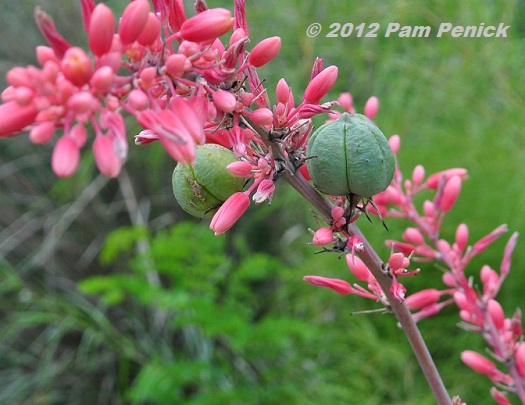 Closeup of red yucca blossom and seedpods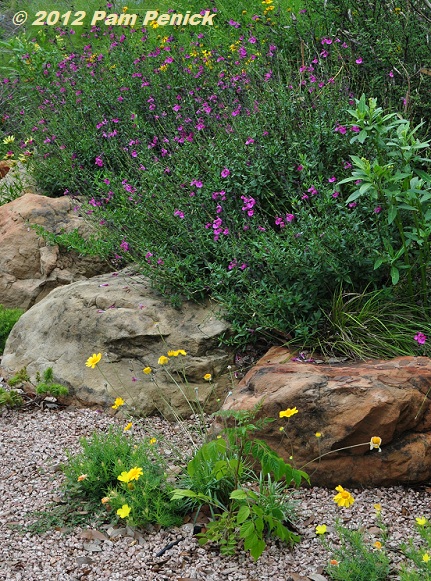 Purple Autumn sage and four-nerve daisy love the reflected heat.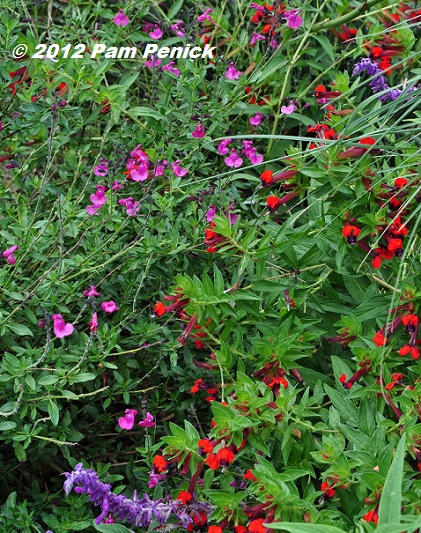 Autumn sage (Salvia greggii) and batface cuphea (Cuphea llavea)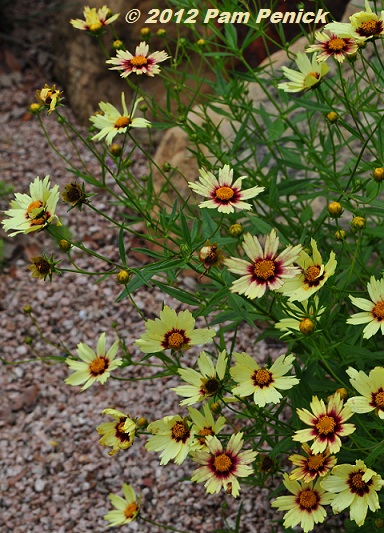 'Redshift' coreopsis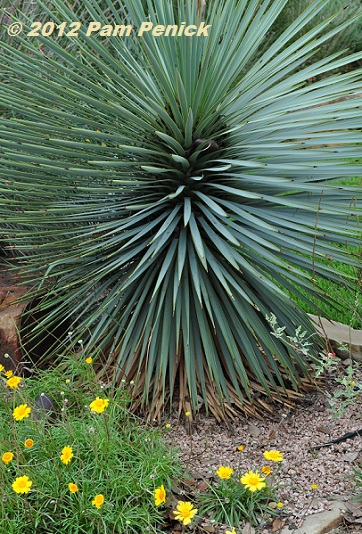 Yucca rostrata and four-nerve daisy (Tetraneuris scaposa)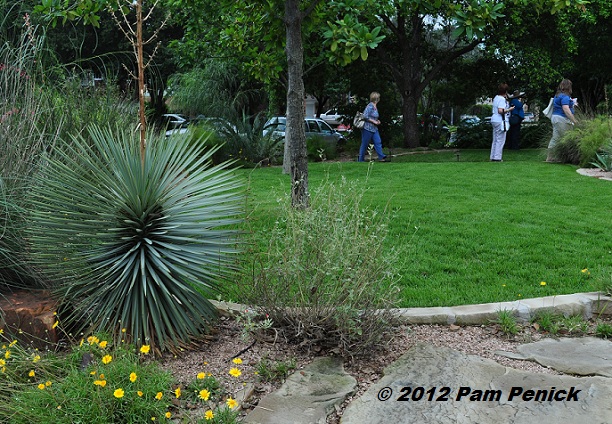 Mortared stone defines the reduced zoysia lawn, which opens up inside the streetside beds.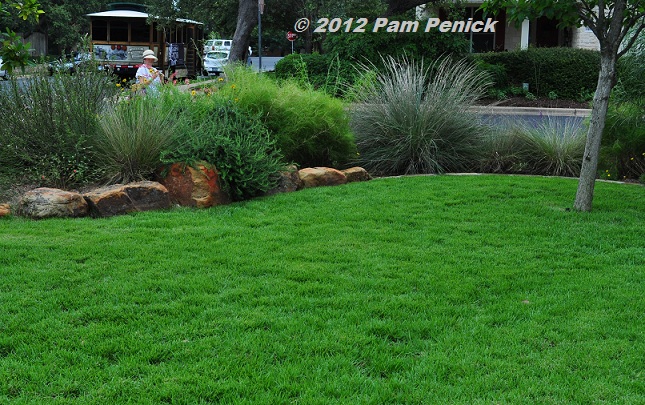 You can see how the bermed streetside garden provides a sense of enclosure and screening for the front of the house.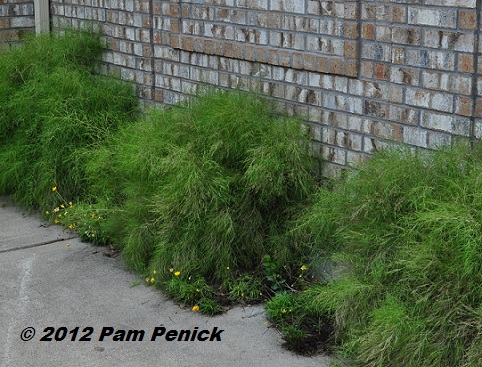 Along the driveway, in that difficult, narrow strip of dirt so many of us have, bamboo muhly grass (Muhlenbergia dumosa) takes it in stride, offering billowing, chartreuse foliage. I'd say the owner has kept the bamboo muhly pruned because it has a compact shape you don't normally see. I think it looks great either way. Four-nerve daisy (Tetraneuris scaposa) peeks out at the muhly's feet.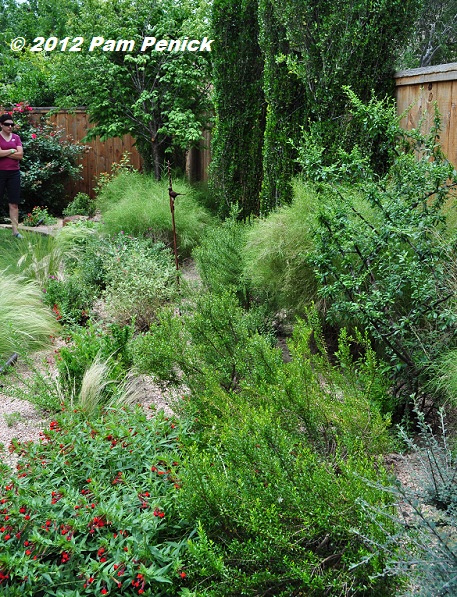 Entering the back garden, you get a long view of the main bed along the red cedar fence.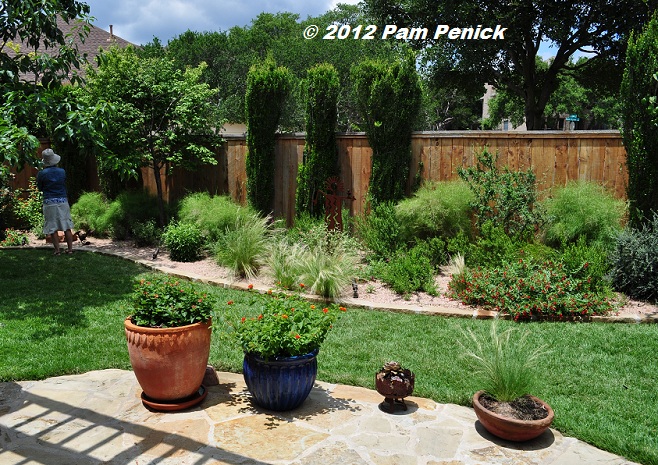 Here's a wider view. This is a skinny, narrow back yard, but there's still room for a small lawn, generous perimeter beds, and an arbored patio. Notice how the designer bowed out the bed to avoid a narrow, stick-straight bed along the fence; he also refrained from a fussy, too-wiggly line.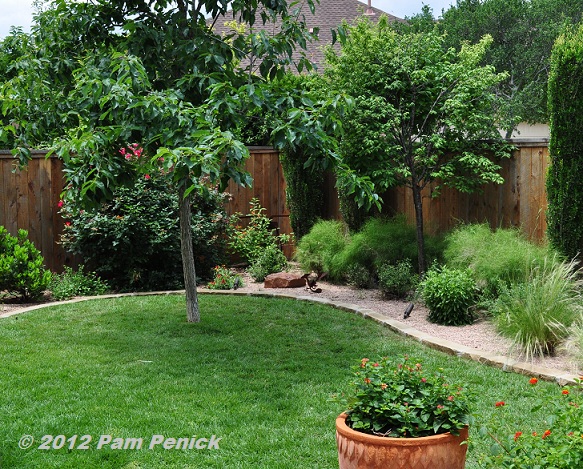 That line curves around the corner, softening it, and swoops back to the patio. A Monterrey oak, also known as Mexican white oak, stands in the lawn and will one day shade this side of the garden.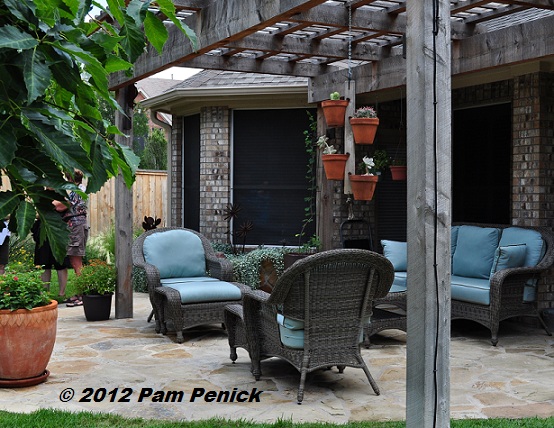 The attractive patio is paved with Llano Texas sandstone. A pergola provides much-needed shade.

Another view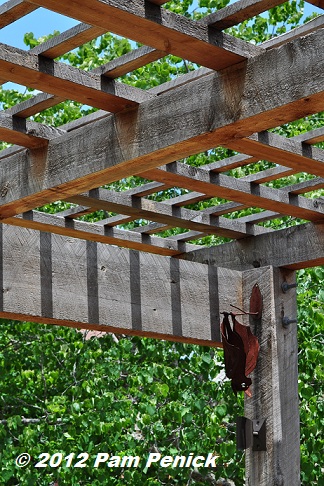 The pergola is constructed of eastern red cedar…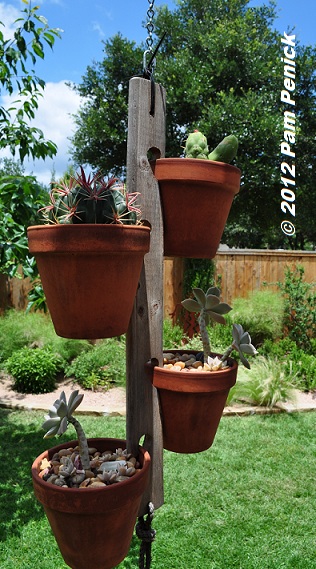 …and supports a hanging collection of cactus and succulents…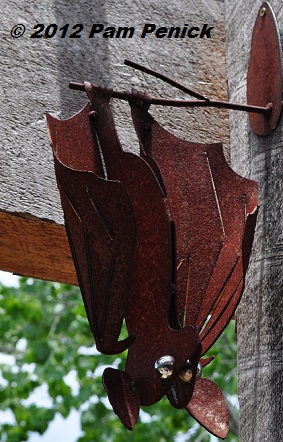 …as well as this metal bat.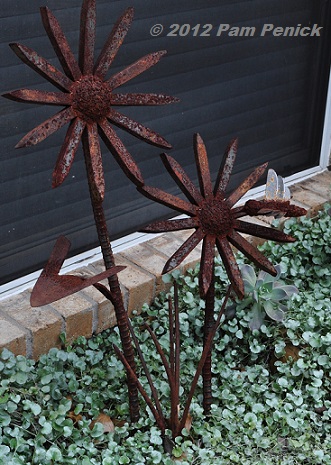 The owner has a collection of metal garden art, in fact, like this daisy…

…prickly pear…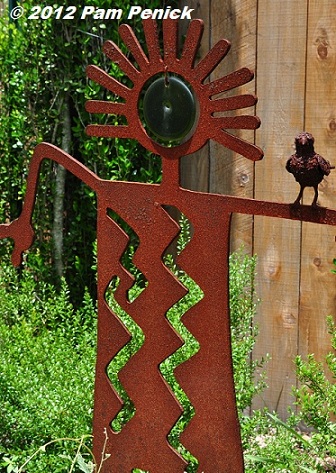 …and tribal person with a bird on his arm. There was also a giraffe and a roadrunner, fun accents for the garden.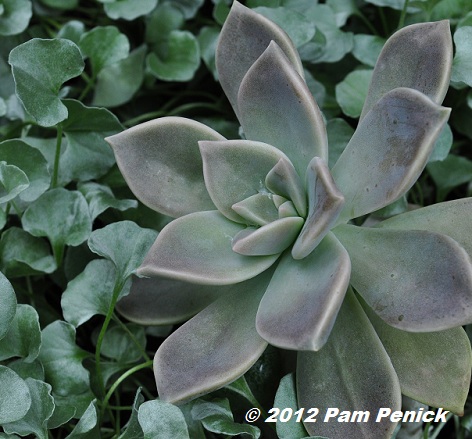 Silver ponyfoot (Dichondra argentea) cascades over the edge of a built-in planter along the back of the house, and is studded with echeveria.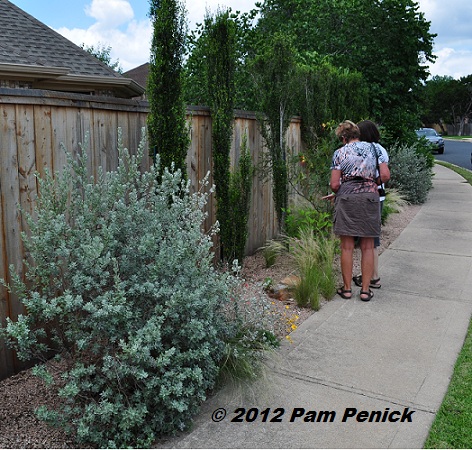 Heading back to the car, I admired the hellstrip bed along the outside of the fence, a neglected space in many people's yards. This sunny, hot, hard-to-water space supports some tough, xeric plants like cenizo (Leucophyllum frutescens), 'Will Fleming' yaupon holly, Mexican feathergrass (Nassella tenuissima), four-nerve daisy (Tetraneuris scaposa), and yellow bird of paradise (Caesalpinia gilliesii).
Up next: The Brecourt Manor Garden. For a look back at the art-displaying Ridgecrest Garden, click here.
And since tomorrow is Foliage Follow-Up, I'll be pointing out lovely leaves in my last Gardens on Tour post tomorrow. I hope you'll join me in posting about your favorite foliage for May.
All material © 2006-2012 by Pam Penick for Digging. Unauthorized reproduction prohibited.
posted in
Agaves
,
Arbors
,
Containers
,
Design
,
Garden art
,
Garden tours 2012
,
Grasses
,
Groundcovers
,
Lawns
,
Patios & decks
,
Seating
,
Succulents
,
Texas natives
,
Trees
,
Xeric plants