December 12th, 2008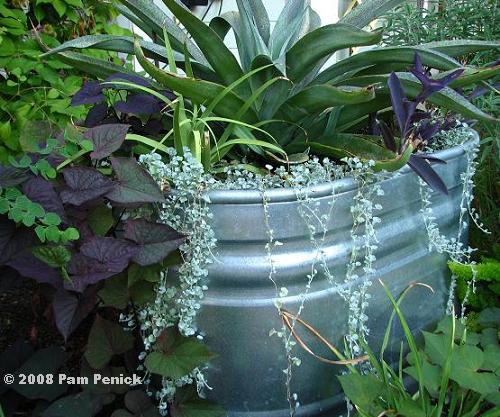 Lately an unassuming container made for ranch life has been appearing in creative and stylish urban gardens: the stock tank, or cattle trough. It's Old Texas meets New Texas, and boy howdy, it works.
Warehoused among poultry feed, hog fencing, and deer corn at farm-supply stores like Callahan's, stock tanks of all sizes can easily be converted into planters that shine in the landscape. Literally shine—they're silver. Freeze-proof and rust-resistant, these sturdy, galvanized-steel containers make attractive, affordable substitutes for perishable terracotta and cast-iron vessels.
Their simple, sleek lines complement many styles of gardens, from cottage to rustic to modern minimalist. They mix particularly well with the rusty steel edging, corrugated siding, concrete flooring, and recycled-glass mulch that define the Texas contemporary look, increasingly popular among local builders and garden designers.
But it's not just a Texas look. If garden photos in national magazines are any indication, stock tanks are enjoying creative reuse all over the country. Even the New York Times recently featured a San Francisco rooftop vegetable garden entirely planted in a grid of stock tanks—an idea easily adapted by Austin gardeners hampered by thin, rocky soil. Rather than jack-hammering through rock or building raised beds, make a kitchen garden out of stock tanks by setting them in the yard and filling them with soil. As an extra benefit, their height makes weeding and harvesting less of a strain on the back.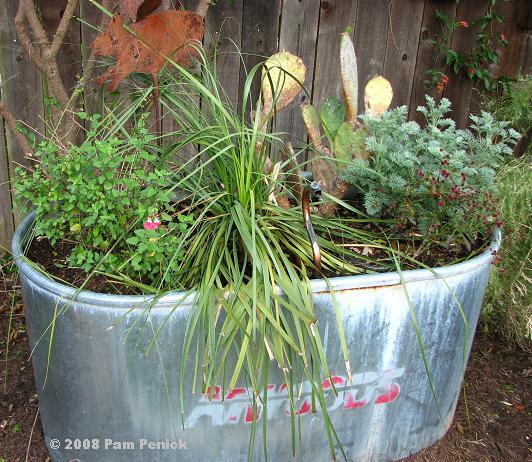 Stock tanks are ideally suited for ornamental plantings too. Hot summer days can cook plants in small pots, particularly porous terracotta, and require watering once or even twice a day. A bigger container needs less-frequent watering. Filled with tough, drought-tolerant, deer-resistant plants like salvia, nolina, opuntia, and artemisia, for example, an established cattle-trough planter won't need watering more than once a week in summer. To allow drainage, be sure to remove the metal plug and add a few extra drainage holes with a metal drill bit at the base of the tank before planting.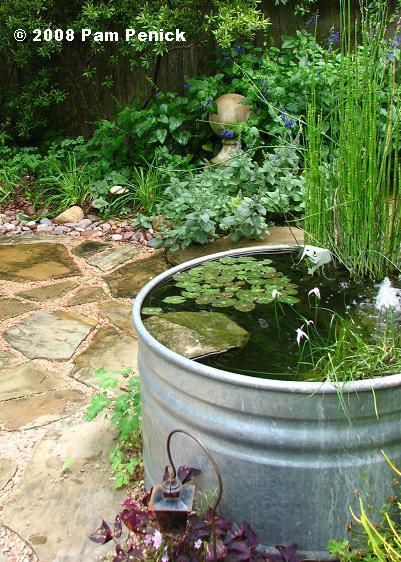 Galvanized stock tanks also make easy water features, resisting rust and holding water for many years. Before filling, rinse out any dust or dirt, and securely tighten the drain plug at the base to prevent leaks. Take the time to spread a 4-inch base of decomposed granite or coarse builder's sand in order to make the tank perfectly level; an uneven tank, when filled, will be obvious because of the off-kilter water line. Once the base is level, roll the tank into place and fill it up from the hose. Let it sit for a few days so that the chlorine in the water evaporates and the water temperature equalizes with the air temperature.

Now comes the fun part—choosing pond plants. If your tank is at least two feet deep and situated in full sun, you can grow a water lily; a dwarf variety like 'Helvola' works best unless your tank is very large. Be sure to add some submerged plants like anacharis to help keep the water clear of algae. A couple of goldfish or gambusia fish add color and life, plus they eat mosquito larvae, preventing your tank from becoming a breeding ground (or you can use mosquito dunks). Add a bubbler pump if you wish, and you've got a beautiful container pond with no digging required.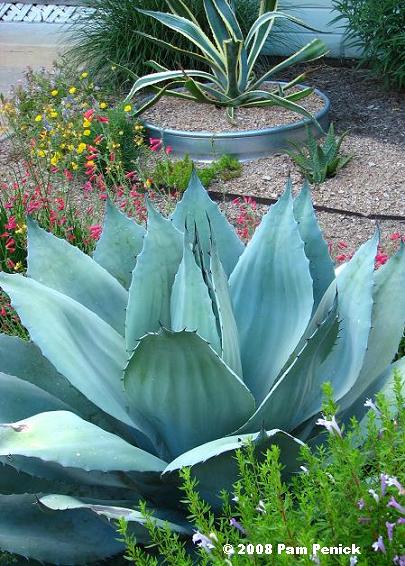 Other ideas abound. Sink a stock tank into the ground to create a small reflecting pool or to contain bamboo or other "running" plants. Use a shallow tank to elevate and showcase a dramatic plant like an agave.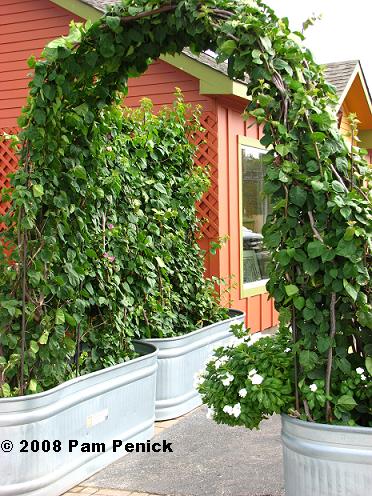 Create a living screen to hide the garbage bins by inserting a trellis into a long, oval tank and planting an evergreen vine on it. Or make a welcoming entry by placing a tank on either side of a pathway, connecting the two containers with an arched metal trellis, and growing a climbing vine on each side. A few more perennials and a potato vine or silver ponyfoot spilling over the edge of the tanks completes the look.
Gardeners have long appropriated old stone troughs from Europe as planters, recognizing the beauty of honest, workaday containers. Now the humble ranch trough of the American southwest has found its place in the garden as well.
Plant them until the cows come home.
This article first appeared in the Austin American-Statesman, August 16, 2008. —Pam
All material © 2006-2008 by Pam Penick for Digging. Unauthorized reproduction prohibited.