May 7th, 2012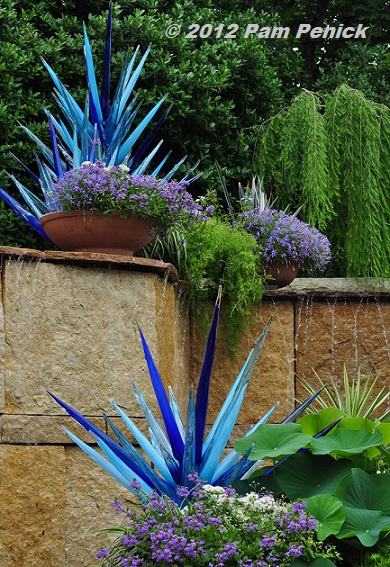 The Dallas Arboretum is abloom through November 5 with renowned glass artist Dale Chihuly's colorful, nature-inspired glass sculptures. My family and I visited yesterday, on opening weekend, and were wowed both by the beauty of the pieces and their careful placement in the gardens, sometimes as dramatic focal points, other times as naturalistic accents. This is 'Blue Icicles,' one of the first pieces you see as you enter the Arboretum.
I photographed nearly all of the sculptures, so here's a photo tour to inspire your own visit. And remember, Austinites, if you're a member of the Lady Bird Johnson Wildflower Center, the Arboretum offers reciprocal membership, so you'll only have to pay for parking.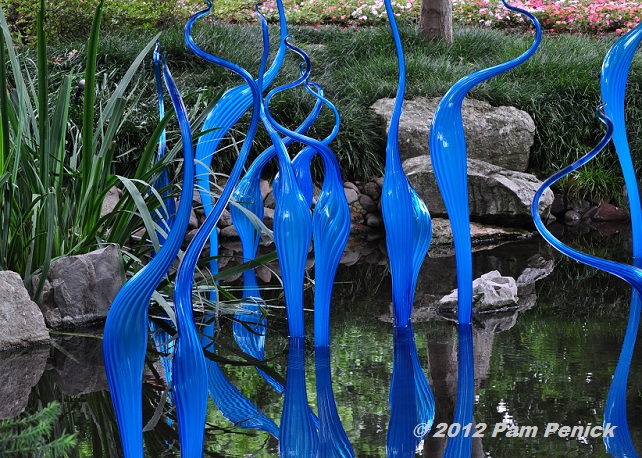 'Blue Marlins'—these should be called Blue Egrets, don't you think? They stand gracefully in a peaceful, Asian-style pond-and-stream garden…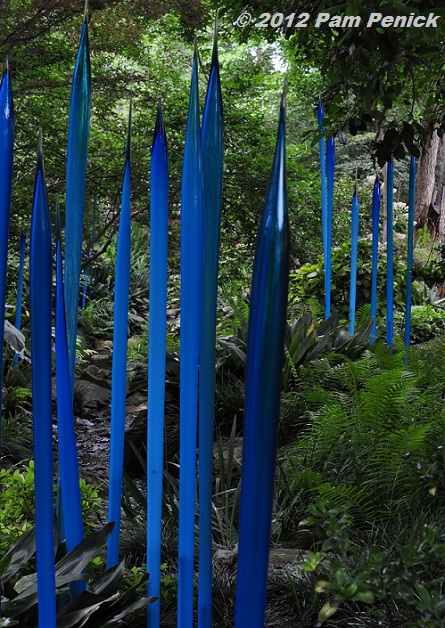 …along with 'Turquoise Reeds.' Clouds of mist emit from beneath the lush ferns periodically, contributing to a sense of moody mystery.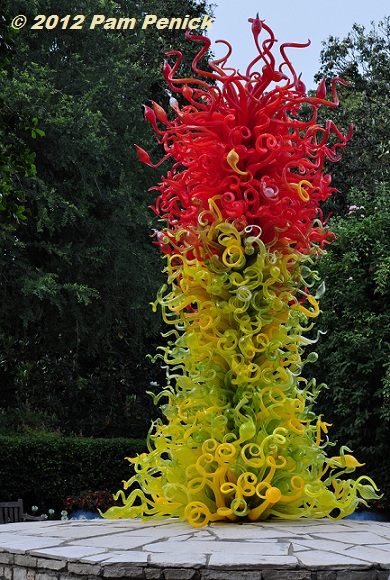 At the other end of the spectrum, color-wise and mood-wise, is 'Citron Green and Red Tower,' a curlicued volcano of glass.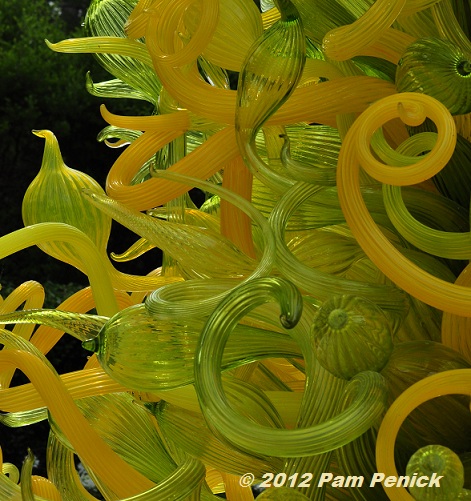 A closeup of 'Citron Green and Red Tower.' Each of the sculptures, we learned, is taken apart for shipping and reassembled on-site. So really this is just a big bottle tree. Ha!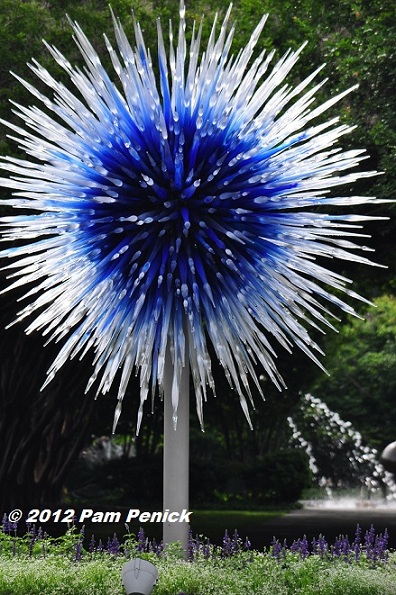 'Dallas Star' was created especially for the Arboretum, we were told.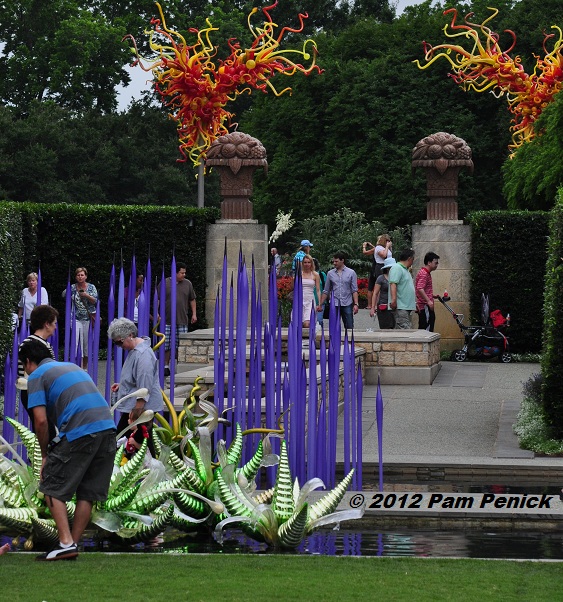 'Scarlet and Yellow Asymmetrical Towers' stand on either side of the entrance to the Woman's Garden. Just inside, 'Neodymium Reeds' glow violet in a shallow reflecting pool, with the spiraling, green horns of 'Mirrored Hornets' in front.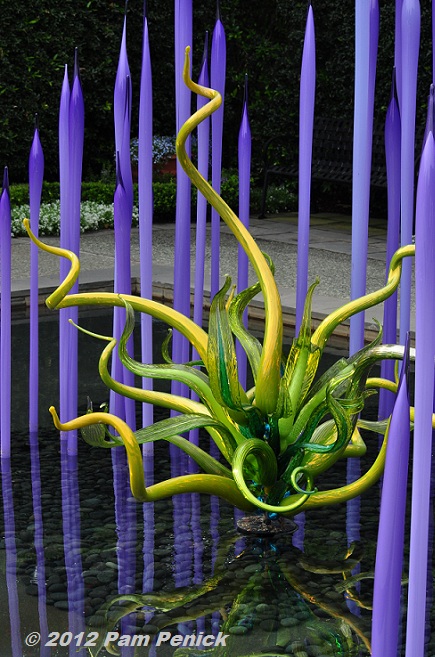 'Neodymium Reeds.' I don't know what the green piece in front is called.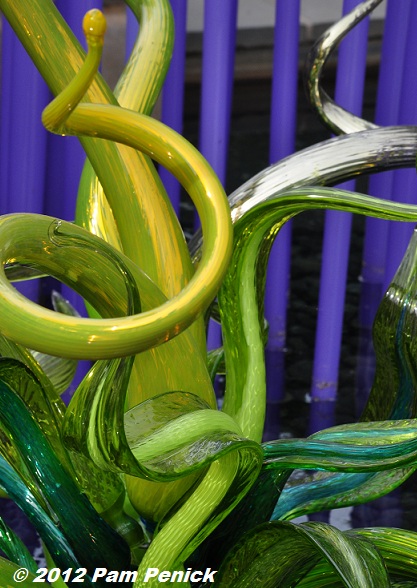 But here's a closeup.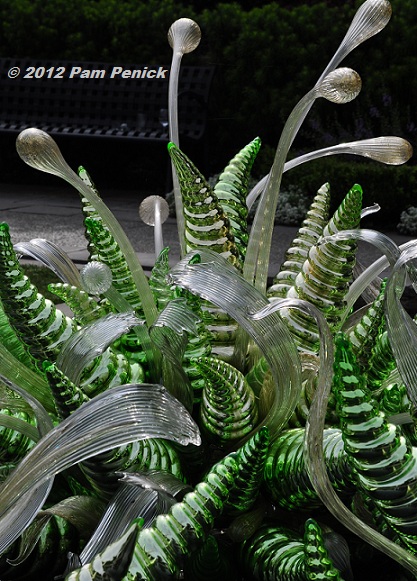 'Mirrored Hornets'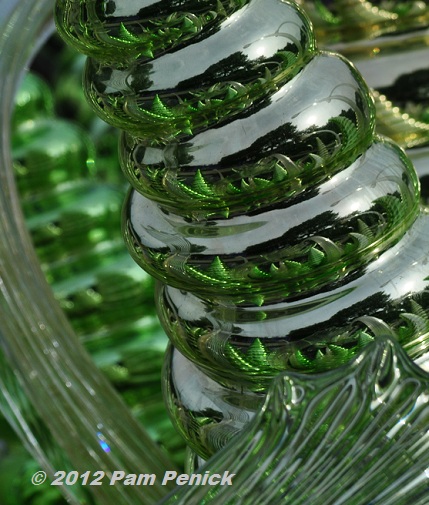 Detail of 'Mirrored Hornets'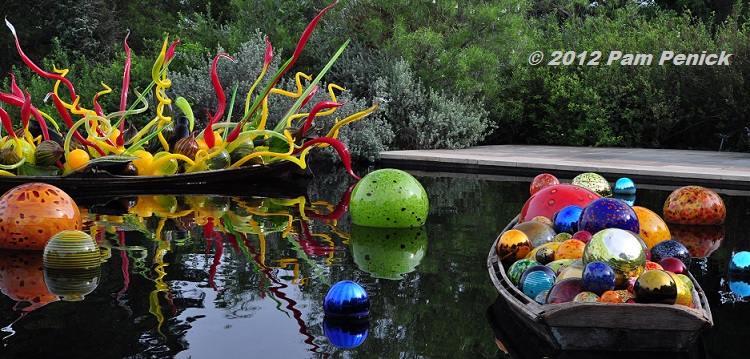 One of the most festive displays is 'Carnival Boat' and 'Float Boat,' anchored in a negative-edge pool overlooking White Rock Lake in the Woman's Garden.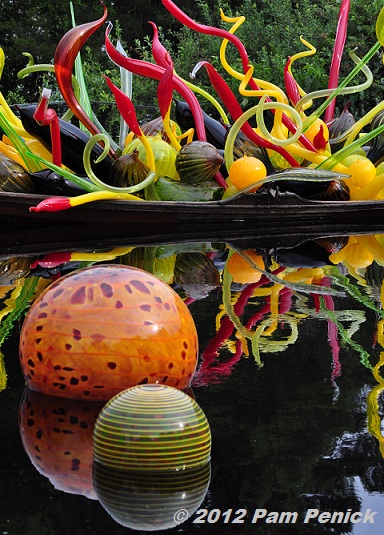 'Carnival Boat' and floats—the sheer exuberance of a boat full of party balloons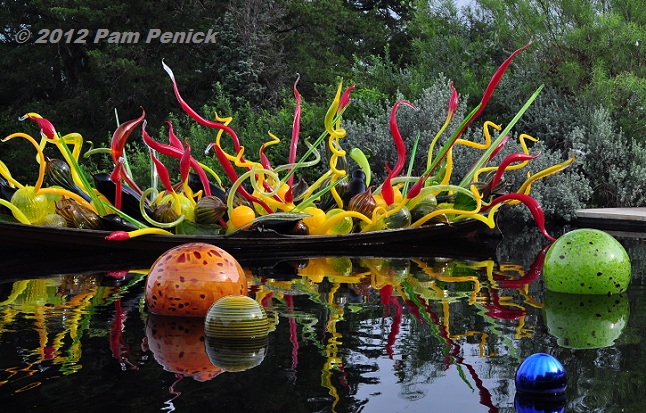 Another look at 'Carnival Boat'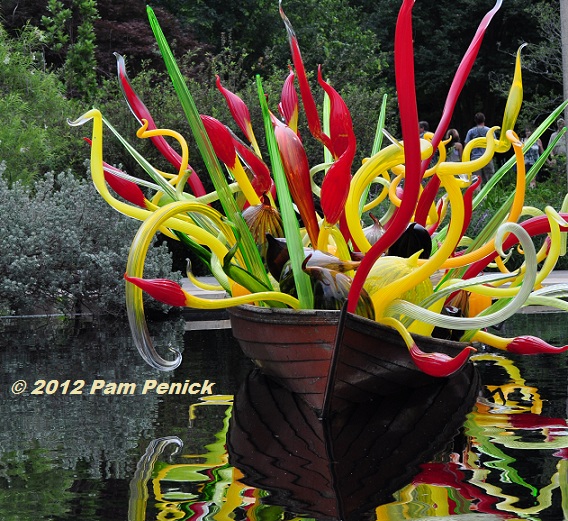 And another view

'Float Boat'—a refugee ship for gazing balls?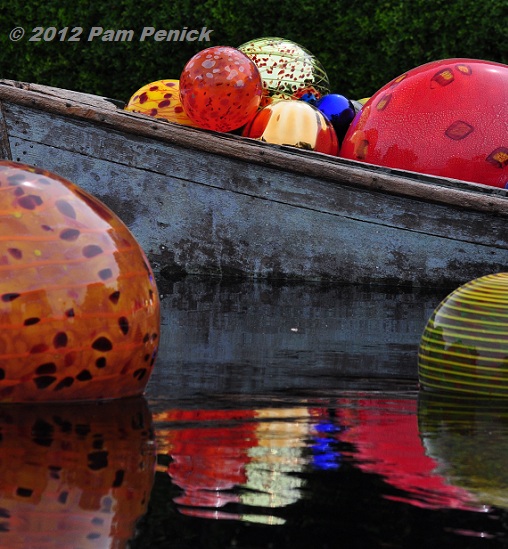 A closeup of 'Float Boat'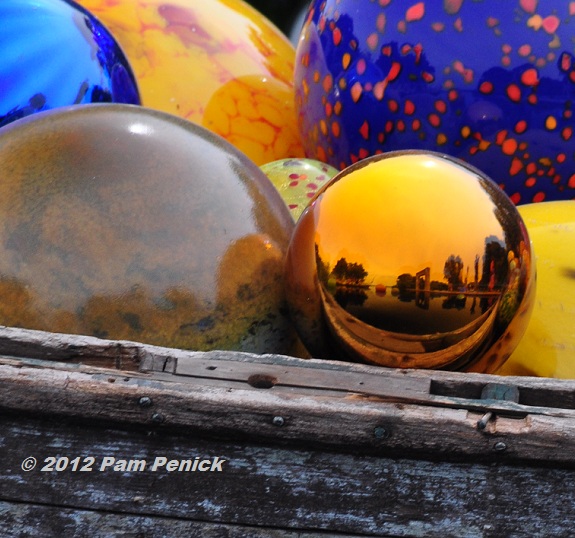 A detailed view of the floats reveals a mirrored world.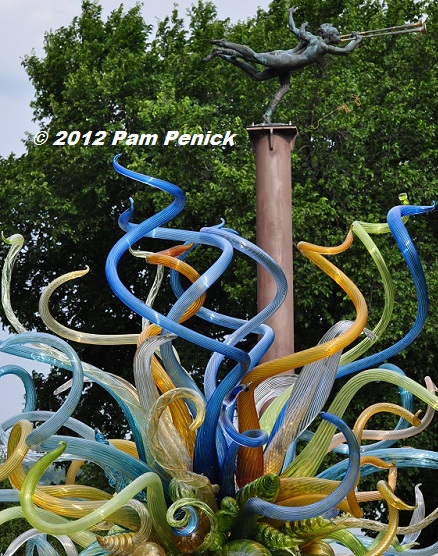 Standing tall over a sunken courtyard is 'Aqua Blue and Amber Chandelier,' a pastel confection.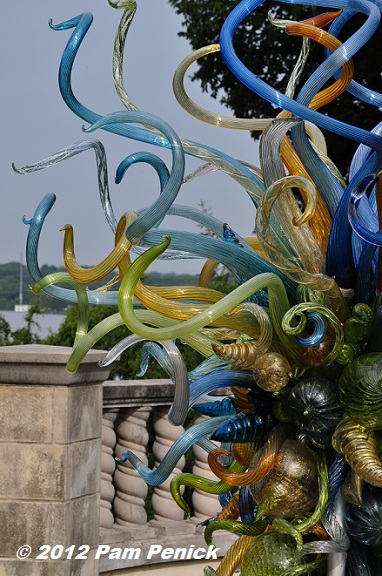 A closeup shows horns and more spiraling party balloons.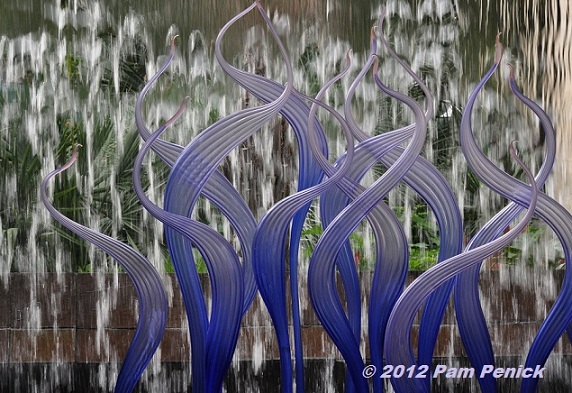 'Blue and Pink Marlins' dance in front of a waterfall.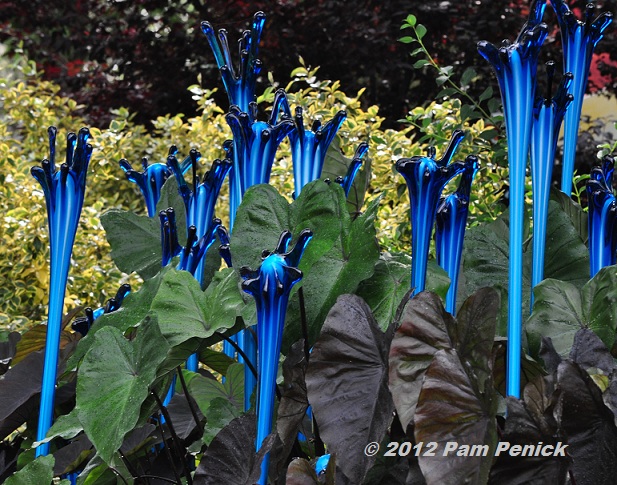 I love these 'Blue Fiddleheads' in combination with the moody foliage of elephant ears.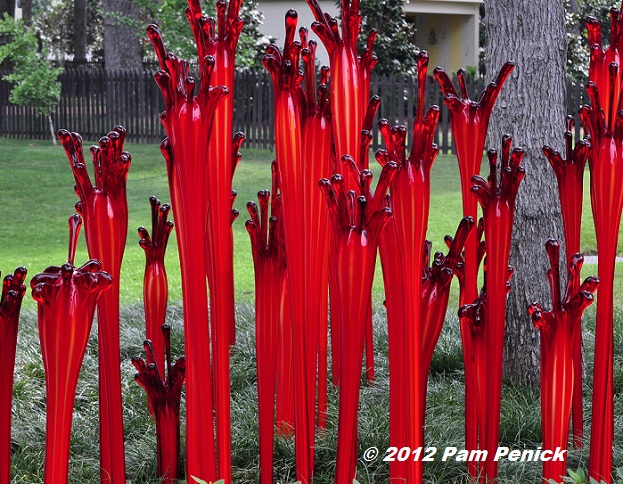 Do you love red? There are 'Ruby Fiddleheads' too.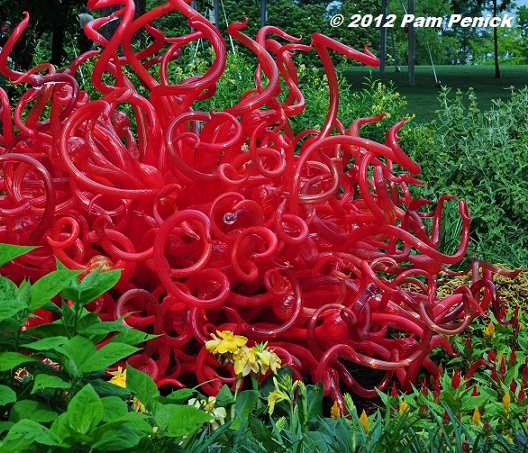 'Fiori Sun' writhes in a garden bed.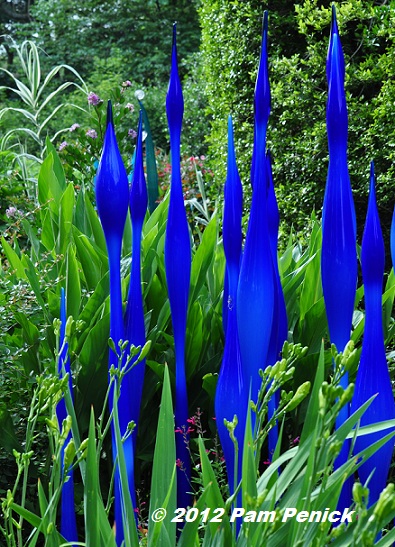 'Blue Bulbous Reeds'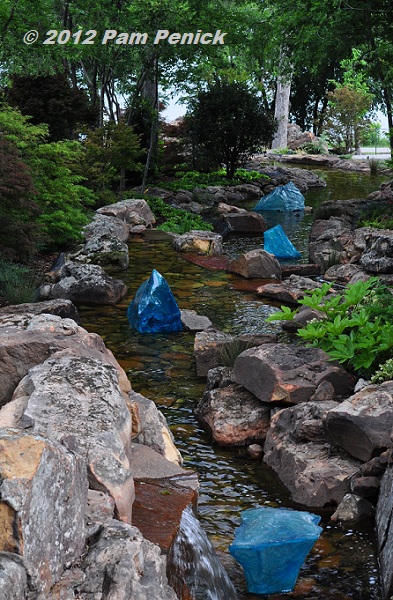 'Blue Polyvitro Crystals,' like giant chunks of slag glass or boulders from another planet, accent a hillside stream.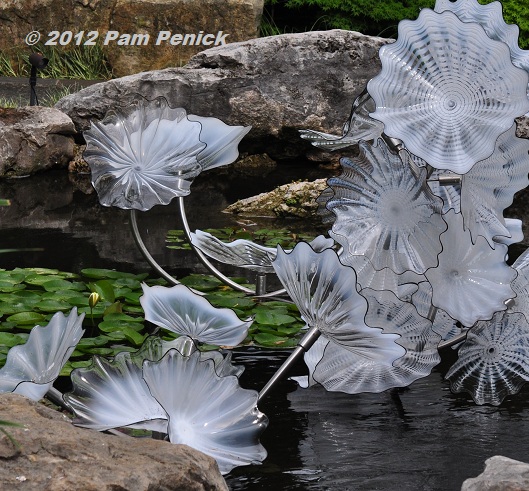 After all that bright color, the white lotus leaves of 'Persian Pond' offer a quiet respite in a lily pond.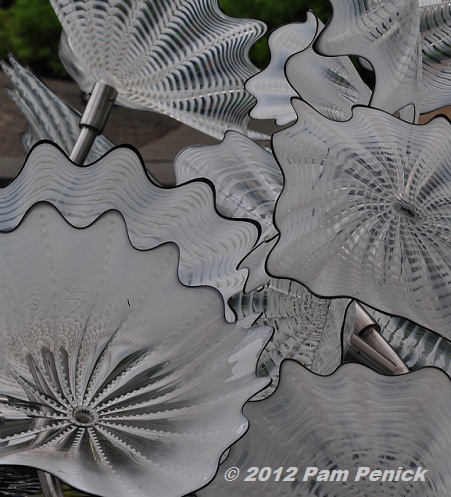 'Persian Pond' closeup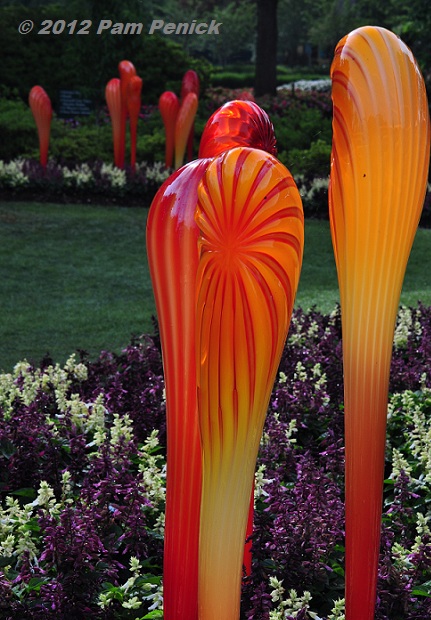 'Tiger Lilies' remind me of hooded cobras.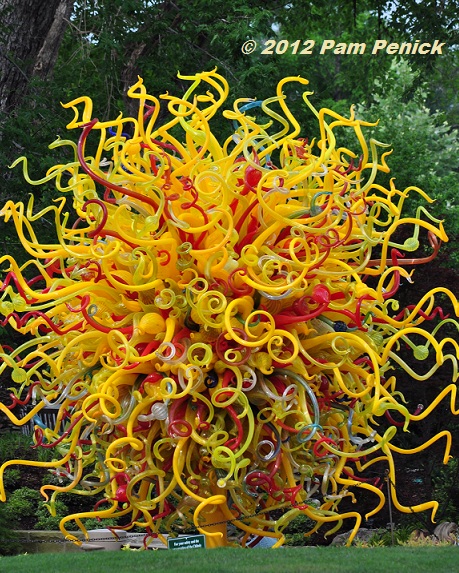 'The Sun'—another stunning focal point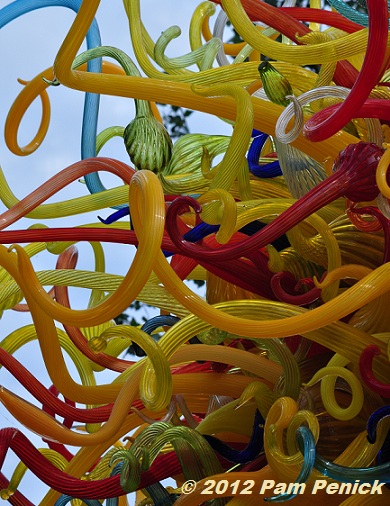 Closeup of 'The Sun'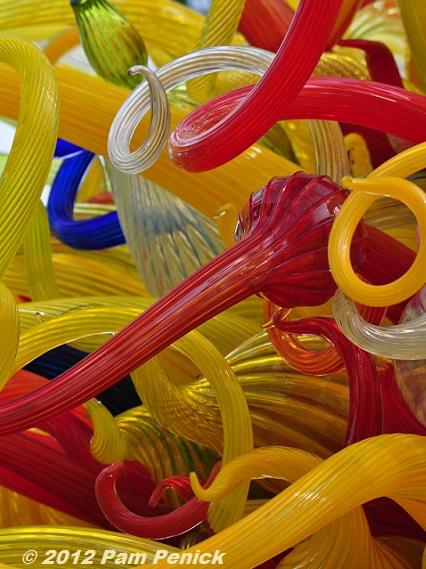 And a little closer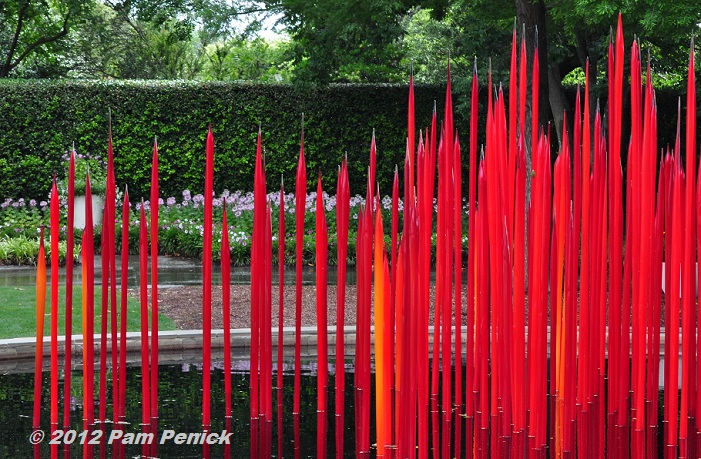 'Red Reeds'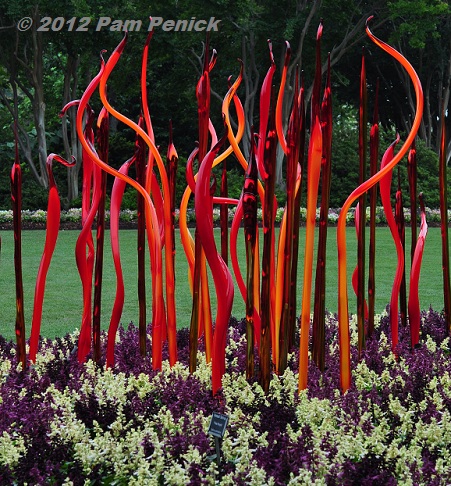 'Silvered Red Bamboo and Cattails'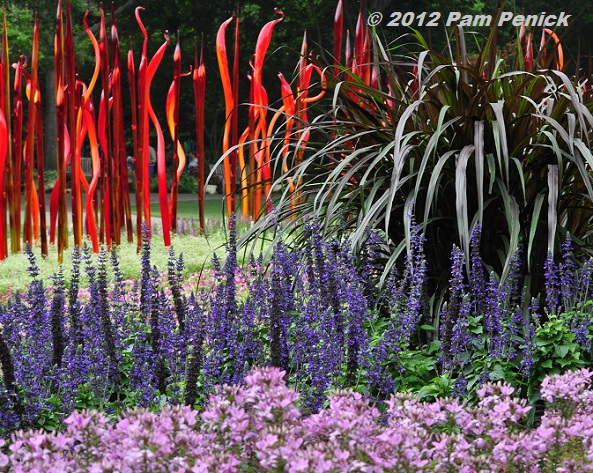 Here's 'Silvered Red Bamboo and Cattails' in the background, framed by swaths of 'Senorita Rosalita' cleome, purple salvia, and a large purple grass, possibly Pennisetum 'Vertigo' (thanks for the ID, Scott).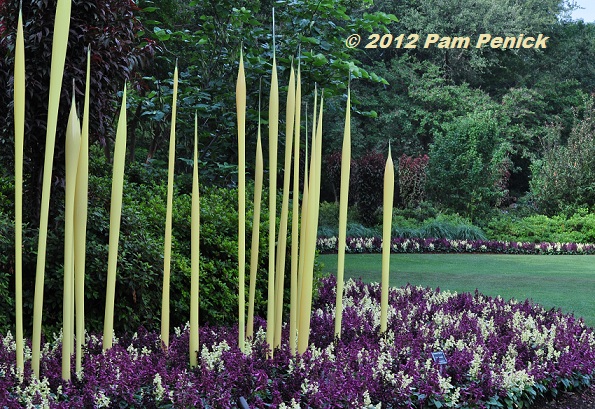 Like pale, tapered candles, 'Yellow Reeds' offer a quieter vision.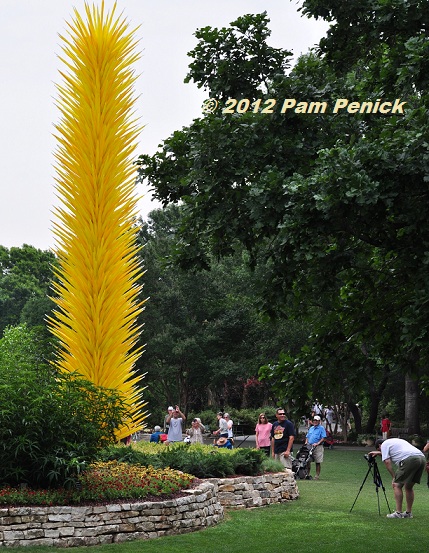 There's nothing quiet about 'Yellow Icicle Tower,' a three-story, bristly spike of yellow.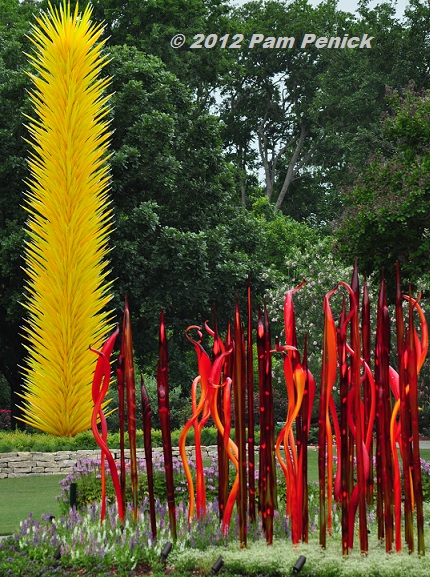 'Yellow Icicle Tower' with 'Silvered Red Bamboo and Cattails'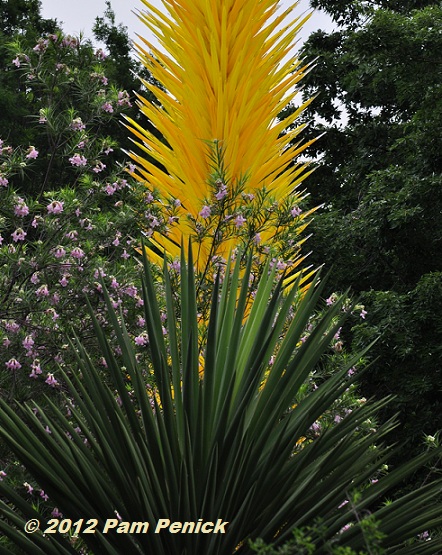 From another viewpoint, it echoes the shape of a yucca.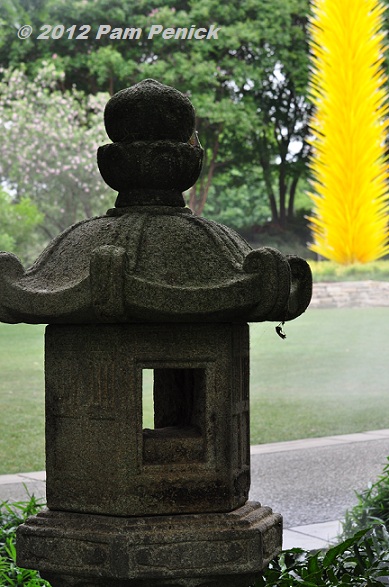 And from here it contrasts with the quiet beauty of a stone lantern.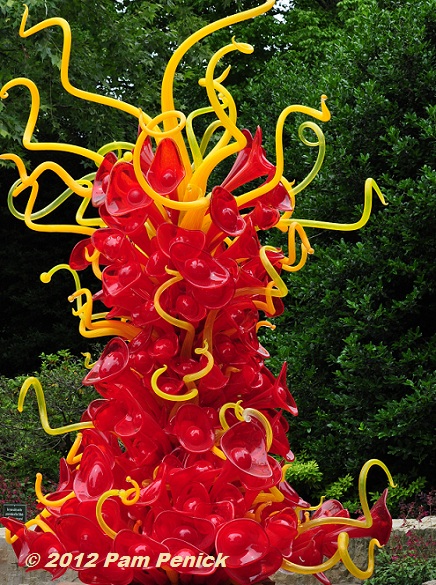 'Mexican Hat and Horn Tower' is alive with color and movement.
I hope you enjoyed the tour. The Chihuly exhibit is joyous, fun, and truly amazing. I'd love to see it lit up at night as well, but that requires a reservation-only visit on certain nights. If I didn't live 3-1/2 hours away, I would definitely return for Chihuly Nights. Or maybe one of you will go and post pictures for me!
Coming up next: My favorite plant combos from our visit to the Dallas Arboretum
All material © 2006-2012 by Pam Penick for Digging. Unauthorized reproduction prohibited.