October 28th, 2006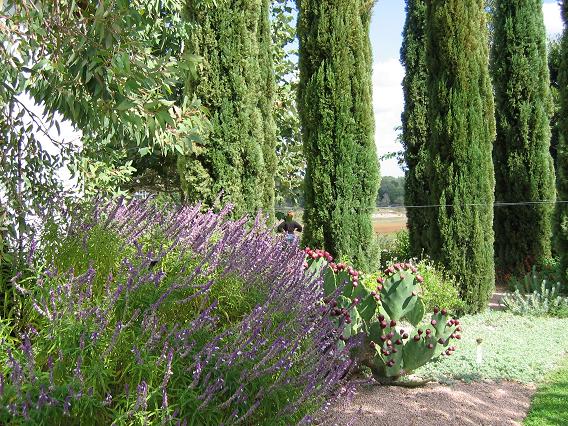 Colorful, xeric perennials contrasted beautifully with an Italian cypress allee.
My last garden of the day, Stone House Vineyard required the biggest time commitment. At about 2 pm I took the 40-minute drive out to Spicewood, on Lake Travis. Compared to the crowded, in-town gardens, only a handful of visitors were strolling the garden paths when I arrived at the 6-acre vineyard and 4-year-old garden.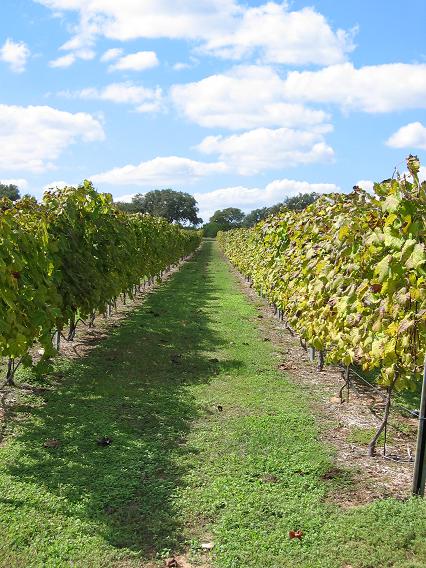 Wine country, Texas style
I parked by the tasting room and was invited to partake, but seeing as I was on a timetable (and traveling solo), I declined. Too hastily, I later decided. A small glass just to see what those grapes turned into would have been nice, especially after I'd seen the beautiful, yellowing vineyard. Ah, well, perhaps next time.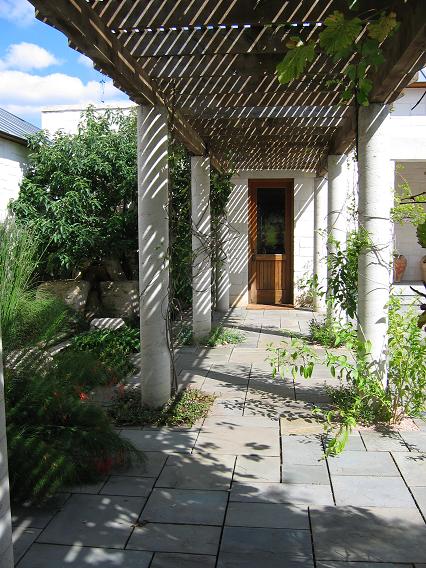 Strolling past the vineyard, I entered the garden that surrounds the private residence of owners Howard and Angela Moench. A sunny, flagstone courtyard adjoined a shady pergola leading to the front door. Beside the pergola, a fountain bubbled out of a naturalistic tumble of limestone boulders into a more-formal runnel (yes, another one on the Open Days tour) that paralleled the path to the door. Surrounded on three sides by the house and on the fourth by the open pergola, the runnel, lushly bordered with horsetail, coral fountain grass, bulbine, and cape rush, visually cooled the courtyard and brought to mind Hill Country streams, despite the runnel's formal edges.
Planted by the tumbling fountain, a pretty Mexican olive tree seemed rooted among the rocks. The garden's designer, Brenda Barger, on hand to answer questions, told me that while the Mexican olive looks pitiful when purchased small, it grows fast and is eventually drought-tolerant. The only catch is that this south Texas/northern Mexico native is frost-sensitive and should be planted in a very protected location. Graceful and open, the tree's lovely form is enhanced by white flowers in the spring.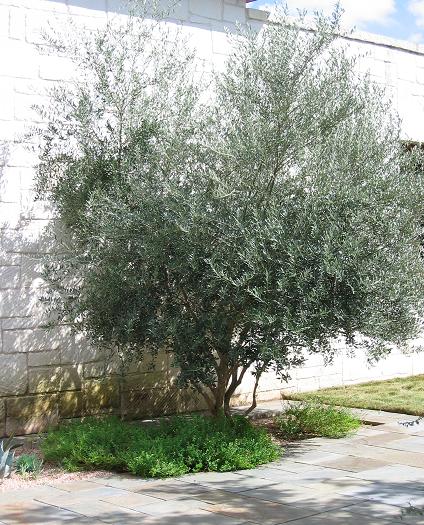 Against the house, in full sun and a more exposed location, stood a beautiful silvery-green tree that I recognized as a true olive. I'd recently read an article in the Statesman about growers trying olive orchards in central Texas; they are learning which olives are cold-hardy enough to survive our infrequent but unpredictable freezing temperatures. This one, Barger informed me, is a Mission olive, a fairly cold-tolerant variety.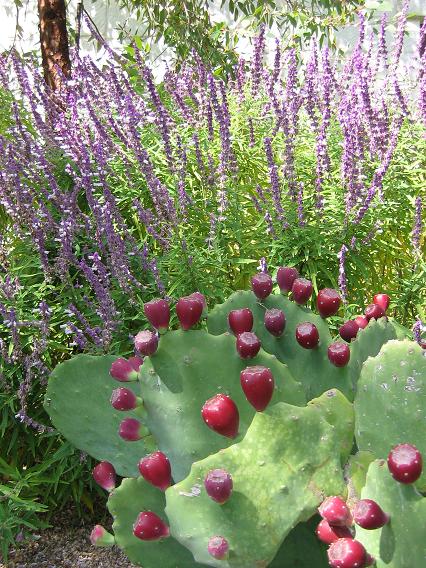 Just outside the courtyard, generous sweeps of native perennials were attracting the attention of butterflies and photographers. Salvia leucantha, spineless prickly pear covered in red tunas (each tuna represents a yellow flower from last spring; that would have been worth a visit!), germander, fleabane, Salvia guaranitica, yuccas, and agaves—it reminded me of a visit to the Wildflower Center, but with a cliffside lake view.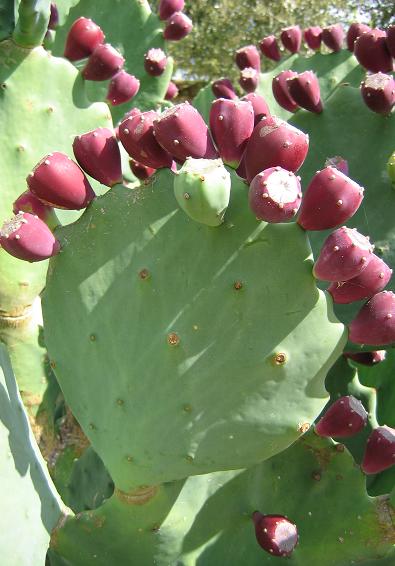 The fruits looked like fanciful, ruby rings on a broad, kingly hand.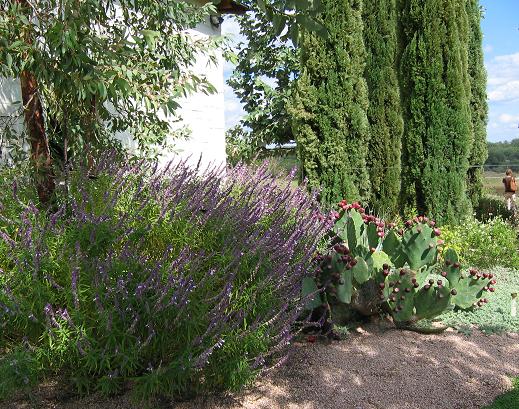 Nearby, a dramatic, tall allee of Italian cypresses—discreetly protected from strong winds by a steel cable running about 4′ high on either side of the narrow trees—marched toward a rustic, barn-like building. The allee is partially visible from the side in this photo; for some reason, I neglected to get a good photo of it. (Distracted by those tunas!)
On the other end of the allee, a second courtyard offered a view of Lake Travis. I thought this part of the garden would be a natural for wedding ceremonies; the allee could substitute for an aisle, and the courtyard would make a beautiful wedding site, perfect for dancing under the stars.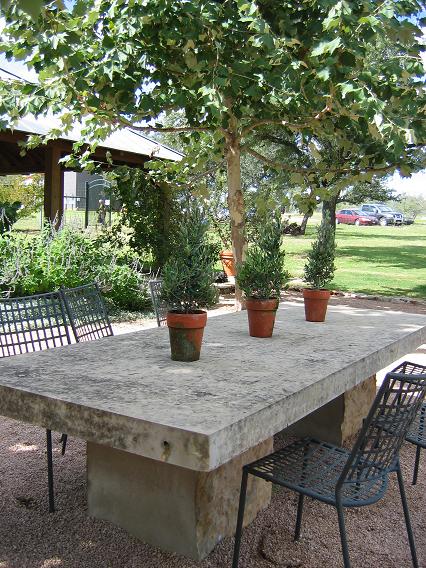 A limestone-slab table, nearly identical to Deborah Hornickel's, occupied the second courtyard. When I blurted my surprise at seeing another one, Brenda Barger chuckled and said that she and James David had been surprised by the coincidence too, but that this one was constructed first. I mentioned that I'd noticed other themes in common among the gardens on tour, including allees and runnels, and Barger agreed, noting that elements of garden design, like any other fashion, wax and wane in popularity among designers.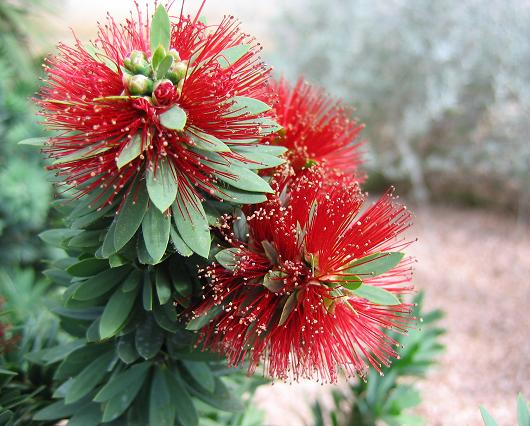 'Little John' dwarf bottlebrush, native to Australia, lined a sunny wall with its beautiful, gray-green foliage and spiky red flowers. I simply have to try this plant in a sunny, protected part of my garden. I also admired a gorgeous, pyramidal Japanese blueberry tree in the second courtyard (alas, no photo), with dark-green, bay-looking leaves. Barger said that it's one of her favorites too, and though extreme cold can nip it, this tree can grow as tall as 60 feet. (I did find a dwarf variety online, however. Do any Austin-area gardeners have experience with this tree?)
This garden, I noted on my way out, was one of the only ones showcasing many of the xeric perennials that so many gardeners in Austin like to use. Barger confessed that she is a true native-plant enthusiast and would happily use natives more often than she does except that clients often want something more exotic. She has succeeded in combining natives and exotics very naturally in this garden, using plants that seem to belong together though their origins may be distant.
Driving home through the gently rolling terrain of the Hill Country, I reflected on the many lovely gardens I'd visited and the owners and designers I'd met, who graciously invited Austin into their private sanctuaries and shared their knowledge with us. Allowing hundreds of strangers with pencils and notepads, cameras and critiquing eyes, into my own garden would have me quaking in my garden clogs. (Actually, I guess I do that with this blog, but it somehow feels less exposing. I show you what I want you to see.) I'm grateful to these gardeners for being generous enough to share their works in progress—for all gardens, no matter how beautifully wrought, are works in progress, and the resident gardener sees the flaws in his or her design all too clearly. But to shake off the fear of not being perfect, or to everyone's taste, and let the world see what you've made takes a tremendous amount of courage. My sincere thanks to all the Open Days Austin gardeners who shared their gardens with me.
And thanks to all you readers of Digging who have followed my tour postings every day this week. (Click here to go back to the Poth-Gill garden.) I've had a lot more visitors than usual and enjoyed your comments. Thanks for spending some time touring with me.
All material © 2006-2008 by Pam Penick for Digging. Unauthorized reproduction prohibited.