May 3rd, 2012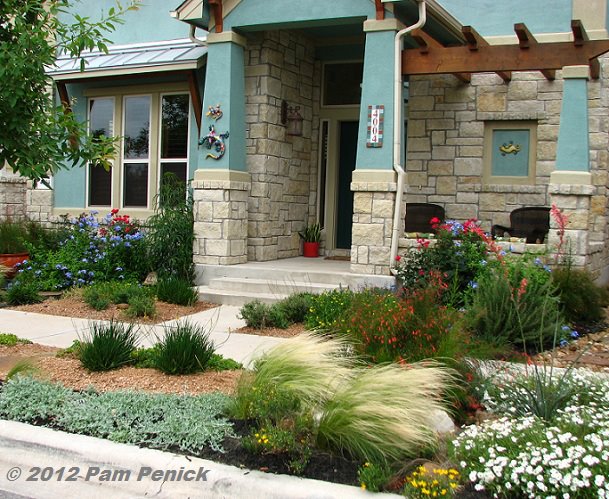 If you've always thought bigger is better where a garden is concerned, think again. This week I spent a little time in East Austin's Mueller neighborhood, a planned community (on the site of Austin's old airport) built to encourage a sense of community with houses close to the street, small lots, and neighbor-friendly front porches. A client was showing me gardens he liked in the neighborhood, including this one near his house. Isn't it delightful? I love the free use of color, the sense of movement thanks to curving decomposed-granite beds, and the low-maintenance, drought-tolerant nature of the tough plants the owner chose.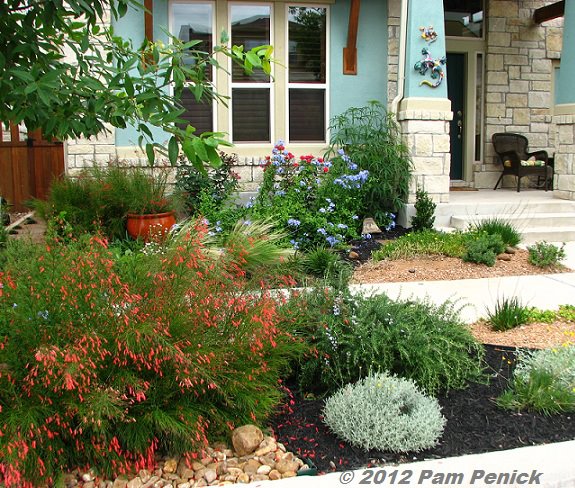 A lot of people in Mueller, with these postage-stamp lots, have planted gardens in place of lawn. Clearly, a tiny lot makes lawn removal a lot more do-able—and who could get any use out of such a small lawn anyway? Still, a surprising number of people are hanging onto their miniature mown lawns, and I can't help wondering why, when a jewel-box garden like this offers so much more joy to the owner and neighbors alike.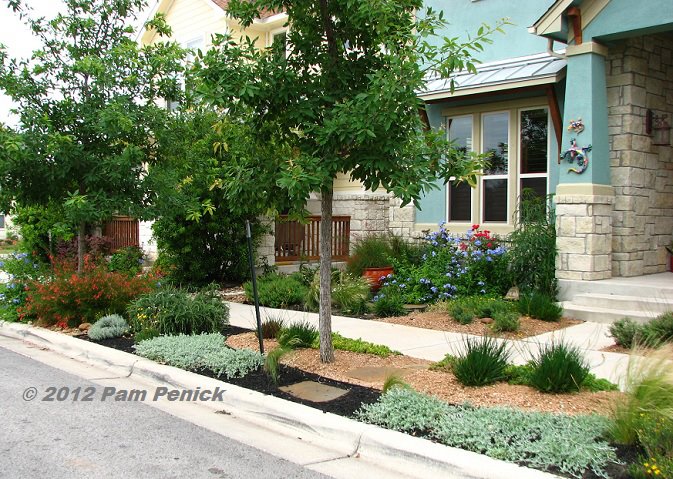 I first posted these pictures on my Lawn Alternatives Facebook page (please "like" it if the topic interests you; I'm posting news about my upcoming book there too), where they got a big response. So I thought I'd share them here as well, providing inspiration, perhaps, for those of you with small lots and big garden dreams. Just look what you can do!
Also, check out a recent "Central Texas Gardener" episode about gardens at Mueller, including this one, and with interesting commentary about the community itself and the native-plant prairie that anchors the center of the development. I posted about Mueller's prairie a couple of years ago and need to go back and see it again.
All material © 2006-2012 by Pam Penick for Digging. Unauthorized reproduction prohibited.