May 1st, 2012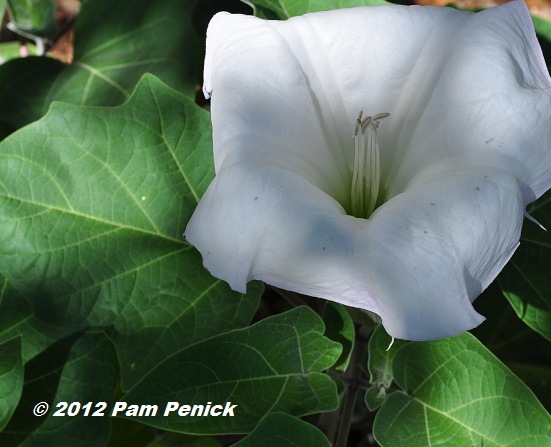 Happy May Day to you! In celebration, a few pictures of earthly delights from the garden, starting with the first lovely datura flower of the season. Mmm, heady scent!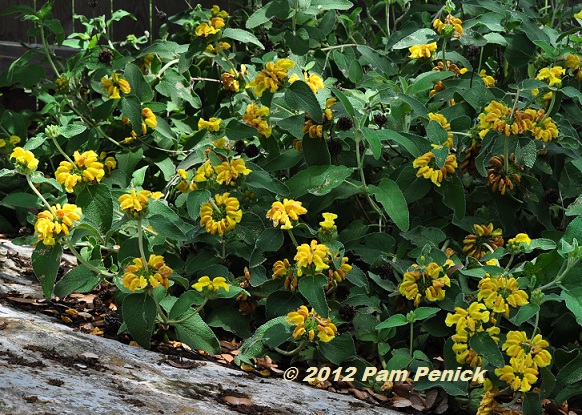 Jerusalem sage (Phlomis fruticosa) in full buttery bloom. This was actually taken a couple of weeks ago, but it never made it into a post.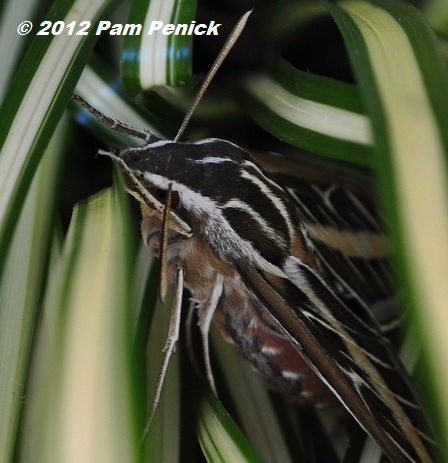 I noticed this white-lined sphinx moth resting for the day before her noturnal activities.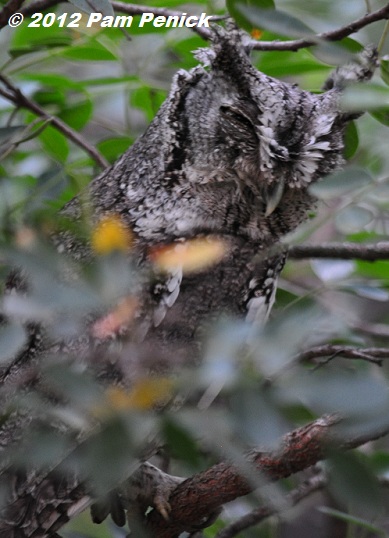 She'd better watch out for the screech owls, which love to dine on moths. This is Mama Owl, whom we'd been watching in the owl box during the day. She recently decamped to a small evergreen sumac near the box, where she keeps a slit-eyed watch between daytime naps. Papa Owl roosts in a ligustrum over the back fence, also keeping a watchful eye. They have little ones in the owl box, you see.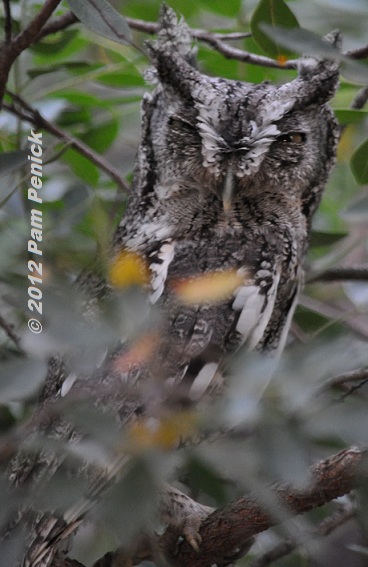 Mama Owl roosts only 6 feet off the ground and will allow us to get quite close, within 6 feet, for photo ops. When I walk through the garden, she swivels her head around, keeping a close watch on me the entire time, but never acting agitated or alarmed. She's a calm mother. Papa Owl is about 12 feet off the ground, and he permits close photo ops as well.
Two nights ago, around 9 pm, I was working on my computer at the dining table and wondered if the owls were hunting in order to feed their chicks. I switched on the outdoor flood lights and lifted my binoculars for a closer look at the owl box, hoping to see some fuzzy heads at the doorway. Instead I caught a clear, bigger-than-life glimpse of one of the parents shooting straight into the box, obviously dropping off some tasty treat, and immediately popping back up to the door and flying off into the night again. I was wowed.
Happy spring to you!
All material © 2006-2012 by Pam Penick for Digging. Unauthorized reproduction prohibited.