April 26th, 2012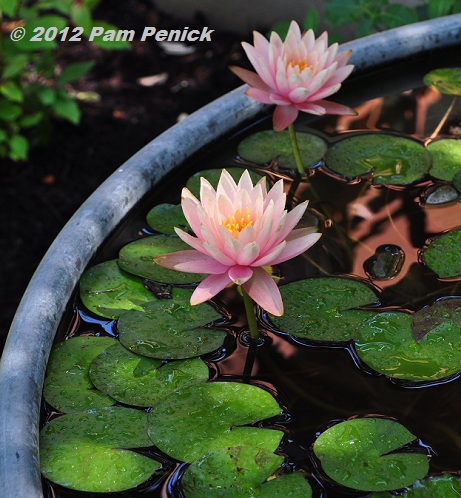 My friend and fellow blogger Catherine of The Whimsical Gardener invited me to lunch in her garden yesterday, which was abloom with fragrant star jasmine, glowing white abutilon, and these shell-pink 'Colorado' water lilies in her stock-tank pond.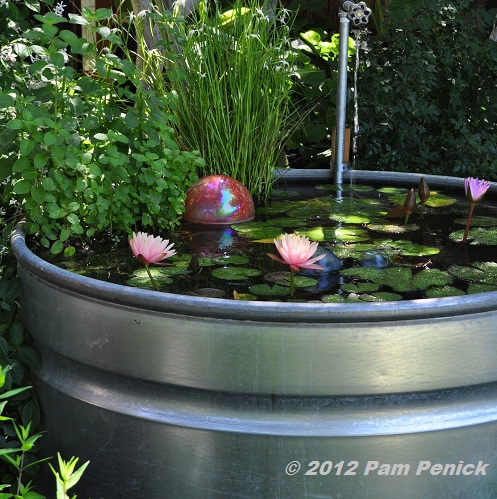 Catherine recently moved her 4-foot-diameter tank from a focal-point position in her small back lawn to tuck it into a garden bed near her patio. She and her husband fabricated a cool fountain from plumbing pipes and a spigot. A thin stream of water, recirculating from the pond up through the pipe and back down into the pond, creates a musical gurgle. I may have to steal this idea, as it looks so great with the silver, industrial-looking tank.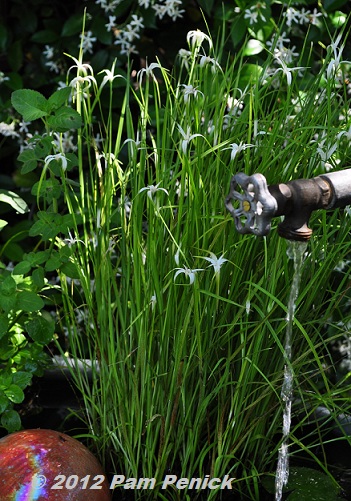 Star grass (Dichromena colorata), a sedge native to Texas, bloomed in front of a trellis smothered in star jasmine (Trachelospermum jasminoides), creating a glowing, white combo.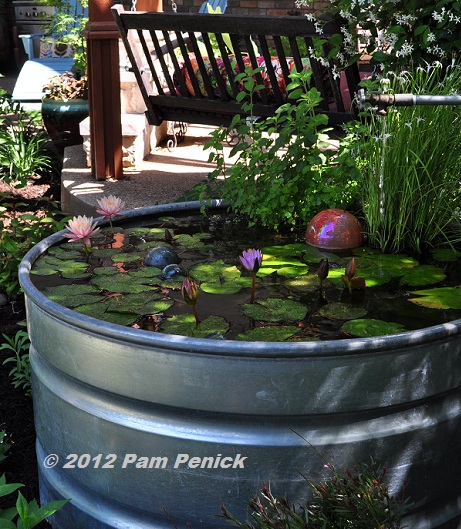 A wider view reveals that a purple blossom of 'Madame Ganna Walksa' waterlily has appeared. I shared this tropical lily with Catherine, which originally came from Philip at East Side Patch. It's a monster. I have a sneaking suspicion Madame will stretch out her arms in midsummer and swallow Catherine's patio!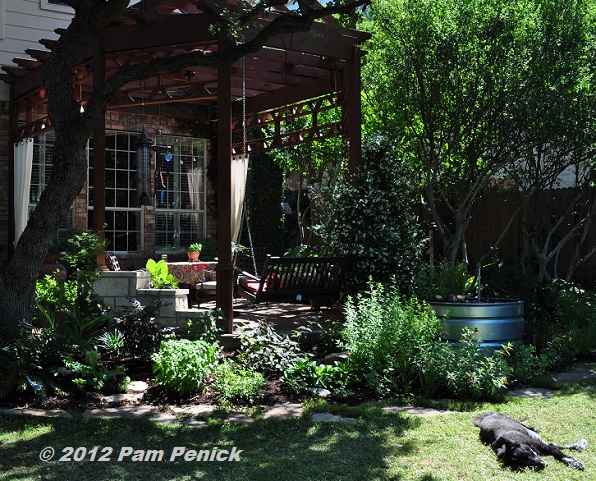 Her arbor-shaded patio is utterly charming, graced with a swing, a screen of star jasmine, and a pretty dining table. That's Blitzen lounging in the grass, after a good roll.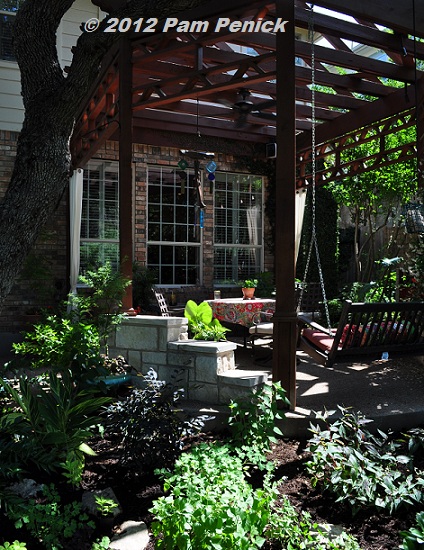 A ceiling fan keeps the space cool on warm days.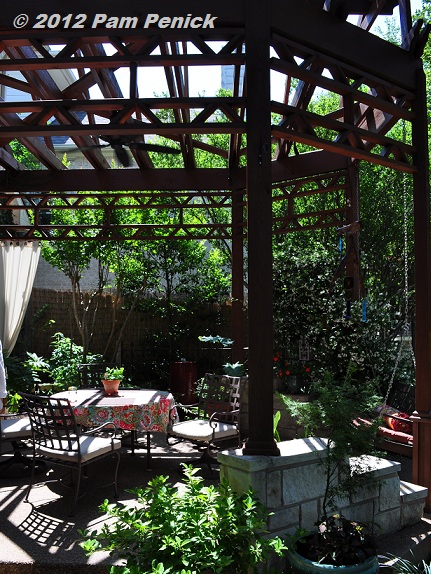 The arbor is beautifully constructed.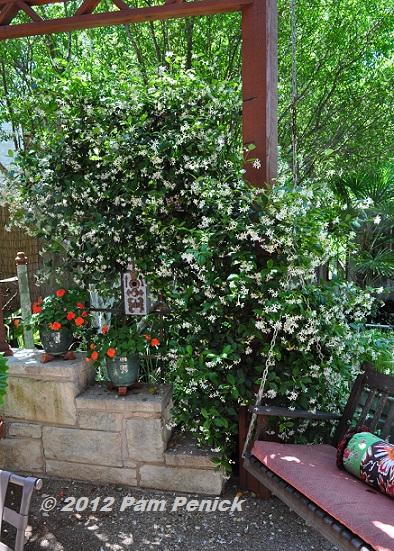 Star jasmine has such a sweet, enticing fragrance when it blooms in the spring. Someone is enjoying a hiding spot in there. Can you guess who?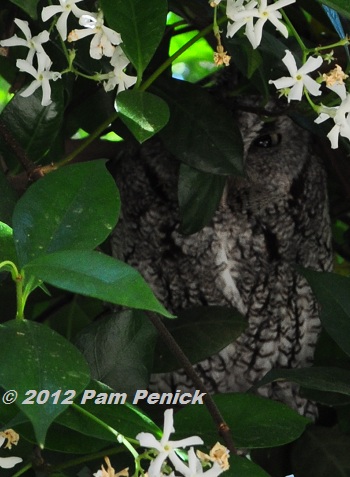 One of the little screech owls that's been nesting in Catherine's owl box! Catherine said a noisy jay fussing at something in the vine alerted her to the owl's presence a few days ago, and it's been roosting during the day on one of her bird houses hanging on the trellis, tucked amid the vines. The owl is sitting at eye level and stays put with a wary eye, even when you get within a few feet for a photo.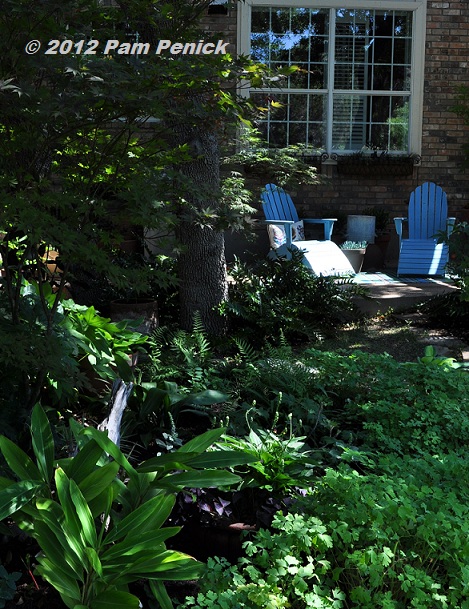 We sat in these sky-blue Adirondacks for an hour or so, talking and bird-watching. Catherine's yard is truly a bird haven, and we saw not only the owl but woodpeckers, cardinals, blue jays, white-winged doves, and finches. Her garden is much softer and lusher than mine, with several beautiful Japanese maples, few spiny plants, and a slightly more tropical flavor. I really enjoyed the different feel.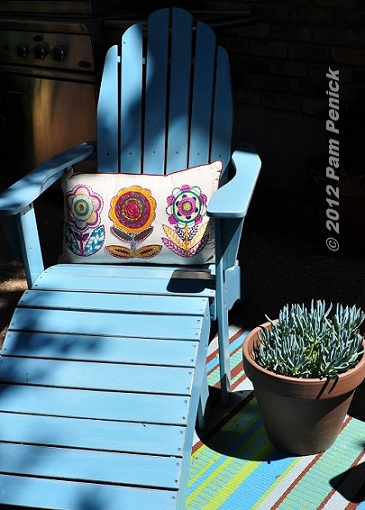 She's giving a few succulents a go on her patio, like this blue chalk sticks (Senecio mandraliscae), which looks lovely next to her blue chairs.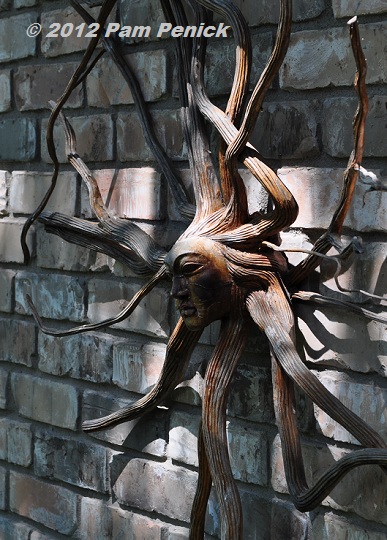 Catherine has an artist's eye for decorating and has added a number of lovely objects to her garden, like this tree-root sculpture that hangs on her garage wall. What a treat to spend a relaxing couple of hours there with her. Thank you, Catherine!
All material © 2006-2012 by Pam Penick for Digging. Unauthorized reproduction prohibited.
posted in
Arbors
,
Birds
,
Containers
,
Decor
,
Dogs
,
Fences
,
Fountains
,
Garden art
,
Garden blogging
,
Grasses
,
Patios & decks
,
Ponds
,
Seating
,
Spring color
,
Stock tanks
,
Succulents
,
Trees
,
Vines
,
Water features
,
Water gardening
,
Wildlife