April 21st, 2012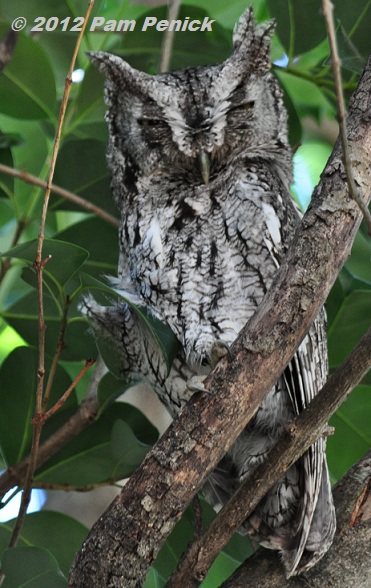 While sitting on the patio around noon today I spotted a shape in a tree over the back fence that looked like an animal. I squinted and realized it was a second screech owl having a siesta—the male of what I now hope is a nesting pair, with the female still occupying the owl box.
The female in the box is very skittish (protecting eggs or owlets, I hope), but the male in the tree was cool as a cucumber, letting me get directly beneath him for a closer portrait and only slitting his eyes slightly to watch me. He's very small, about 8 inches tall, and absolutely adorable.
All material © 2006-2012 by Pam Penick for Digging. Unauthorized reproduction prohibited.