April 16th, 2012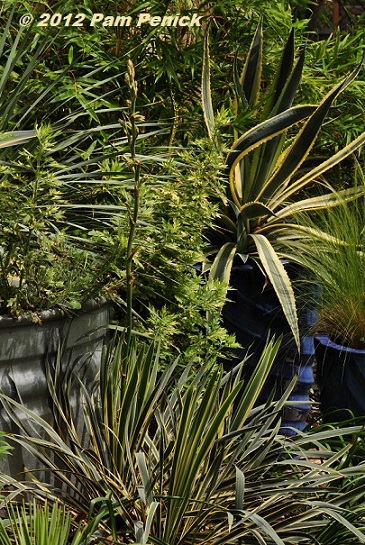 For the love of everything variegated, what was I thinking?! It's a spiky riot of stripey foliage. Just look at this xeric combo of 'Bright Edge' yucca (foreground, with the bloom spike), 'Oriental Limelight' atemisia, Agave americana 'Marginata' and Mexican feathergrass (in blue pots), and 'Alphonse Karr' bamboo. I actually love it—all that green and yellow and spiky shapes—but it does look, ahem, a tad jungly.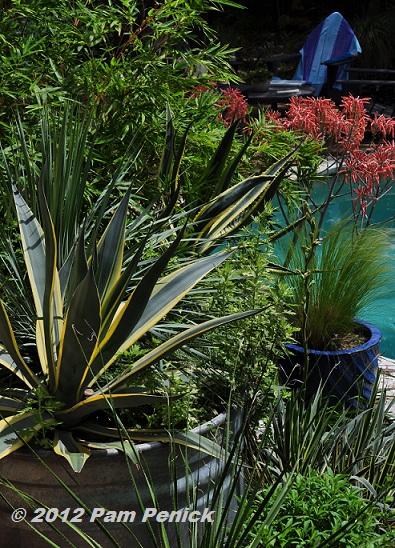 OK, part of that lemon-lime overdose was caused by an oversaturation of yellow in that particular image. Here's how it appears to my eyes, from a slightly different angle. Now you can see there's a variegated Agave weberi 'Arizona Star' in the mix as well. The red blooms are from a trio of Aloe saponaria growing behind the blue pot. Much of the foliage that handles central Texas' drought and heat is either silver or blue-green, so it's nice to have some mellow-yellows thrown in here and there.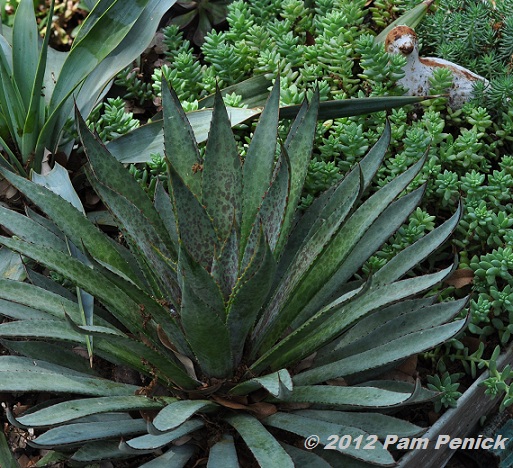 Of course, I do love the blue-greens as well. Here's a cooler combo: 'Bloodspot' mangave, Yucca pallida, and a sedum of some sort. Much calmer!
Join me in posting about your lovely leaves of April for Foliage Follow-Up, a way to remind ourselves of the importance of foliage in the garden. I'm giving Mr. Linky a try this time; please use it to leave your link to your Foliage Follow-Up post. I really appreciate it if you'll also include a link to this post in your own post (sharing link love!). If you can't post so soon after Bloom Day, no worries. Just leave your link when you get to it.
Update 5/12: Mr. Linky was only good for one month, I just realized, so all the links are gone. Sorry!
All material © 2006-2012 by Pam Penick for Digging. Unauthorized reproduction prohibited.