April 9th, 2012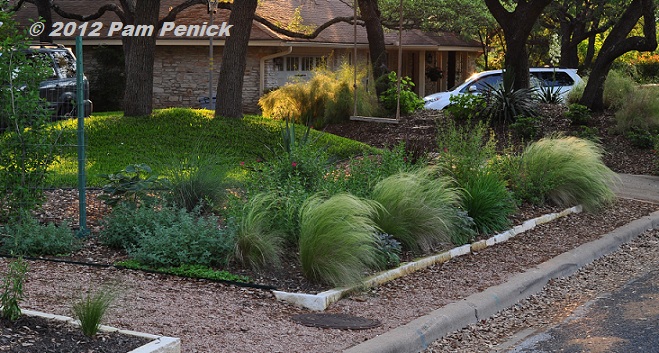 After last summer's heat and drought, many local readers, I suspect, are ripping out burned-up lawn along the street and replacing it with drought-tolerant plants and hardscaping. That's what I did a year ago with my own curbside lawn, putting in a decomposed-granite parking strip edged with chopped limestone and pushing back the lawn by several feet to make a pretty, deer-resistant garden of grasses, salvia, garlic chives, yucca, and catmint. Earlier this spring I added a broad decomposed-granite path behind the bed to eat up even more lawn, plus give access to the side-yard gate from the driveway.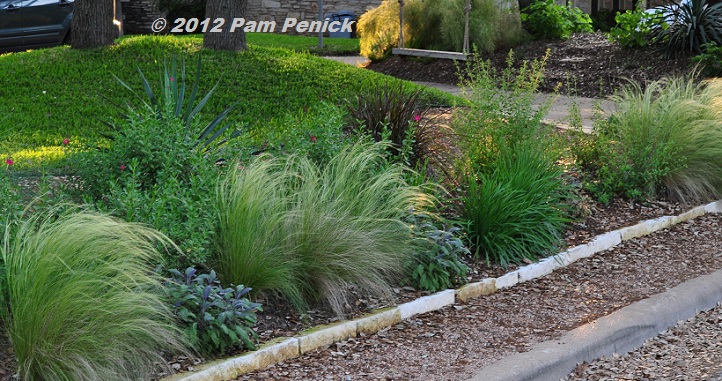 It's all filling in and greening up again for spring. This little curbside garden makes me very happy every time I drive home and see the salvia flowering and the feathergrass blowing in the breeze.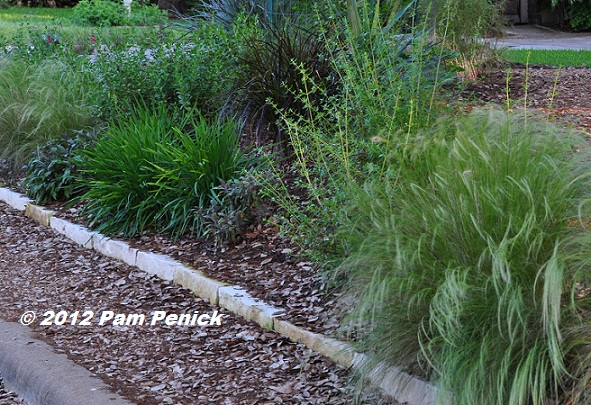 The deer leave alone everything in this bed except the softleaf yucca, which they will sometimes rub their antlers on in autumn and crop the flower spike in spring. A weekly application of deer repellant spray helps prevent that during those times. Other plants include Texas sotol (Dasylirion texana), Mexican oregano (Poliomintha longiflora), Autumn sage (Salvia greggii), Mexican feathergrass (Nassella tenuissima), garlic chives (Allium tuberosum), purple sage (Salvia offinalis purpurea), lamb's ear (Stachys byzantina 'Helen Von Stein'), possumhaw holly (Ilex decidua), catmint (Nepeta), datura (Datura wrightii), Muhlenbergia 'Pink Flamingos,' bamboo muhly (Muhlenbergia dumosa), and an annually replaced purple fountain grass (Pennisetum setaceum 'Rubrum').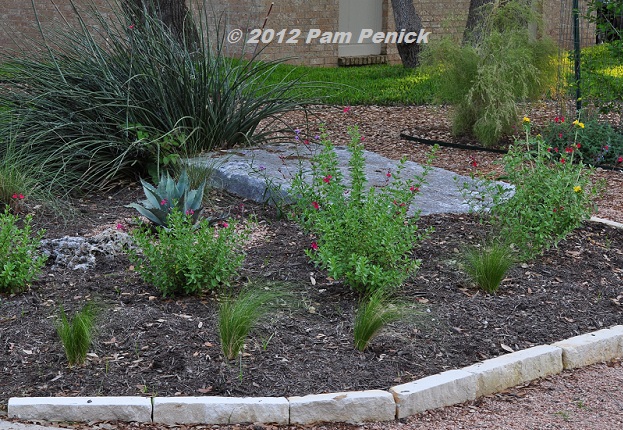 In February, when I had the path installed behind my curbside bed, I created this bed for my neighbor Donna. Edged in the same chopped limestone, with a shared decomposed-granite path flowing between our properties, her new streetside bed blends with mine for a harmonious look. It was just planted this spring, but it's already filling in nicely.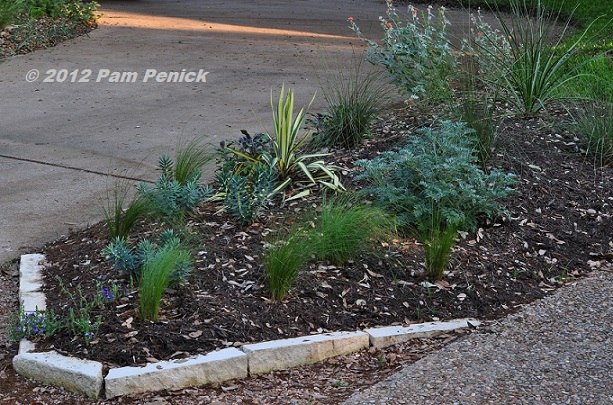 On the other side of my front yard, I also put in this shared bed with my other neighbor, Dell. It looks a lot better than the patchy, brown grass we replaced. We both get to enjoy this bed, which occupies the narrow strip between our two driveways.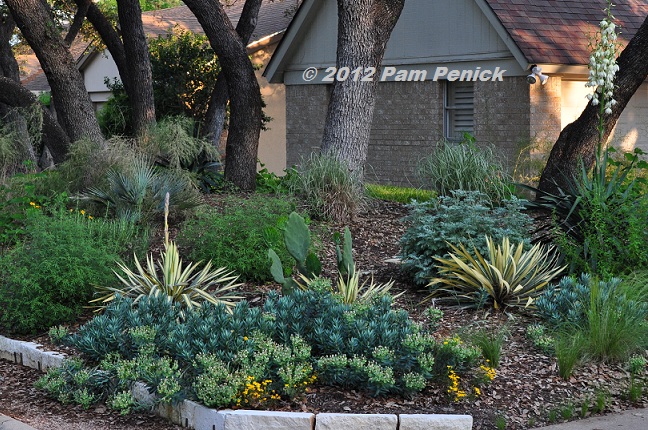 All three of these streetside beds are meant to blend with the island berm I planted two years ago, after pulling out the Asian jasmine groundcover that once swathed the entire bed. The silver-and-gold garden contains 'Color Guard' yucca (Y. filamentosa 'Color Guard'), softleaf yucca (Y. recurvifolia), gopher plant (Euphorbia rigida), Mexican feathergrass (Nassella tenuissima), Mexican oregano (Poliomintha longiflora), foxtail fern (Asparagus densiflorus 'Meyersii'), bamboo muhly (Muhlenbergia dumosa), Texas dwarf palmetto (Sabal minor), heartleaf skullcap (Scutellaria ovata), 'Sparkler' sedge (Carex phyllocephala 'Sparkler'), Turk's cap (Malvaviscus drummondii), variegated Miscanthus grass, majestic sage (Salvia guaranitica), silver Mediterranean fan palm (Chamaerops humilis var. argentea), Artemisia 'Powis Castle,' copper canyon daisy (Tagetes lemmonii), spineless prickly pear (Opuntia), rosemary (Rosmarinus officinalis), Lindheimer nolina (Nolina lindheimeri), and Texas nolina (Nolina texana). I usually also add annual 'Senorita Rosalita' cleome and red cordyline for long-season, drought-tolerant color.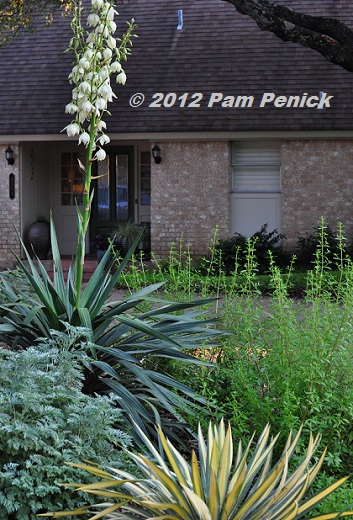 The yuccas are trying to bloom. The deer already ate the bloom spikes of one of my softleafs and my neighbor's red yucca (Hesperaloe), but I'm hoping to protect this one with deer repellant.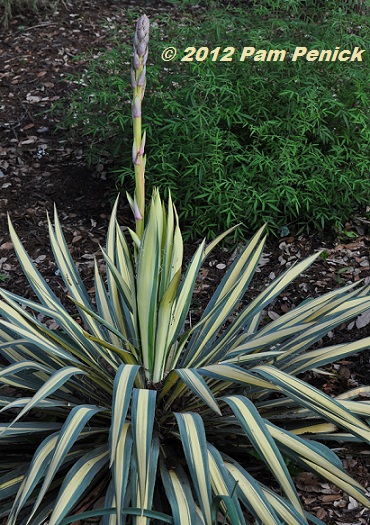 And now I've got to protect this little 'Color Guard' too as it tries to bloom. Wish me luck!
All material © 2006-2012 by Pam Penick for Digging. Unauthorized reproduction prohibited.
posted in
2nd garden--2012
,
Agaves
,
Cactus
,
Deer
,
Grasses
,
Lawns
,
Paths
,
Texas natives
,
Trees
,
Xeric plants
,
Yuccas