April 8th, 2012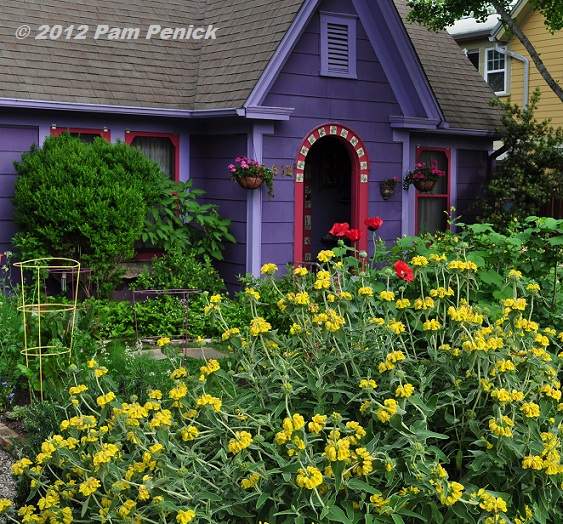 Author and designer Lucinda Hutson's gabled purple cottage and garden in the Rosedale neighborhood of Austin is as colorful as a basket of Easter eggs…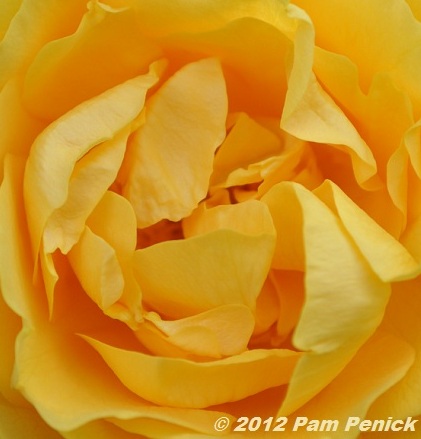 …but even better because it contains scented petals, billowy texture, and something blooming at every turn, like this 'Julia Child' rose.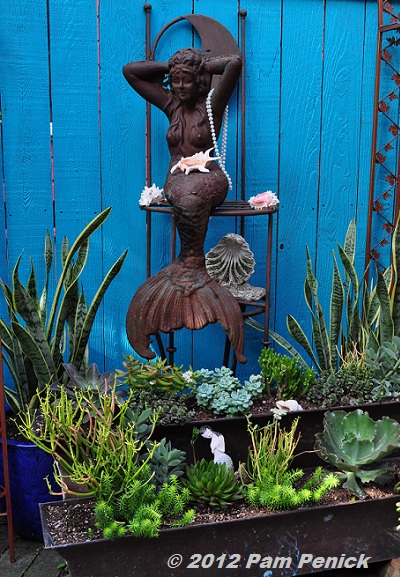 When Lucinda invited me over last week to see her garden in spring bloom, I knew I'd be in for a colorful treat. She's always painting the walls of her house or garage or fences some vibrant color, like mango, yellow-gold, or hot pink, and this visit was no exception. A new cobalt-blue fence along the former driveway sets the tone for an under-the-sea garden of succulents, complete with a mermaid. In back of her house, a vibrant purple paint was still wet on the siding.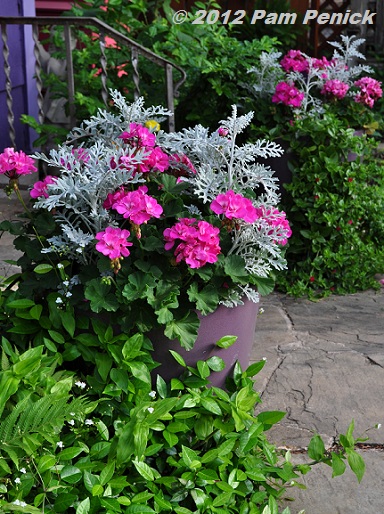 Matching pots of pink pelargoniums and silver dusty miller welcome you at the front stoop.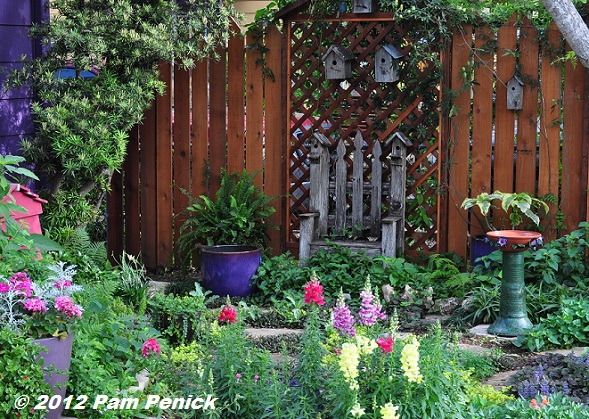 To the right, under the shade of a ginkgo tree, Lucinda screened her neighbor's driveway with a board fence, inset with vine-covered lattice panels and adorned with birdhouses.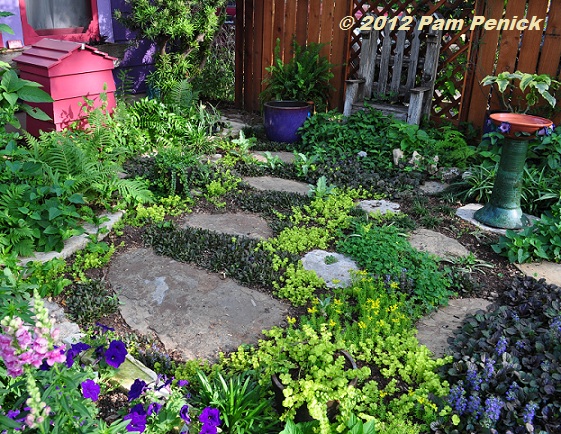 She's experimenting with creeping Jenny and ajuga groundcovers here in the shade. They got awfully thirsty last summer, she said, but they look great now. The little pink house on the left is a kitchen-scraps composter.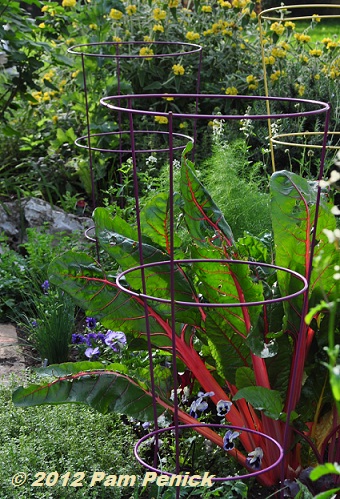 Chard and herbs grow alongside ornamentals like Jerusalem sage in the sunny front garden.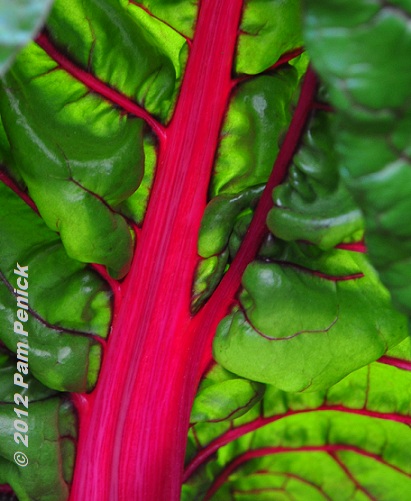 The light illuminates chard like stained glass.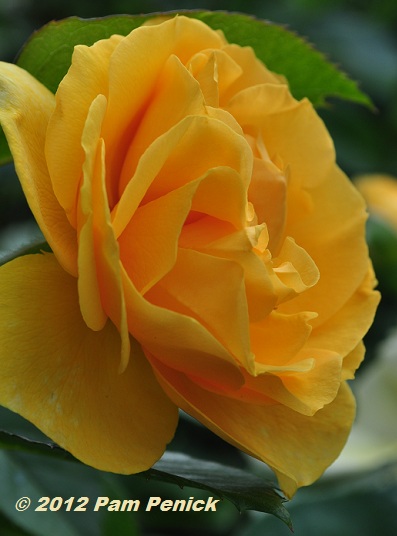 Another buttery blossom from the 'Julia Child' rose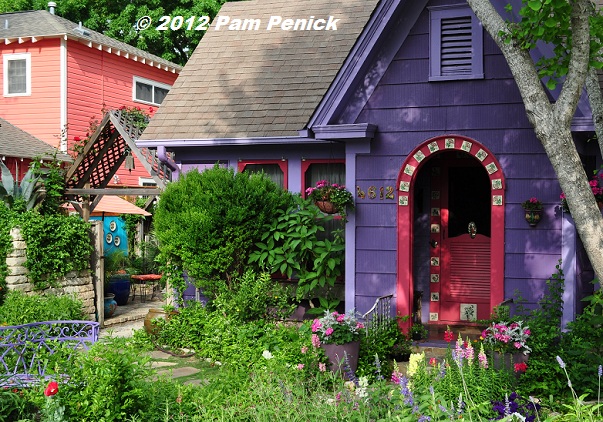 Looking left of the house, you see a walled garden where the driveway used to be. A lattice arbor over the gate echoes the tall gable of the house.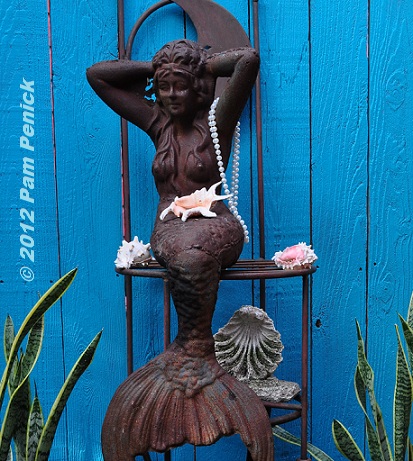 Just inside the gate is the mermaid garden and a little patio with seating for two.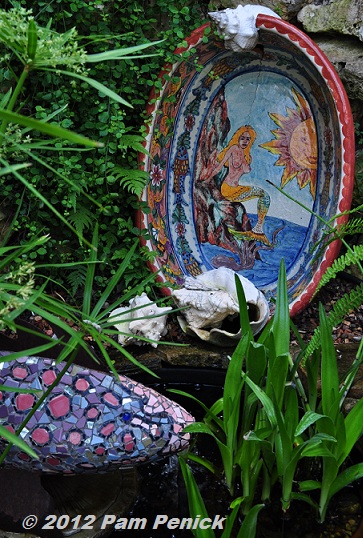 A tiny pond built against the wall houses a mosaic fish and is decorated with a mermaid basin.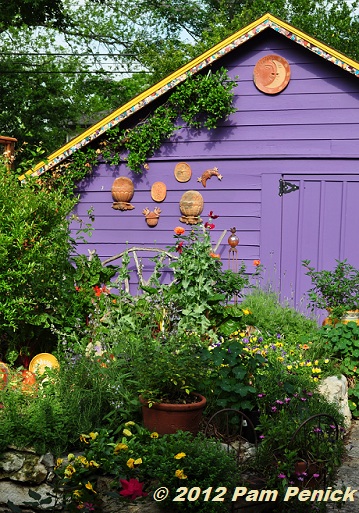 Looking down the driveway-turned-garden you see a purple garage (converted to storage), with an exuberant vegetable garden in front.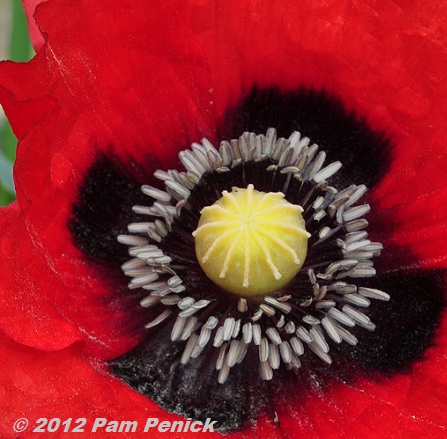 Red poppy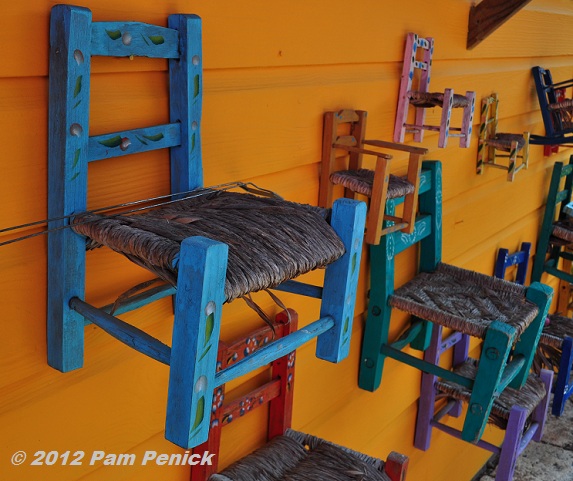 Lucinda is liberated from the notion that the side and back walls of the house and garage must match the purple front, and they wear festive shades of golden yellow…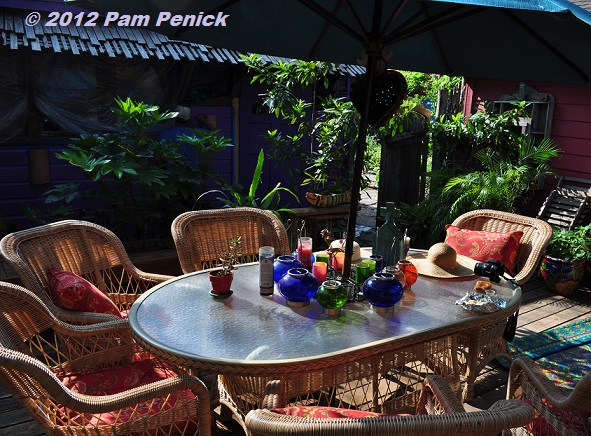 …salmon (on the right)…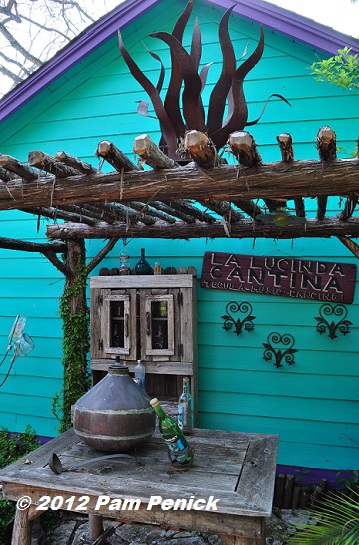 …and aquamarine, helping to set the mood for distinct garden rooms as you round each corner. This is La Lucinda Cantina, a serving table under a cedar pergola behind the garage.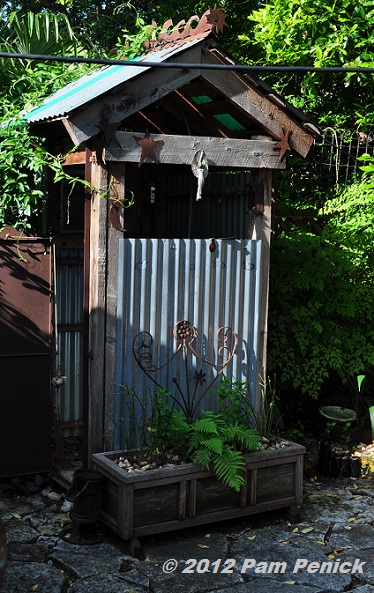 There's also a rustic outdoor shower.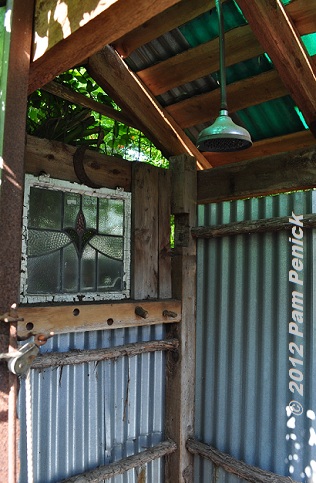 A peek inside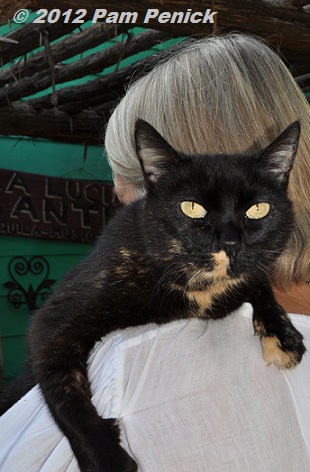 Tita the cat gets a little love.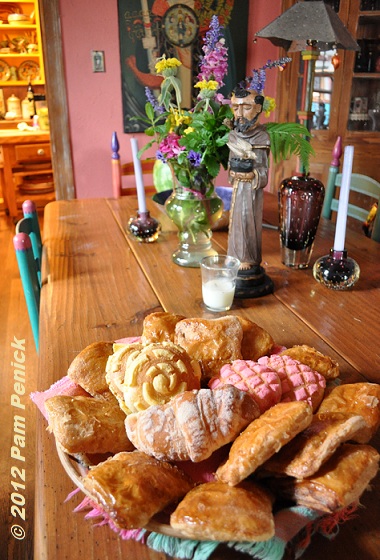 I've had the good fortune to visit Lucinda's home and garden several times, and she's always the most gracious hostess, serving up punch and sugared Mexican pastries.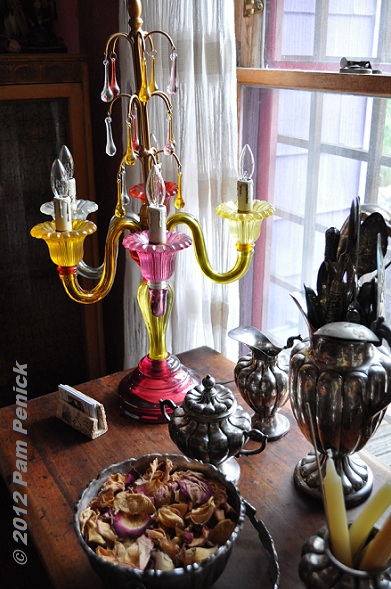 Beautiful objects adorn every surface of her charming home.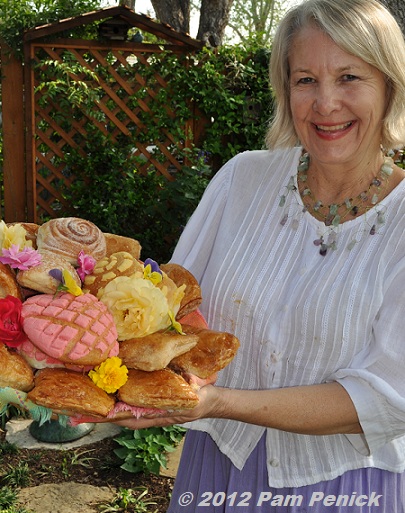 Carrying the platter into the garden, she plucks roses and other blossoms and tucks them among the pastries for an even prettier display.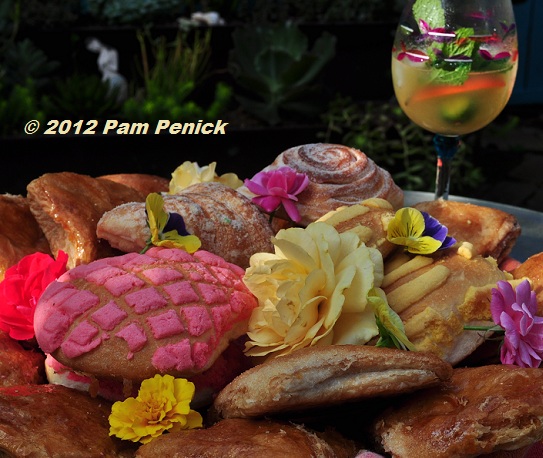 Almost too pretty to eat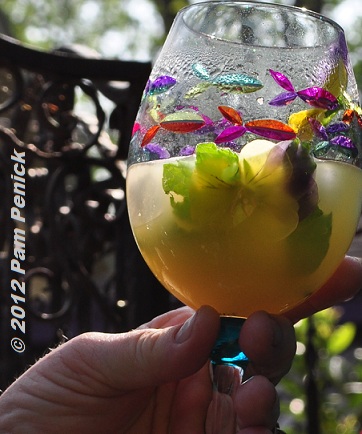 Lucinda's pineapple-mint punch, with pansies floating for decoration. Yum!
Thank you, Lucinda, for a delightful visit! Lucinda has another book coming out soon called Viva Tequila!; look for it in a few months.
If you can't get enough of Lucinda's Tex-Mex cottage-garden style, visit my other posts about her garden:
Lucinda Hutson's enchanting garden, April 2008
El Jardin Encantador: Lucinda Hutson's garden, October 2009
Enchanted evening in Lucinda Hutson's cantina garden, April 2011
All material © 2006-2012 by Pam Penick for Digging. Unauthorized reproduction prohibited.
posted in
Arbors
,
Cats
,
Color
,
Containers
,
Decor
,
Doors
,
Edibles
,
Fences
,
Garden art
,
Garden structures
,
Garden tours 2012
,
Groundcovers
,
Outdoor showers
,
Patios & decks
,
Ponds
,
Roses
,
Sculpture
,
Seating
,
Spring color
,
Succulents
,
Water features