April 5th, 2012

My next stop on the Houston Open Days tour on March 24 was the classically elegant Tudor Garden, located in the Broadacres Historic District. To my mind, the property's best asset is the view of a double line of mature live oaks marching down the center median of the grand old neighborhood's streets.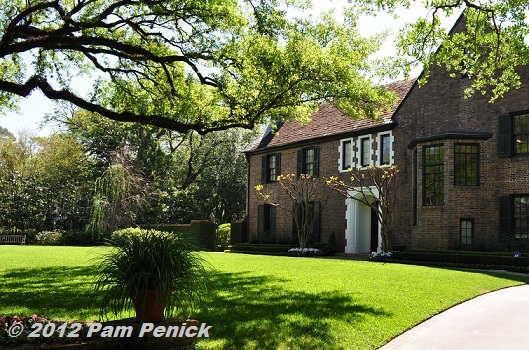 The official description of the garden:
Situated along beautiful live oak-lined South Boulevard, the original garden was created by renowned Houston landscape architect Pat Fleming. In 2006, it was renovated and re-envisioned by Curtis & Windham Architects to complement concurrent additions to the Birdsall Briscoe house. The original garden entry at the boulevard leads one through a refurbished, walled parterre garden where mature boxwood forms make a stunning sculptural frame to views of the lush garden beyond. A sunken pool lies at the heart of the garden surrounded by a delightful balance of plantings, pathways, and terraces.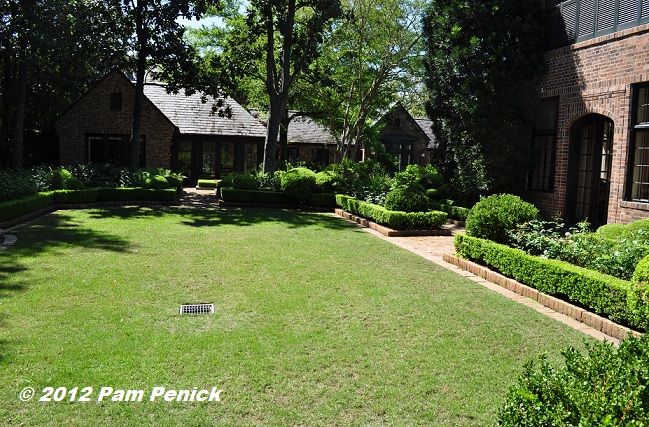 We traversed the enormous front lawn (2nd photo from top) to reach a walled side garden with…more lawn edged in boxwood.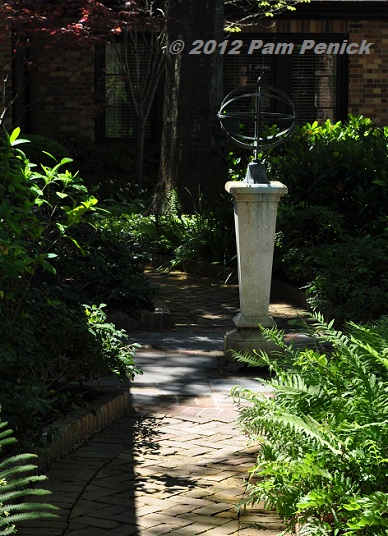 It does get more interesting. Leading into a shade garden in back is a winding brick path accented with a classic garden ornament, an armillary sphere.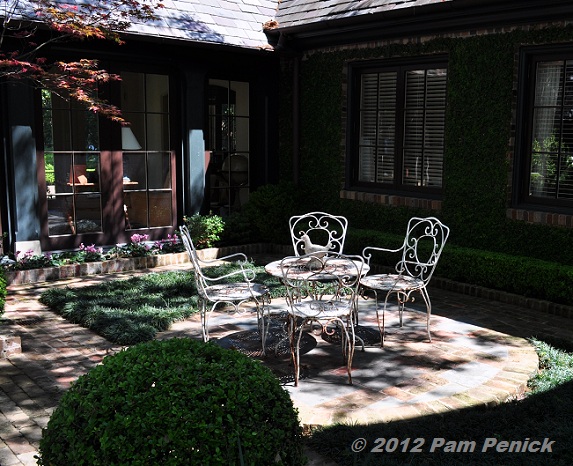 Along one side of the garden, a guest house enjoys its own intimate patio.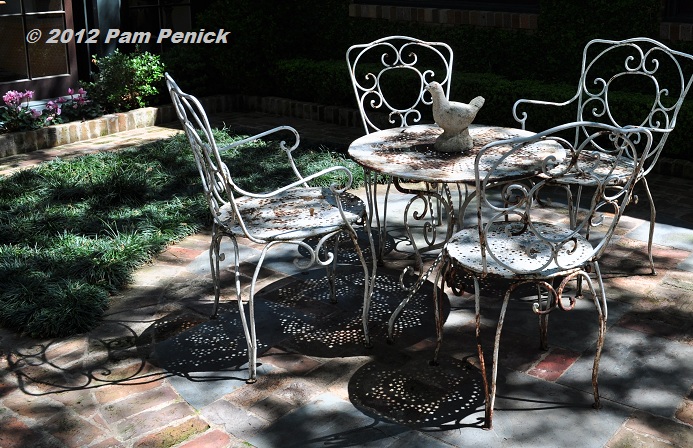 Pretty paving and shadow patterns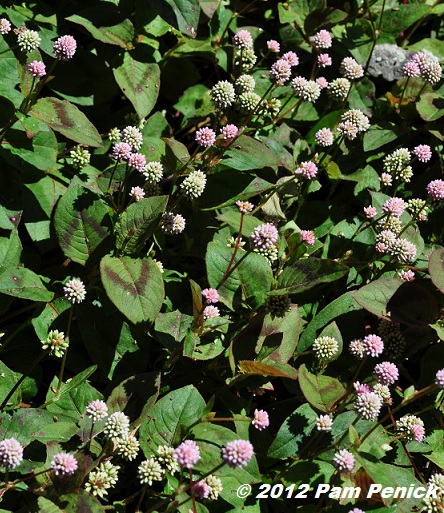 Pink knotweed (Persicaria capitata, or Polygonum capitatum) in bloom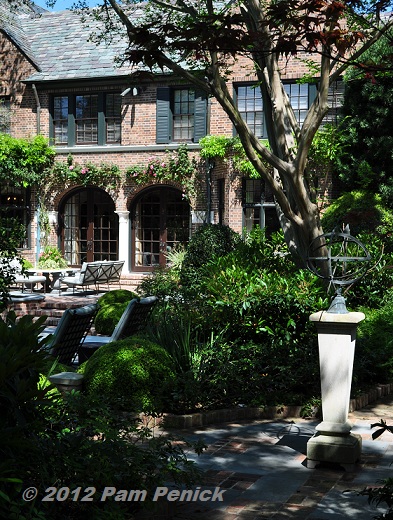 From here you can look through the shade garden to the rear of the main house.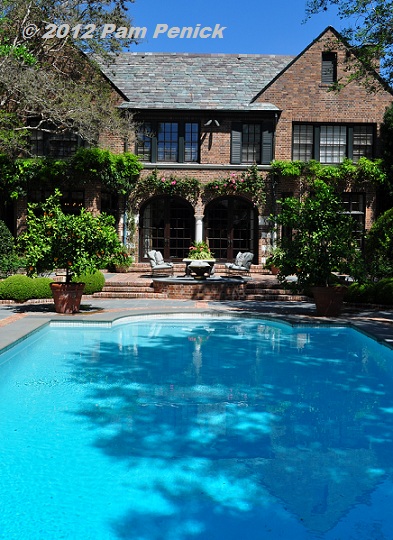 All very elegant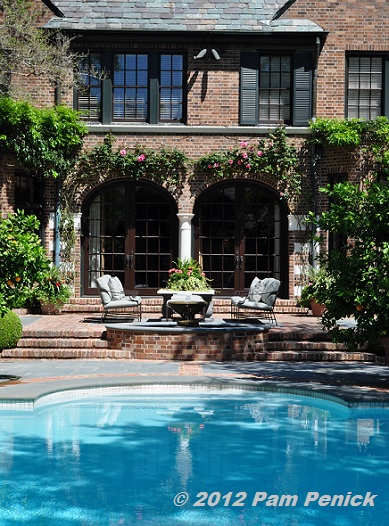 A closer look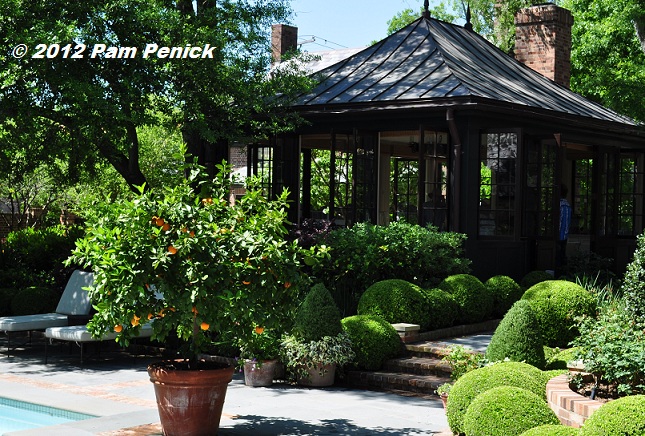 An equally elegant garden house overlooks the pool…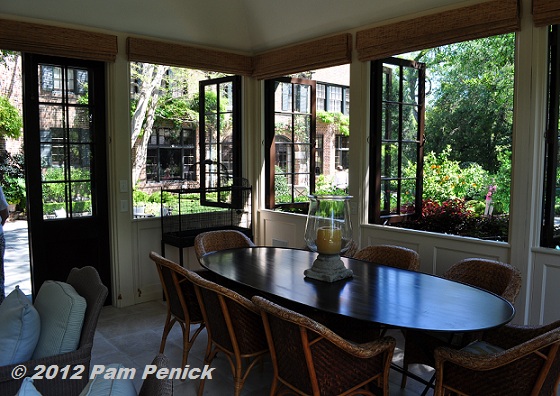 …and offers a decidedly cushy outdoor living space.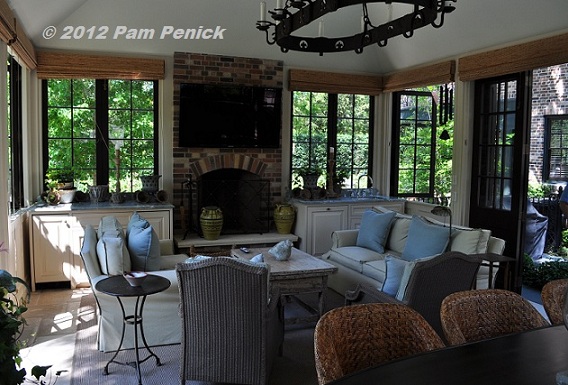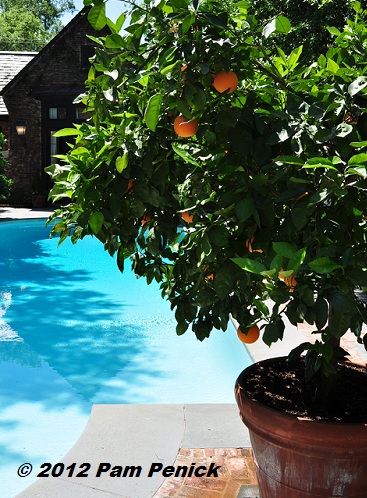 Potted citrus by the pool
Up next: The Old World-style (but new) Wolf Residence Garden in River Oaks, with a "bosque of hornbeams" that I absolutely fell in love with. For a look back at the Lofgren-Bayer Garden, click here.
All material © 2006-2012 by Pam Penick for Digging. Unauthorized reproduction prohibited.
posted in
Containers
,
Decor
,
Edibles
,
Garden art
,
Garden structures
,
Garden tours 2012
,
Groundcovers
,
Lawns
,
Paths
,
Patios & decks
,
Seating
,
Travel
,
Trees
,
Water features