April 3rd, 2012

My next stop on the Houston Open Days tour on March 24 was the classic, walled J. Green Garden, located in the Montrose neighborhood. The official description:
This urban garden in Montrose is a lovely counterpoint to the house owned by well-known Houston interior designer Jon Green, founder and owner of Indigo Interior Design. The three main spaces of the garden are each distinct and yet complementary. A lovely sculptural fountain and pond shaded by trees opens onto a sunny parterre and adjacent green house. The pool terrace beyond is enclosed by the two-story wall of an adjacent parking garage, but through clever use of plantings and exterior furnishings the space is transformed into a striking and dramatic outdoor room.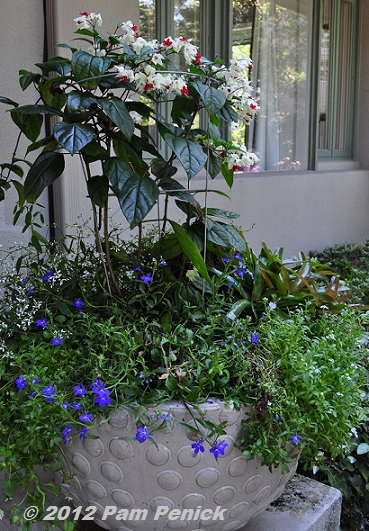 You enter a shady, walled entry garden, with several planters clustered near the front stoop.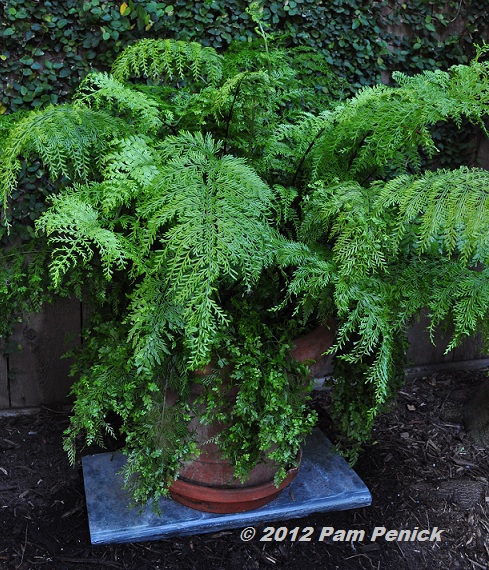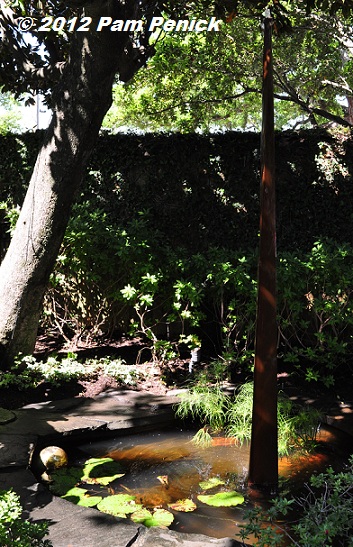 A tiny, circular pond tucked under a tree is accented by a pointed steel copper obelisk.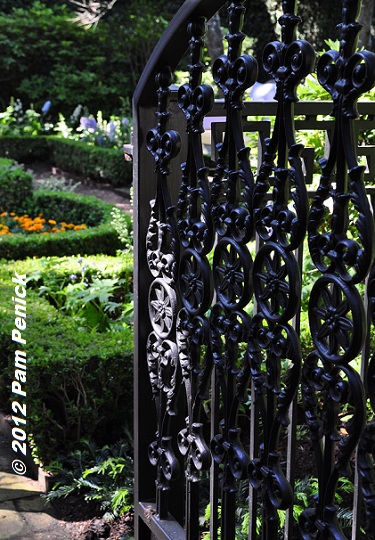 An iron gate opens to a sun-dappled parterre garden…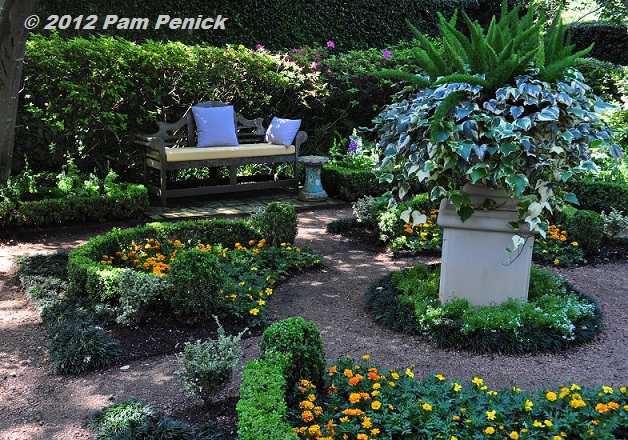 …with clipped boxwood encircling colorful marigolds. A concrete plinth in the center supports a large planter with foxtail fern and variegated ivy.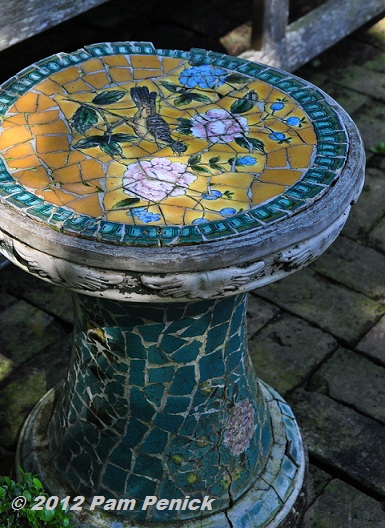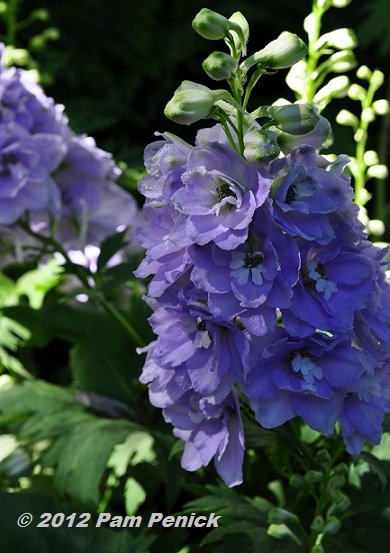 Beautiful delphiniums stand tall in the corners of the garden.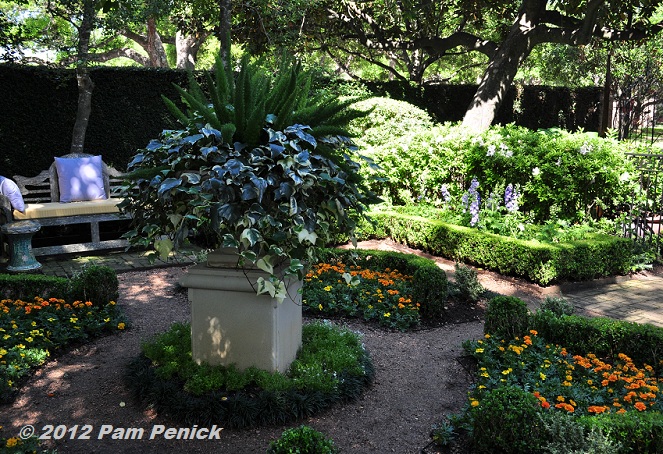 Another view of the parterre garden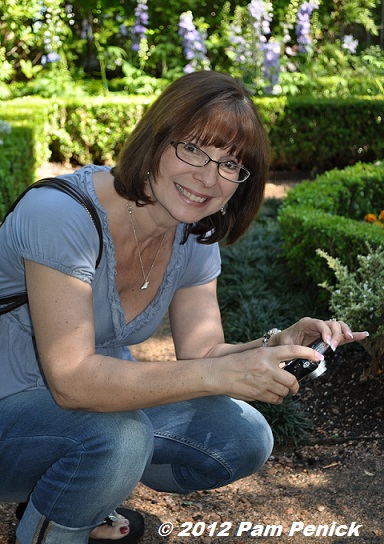 Diana of Sharing Nature's Garden, my intrepid traveling partner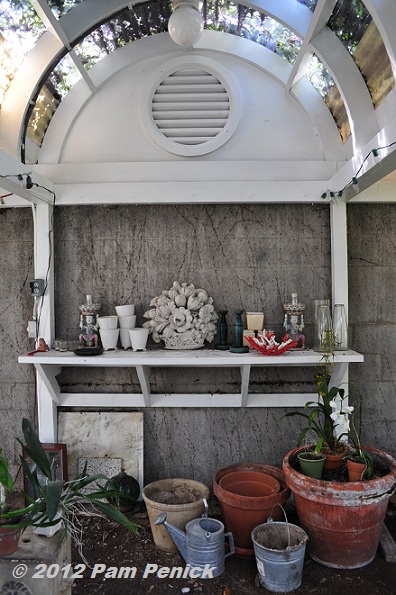 A greenhouse in the side passage offers a classic gardening vignette.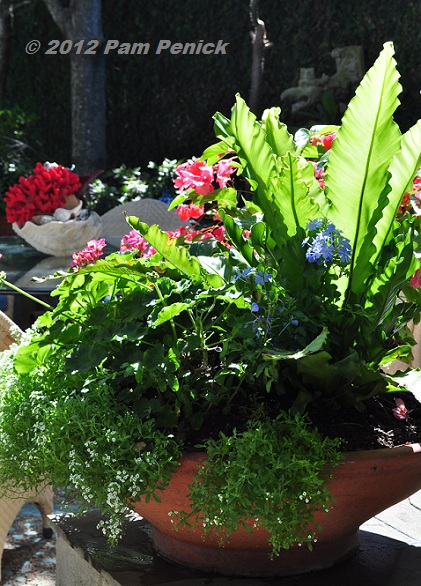 Entering the sunny back yard, you're greeted by this dazzling saucer planter…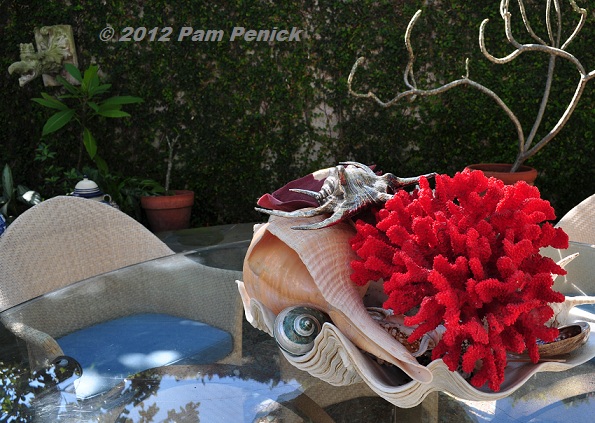 …and striking sea-themed table decor.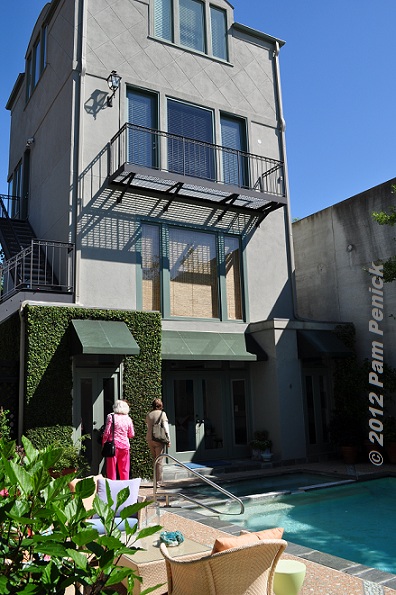 To the left, a 3-story guest house towers above a rectangular swimming pool.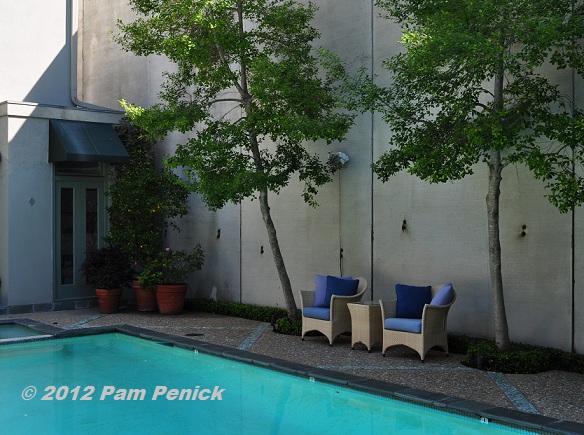 Straight ahead, the 2-story concrete wall of an adjacent parking garage is softened with the addition of tall, narrow-profile trees, diagonal paving strips that add movement and the illusion of width to the narrow space, and color-blocked poolside seating. It's a good example of using landscape design to turn a liability into an asset—or, if not an asset, at least something considerably more attractive than what they started with.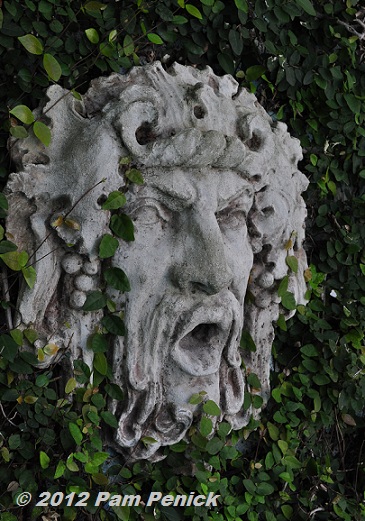 Opposite the guest house, a shorter wall is greened up with fig ivy, and this Bacchanalian face peeks out.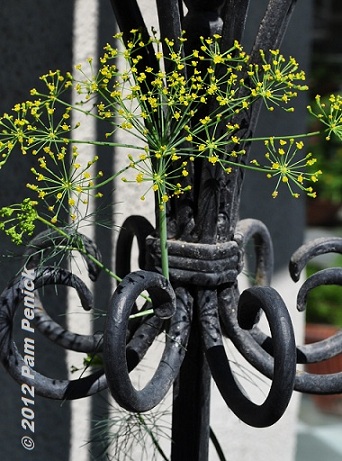 Entwined by a wrought-iron railing, a single dill flower opens like a frilly, yellow parasol.
Up next: The Lofgren-Bayer Garden. For a look back at the Cortlandt Garden, click here.
All material © 2006-2012 by Pam Penick for Digging. Unauthorized reproduction prohibited.
posted in
Containers
,
Decor
,
Garden structures
,
Garden tours 2012
,
Gates
,
Sculpture
,
Seating
,
Spring color
,
Travel
,
Trees
,
Vines
,
Walls
,
Water features