April 2nd, 2012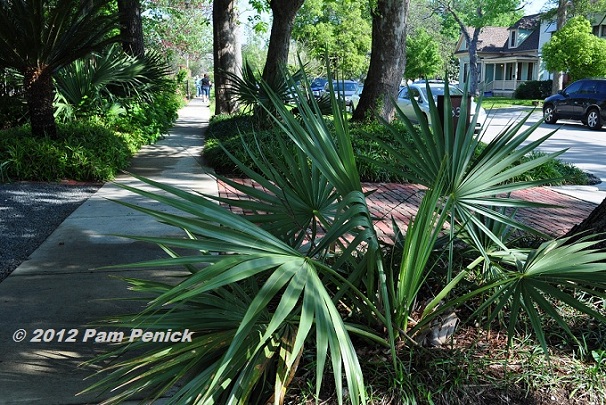 The Garden Conservancy's 2012 Open Days program opened on March 24 in Houston, a 3-hour drive east of Austin. Diana of Sharing Nature's Garden and I made a day trip of it and started our tour at the Cortlandt Street Garden. Here's the official description:
Located in the historic Houston Heights neighborhood, this lovely small scale urban garden demonstrates how much can be done even within tight constraints. After constructing a house for his mother behind his historic bungalow, landscape architect Mark McKinnon worked with limited light and space to create a delightful courtyard garden that affords pleasant views from every vantage as well as a striking pond and overflow basin that is both a focal point of the garden and an ingenious means of storm water management.
Streetside, a shade garden with Texas dwarf palmetto (Sabal minor) welcomes you to the house. Liriope cloaks the ground, eliminating the need to try to grow lawn grass in the shade.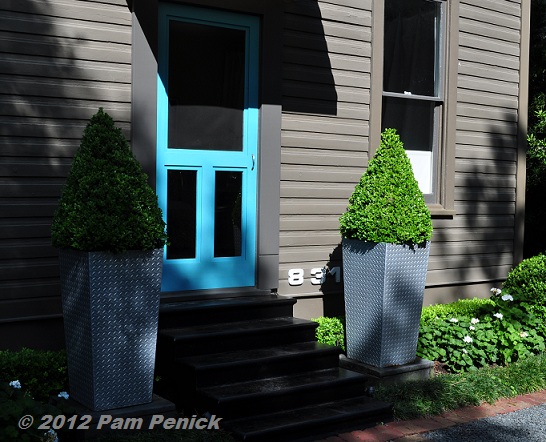 At the front door, a matching pair of boxwood topiaries shine in steel containers raised on plinths. A contemporary twist on a classic look.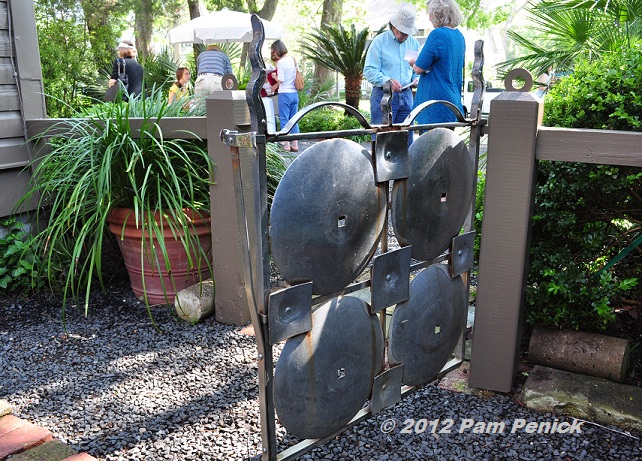 You enter the side garden through this unique steel gate. Are those plow discs?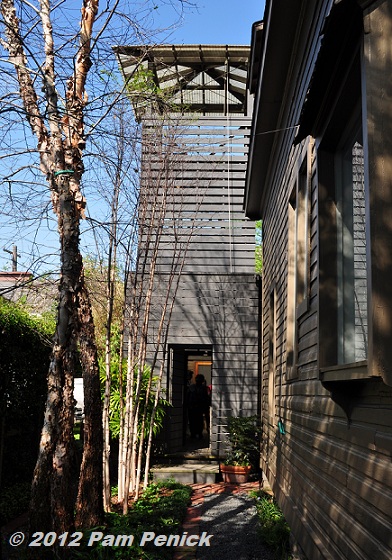 River birches, with their flaky, white trunks, and a trellis fence smothered in star jasmine create vertical lift in this narrow side passage. But what really draws your eye up is an open-air tower structure in the back yard. What the heck is it? I still don't know because the stairway inside was closed to visitors.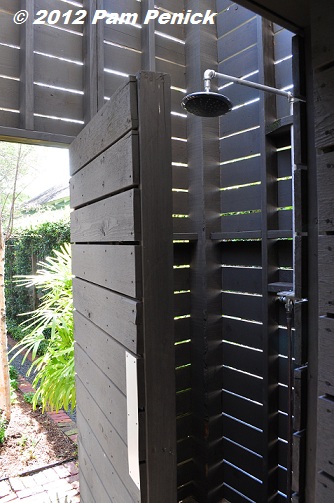 But just inside is a cool outdoor shower. I don't usually fancy outdoor showers because they seem dank and spidery. But I like this one because it's off the ground yet still outdoors—perfect for a quick cleanup after gardening.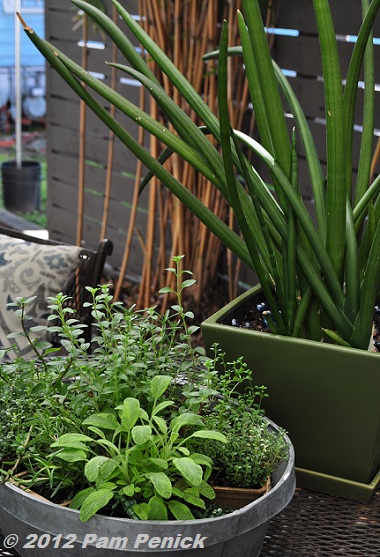 On a table in the open-air raised passage between the main house and guest house are potted herbs and a sanseveria.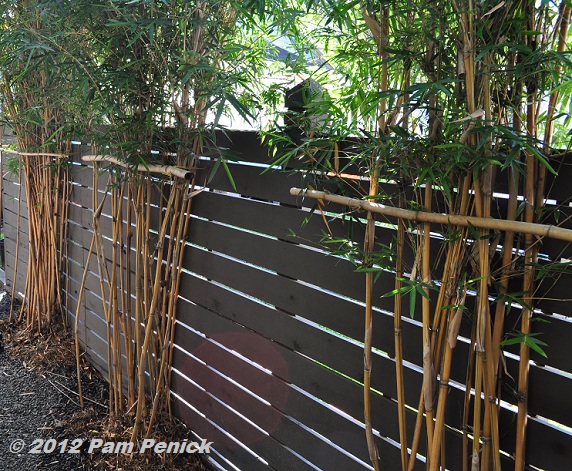 A tiny strip of plantable space between the decked passageway and the side fence contains a minimalist bamboo screen, neatly held back with horizontal pieces of bamboo.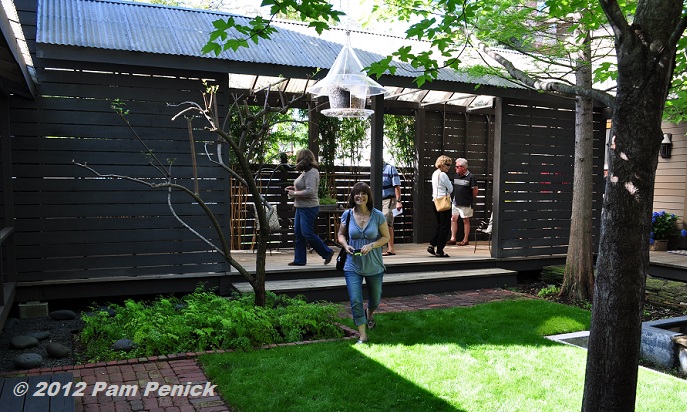 Stepping into a small central lawn (here comes Diana!), you get a wide view of the decked passageway. Horizontal screening slats give it the feel of a protected porch.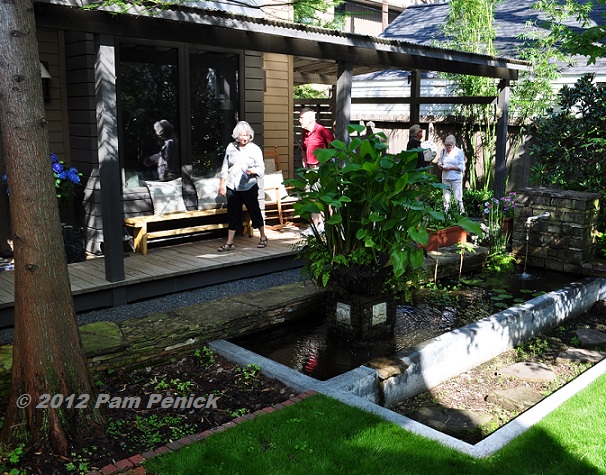 Looking toward the rear of the property you see the guest house, fronted by a rectangular, concrete-edged pond with a sunken overflow basin in front for biofiltration. I was intrigued by the biofiltration aspect of the water feature (water also circulates through the water plants' roots to be cleaned, the owner told me), but I wondered whether more couldn't be done aesthetically with the overflow basin. It contains bare dirt, a few weeds, and flat stones, which does nothing to enhance the pretty pond.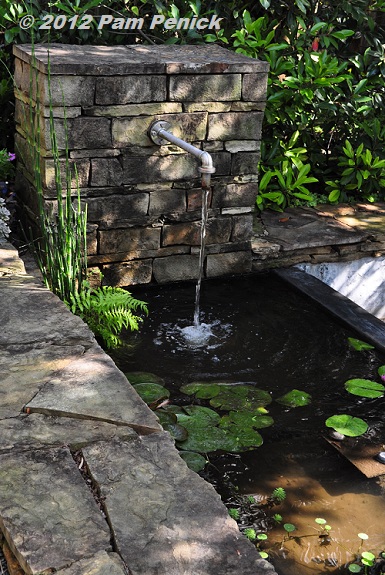 At one end of the pond, a stacked-stone plinth supports an industrial-looking spigot, a nice feature.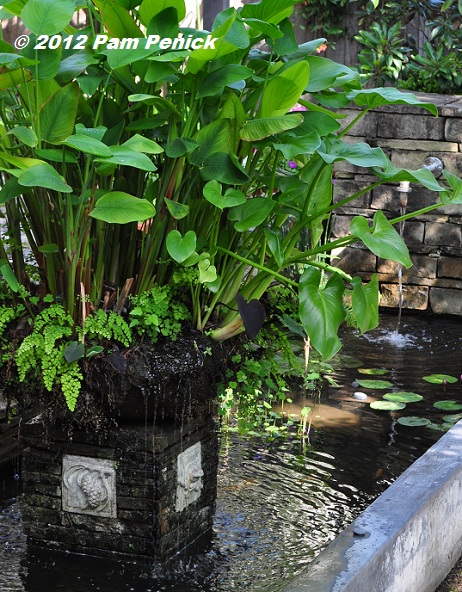 Another stacked-stone plinth with decorative tiles rises from the pond to support a dripping planter. This is part of the biofiltration system, but you'd never know it. It looks purely decorative and must be refreshing to view and hear on a hot summer day.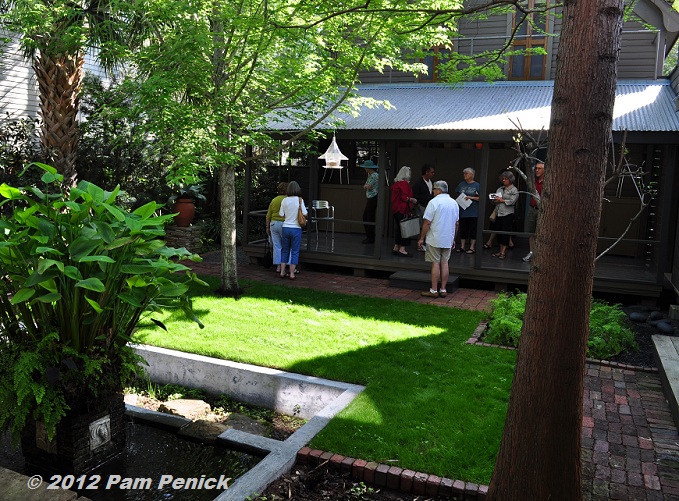 The rear garden is minimalist: a tiny lawn, native buttonbush (not leafed out yet), river ferns, bald cypress, palm, a shade tree (oak perhaps?), and water plants.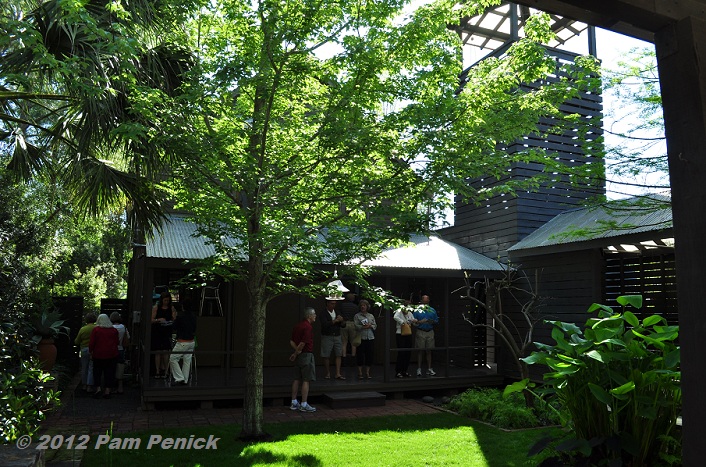 View of the rear of the main house and the tower from the porch of the guest house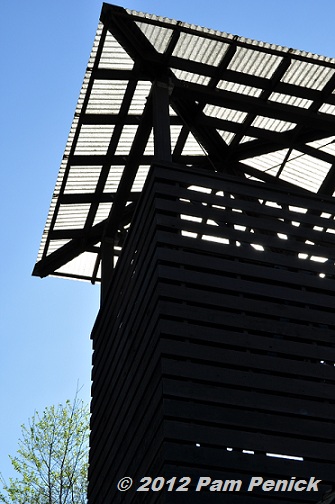 Watchtower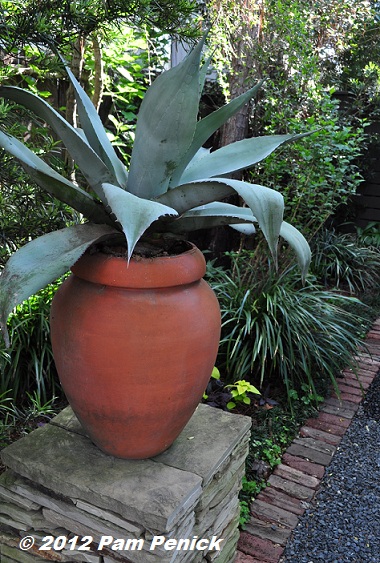 Another stacked-stone plinth topped with a potted agave marks the entry to the other side-passage to the front yard.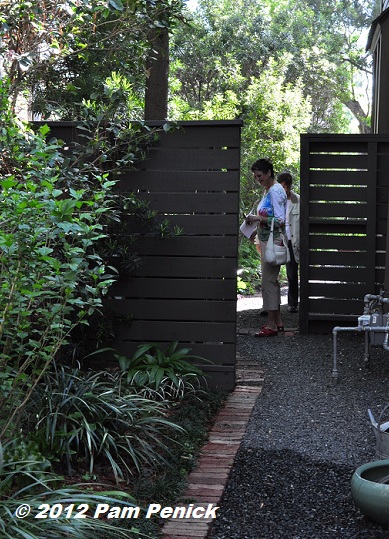 Two horizontal screens set about 6 feet apart create instant privacy from the street and add mystery to the path: what lies ahead?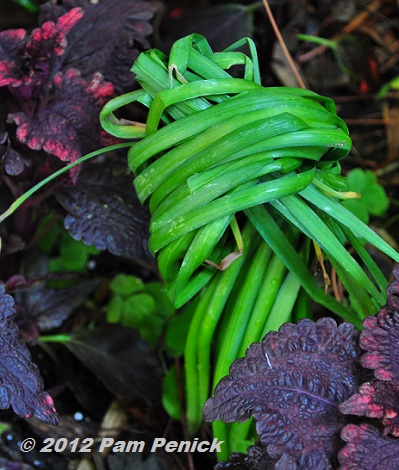 In the shady garden, fading bulb foliage was neatly knotted, allowing it to keep feeding the bulb's growth but preventing it from sprawling over other plants.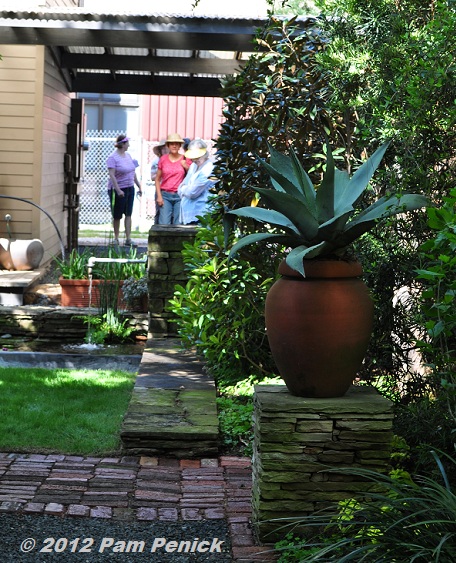 A look back down the path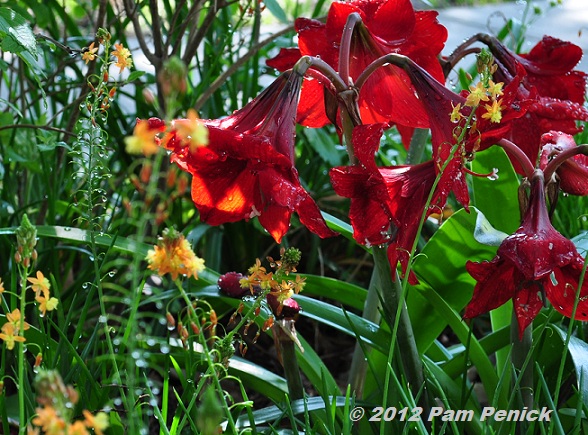 Out front, red amaryllis and orange bulbine mingle for a tropical-looking burst of color.
Up next: A tour of the J. Green Garden.
All material © 2006-2012 by Pam Penick for Digging. Unauthorized reproduction prohibited.