March 25th, 2012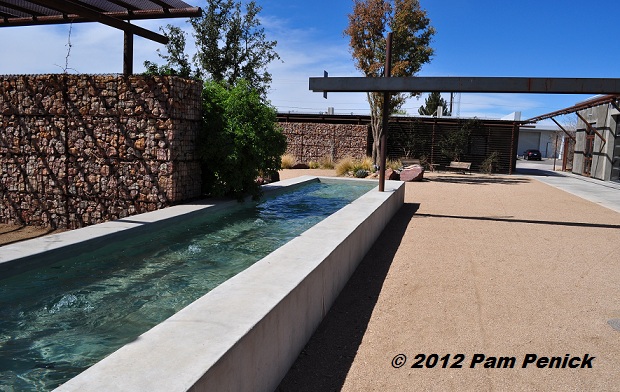 On our way home from Big Bend last weekend, we cruised through Marfa for lunch and a quick look around town. When we spotted the Thunderbird Hotel's Capri Lounge, an event space and former Army storage hangar, we stopped to tour the Christy Ten Eyck-designed garden surrounding it.
The garden combines minimalist, salvaged-industrial architecture with native plants including yucca, bur oak, agarita, agave, Texas mountain laurel, and grama and other grasses. Take a look at this picture…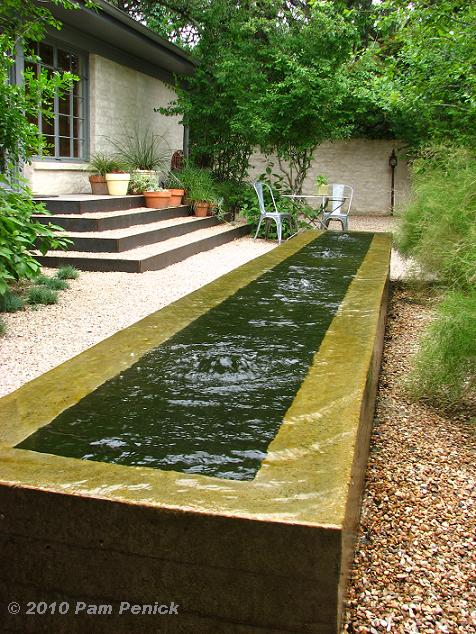 …and compare it to this one. This is Ten Eyck's personal garden in Austin. See any similarities? Smaller scale, softened by lusher vegetation, but recognizable, no? I love this water feature and was thrilled to see a larger version (minus the negative edge) in the Marfa garden.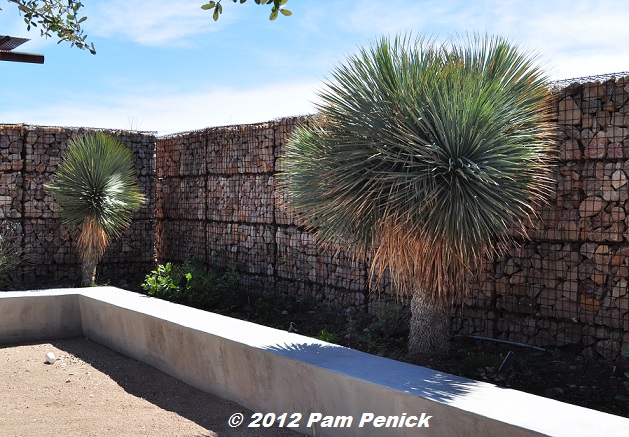 Back to Marfa, where gabion walls shelter and define the large gathering space just outside the doors.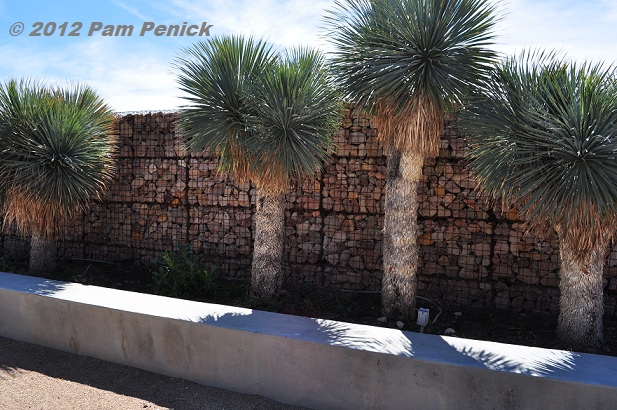 Shimmery globes of Yucca rostrata anchor a raised bed behind a low concrete wall that functions as additional seating.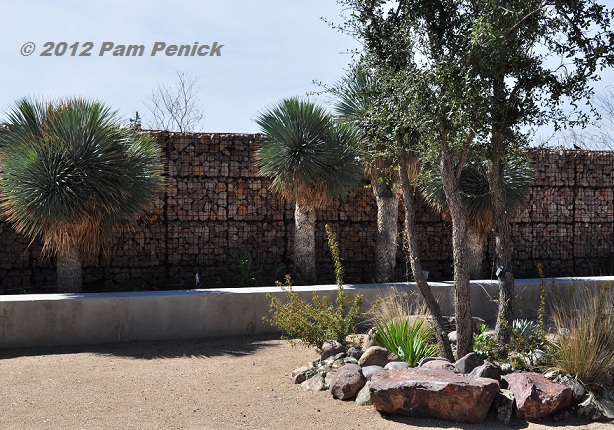 Boulders protect an island of native plants under a young shade tree.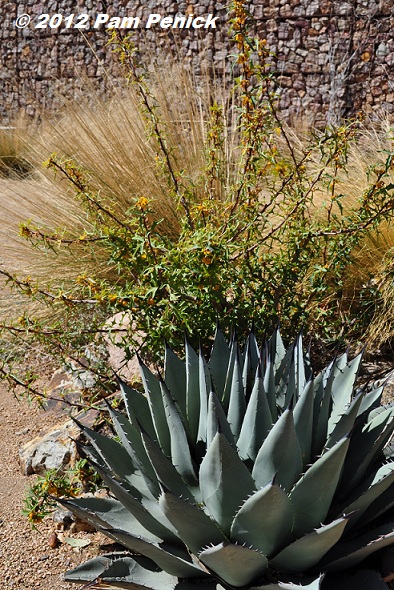 Agave (neomexicana?), agarita in bloom, and a tawny grass combine for a dynamic pocket garden.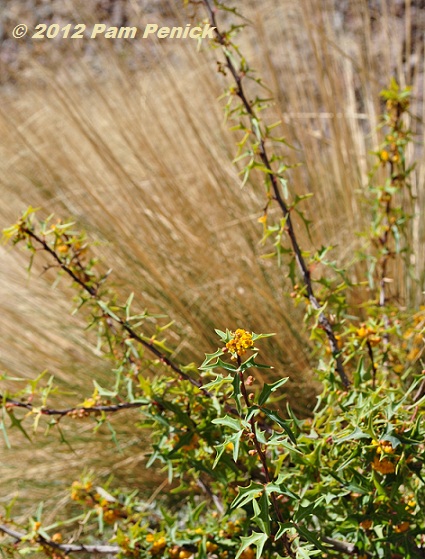 Close-up of the agarita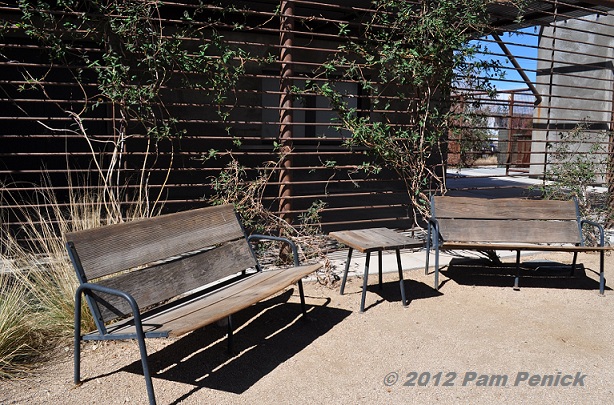 I could imagine sitting here under the stars, listening to a band play.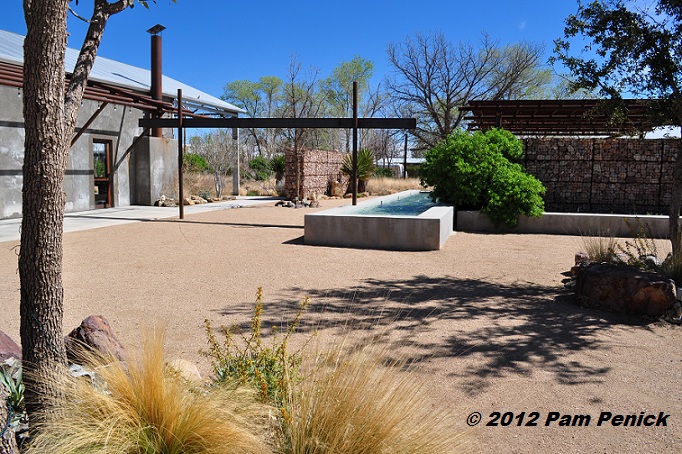 There's plenty of room for dancing too.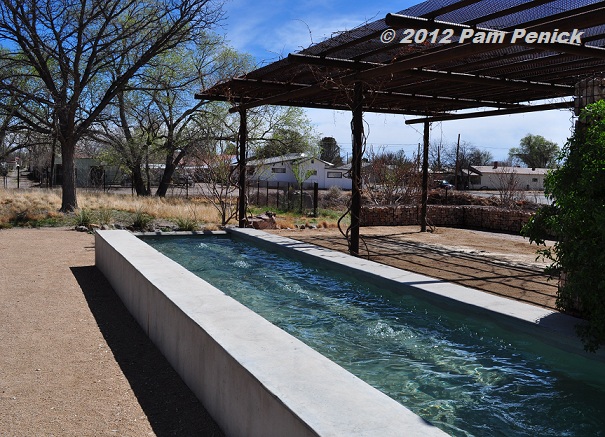 Heading to the rear garden, past the rectangular pool…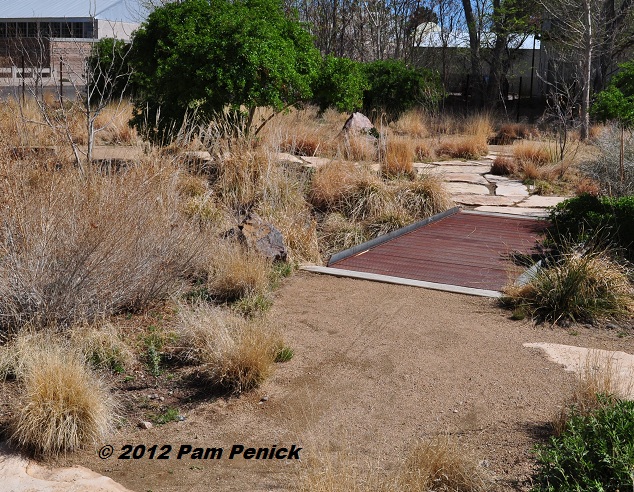 …you enter a more densely planted space—a man-made savannah punctuated by small trees and divided into several intimate rooms…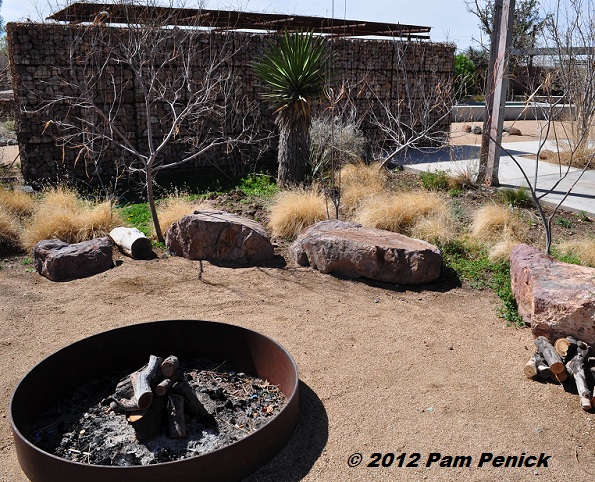 …each with its own Corten fire pit.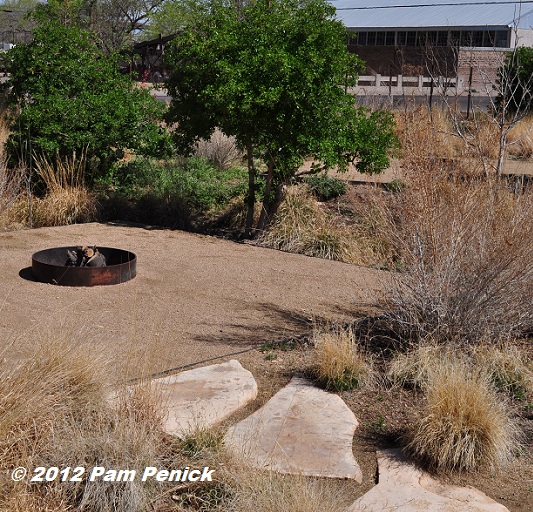 Around some you'd need to stand, as no seats are provided.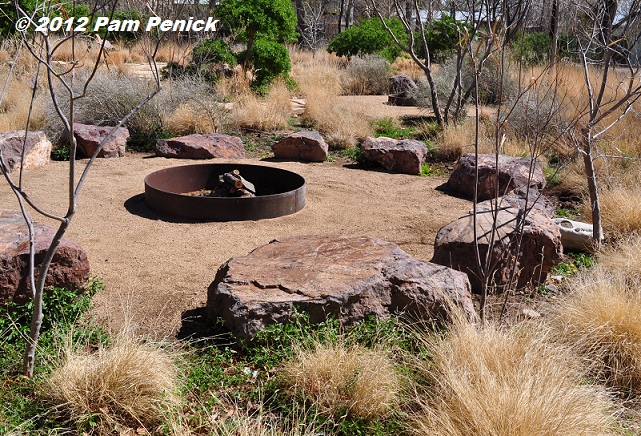 Around others you'd be able to sit, council-ring style, on large, flat boulders. Wouldn't this be a great design for a sunny back yard in Austin? But why hasn't anyone cut back the fall-blooming grasses yet?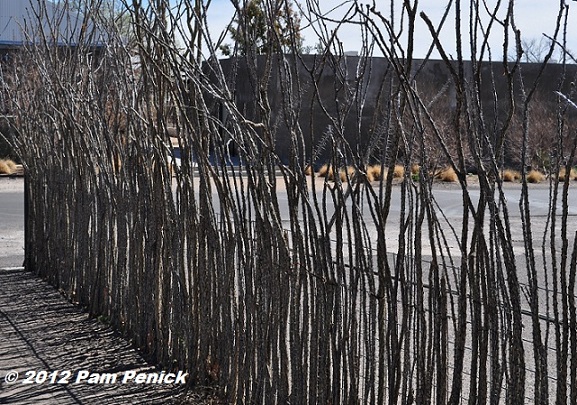 Across the street, by the hotel store, stood an ocotillo fence, which fascinated me after all the ocotillo we'd seen blooming in Big Bend.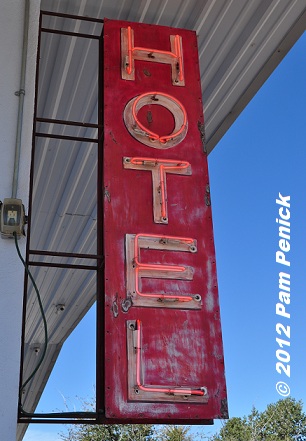 An old hotel sign…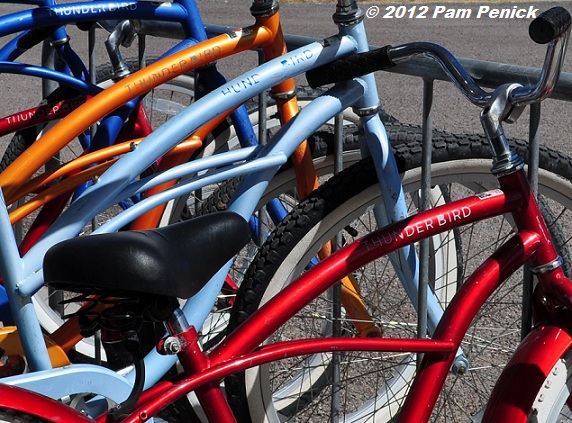 …and colorful bikes for rent added their own laid-back charm to the scene.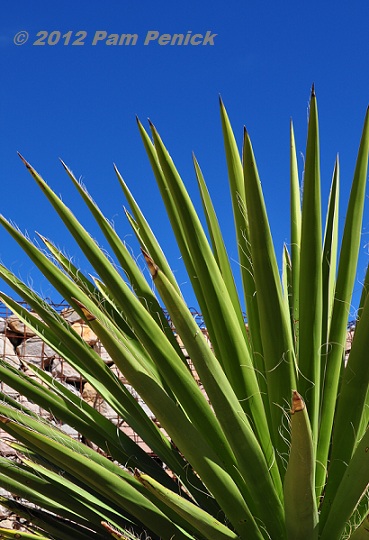 We didn't stay long enough to get a good sense of Marfa, which from an Austin perspective seems our west Texas sister city, only smaller, artier, and somehow more hip (probably too hip for me and my family). But I did really enjoy seeing this garden and can imagine something similar working for us here in central Texas.
All material © 2006-2012 by Pam Penick for Digging. Unauthorized reproduction prohibited.
posted in
Agaves
,
Council ring
,
Desert
,
Design
,
Fences
,
Fountains
,
Garden structures
,
Grasses
,
Paths
,
Patios & decks
,
Seating
,
Sustainable Gardening
,
Texas natives
,
Travel
,
Trees
,
Trellis
,
Vines
,
Walls
,
Water features
,
Xeric plants
,
Yuccas