November 29th, 2008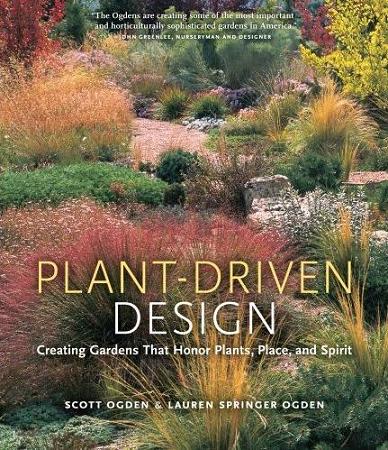 In a garden-design class I attended not long after moving to Austin, the speaker showed slide after slide of lush English gardens to illustrate design principles. I understood the value of studying these magnificent gardens, but I questioned whether the style could be truly reinterpreted here in the American Southwest, where a drier, harsher climate and thin-leaved, scrubbier plants cry out for a different aesthetic. To create a garden that reflects a sense of place, it seems to me, you can't just substitute a heat-loving, drought-tolerant plant for an iconic English-garden shrub. Other factors specific to locale matter too: the intensity of light and its effect on color, the look of the surrounding countryside, how wild plant communities in the region tend to form.
The instructor insisted that design concepts are universal. Maybe so. But I knew there was something missing—something that would connect a specific garden to the wider environment around it. Something more than just plopping in a few native plants here and there.
Husband-and-wife design team Scott Ogden and Lauren Springer Ogden tackle this issue head-on in their new book Plant-Driven Design: Creating Gardens that Honor Plants, Place, and Spirit. Illustrated lavishly with photographs taken by Lauren, this meaty book explains how to look at your surrounding woods or prairies or seaside and reinterpret that look in your garden in order to give it a sense of place. While the Ogdens appreciate and use many native plants, they gladly look for exotics that share similar growth habits, leaf shape, heat or cold tolerance, etc., to use in combinations that harmonize with natives and the surrounding landscape. "Plant-driven design," they insist, "is informed by site and region; ignore this and even the most plant-rich garden will suffer."
Creating a sense of place is part of the reason I use native plants in my designs, so this theme particularly resonated with me. But the larger theme of the Ogdens' book is more revolutionary, from a design perspective: Put plants first in garden design.
This is radical, people.
Design schools and garden-design books generally focus first and foremost on hardscaping—the paving, walls, fencing, and seating areas that contribute to the "bones" of a garden—relegating plants to a secondary role of filling in the blanks. The Ogdens flip this notion on its head, proclaiming that plants can create bones as well as any hardscaping, and insisting on the primacy of plants over man-made architecture.
The authors write about plants with both authority and fondness. In their view, plants are not merely "material" used to fill out a design. They are the garden's raison d'etre, and while hardscaping is important in making a garden, it takes a back seat to the living, mutable organisms that we nurture—and that nurture us—when we garden.
This idea will resonate with many garden bloggers and readers, who often profess a love of plants and of getting one's hands in the dirt but wish for more knowledge of design. In their preface, the authors explain their purpose:
This book is for lovers of plants, nature, and gardens—in particular those who are inspired by this love to make wonderful gardens. The ideas and opinions filling the pages that follow arise from one premise: gardens exist because of gardeners, not designers. And yet this is a book about garden design. . . . [T]his book is for gardeners who want the confidence to design, and designers who want the confidence to plant.
Poetic in their descriptions of plants and the joy of being in nature, the authors are also hard-hitting about what makes a garden succeed or fail. Occasionally I found them to be intimidatingly critical of other gardens, but there's much of value for fellow designers as well as fellow gardeners. The Ogdens' passion for plants and making gardens is contagious.
Plentiful images from their personal gardens in Austin, Texas, and Fort Collins, Colorado, will particularly delight those who garden in the West. (There are also a fair number from Chanticleer in Pennsylvania.) Garden publications so often feature lush, temperate East Coast or West Coast gardens, and those of us in the middle of the country, with harsh summers or winters and a unique palette of native and adapted plants, long for equal time.
The authors also provide numerous lists of plants, and though I often find such lists supremely unhelpful because I garden in an extreme climate, these are more useful in terms of how they're framed, and include plenty of western-climate plants. For instance, there's "Very silver plants," "Rosette-forming plants," "Companions to bold succulents and fiber plants," "Designing with light," and "Veil plants," among the expected "Plants that thrive in acid soils," "Flowers for butterflies and hummingbirds," and "Columnar plants."
I devoured this book, and I'm sure that I will be rereading portions of it again. Aside from its fresh design ideas, well-written text, and eye-candy photos, the book reminds us of the sensuality of plants, the evocative beauty of a garden, and even why we started gardening:
Honoring and delighting in seasonality goes against a commonly expressed desire of gardeners, designers, and plant breeders for year-round performance from a plant. We claim to long for extended bloom, evergreen foliage, and a shapely plant that holds up all year. Were we to fill our gardens exclusively with such creations, we would quickly lose interest, for it is the change and response inherent to plants, and the anticipation, expectation, and hope for surprise we feel as nature's rhythms affect the garden's denizens along with those in nature that compel us to go out and look in the first place.
To "go out and look"—so simple and so true a description of what we who love gardens do. With the Ogdens' ideas and enthusiasm in mind, I'm ready to go out and look again.
All material © 2006-2008 by Pam Penick for Digging. Unauthorized reproduction prohibited.