March 2nd, 2012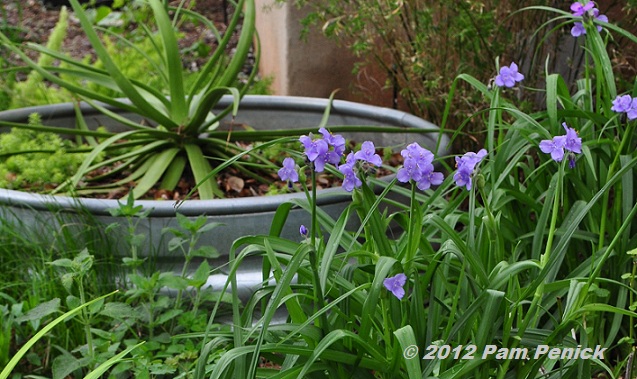 Care to take a garden stroll with me? Spring has sprung in Austin. The earliest sign, the Texas mountain laurels, are already past peak. But in my garden the mountain laurels aren't big enough to really flower, and the early show is at knee level. Case in point: western spiderwort (Tradescantia occidentalis), coloring the shade garden under the crepe myrtle with charming lavender blossoms.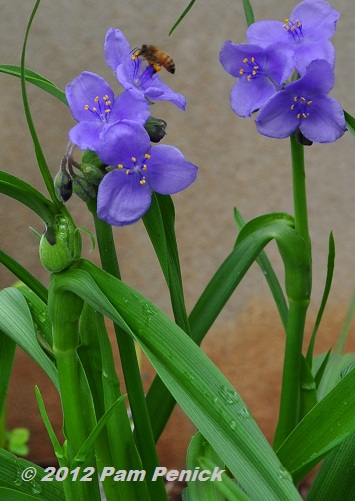 Honeybees love them.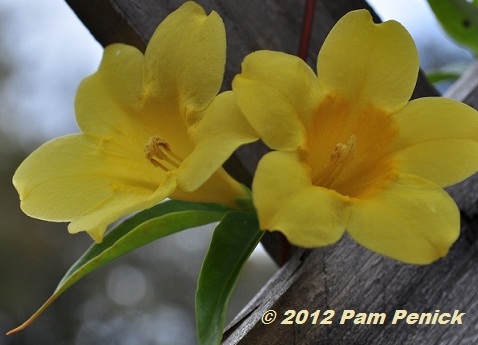 Carolina jessamine (Gelsemium sempervirens), which half-heartedly pulled through last summer's drought, is now adorned with fragrant, buttery yellow trumpets.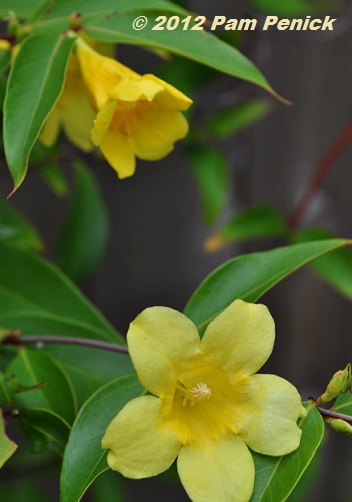 It's the state flower of my home state of South Carolina, so I have a sentimental fondness for it.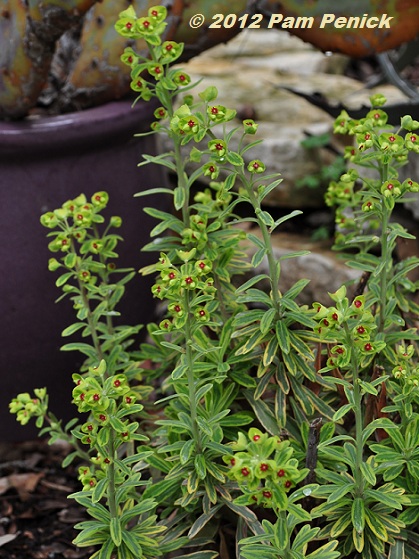 More yellow—I'm trying a new euphorbia, a gorgeous 'Ascot Rainbow,' a gift from Eric at East Side Succulents. So far my euphorbia trials have been a mixed bag. Gopher plant (Euphorbia rigida) is volunteering all over my garden, but the moody 'Blackbird,' for which I shelled out big bucks for three from Plant Delights, crashed and burned last summer. I am really hoping that 'Ascot Rainbow' can handle our heat. We'll know in about three months, won't we?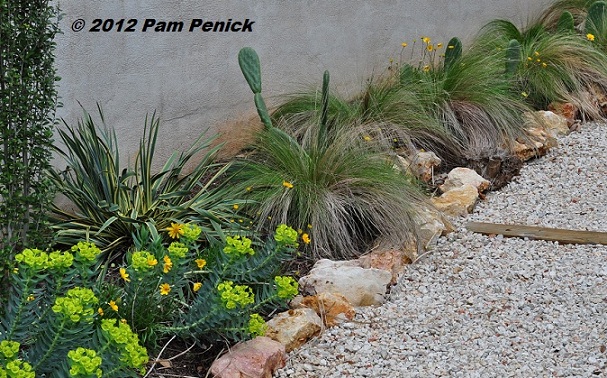 Yellow flows down the hillside garden. From top to bottom: Mexican feathergrass (Nassella tenuissima), hymenoxys (Tetraneuris scaposa), prickly pear (Opuntia), 'Bright Edge' yucca, and gopher plant (Euphorbia rigida). This would be a good combo for the full sun and reflected heat of a hell strip (curbside) garden.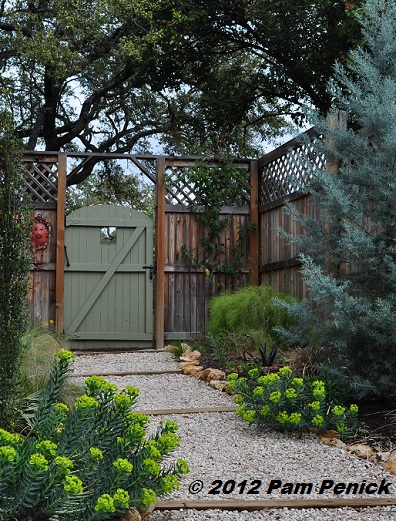 On the other side of the path, bamboo muhly grass (Muhlenbergia dumosa) picks up the chartreuse-yellow of the gopher plant. A steely 'Blue Ice' Arizona cypress offers contrast.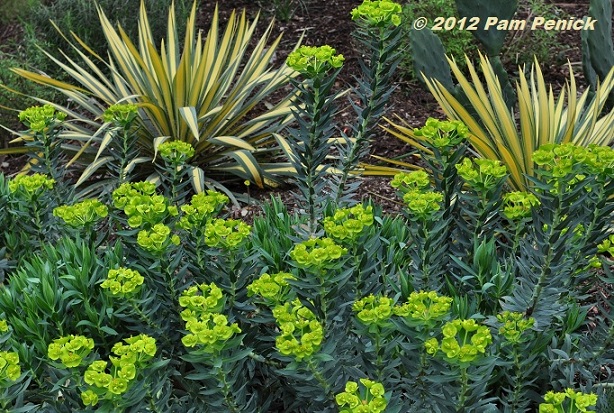 And more yellow in the front garden! 'Color Guard' yucca and gopher plant liven up the party.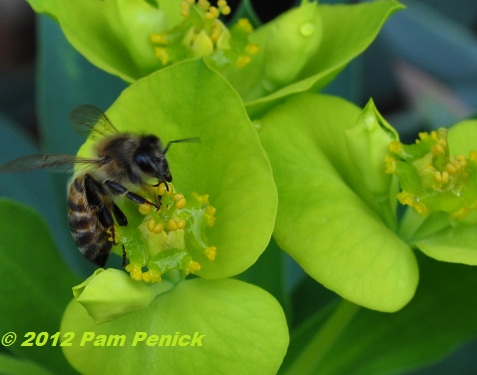 Bees love the gopher plant too.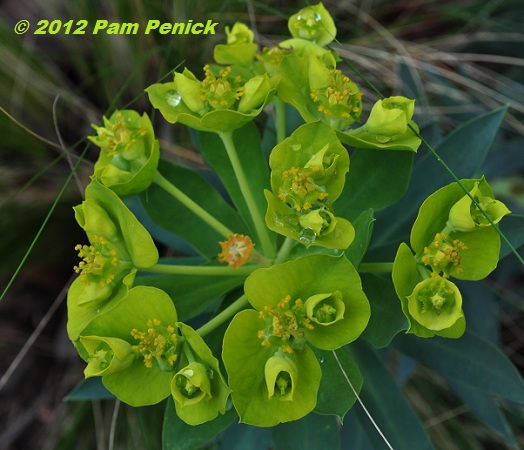 Those chartreuse bracts are stunning. After the bloom is finished, I'll cut back the long, floppy stems, leaving the central rosette of new foliage to come up. If you'll be cutting yours back too, be sure to wear gloves and cut carefully, as the stems contain a latexy sap that can irritate your skin and harm your eyes if you rub them with sappy hands.

Enough of the euphorbias. Check out the color on the red globemallow (Sphaeralcea ambigua). I neglected to cut it back last month, and now it's floppy, but I'm going to let it bloom through this cycle before giving it a trim.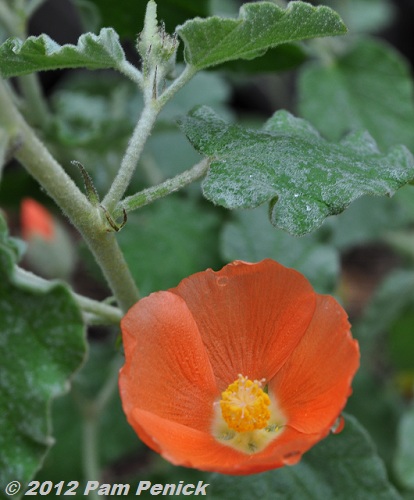 Gray globemallow (Sphaeralcea incana), with its frosted silvery green leaves, is blooming too.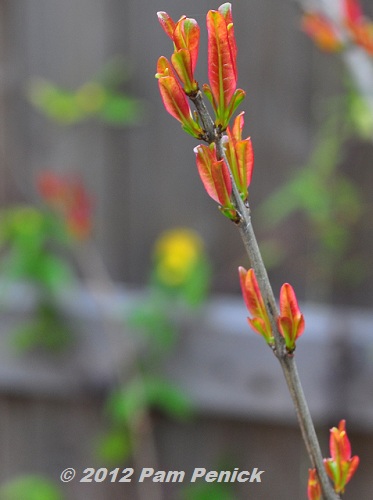 Its color is echoed by the new leaves of a 'Wonderful' pomegranate.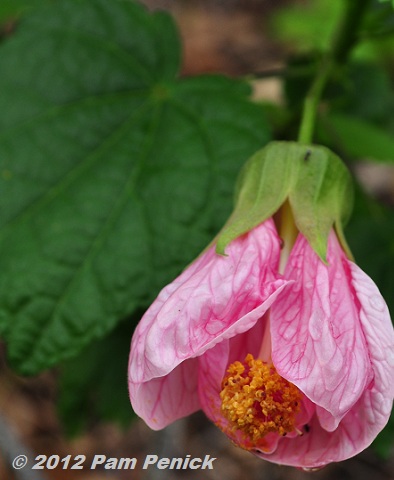 Shy, veined pink blossoms of abutilon nod in the shade garden.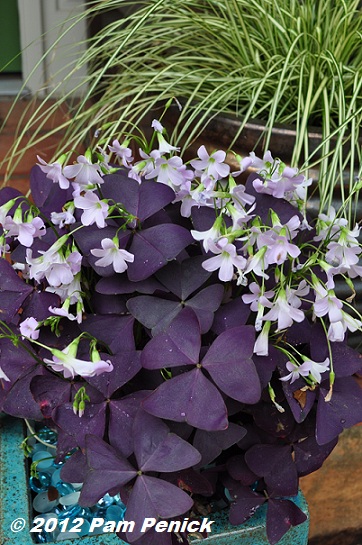 Purple oxalis (Oxalis triangularis) is a froth of lilac flowers.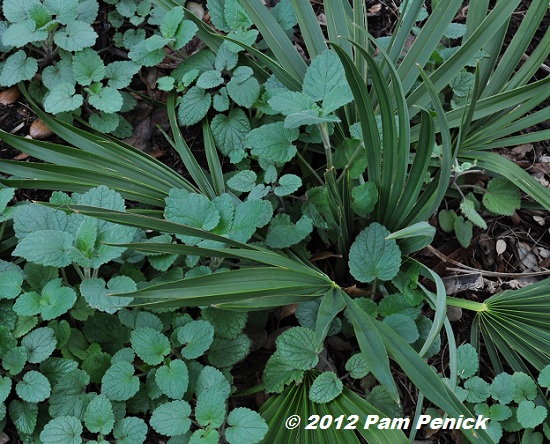 I like this leafy combo: heartleaf skullcap (Scutellaria ovata), which will bloom in a month or so, and Texas dwarf palmetto (Sabal minor), a great shade combo.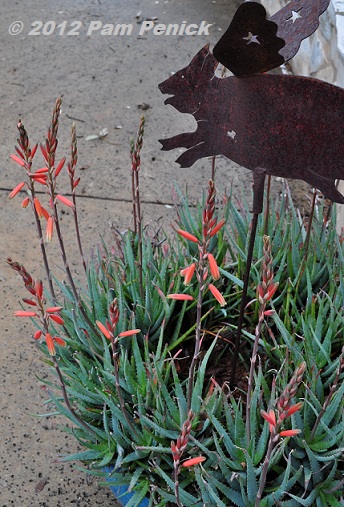 And the tour ends with 'Blue Elf' aloe, raising its tangerine spires in hopes of attracting an early hummingbird.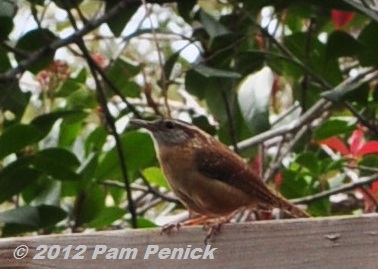 I haven't seen a hummer yet, but the wrens are busily making nests and singing of spring.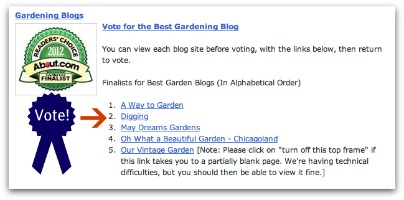 By the way, my blog Digging is a finalist for Best Gardening Blog in the Readers' Choice Awards at About.com. I'd love to have your vote. You can vote once a day (it's on a 24-hour cycle) until March 21. So vote early and often! Thanks for your support! (And thank you to Pamela Price for the vote graphic.) Click to VOTE.
All material © 2006-2012 by Pam Penick for Digging. Unauthorized reproduction prohibited.
posted in
2nd garden--2012
,
Agaves
,
Aloes
,
Bees
,
Birds
,
Cactus
,
Containers
,
Grasses
,
Hell strip
,
Palms/Cycads
,
Paths
,
Spring color
,
Stock tanks
,
Succulents
,
Texas natives
,
Trees
,
Vines
,
Wildflowers
,
Yuccas