February 29th, 2012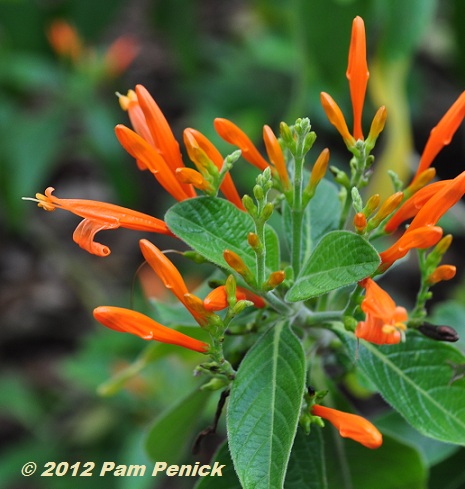 Like February 29, Mexican honeysuckle (Justicia spicigera) seems an infrequent presence in Austin gardens, even though it puts on a particularly fine show at the very beginning of spring, when other plants are just yawning and stretching and sniffing the air for breakfast. Although its orange, tubular blossoms look more suited to summer or fall than spring, I'm happy to see them, especially in the dappled shade of my live oaks where little else blooms.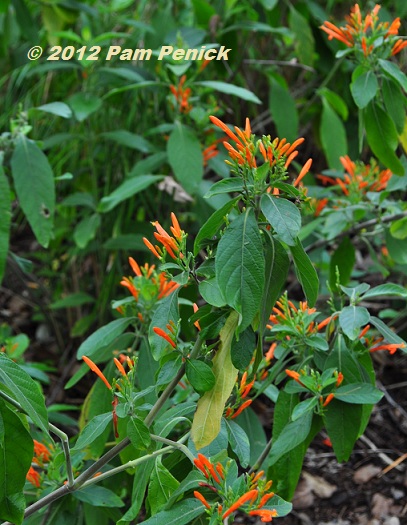 This is the best show I've seen in the two or three years since I planted them, due, no doubt, to the relief of our mild and rainy winter after a difficult last summer. They will continue to bloom off and on all summer and fall on sprawling, 3-to-4-foot willowy branches, asking little in return but partial or dappled shade and an occasional deep watering.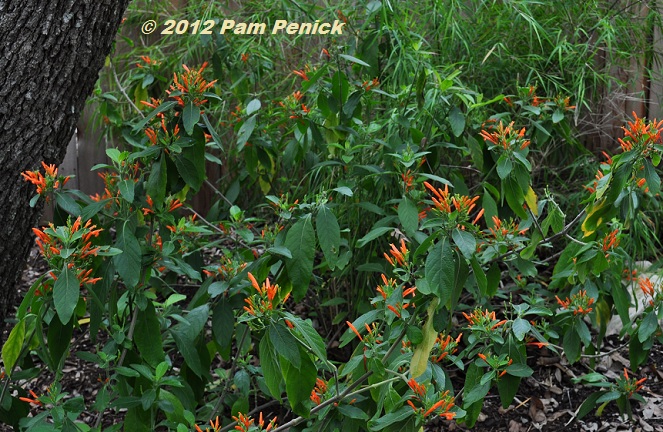 Mexican honeysuckle is, as its common name indicates, not native to central Texas but to Mexico and Central America. In our climate it may suffer some freeze damage or die back in particularly hard winters, but mine survived with little damage the severe freezes we experienced in early 2011. I've paired it with another slightly zone-pushing south-of-the-border native, Mexican weeping bamboo (Otatea acuminata aztecorum).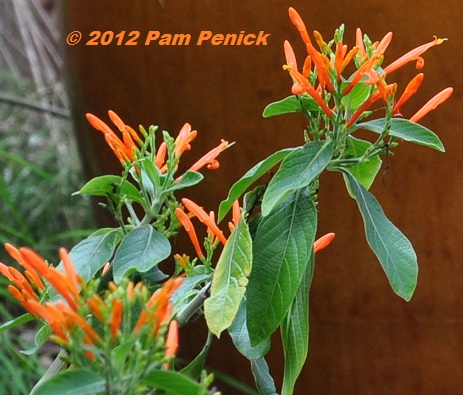 When the hummingbirds arrive in mid-March, on their northward migration, they'll be happy to find the Mexican honeysuckle in bloom. Wouldn't you?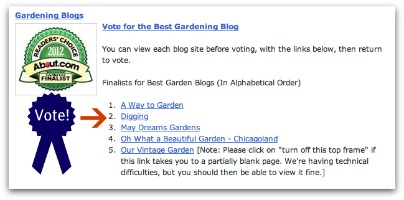 By the way, my blog Digging is a finalist for Best Gardening Blog in the Readers' Choice Awards at About.com. I'd love to have your vote. You can vote once a day (it's on a 24-hour cycle) until March 21. So vote early and often! Thanks for your support! (And thank you to Pamela Price for the vote graphic.) Click to VOTE.
Note: My Plant This posts are written primarily for gardeners in central Texas. The plants I recommend are ones I've grown myself and have direct experience with. I wish I could provide more information about how these plants might perform in other parts of the country, but gardening knowledge is local. Consider checking your local online gardening forums to see if a particular plant might work in your region.
All material © 2006-2012 by Pam Penick for Digging. Unauthorized reproduction prohibited.