February 25th, 2012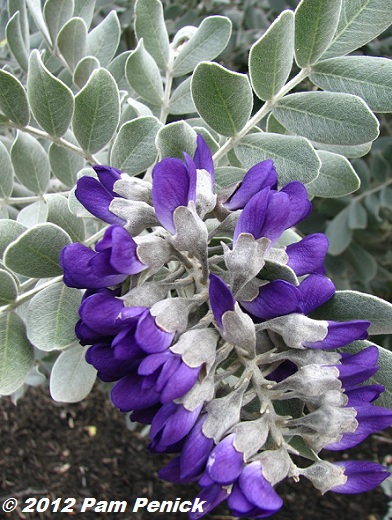 Spring may be the sweeter for breaking a hard winter's grip, but we central Texans wouldn't know. I can assure you, though, that spring is pretty darn sweet following a summer of devastating drought and record-breaking heat. Miraculously, despite predictions of a dry winter, we enjoyed a mild, wet winter. As they awaken, the plants are responding to the rains with abandon, and early signs point to a glorious Texas wildflower season ahead.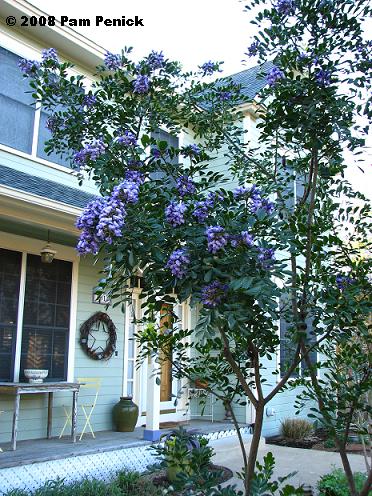 But way before bluebonnets carpet the fields, for me the true herald of spring is when the Texas mountain laurels bloom, and this year is one of the best I've seen. All over town these handsome native trees are festooned with cascades of purple blossoms. This image is from my former garden, to show you the deep-green, glossy leaves and rugged, dark trunk of Sophora secundiflora. It's a beautiful small tree all year long but especially in early spring, when clusters of purple flowers hang like wisteria and scent the garden with the smell of grape Kool-Aid.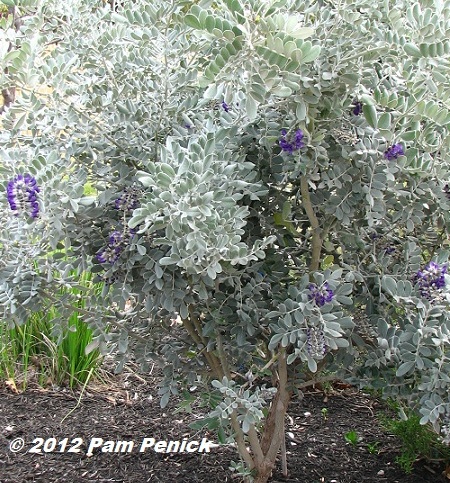 A silver variety called 'Silver Peso' is occasionally available for sale here. The silvery gray foliage, ornamented with dozens of cascading, deep-purple blossoms, is stunning. I spotted a trio of them in Cedar Park recently. They literally stopped me in my tracks, and I got out of my car to take a few pictures, which sadly do not convey the utter gorgeousness of this tree.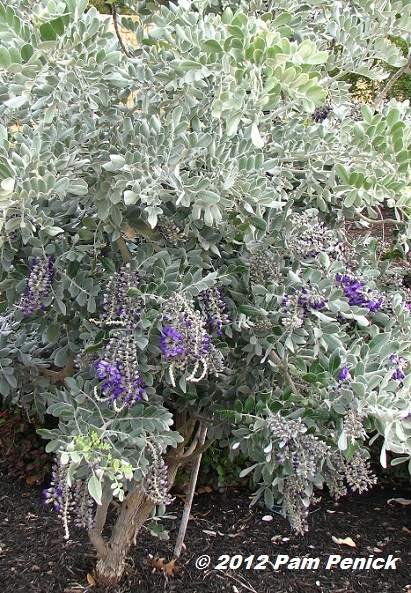 The silver foliage indicates supreme drought tolerance, and I suspect that it grows better farther west, in more-arid regions. Of course, central Texas had plenty of aridity last summer, but we do often have wet winters and some rain in summer. I would give 'Silver Peso' excellent drainage and little to no supplemental water after establishing it.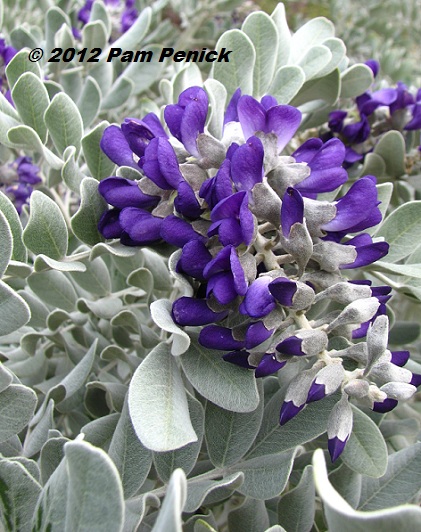 Whether growing the silver variety or the traditional green, you're sure to fall in love with Texas mountain laurel, as undemanding as they come and showy to boot.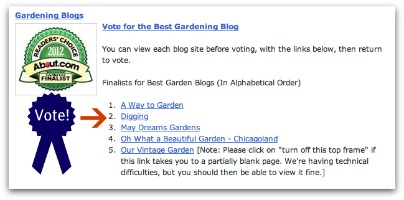 By the way, my blog Digging is a finalist for Best Gardening Blog in the Readers' Choice Awards at About.com. I'd love to have your vote. You can vote once a day (it's on a 24-hour cycle) until March 21. So vote early and often! Thanks for your support! (And thank you to Pamela Price for the vote graphic.) Click to VOTE.
Note: My Plant This posts are written primarily for gardeners in central Texas. The plants I recommend are ones I've grown myself and have direct experience with. I wish I could provide more information about how these plants might perform in other parts of the country, but gardening knowledge is local. Consider checking your local online gardening forums to see if a particular plant might work in your region.
All material © 2006-2012 by Pam Penick for Digging. Unauthorized reproduction prohibited.