February 23rd, 2012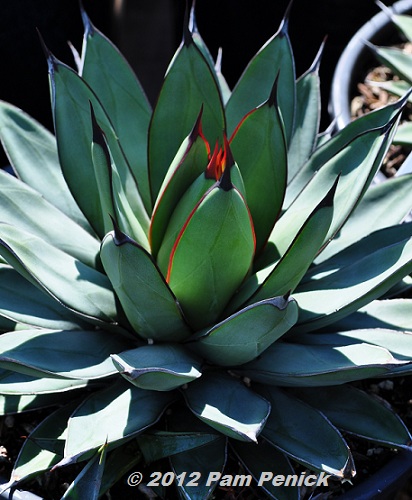 'Royal Spine' agave
Two nurseries for the price of one. That's what you get when you visit East Austin Succulents or Tillery Street Plant Co., as I did last weekend. The two nurseries share a spacious lot in East Austin, with Tillery Street's offerings on display as you walk through the gate and East Austin Succulents' on the far left by the greenhouse. Both nurseries focus on small succulents and cacti as well as larger xeriscape plants like agave and yucca. Tillery Street also offers drought-tolerant trees, shrubs, grasses, and perennials, while EAS has a more extensive selection of tender succulents, tantalizingly displayed in its greenhouse.
Pictured at the top of this post is my new must-have agave, the hybrid 'Royal Spine.' Just look at those orange-red leaf margins and spines! And those smooth, chunky leaves! Its "skin" reminds me of 'Sharkskin' agave; the chunky leaves are reminiscent of parent plant A. victoriae-reginae (the other parent is A. macroacantha). Why did I not buy this plant when Merrideth at the Great Outdoors showed it to me several weeks ago, or when I spotted it at East Austin Succulents demurely batting its eyelashes at me? Pure perversion, I suppose. Oh, it's not hardy, I told myself, and I don't want another potted plant to carry in and out in winter. Well, now I'll just have to go back.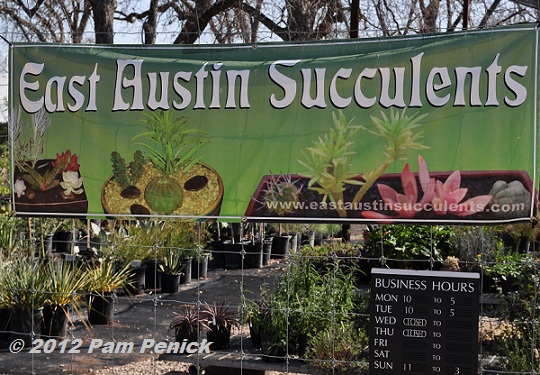 Not that that would be a bad thing.

EAS does offer succulents galore, and as soon as we're past the danger of a freeze it'll be time to snap up loads of these babies for filling your summer containers or cinderblock wall planters. (Or sooner if you're a gambler like me.)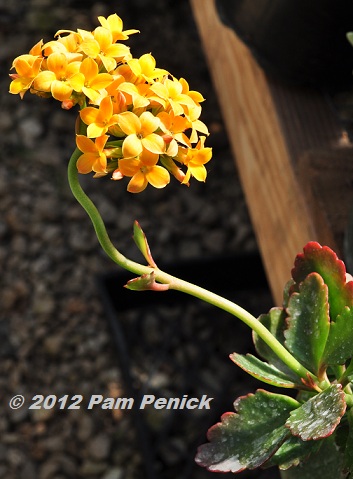 Kalanchoe in flower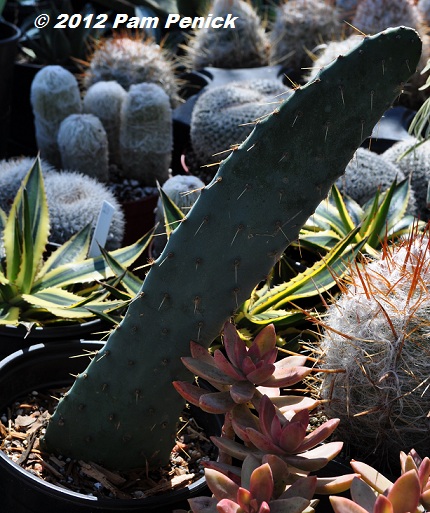 Aptly named cow's tongue prickly pear (Opuntia)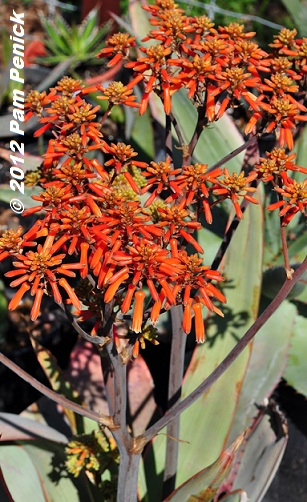 Coral-edged Aloe striata was in bloom too.

Thanks to Scott Calhoun's new book, The Gardener's Guide to Cactus, which I'll be reviewing soon, I was able to ID this snowy-spined mound as Mammillaria klissingiana (I think).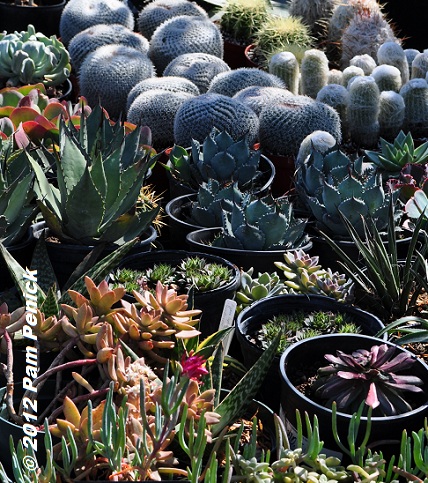 So many strange and beautiful plants to examine! Remember, though, most of these are not hardy in Central Texas, so be prepared to provide winter shelter.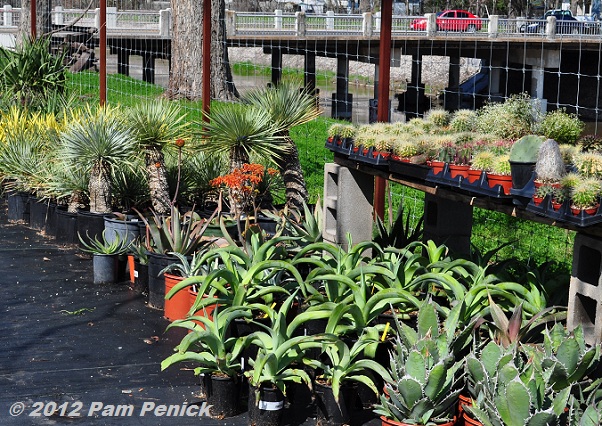 Larger specimens are arrayed along the fence.

Yuccas galore! No worries about winter hardiness with these.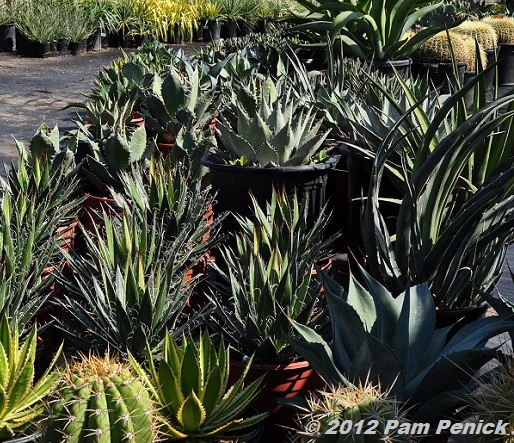 Agaves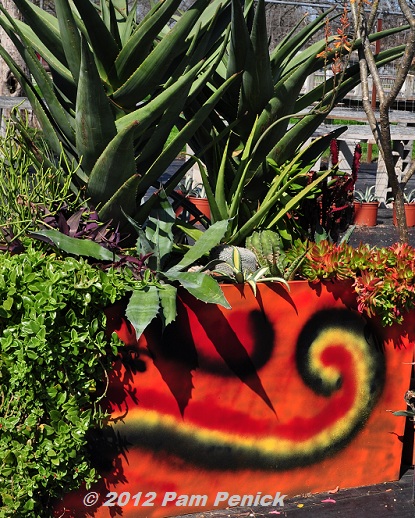 When I asked whether they sell these cool "graffitied" metal planter boxes, owner Eric Pedley divulged that they made this themselves out of a bargain-basement filing cabinet found at a resale store. They removed the drawers, laid the cabinet on its side, filled it with soil (or maybe just the top half; you could use rocks to fill the bottom), and planted it up. A little urban-style spray paint completes the look. How clever is that?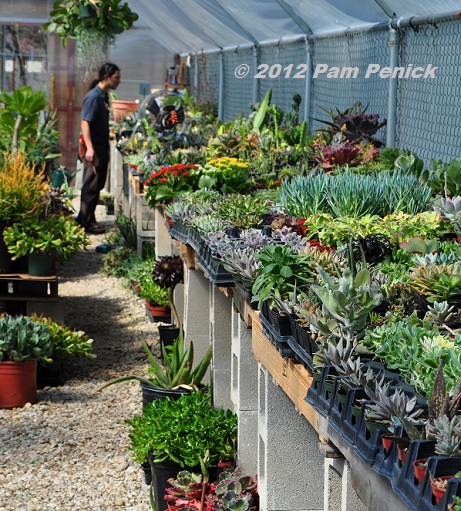 Inside the greenhouse a smorgasbord of succulents and cacti awaits.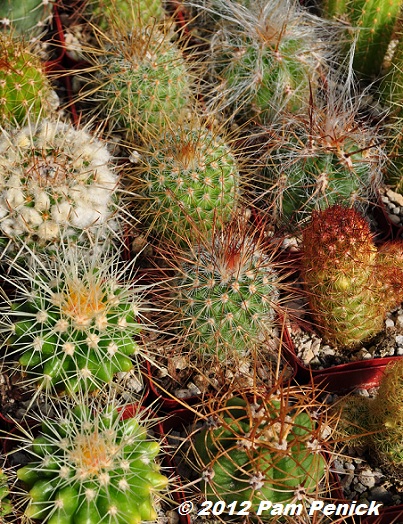 Colorful cacti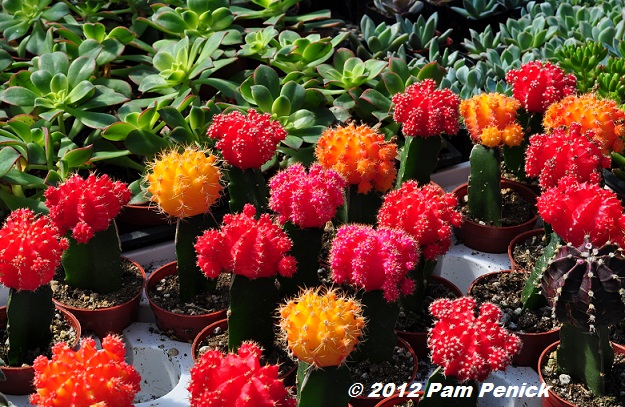 Neon-bright grafted cacti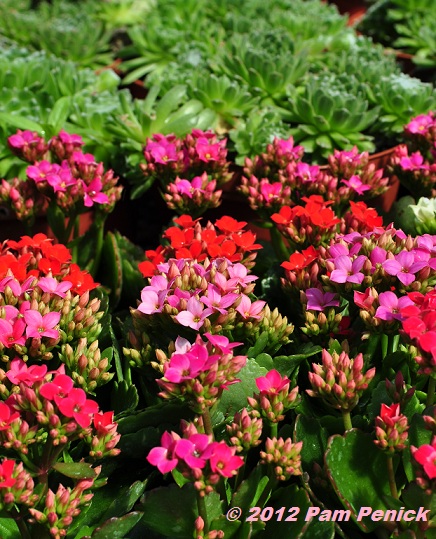 And equally colorful kalanchoe flowers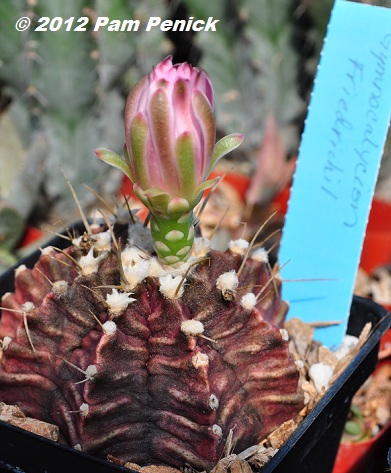 Cactus flowers always seem such a jewel-like extravagance on a supremely rugged plant.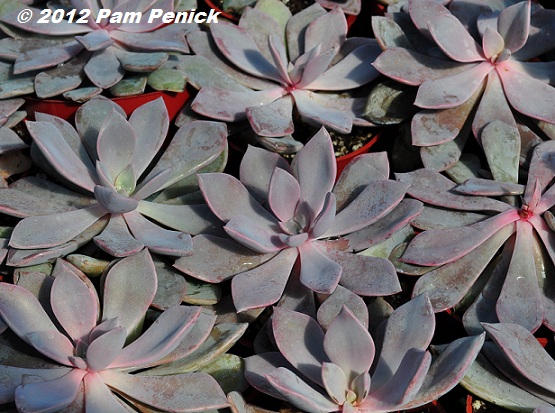 Ghost plant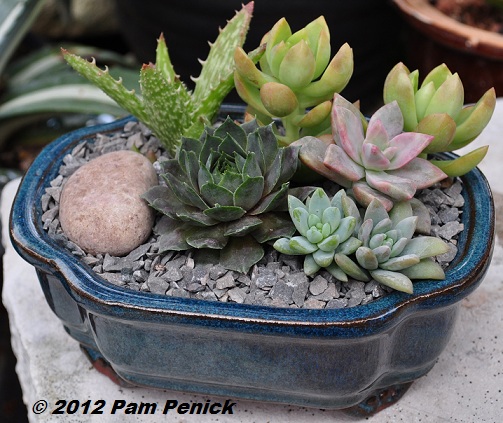 East Austin Succulents specializes in dish planters and arrangements. Who could resist bringing a little one home for the kitchen windowsill? Not me.
All material © 2006-2012 by Pam Penick for Digging. Unauthorized reproduction prohibited.