January 16th, 2012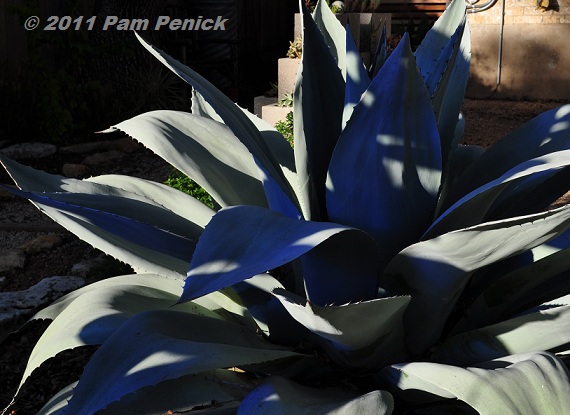 Looking out my window as I type this, I see Moby, my great whale of an agave—Agave ovatifolia, to be precise—caught in the morning sunlight. His structural, rose-like form is a matte, pale green that looks whitewashed in strong sunlight. But Moby can be moody, as in the image above, shadowy and menacing, with a wash of blue from the nearby bottle tree coloring his flukes.
Do you have any moody foliage to show off today for Foliage Follow-Up? Join me in posting about your lovely leaves of January for Foliage Follow-Up, a way to remind ourselves of the importance of foliage in the garden. Just leave a comment here with a link to your foliage post, and please include a link to Digging in your post. If you can't post so soon after Bloom Day, no worries. Just leave your link when you get to it.
All material © 2006-2012 by Pam Penick for Digging. Unauthorized reproduction prohibited.