January 3rd, 2012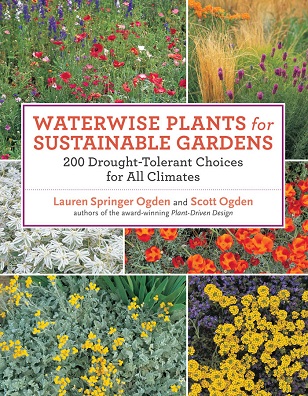 The ongoing drought in Texas has focused the attention of gardeners, and homeowners in general, on making smarter, more sustainable choices in the garden: using plants that need less water, reducing or eliminating thirsty lawns, and embracing a more open, xeric aesthetic. These considerations, while vital here, are becoming increasingly important even to gardeners in wetter regions. In fact, conserving water and gardening with a lighter touch on the earth are aspects of the green movement sweeping the entire country.
However, many people aren't aware of the variety of water-thrifty plants available to them. Is a cactus what springs to mind when you hear the terms "drought-tolerant" or "xeric?" If so, Waterwise Plants for Sustainable Gardens: 200 Drought-Tolerant Choices for All Climates, a new book by Lauren Springer Ogden and Scott Ogden, will put that notion to rest. The Ogdens, a husband-and-wife team who divide their time between Austin and Colorado, have an appreciation for any plant that thrives in low-water conditions, from whatever part of the world. They've chosen plants not only for the Southwest and mild Mediterranean climates along the West Coast but for more temperate regions as well (up to zone 4). Their criteria? Each of their selections must "[w]hen fully established…remain attractive with just 1 inch of water (rain or irrigation) every two weeks during the hottest part of peak growing season." Cooler seasons allow these plants to get by on even less water. (One inch of rain every two weeks is, of course, considerably more than Central Texas received last summer, so keep in mind that not all of the book's selections are equally drought-tolerant, and some will require supplemental watering during drought.)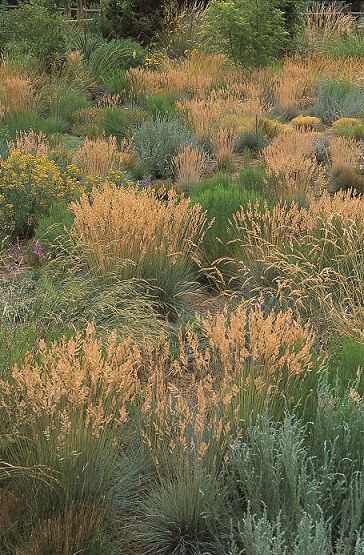 Two hundred low-water plants are officially profiled here, but for nearly each one the authors suggest additional related plants that may tolerate different conditions, which is especially useful if a profiled plant isn't suitable for your region. Numerous species are included in each chapter, organized by type of plant: trees, shrubs and sub-shrubs, perennials, ground covers, grasses and sedges, bulbs, vines, annuals, succulents and cacti, palms and cycads, and fiber plants (including yucca, agave, and sotol). The photos are very good. Each profiled plant is shown off in at least one image and sometimes two. I like that most of the images are not macros but wider views that show the entire plant.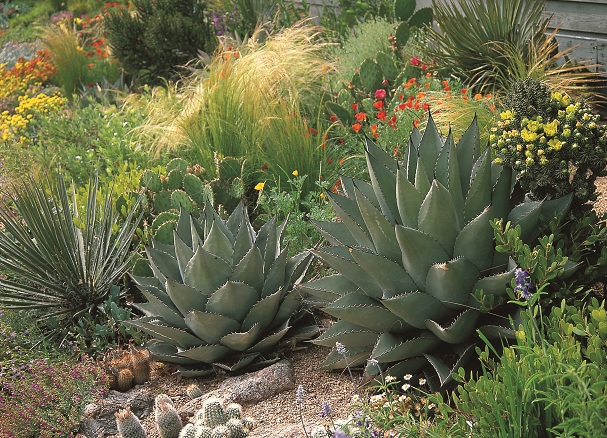 What sets this book apart from many xeric plant guides are the extras that the Ogdens include in their listings: humidity tolerance, which is crucial information for gardeners in the Southeast, Gulf Coast, and Central Texas, regions that endure hot, often droughty summers but also are blessed cursed with plenty of sticky humidity; how best to use each plant—for instance, against masonry walls, or along paths for fragrance; and suggested plant pairings for both sun and shade/part shade.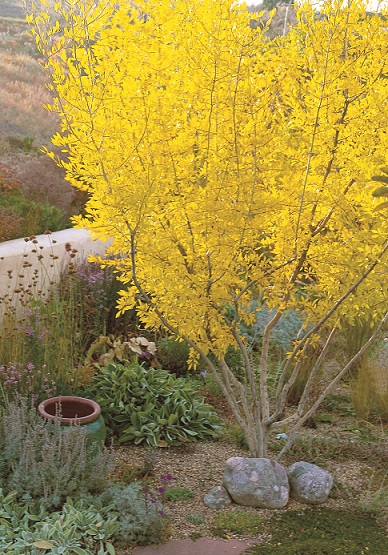 Waterwise Plants is a useful guide for anyone who wants to plant low-water gardens. It's certainly a great resource for Austin gardeners. Not all of the plants listed here are suited to our intense summer heat and humidity, but plenty are, and the design suggestions will give you lots of ideas on combining them with other plants and siting them to advantage in your garden.
Want more? To read my review of the Ogdens' book Plant-Driven Design, click here.
Photos by Lauren Springer Ogden, courtesy of Timber Press. Disclosure: This book was sent to me for review by Timber Press. My review, like everything in Digging, is my own honest opinion.
All material © 2006-2012 by Pam Penick for Digging. Unauthorized reproduction prohibited.
posted in
Agaves
,
Books
,
Cactus
,
Design
,
Grasses
,
Palms/Cycads
,
Succulents
,
Sustainable Gardening
,
Trees
,
Vines
,
Water conservation
,
Xeric plants
,
Yuccas