December 13th, 2011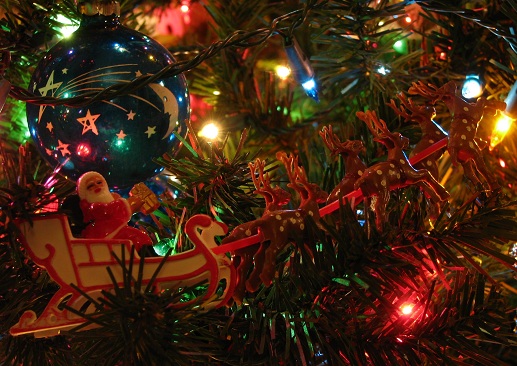 If only all deer were as welcome in our gardens as Santa's…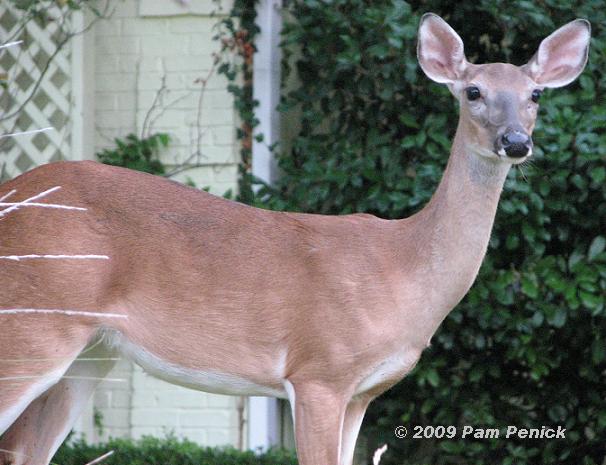 But they're not—at least not for most of us who want an attractive, diversely planted landscape around our home. Despite Bambi's cuteness in the wild, in the garden deer are chomping and antler-rubbing pests that will shred your shrubs, scar the bark of young trees, and reduce your favorite annuals and perennials to masticated stubs. Can you tell I'm not a fan? I know, I know—some tender-hearted folks will insist that deer were here first and we've destroyed their habitat, so it's only right that we now welcome them to the buffet table of our gardens. But there are more deer here now than in pre-Colonial times. Why? Our suburban yards make ideal deer habitat, and we've eliminated the predators that once kept their populations in check (see this Spring 2007 article in Wildflower Magazine).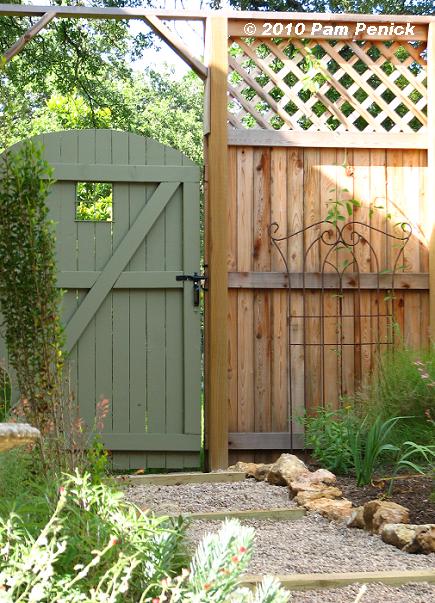 So what can you do if deer frequent your yard and you want a beautiful garden or even just some attractive foundation beds? Let's face facts—you can eat only so much venison. Alternatively, you can build a tall fence…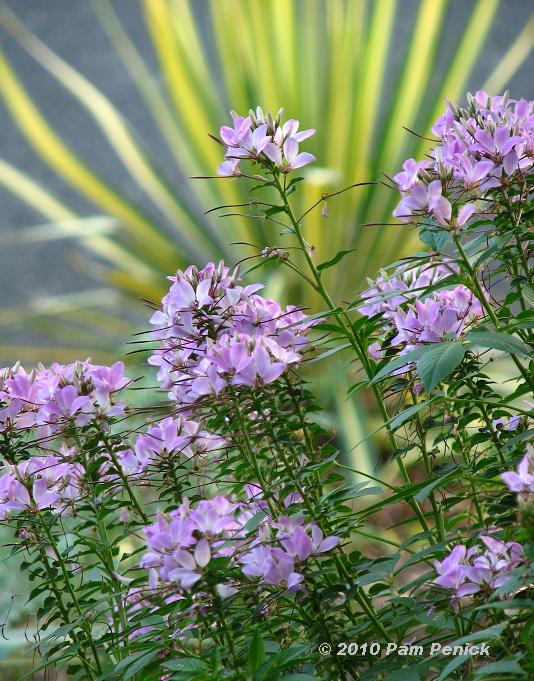 …or you can be crafty and plant the kinds of plants deer find distasteful. Happily, Central Texas gardeners have lots of choices for plants deer don't enjoy. This doesn't mean they won't eat them when times are tough (as in our current drought) or if your area has a serious overpopulation of deer. But at least these plants won't be first on the menu. I've categorized a short list of my favorites below. An asterisk indicates plants that are native to Central Texas.
Fragrant/smelly leaves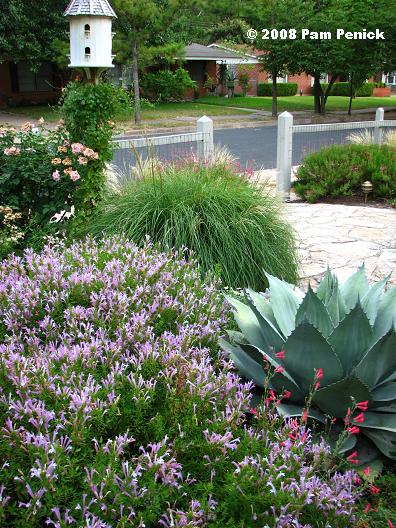 Mexican oregano (Poliomintha longiflora), one of my favorite plants for sun, has minty leaves and tubular, lavender flowers throughout spring and summer. It'll also grow in part sun, though it won't get as full or flower quite as much.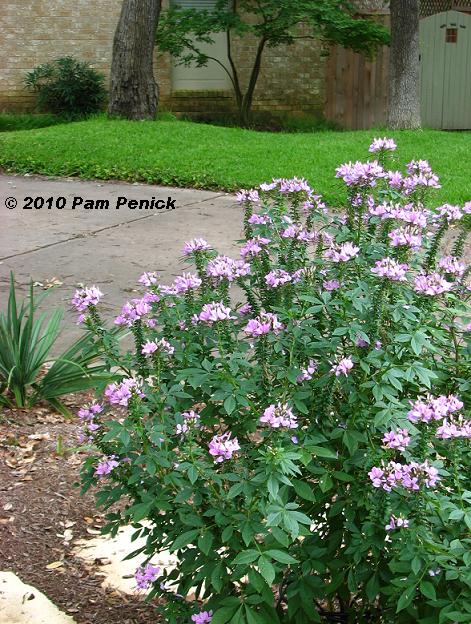 'Senorita Rosalita' cleome, a bushy annual introduced by Proven Winners that blooms from spring to frost. I don't find it to be as stinky as other cleomes, but the deer in my garden have never touched it.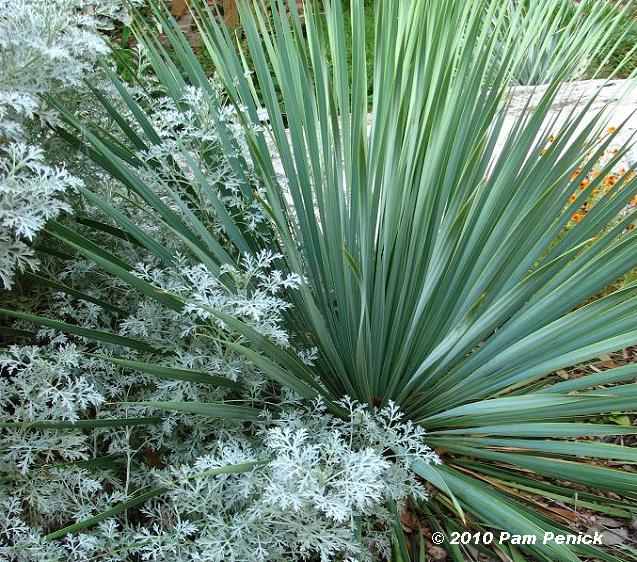 Silver, fragrant-leaved 'Powis Castle' artemisia, with equally deer-resistant 'Sapphire Skies' Yucca rostrata, a great combo.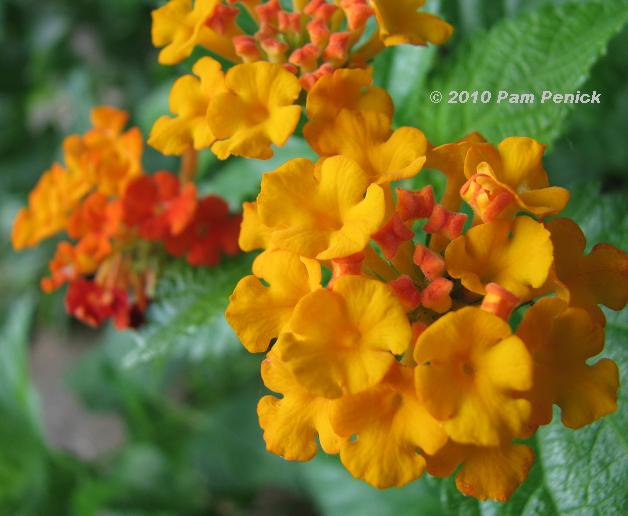 Lantana (Lantana urticoides)*, a tough, summer-to-fall blooming, woody perennial that needs no babying to look great.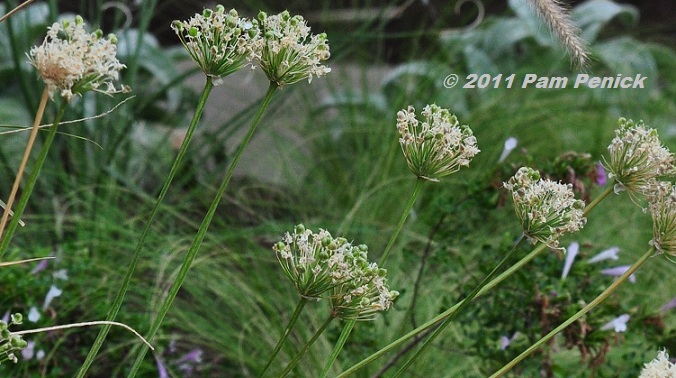 Garlic chives (Allium tuberosum), the only allium that performs in our hot, dry climate. Watch out for vigorous re-seeding!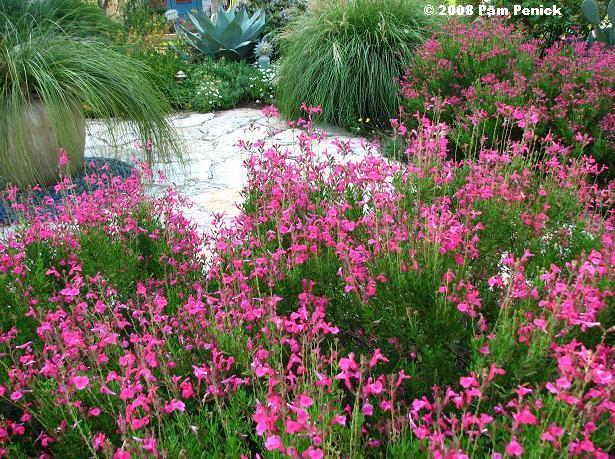 Autumn sage (Salvia greggii)*, a gorgeous, woody perennial that blooms in spring and fall. Just give it lots of sun and at least three hard trimmings a year to keep it looking good. Brush its leaves with your fingers to revel in its minty clean scent.
Grassy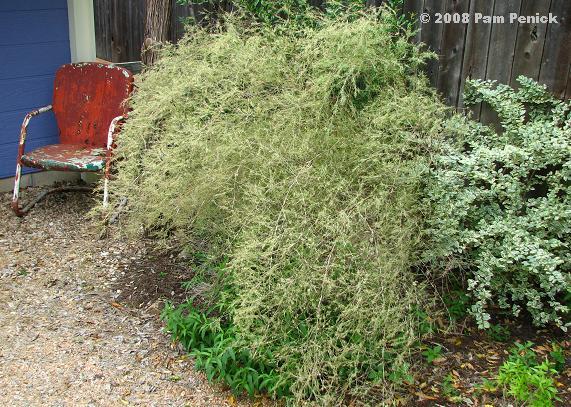 Bamboo muhly (Muhlenbergia dumosa), a New Mexican clumping grass with gorgeous, chartreuse leaves that slightly resemble bamboo.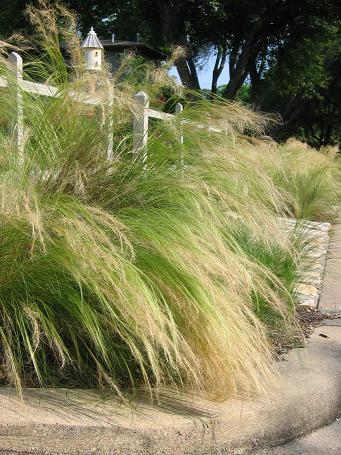 Mexican feathergrass (Nassella tenuissima)*, a spring-blooming blond beauty. Watch for re-seeding with this one too.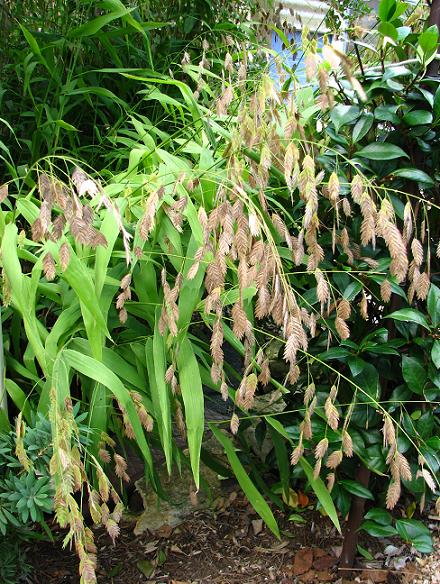 Inland sea oats (Chasmanthium latifolium)*, a shade or morning-sun grass with pretty seedheads that are apple-green in summer and toasty brown in fall. Again, a vigorous re-seeder.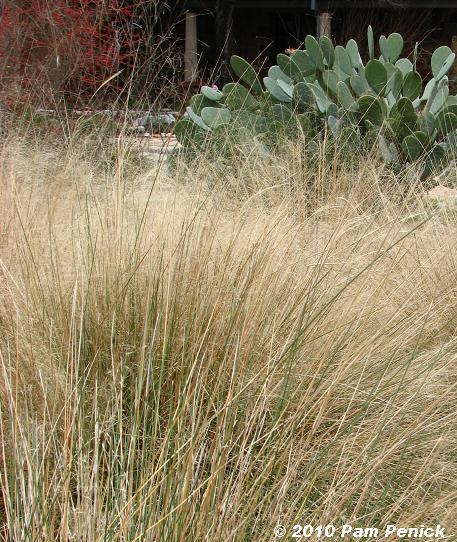 Gulf muhly (Muhlenbergia capillaris)*, which frothily blooms cotton-candy pink in fall before fading to tan in winter.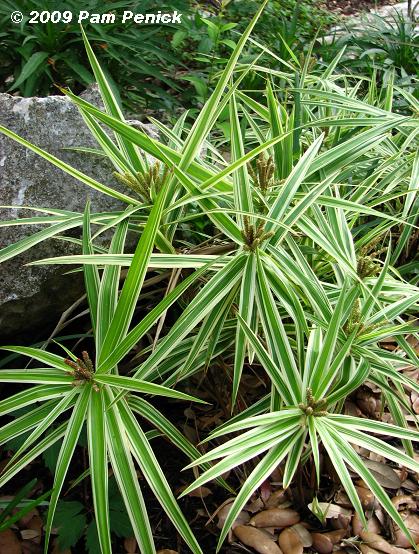 'Sparkler' sedge (Carex phyllocephala 'Sparkler'), a low-growing, green-and-cream evergreen for shade. It likes a little more water than most of the plants on this list.
Fibrous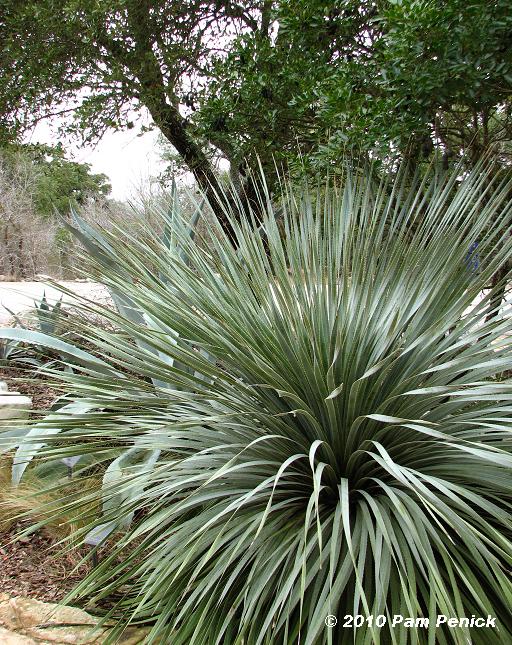 Wheeler's sotol (Dasylirion wheeleri), a spiky, blue sphere for sun that requires very little water. Equally good is our native green sotol (Dasylirion texanum)*, which can take sun or part shade.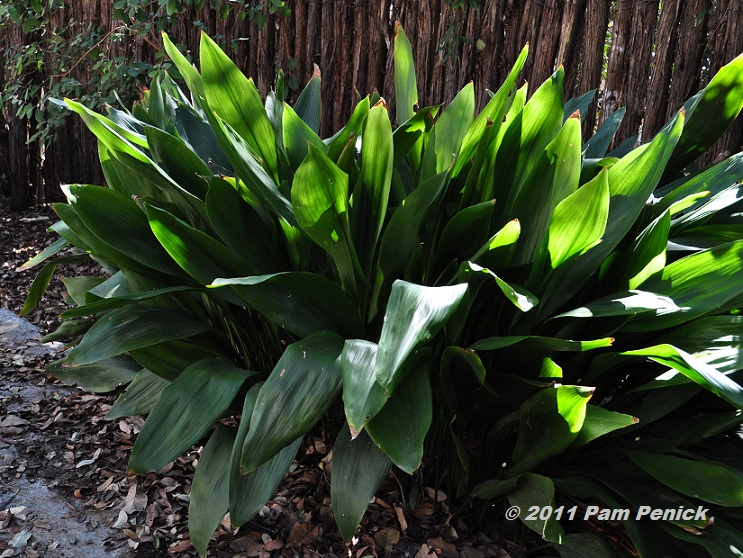 Well-named, evergreen cast-iron plant (Aspidistra elatior), great for dry shade. In our hot climate, there are few broad-leaved plants that don't require lots of water, so take advantage of this one.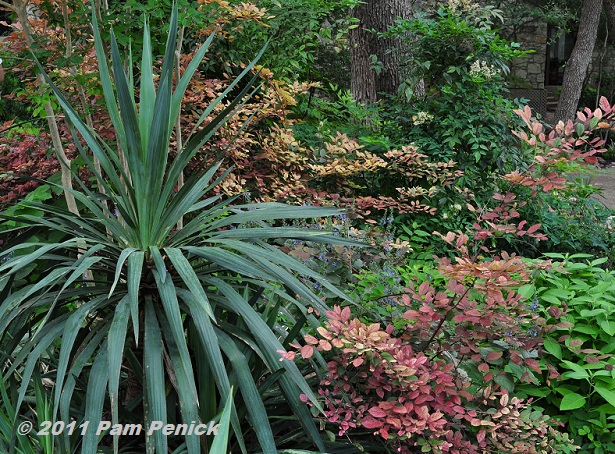 Softleaf yucca (Yucca recurvifolia)*, with deer-resistant Chinese fringeflower (Loropetalum chinensis var. rubrum), one of the few burgundy-leaved shrubs for our climate.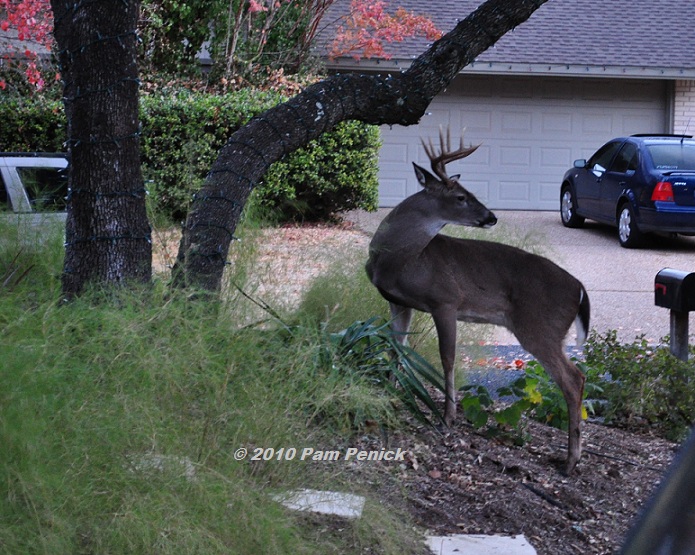 Note: Bucks will happily shred some yuccas and even agaves with their antlers in the fall. The texture and stiffness of the plant must be just right for rubbing off that itchy velvet. I've taken to spraying my yuccas with deer repellant in the fall, and that helps.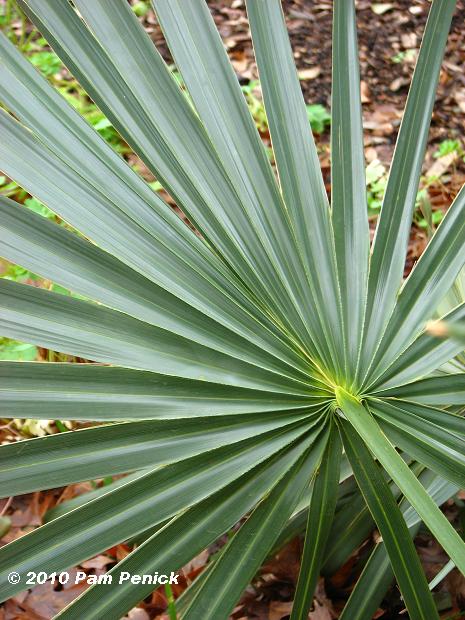 Texas dwarf palmetto (Sabal minor)*, a tropical-looking evergreen for shade or morning sun.
Fuzzy/hairy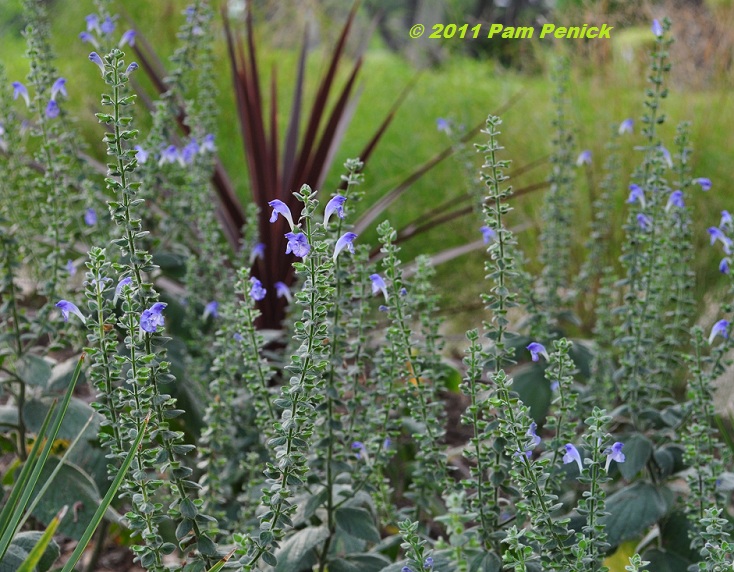 Heartleaf skullcap (Scutellaria ovata)*, a fuzzy-and-oily-leaved native with sweet blue flower spires in spring. Deer-resistant bamboo muhly (Muhlenbergia dumosa) and burgundy cordyline (Cordyline australis 'Red Star'), an annual foliage plant, are visible in the background.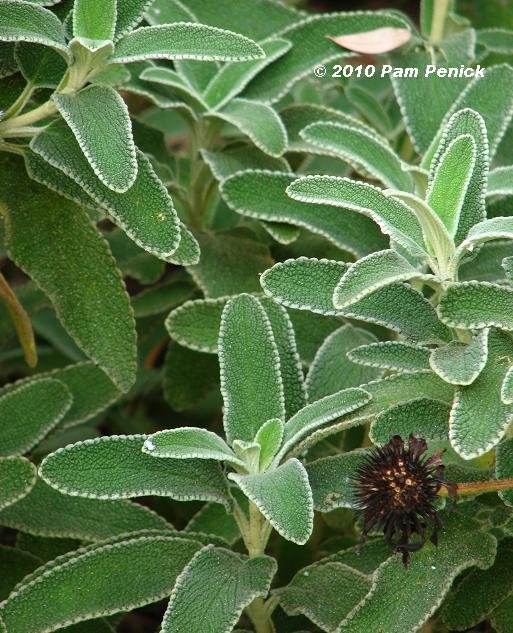 Jerusalem sage (Phlomis fruticosa), with pretty, white-edged, fuzzy leaves and tiers of butter-yellow flowers in spring.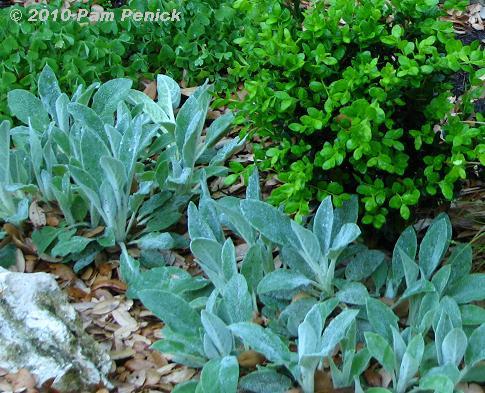 Lamb's ear (Stachys byzantina), the ultimate fuzzy groundcover for dry shade.
Poisonous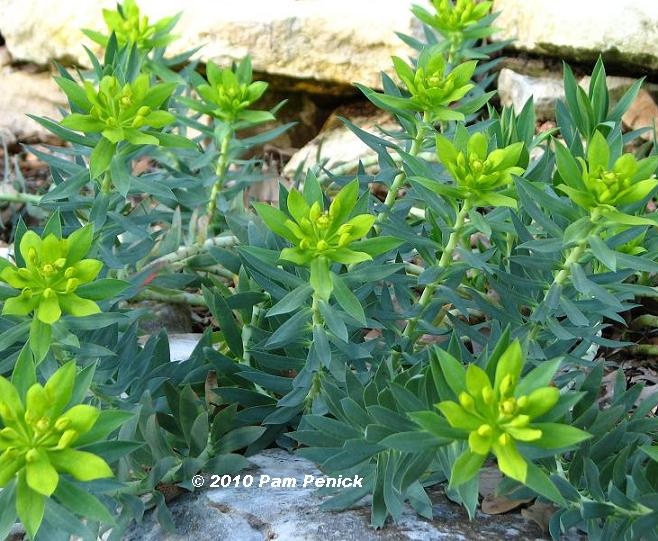 Gopher plant (Euphorbia rigida). A toxic latex sap in the stems renders it unpalatable.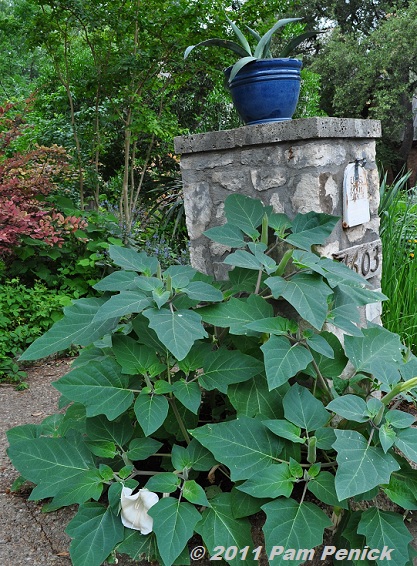 Jimsonweed (Datura wrightii)*, with fragrant, night-blooming flowers. All of its parts are poisonous to man and beast.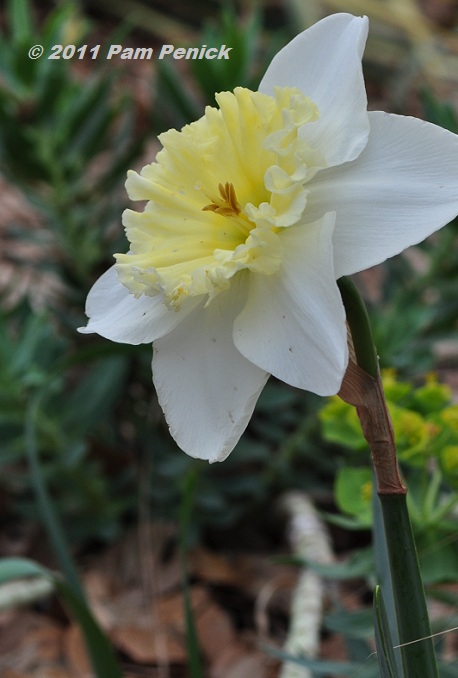 Daffodil (Narcissus), a flowering bulb that is also toxic to deer. This is 'Ice Follies'.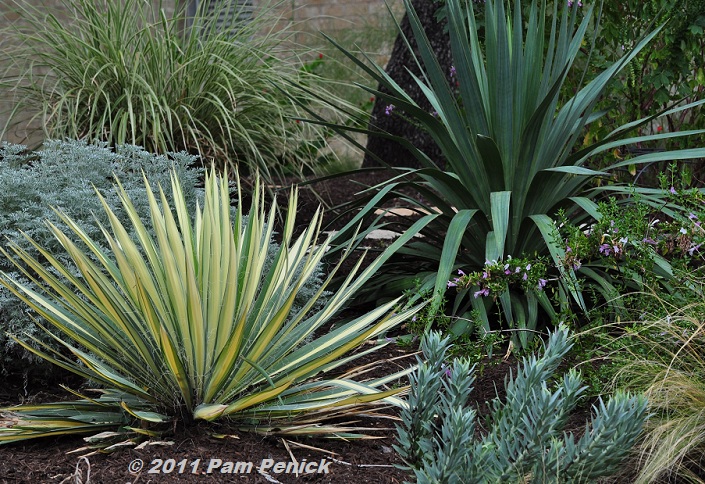 So you see? You can have an interesting, diverse garden even if deer call your neighborhood home.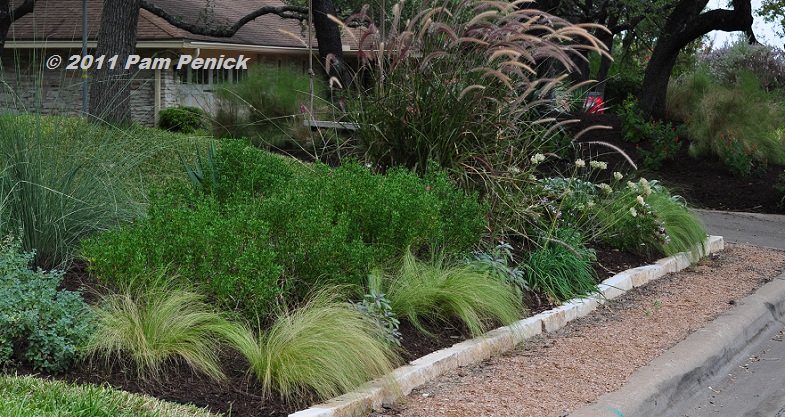 In fact I'm sure many of you have your own favorite deer-resistant plants. Feel free to share in the comments section!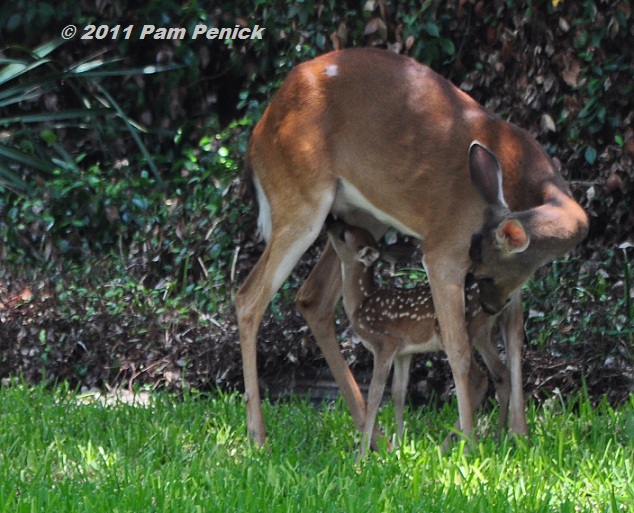 Go ahead—plant strong-smelling, fuzzy-leaved, and grassy plants in your garden, and then you can enjoy an "Aww, sweet!" moment when you see this…in your neighbor's yard!
This is my contribution for December's topic at Garden Designers Roundtable. For more perspectives on "Gardening with Deer," please visit the posts of my fellow garden designers. Happy reading!
Rebecca Sweet : Gossip in the Garden : Los Altos, CA
Lesley Hegarty & Robert Webber : Hegarty Webber Partnership : Bristol, UK
Genevieve Schmidt : North Coast Gardening : Arcata, CA
Douglas Owens-Pike : Energyscapes : Minneapolis, MN
Christina Salwitz : Personal Garden Coach : Renton, WA
Susan Morrison : Blue Planet Garden Blog : East Bay, CA
Debbie Roberts : A Garden of Possibilities : Stamford, CT
Tara Dillard : Vanishing Threshold: Garden, Life, Home : Atlanta, GA
Pam Penick : Digging : Austin, TX
Top photo courtesy of morgueFile.com
All material © 2006-2011 by Pam Penick for Digging. Unauthorized reproduction prohibited.
posted in
Deer
,
Design
,
Designers Roundtable
,
Fences
,
Grasses
,
Palms/Cycads
,
Pests
,
Texas natives
,
Wildlife
,
Xeric plants
,
Yuccas