November 26th, 2011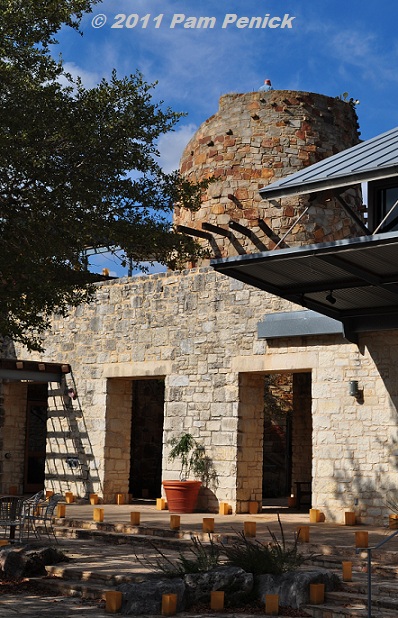 Avoiding the Black Friday madness and taking advantage of a beautiful fall day in Austin, my family and I headed to the Wildflower Center for a post-lunch stroll yesterday. Since all the plants at the Wildflower Center are native to Texas, it's illuminating to see what still looks good at this point in the year-long drought, with the Center following the same watering restrictions that city residents have been held to. Would you like to come along with me for a tour?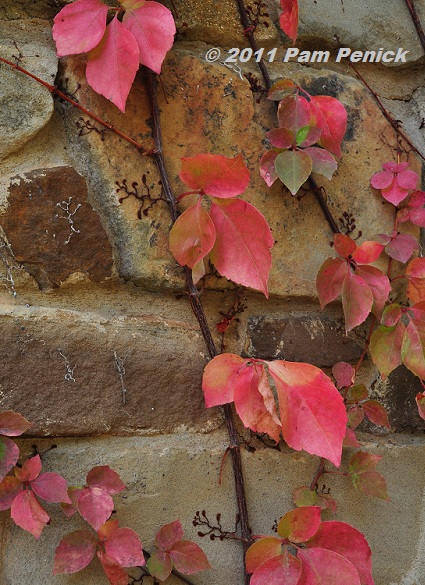 Virginia creeper (Parthenocissus quinquefolia) was blushing red along the stone walls.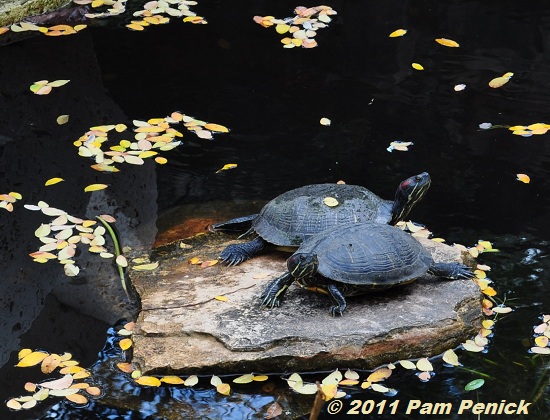 Turtles sunned themselves on a rock in the entry pond, as yellow cedar elm (Ulmus crassifolia) leaves drifted around them.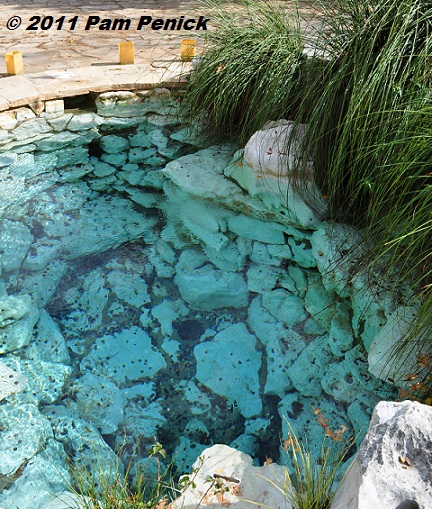 The pond in the main courtyard, meant to resemble a spring-fed pool in the Hill Country, was alluring and so clear you could see all the way to the bottom—maybe 8 feet?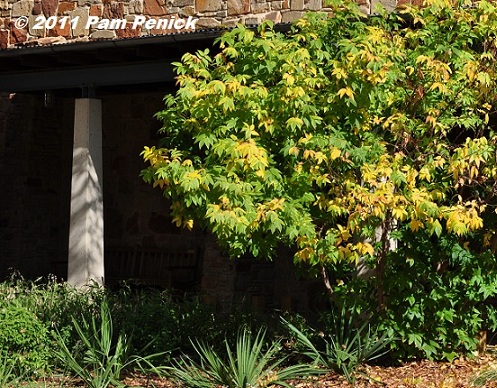 A Mexican buckeye (Ungnadia speciosa), like the one in my own garden, was turning buttery yellow. A trio of our native palmetto, Sabal minor, made an evergreen fringe at its feet.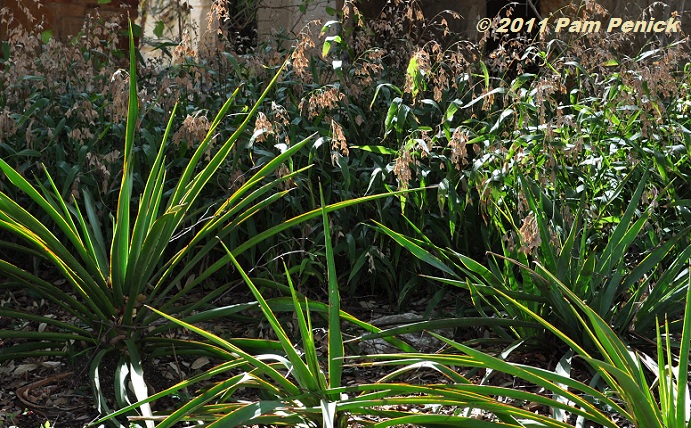 On the other side of the courtyard, I admired a part-shade vignette of twistleaf yucca (Y. rupicola) and inland sea oats (Chasmanthium latifolium).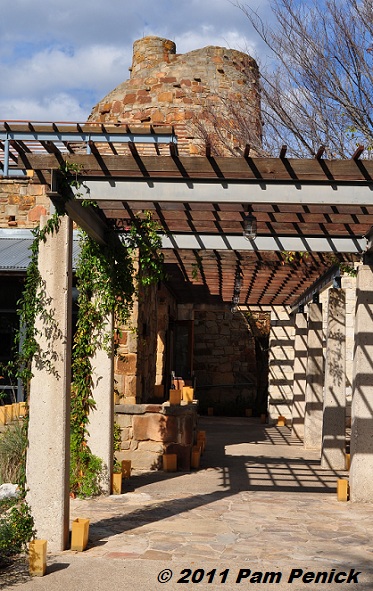 The landmark spiraling tower, seen here over a shady arbor, is also a rainwater cistern. Inside, a concrete stair spirals up to a midpoint balcony, where you can look down into the cistern's central basin at the water collected there. Looking up, you see a grate and the sky above, as well as the feet of brave visitors who've gone up to the top on the narrow, exterior stair that spirals up from here.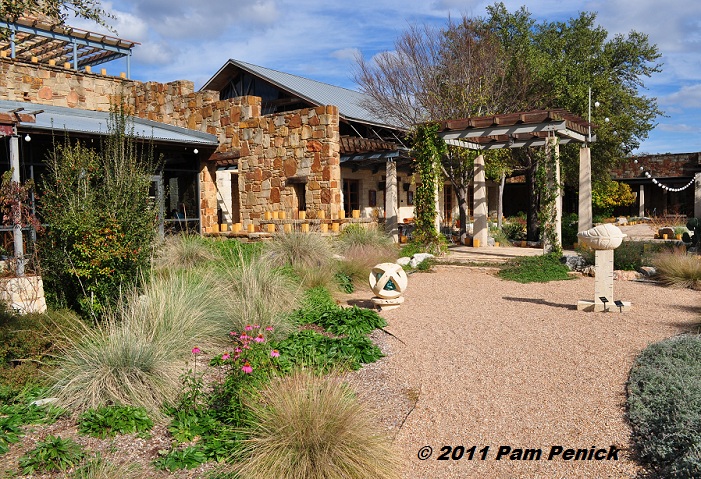 Leaving the main courtyard and heading toward the demonstration gardens—this is a look back at the arbor seen in the previous picture.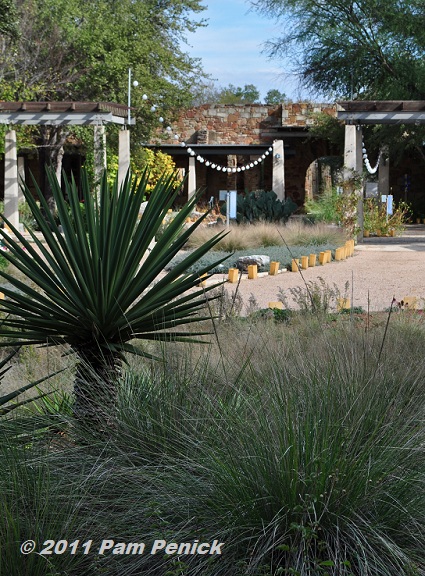 And looking back again from a little further along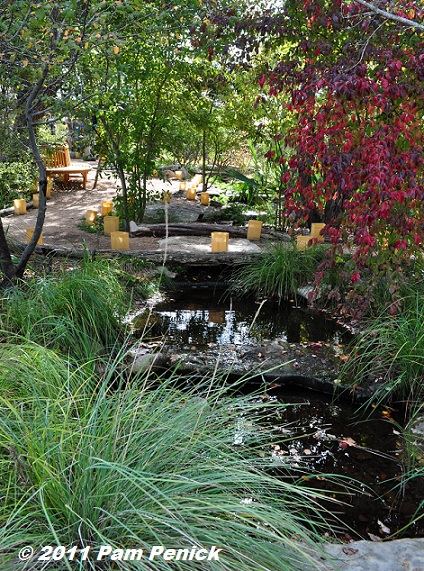 Between the openness of the courtyard and the demonstration gardens, a wooded area contains the Hill Country Stream, which meanders from left to right, necessitating at least one bridge crossing. Limestone slabs edged with cedar poles provide dry footing and safe passage across. The bags are luminarias, already set up for Luminations on December 10-11.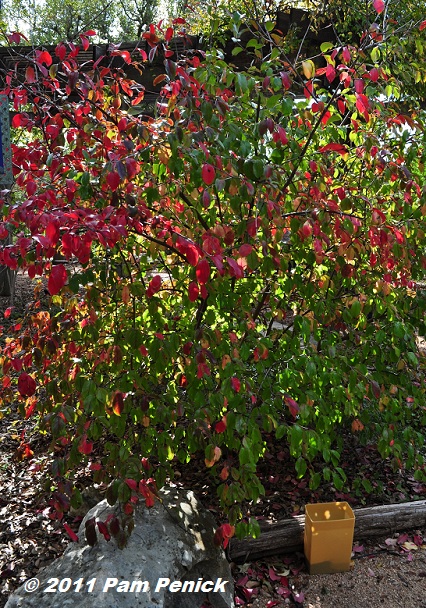 Why am I not growing this beautiful native shrub? Do you know it? The ID tag is below.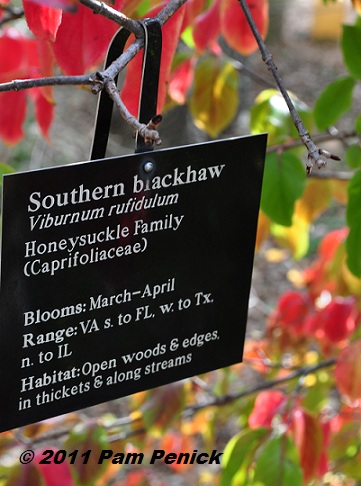 Southern blackhaw, or rusty blackhaw viburnum (Viburnum rufidulum). Just look at the leaves in the background—they're like colorful stained glass.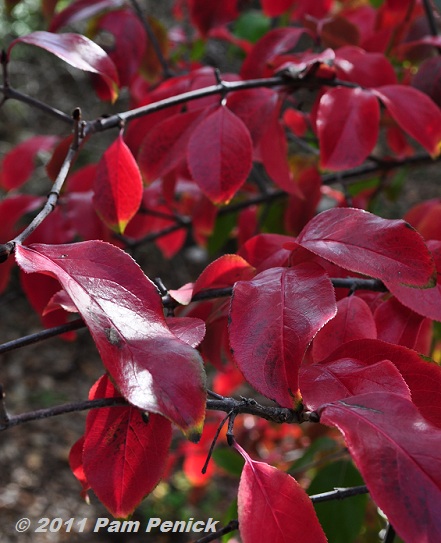 Beautiful red leaves!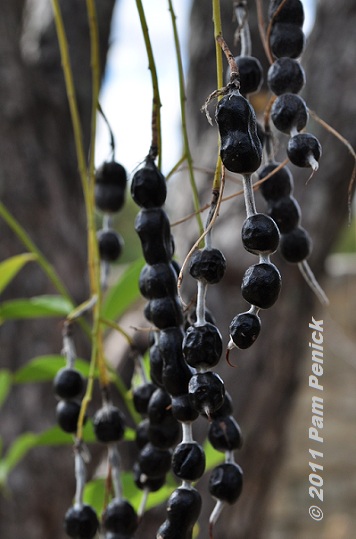 So many great understory trees grow in this area, including Eve's necklace (Sophora affinis)—here's the black fruit, strung like jet beads on a cord.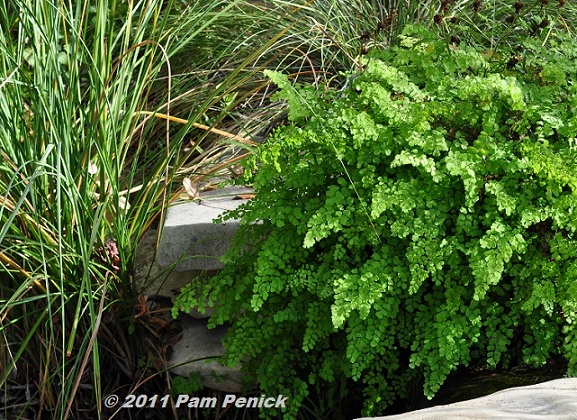 At the head of the stream, maidenhair fern (Adiantum capillus-veneris) softens rugged limestone.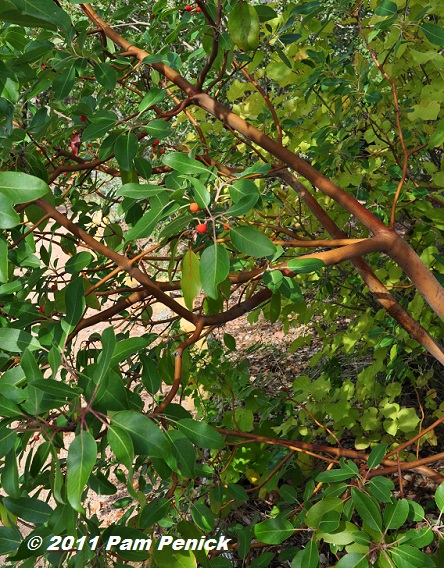 The cinnamon-colored bark of Texas madrone (Arbutus xalapensis) begs to be stroked. Wouldn't it be stunning in a garden?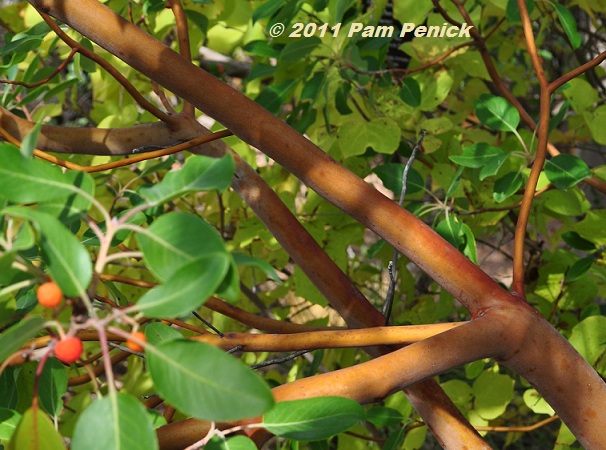 Sadly, this tree is extremely finicky about soil and water and is nearly impossible to germinate from seed or transplant. See this article in Texas Parks & Wildlife Magazine for more info about Texas madrone.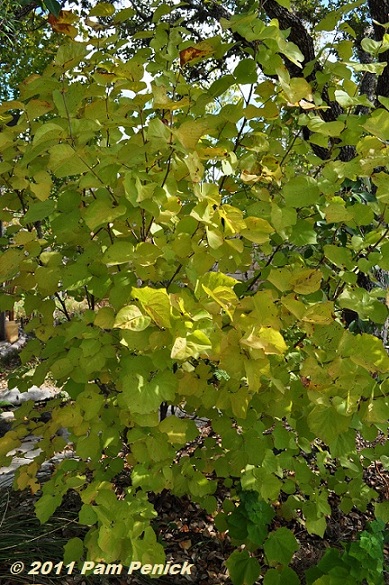 Another rare beauty grows beside it: Sycamore leaf snowbell (Styrax platanifolius). I understand that both the snowbell and the madrone were donated by Bamberger Ranch, along with the native soil they were growing in, to ensure their survival.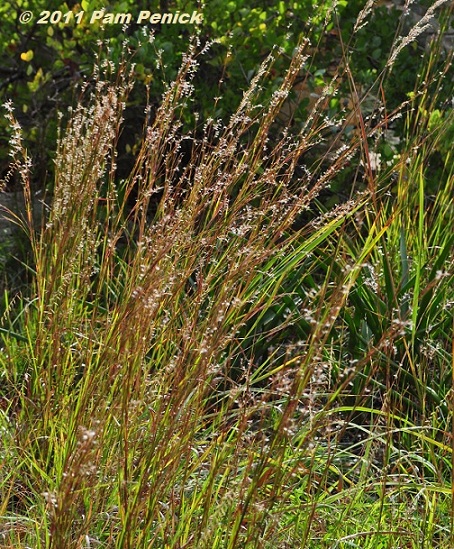 Little bluestem (Schizachyrium scoparium) must be the grass of the year. I keep seeing and reading about it (see my post on Plano Prairie Garden; Scott at Rhone Street Gardens in Portland, Oregon, loves it too).
It seems fitting to stop here, with beautiful survivor little bluestem, until tomorrow, when I'll continue my tour with the Wildflower Center's demonstration gardens.
All material © 2006-2011 by Pam Penick for Digging. Unauthorized reproduction prohibited.