November 1st, 2008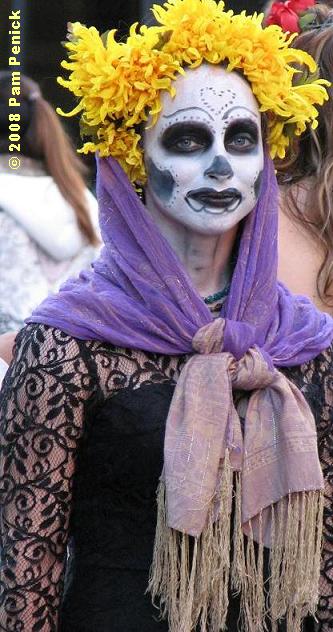 The dead, dressed in their finest, their hair adorned with real marigolds, led a cheerful procession down 6th Street and Congress Avenue this evening, celebrating Dia de los Muertos, or Day of the Dead.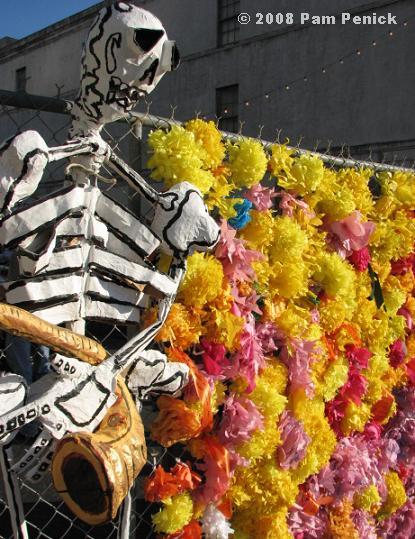 Dia de los Muertos is a Mexican holiday for remembering and honoring friends and family who have died. Its two main symbols are skeletons and marigolds.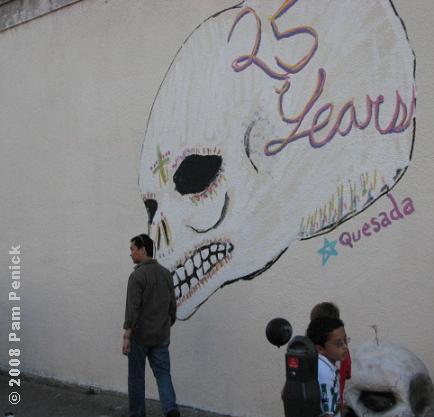 The holiday crossed the border into Texas years ago, and 2008 marks the 25th anniversary of the Dia de los Muertos Procession and Celebration in Austin, sponsored by the Mexic-Arte Museum. Austin is always looking for another reason to wear costumes and throw a party, and why not?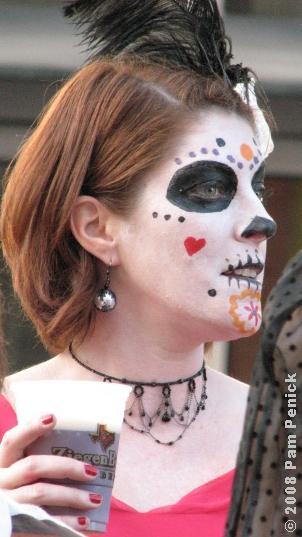 Before the parade began, we enjoyed a mini-street-festival set up behind the museum. People dressed to the nines and wearing disconcerting skeleton face paint strolled among paper-mache skeletons, tamale vendors, a craft-a-skeleton-mask booth, and a stage on which a Tejano band played. Despite all the skeletons, the effect wasn't spooky but family friendly and dignified.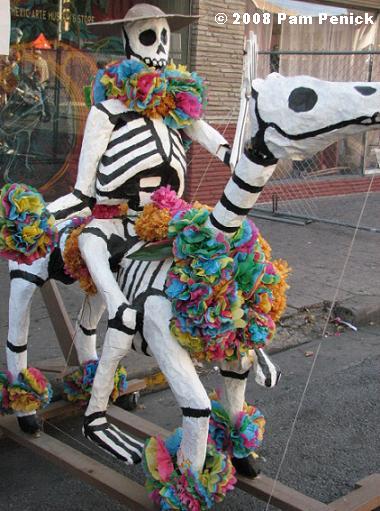 Day of the Dead isn't a celebration of the macabre, like Halloween, though it can seem that way to the uninitiated.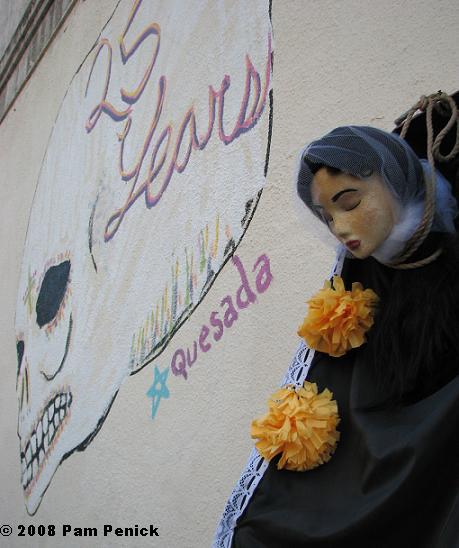 The holiday comes from a tradition of the Aztecs and other ancient peoples, which was blended with the Catholic observance of All Souls' Day in Mexico. Household altars to departed loved ones may contain photos, offerings of bread and treats, small tokens belonging to the dead, and even humorous poems about them.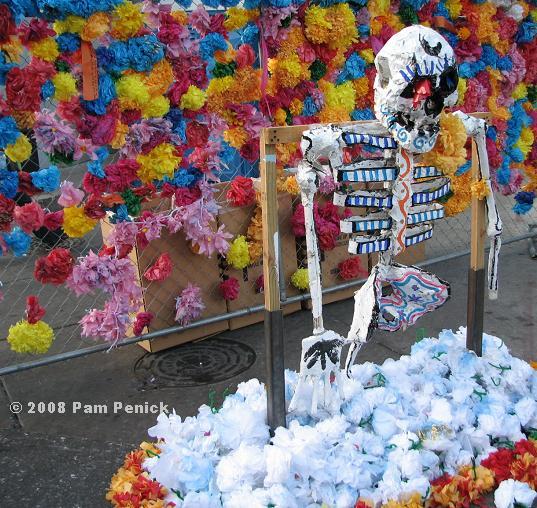 It is believed that on this day, the dead can cross over to the living and hear their prayers.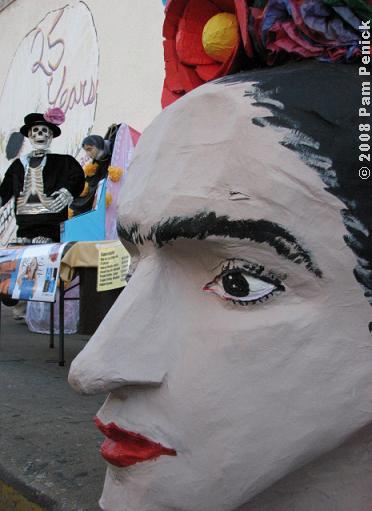 At the festival we saw a large paper-mache Frida Kahlo head. She's everywhere these days, isn't she?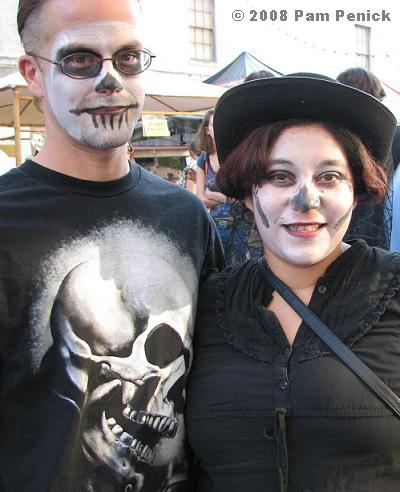 This couple graciously posed for me.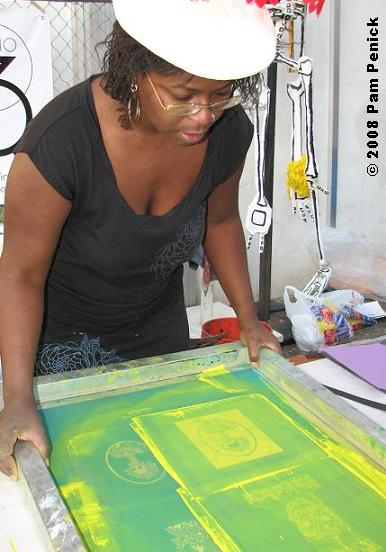 At one booth, this woman was silk screening posters for people. You picked out the design you wanted…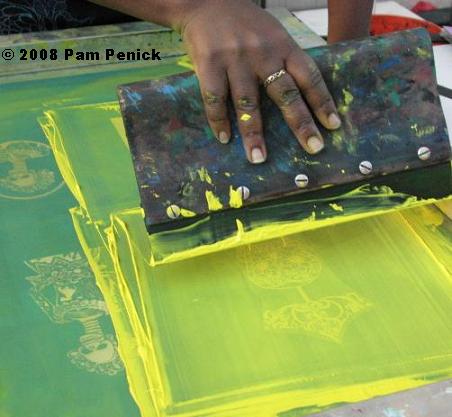 …she scraped a thin layer of paint across the screen…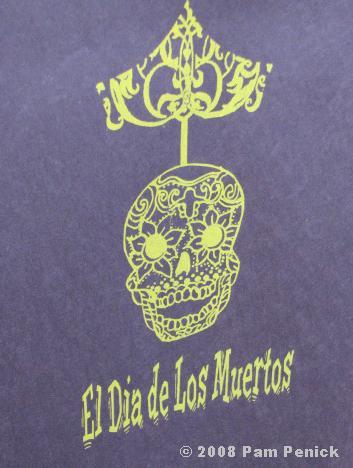 …and voila! A cool Dia de los Muertos souvenir.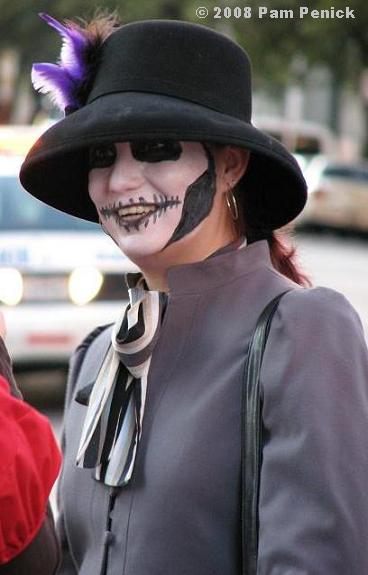 When it was time, we walked to the corner of 6th and Congress and stood in a crowd of skeletons and other watchers.
At last the paraders appeared! A troop of Thriller zombies led the way, and I'd love to show them to you but every image was blurred due to the dim light and my unpreparedness for the sight of them shambling down the street. I don't know if they were quite in the spirit of Day of the Dead, but they were fun to see. For a video of 881 zombies dancing to "Thriller" at the Long Center a few days ago—and setting a very weird world record for Austin in the process—check out this "Thrill the World Austin" video.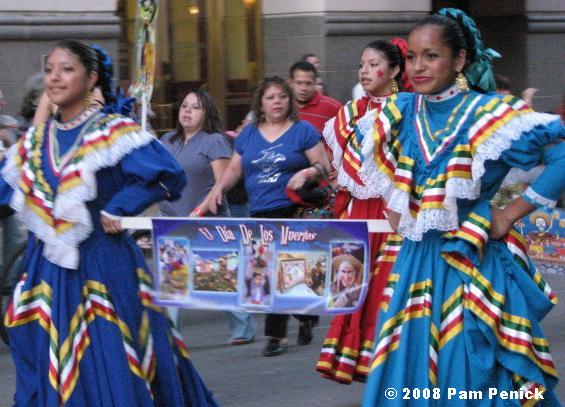 These Spanish dancers were smiling and lovely in blue flounces and ruffles.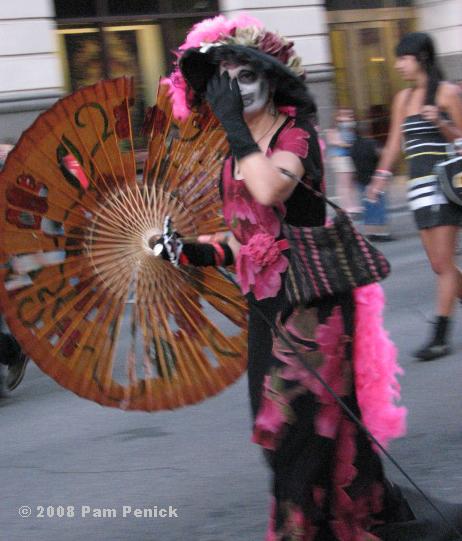 I liked this woman's tattered and ghostly parasol.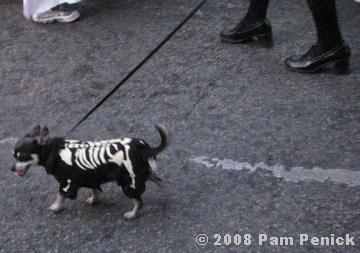 And just look at this cute skeleton Chihuahua.

More dancers in white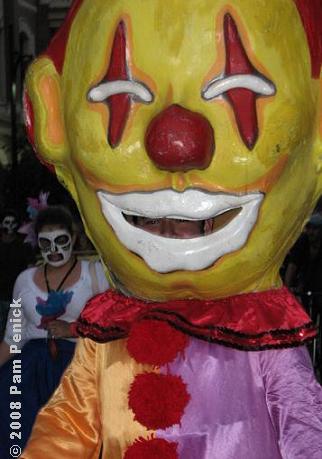 A big-headed clown might have frightened some children but for the smiling face of the man inside the costume. Look closely at the clown's mouth.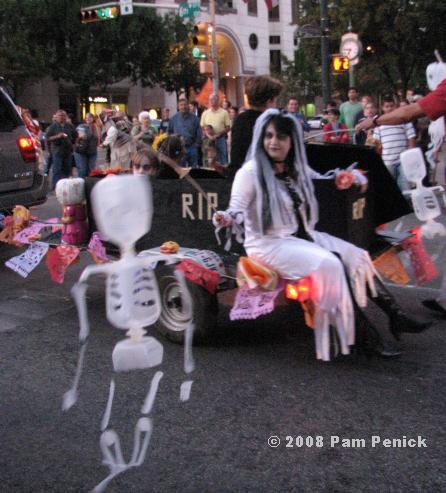 Near the end a small float rolled by, from which a woman dangled paper skeletons made of plastic milk jugs next to a coffin inscribed RIP.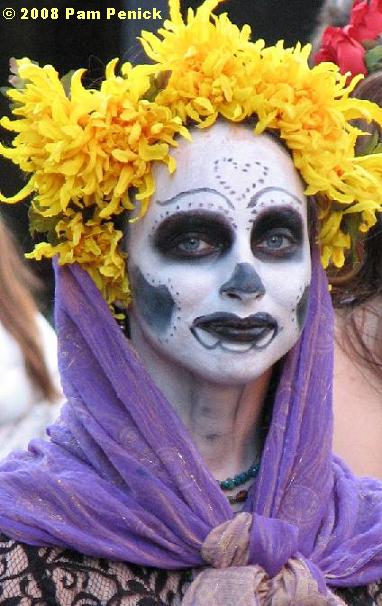 But this woman in the crowd, also pictured at the top of this post, mesmerized me more than anyone in the parade. Her blue eyes were piercing and direct as she locked her gaze on my camera across the busy sidewalk.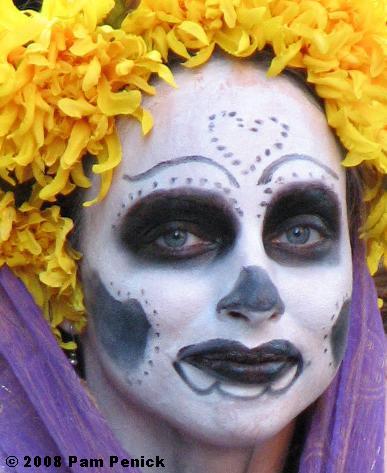 Happy Dia de los Muertos!
All material © 2006-2008 by Pam Penick for Digging. Unauthorized reproduction prohibited.