November 10th, 2011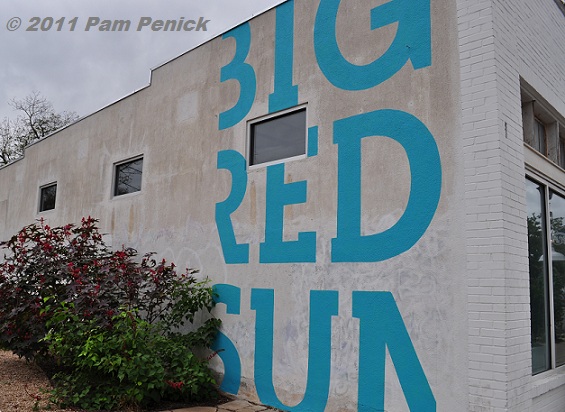 Like a go-go dancer at a small-town prom, Big Red Sun's theatrical streetside display garden stood out from the crowd of surrounding businesses at its original location on E. Cesar Chavez. Its gift shop—jammed with garden books, hip furniture, clothes, jewelry, and home decor—was as enticing as the garden, and I shopped there for birthdays and holidays. Outdoors, the nursery offered a small but interesting selection of plants and gorgeous, if pricey, succulent arrangements. I brought out-of-town visitors here.
When the nursery abruptly closed in 2010, I mourned its loss. (Another location in Venice, California, remained open.) Today, happily, Big Red Sun's boutique nursery is back, albeit in a new location, sans gift shop, and under new ownership. Located just down the street from the original (the old display garden is still there, though it looks sadly neglected), the new Big Red Sun still knows how to have fun with creative vegetable-garden displays, sales tables of healthy looking succulents, cacti, and other xeric plants, unusual containers, and a few decorative items. I can only hope in coming years they'll plant another exciting display garden.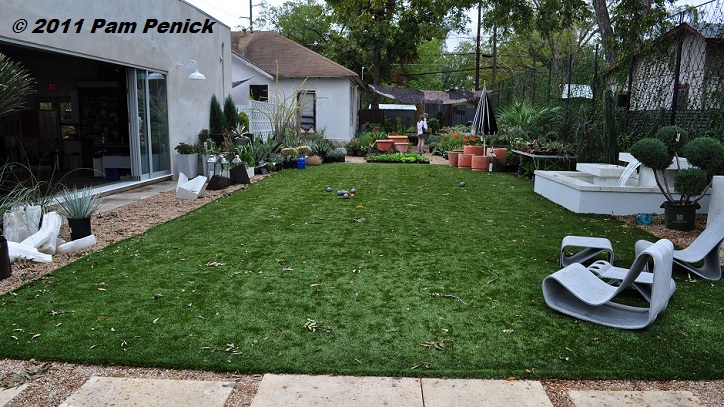 The first thing you see as you stroll into their outdoor space (the building at left is the design studio) is an impossibly green and healthy lawn.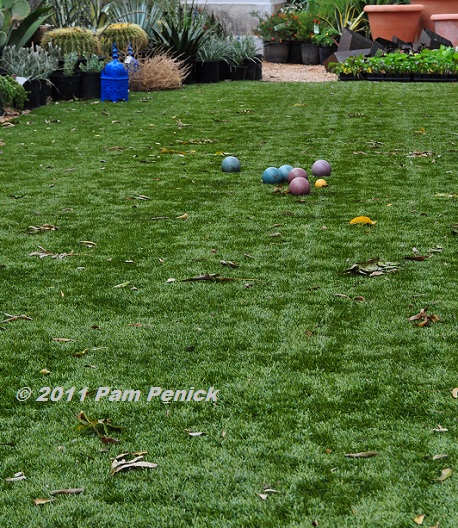 Surprise—it's artificial. This is the only synthetic lawn I've run across in Austin, and it looks pretty good for fake turf, especially with fallen leaves scattered across its surface. Up close an unnatural shininess and whisper of feet across its surface give away the truth. Still, no one is having to water, fertilize, edge, or mow.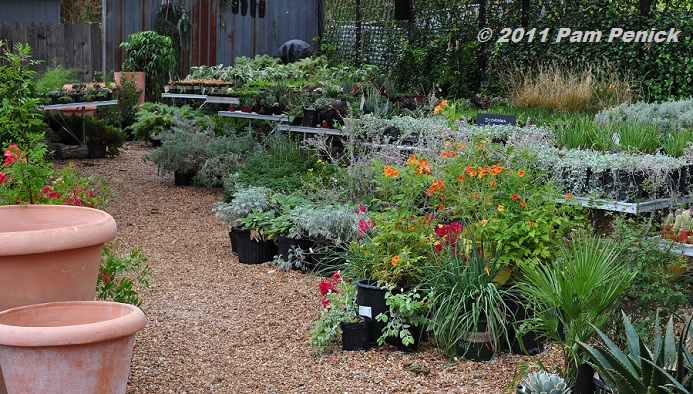 Stroll across the lawn and you'll find beautiful plants for sale…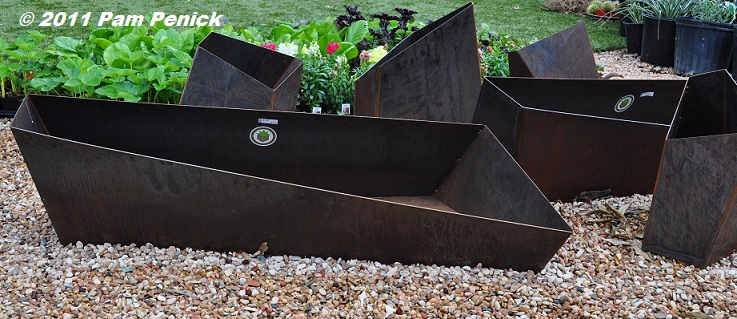 …as well as contemporary, slanted metal planters. Would you try one of these in your garden? I would.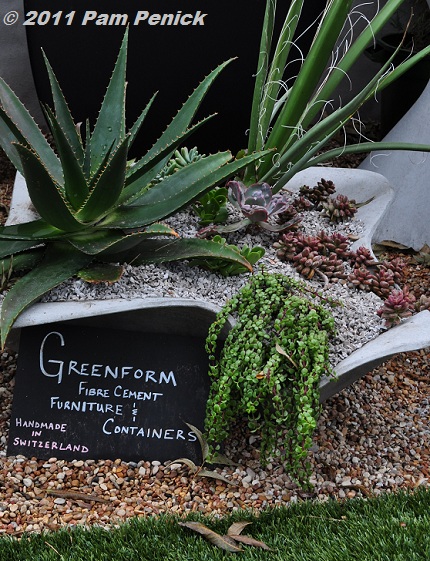 The nursery's selection of pots is not extensive, but those offered are certainly intriguing, like this amorphous, oyster shell-like planter.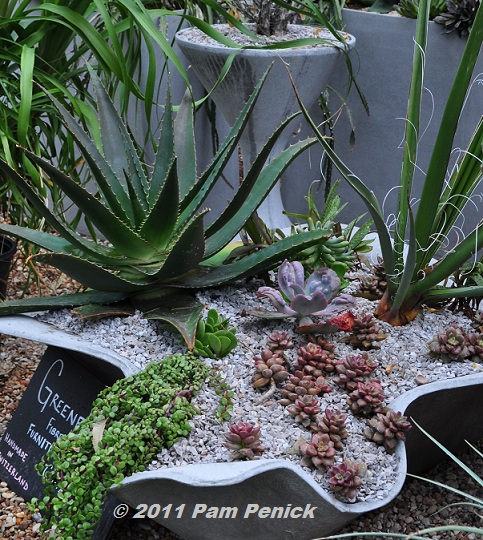 Another view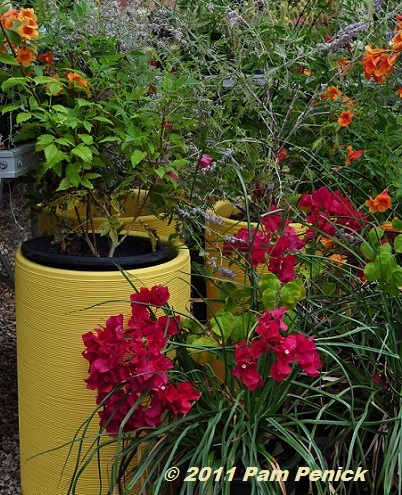 Cylindrical sunny yellow pots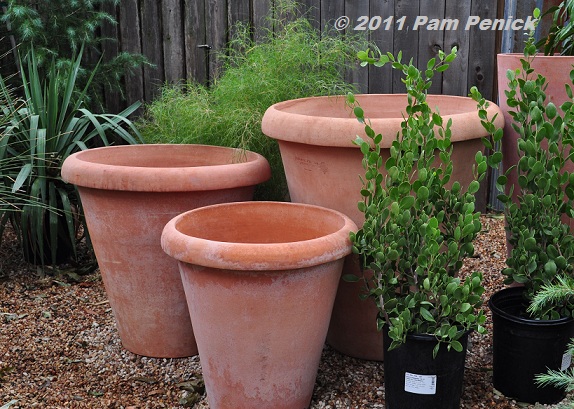 And classic Italian terracotta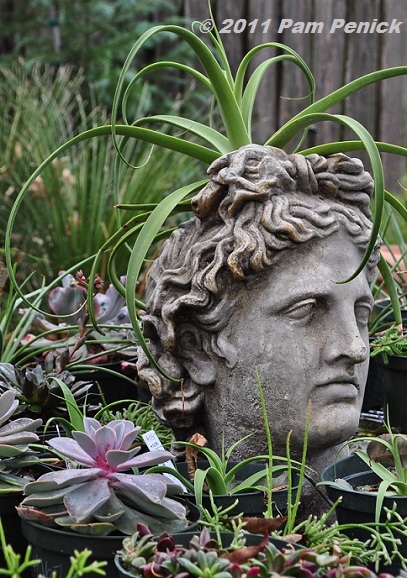 A Grecian-style head planter sports a squid agave hairdo.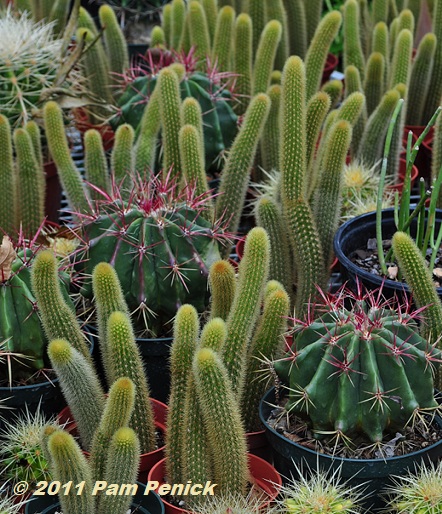 The cactus table is Dr. Seussian.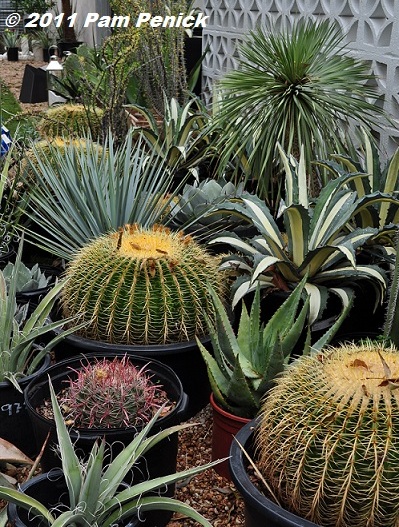 Big specimen plants offer those with deep pockets instant results.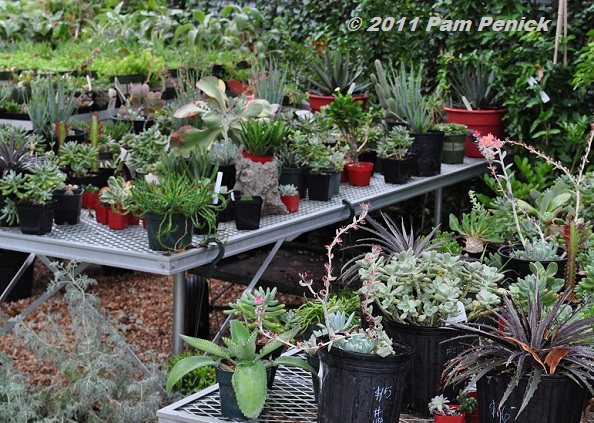 More succulent goodness for sale, in affordable 1-gallons and smaller sizes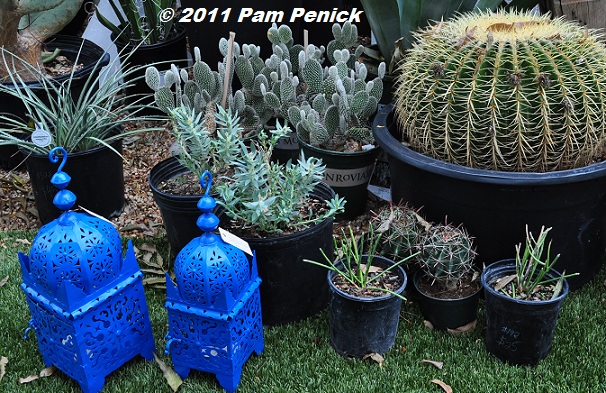 I like these blue Moroccan lanterns. Can't you imagine them, candlelit, hanging from a tree near the patio on a summer's evening?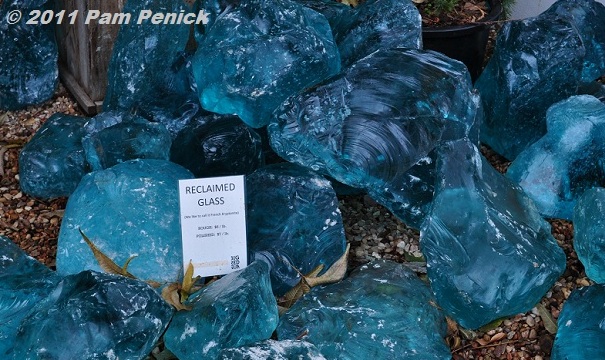 Chunks of blue slag glass are for sale, perfect for a garden accent or lining a path, Lotusland style.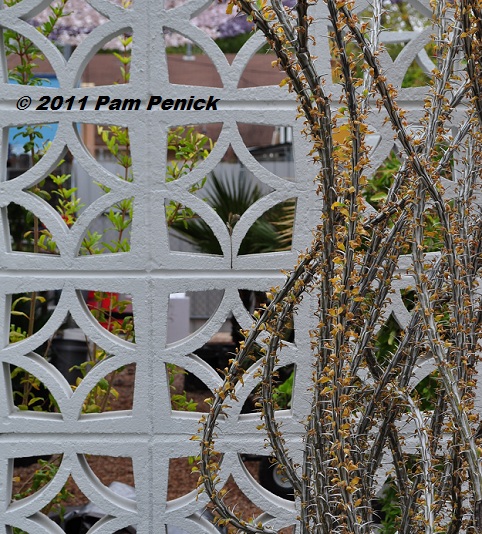 An ocotillo's sinuous shape complements the pattern of a concrete-block wall.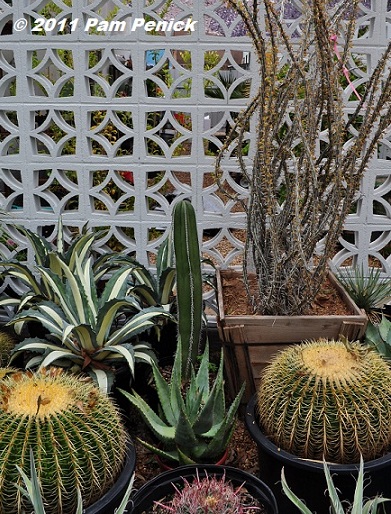 A wider view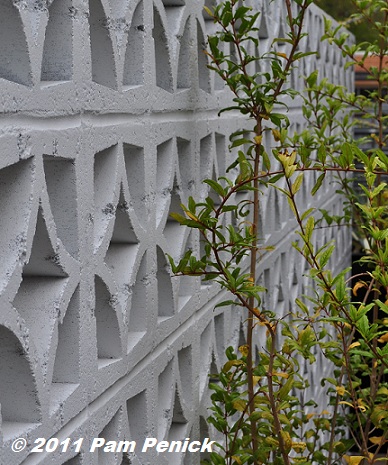 Another view. I like this wall. Can you tell?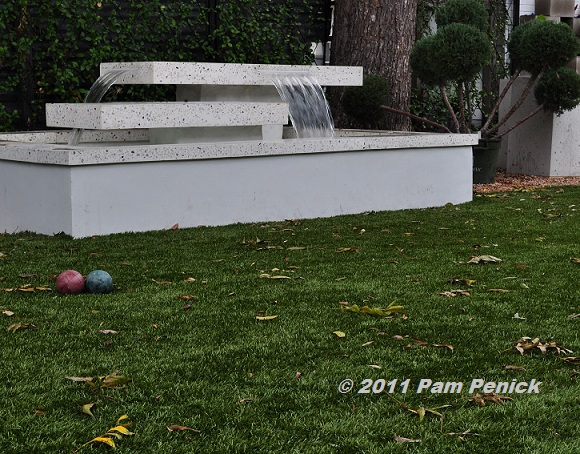 Across the lawn, a mid-century modern fountain is the focal point.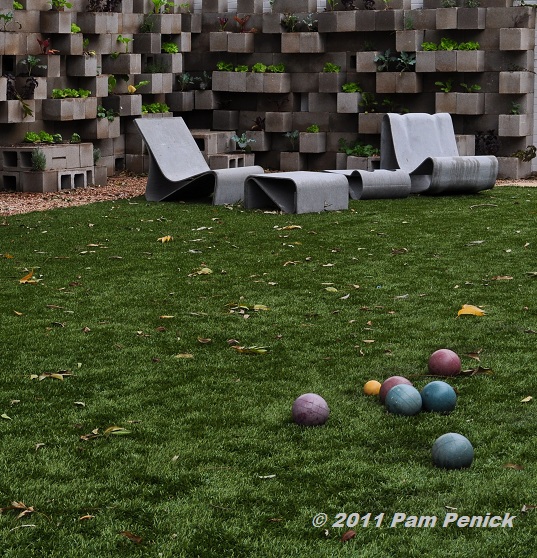 But stealing the show is a temporary vegetable garden wittily planted in a stacked cinderblock wall. Click for my post with more-detailed images of Big Red Sun's vertical edible garden.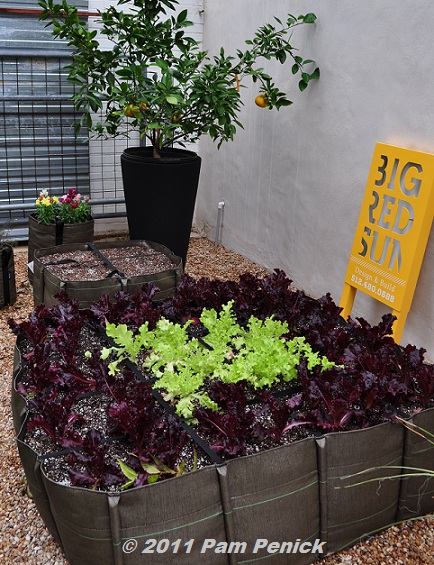 More uniquely planted edibles—this time in a large, fabric pocket.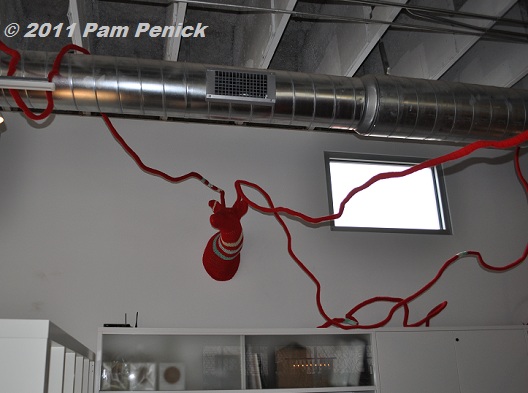 Inside the design studio you'll find a few pieces of furniture and a succulent arrangement or two for sale. But your eye will be drawn upward by crazy, wandering crocheted antlers on faux deer heads hanging on the wall.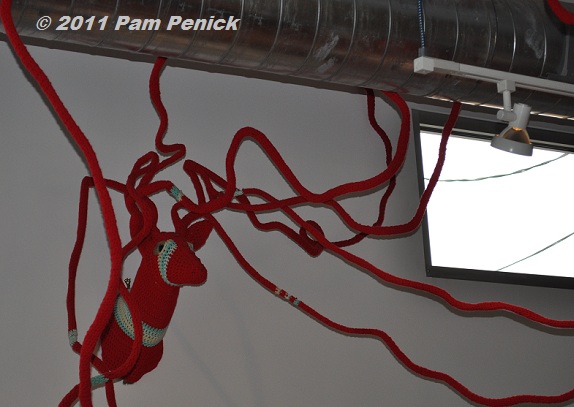 This one really has a rack.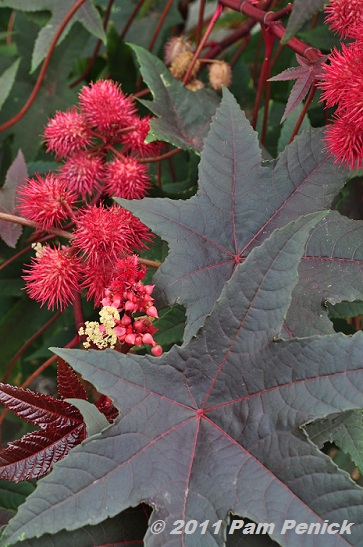 Outside a simple streetside planting of castor bean offers beautiful color.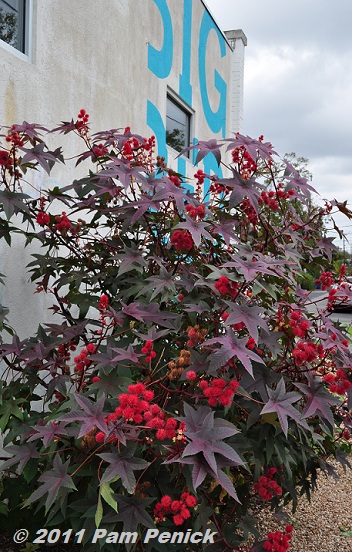 Big Red Sun, I'm glad you're back. To see Big Red Sun in its original location, click here.
Update: Big Red Sun's nursery closed to the public in December 2012. The design studio is still open.

All material © 2006-2011 by Pam Penick for Digging. Unauthorized reproduction prohibited.
posted in
Agaves
,
Aloes
,
Cactus
,
Containers
,
Decor
,
Deer
,
Edibles
,
Fountains
,
Garden art
,
Garden structures
,
Lawns
,
Nurseries & Shops
,
Seating
,
Succulents
,
Trees
,
Walls
,
Water features
,
Xeric plants