November 3rd, 2011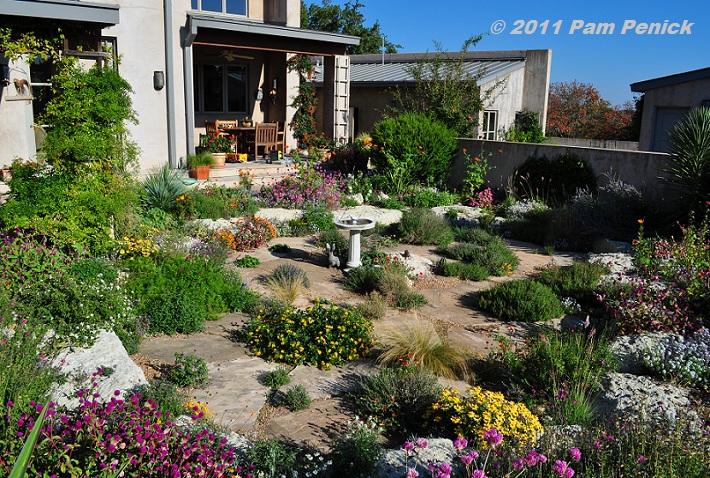 My friend Jenny Stocker, who blogs at Rock Rose, has shared her garden with me many times over the years. Each time I am struck anew by the beauty of her English-style xeric Texas garden, which shows many native plants to advantage in gravel-mulched, walled courtyards surrounding her contemporary stucco home in southwest Austin. On Tuesday a friend and I were treated to another visit, and I can't resist posting about her garden again.
Pictured at top is my favorite space in Jenny's garden, a sunny, open, sunken garden paved with stone and gravel and self-seeding little plants, surrounded by coffee-table-sized boulders, yucca, and taller flowering perennials. A comfortably furnished covered porch overlooks the sunken garden, a sapphire-blue swimming pool, and the greenbelt behind. On this early November morning, the garden was abloom with color and drenched in sunlight.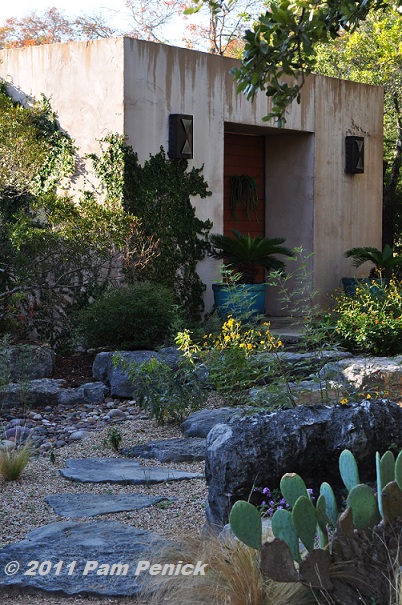 But let's start at the beginning, outside the front walled garden, where Jenny likes to begin her visitor's tour. This is the approach from the driveway, a rugged limestone path set in gravel. There are no formally delineated beds, just tough, native plants following the pathway's edges. This area is not on irrigation, although Jenny mentioned she has hand-watered the plants a few times over the summer.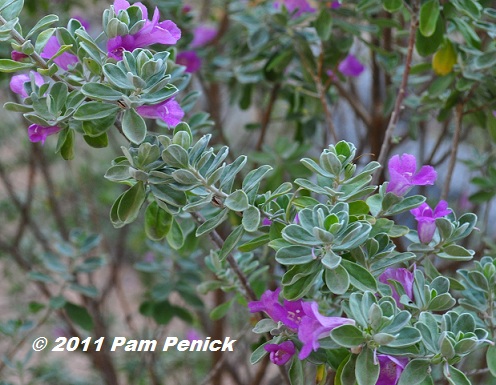 Cenizo in bloom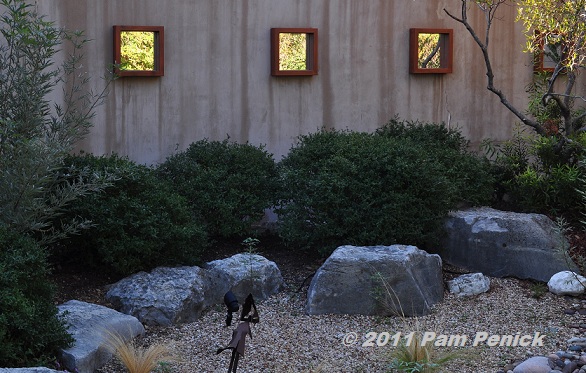 Along the wall that hides the front garden from view, a foundation planting of dwarf yaupon holly loosely echoes a line of boulders. Square mirrors on the wall masquerade as peek-a-boo windows.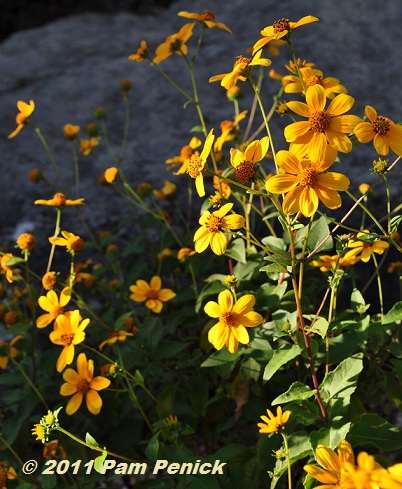 Fall color, Texas style. We had difficulty identifying this volunteer. We thought it might be skeleton-leaf goldeneye daisy, but the leaves don't look feathery enough. Update: Thanks to Tina for a possible ID as goldeneye (Viguiera dentata), a relative of the skeleton-leaf.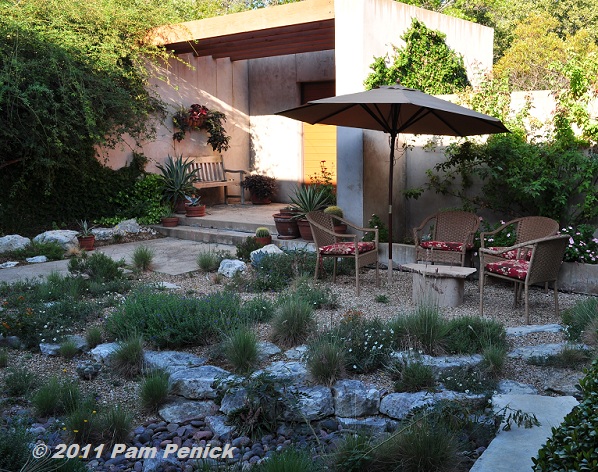 Walk through the gate in the monumental arbor that shelters it, and you enter the front courtyard, which I expect is sunny at midday and beyond. This is a beautiful gravel garden with tidy, mounding plants and ruby grass 'Pink Crystals' (Melinus nerviglumis).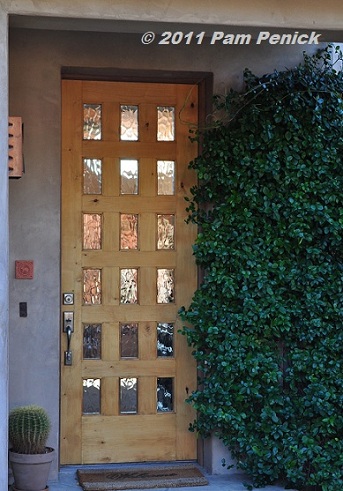 Jenny's front door is embraced by star jasmine, which must be incredible in spring bloom.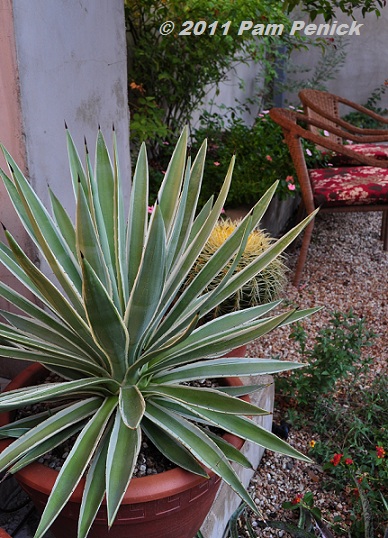 Jenny loves flowers, but she's not at all afraid of spiky succulents, which add structure and interest throughout her garden.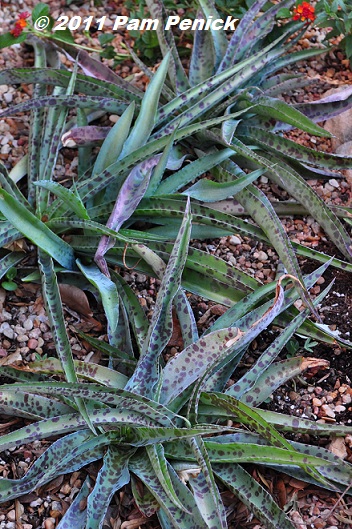 Manfreda sileri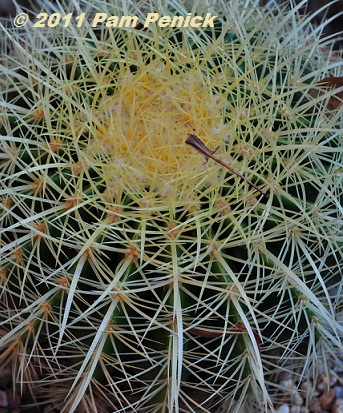 Golden barrel cactus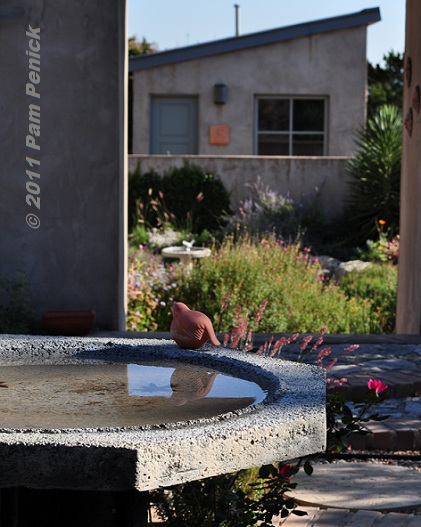 Passing through an intimate walled garden along the side of the house, you step into another large courtyard with a tall stucco wall dividing it from the next space—but tantalizing doors and windows offer glimpses of what's to come.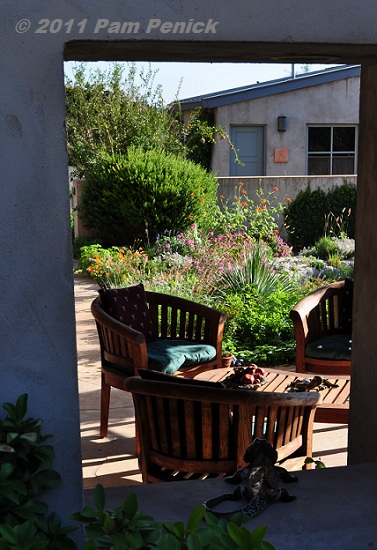 A window in the wall offers a peek at an inviting seating area and more garden beyond.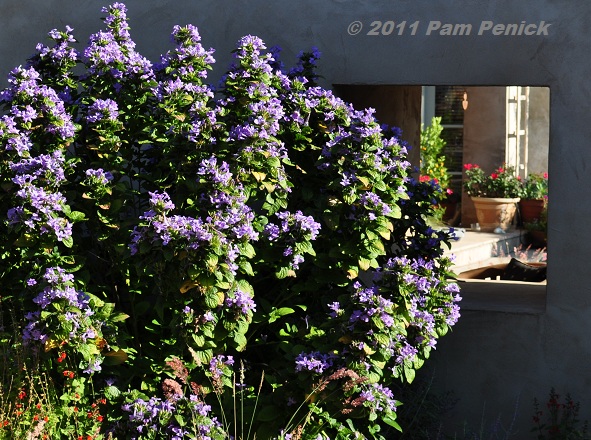 But before we move on, let me rhapsodize about Jenny's Philippine violet (Barleria cristata), which is simply gorgeous in full, bushy bloom.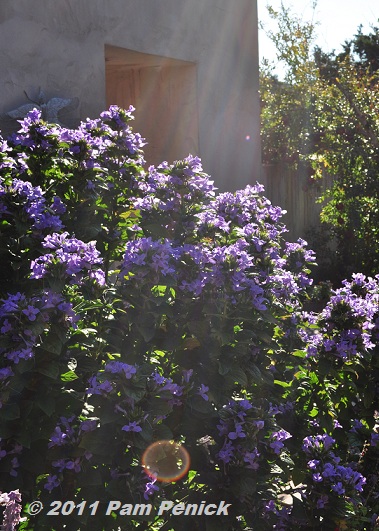 Why am I not growing this plant?!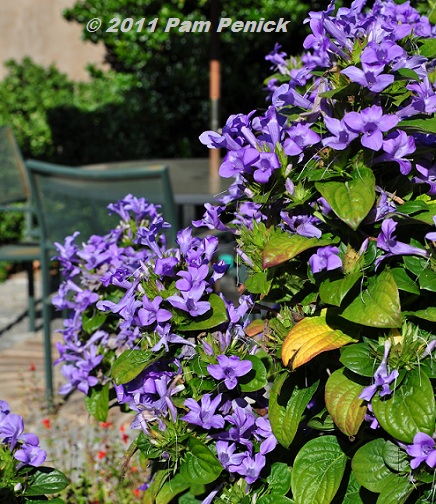 With those largish leaves and lush habit, it doesn't look like a plant that would survive a summer like we just endured, much less look so good doing it.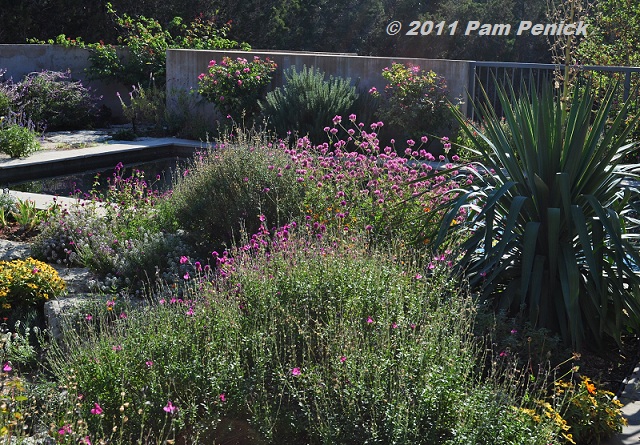 Moving on…you pass through the open doorway in the stucco wall and enter the sunken garden and pool courtyard.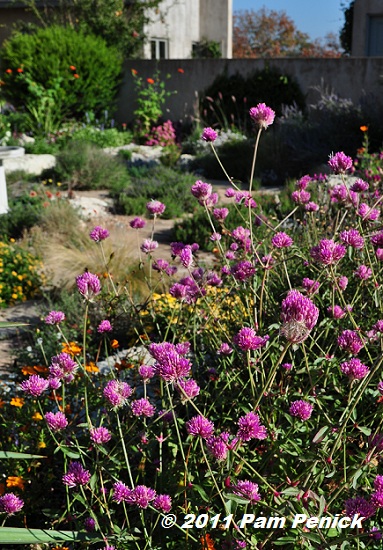 'Fireworks' gomphrena blazes away in the sun. I've seen this tall gomphrena all over central Texas this year.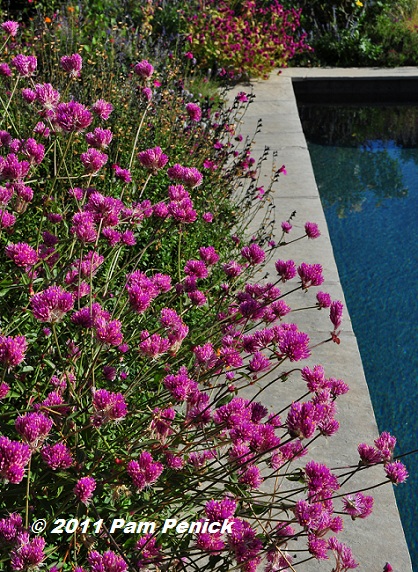 It's easy to see why this annual is so popular all of a sudden. Great color and height, wonderful in masses, heat and drought tolerant. Lovely!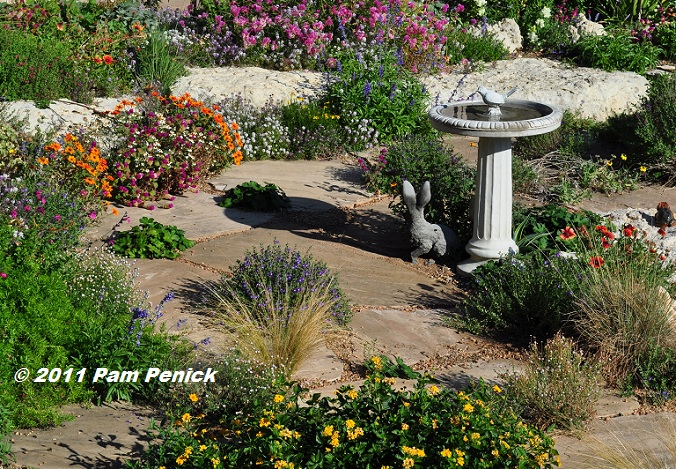 The focal point of Jenny's sunken garden is a birdbath and rabbit ornament, with the flagstones and boulders softened by flowering perennials, self-seeding annuals, and small grasses.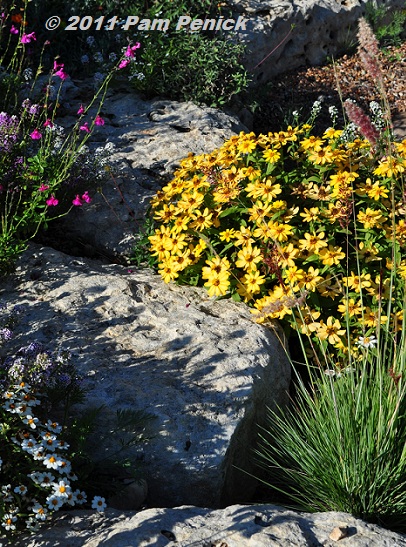 Great contrast between unyielding limestone and soft-textured flowers and grasses.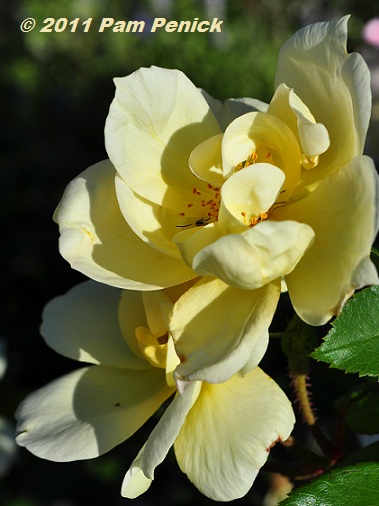 'Radsunny', a buttery yellow Knock Out rose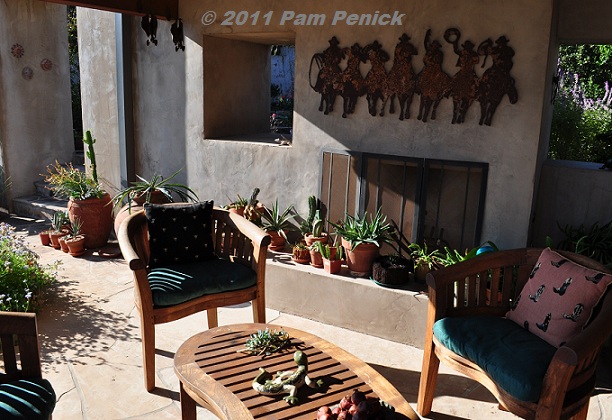 The garden style may be English (as are the owners), but Jenny plays up the Western theme on the covered porch with cowboy art and pillows and Mexican-pottery lizards. She's corralled much of her succulent collection on the hearth, but these go in the greenhouse when a freeze threatens.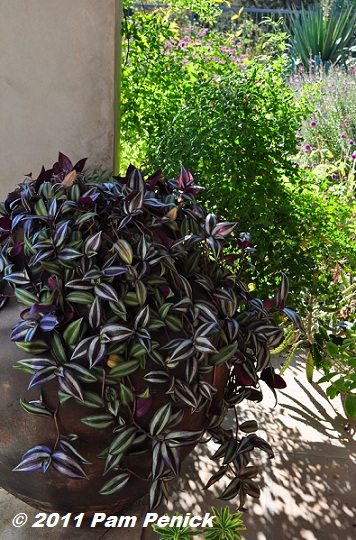 View from the porch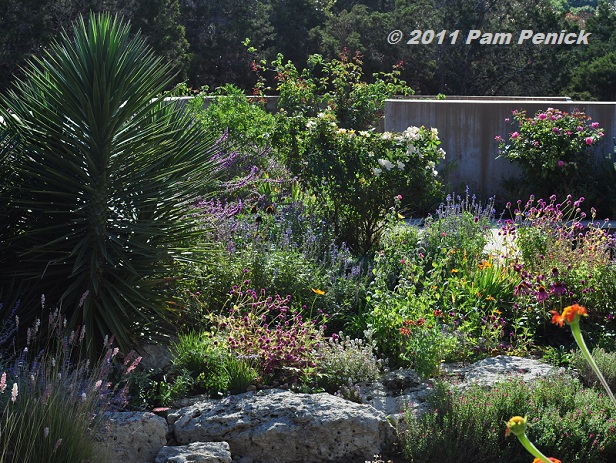 Yuccas, roses, salvias and more, plus rocks and walls, in a symphony of color and structure.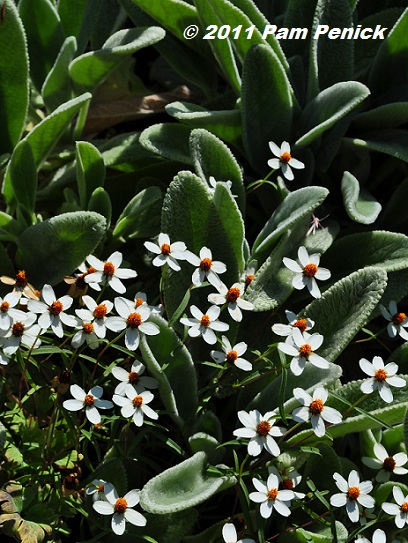 Narrowleaf zinnia and lamb's ear make a cool combo.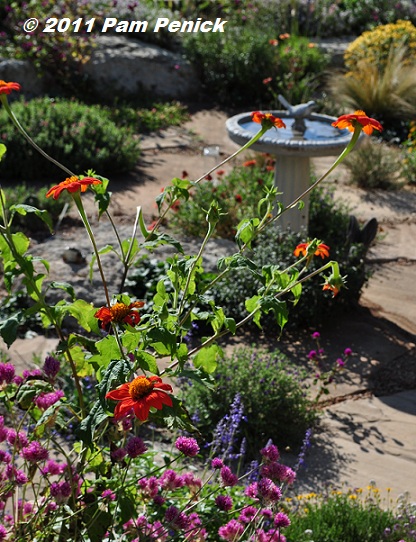 Orange tithonia attracts butterflies in the sunken garden.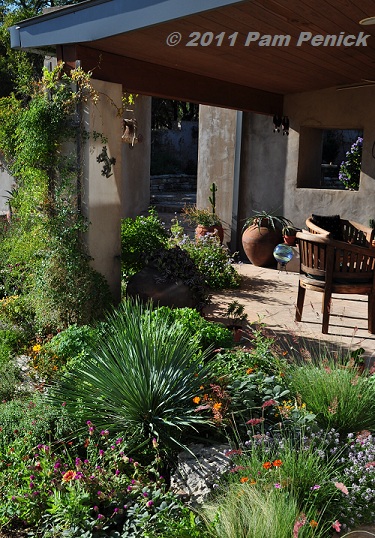 Everywhere you look, there's texture and color.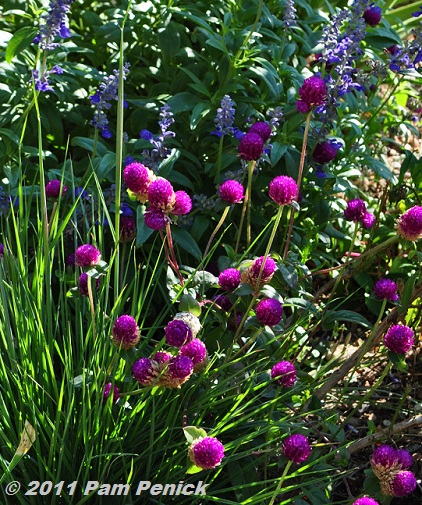 Gomphrena, salvia, and ruby grass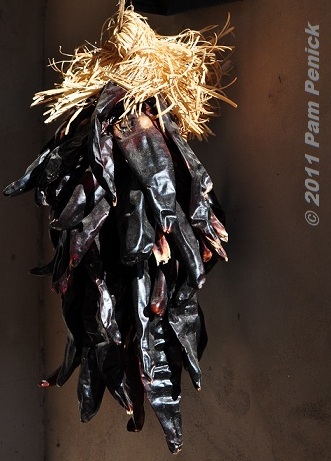 A little New Mexico comes into play with a chile ristra spicing up a stuccoed wall.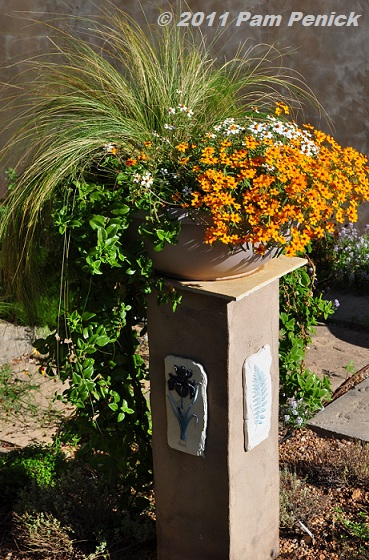 A pedestal planter with Mexican feathergrass and narrowleaf zinnia anchors a circle of thyme.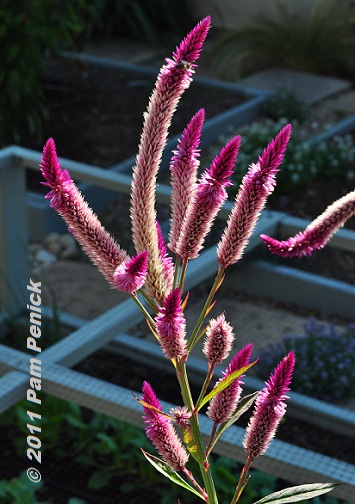 The final walled garden contains Jenny's potager. Screened frames keep hungry critters out of fall vegetables, while annual celosia pops up each year amid the pavers.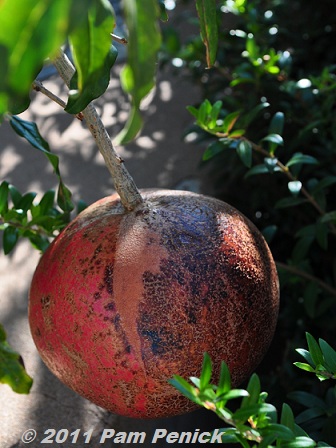 Jenny has been picking pomegranates and straining the seeds to top her breakfast cereal, but I saw a few more dangling from the branches.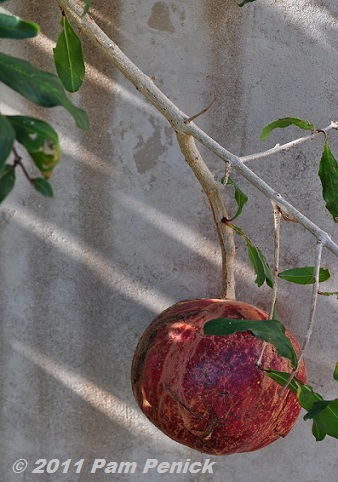 I love that rosy color against the sandy-hued walls.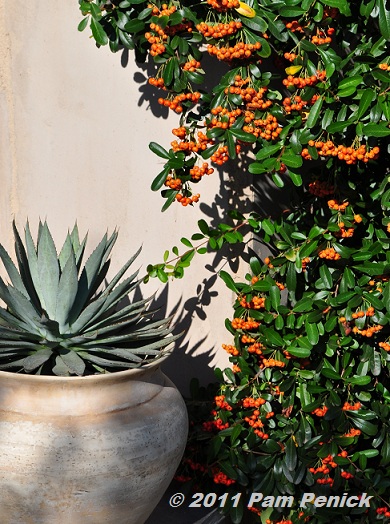 'Bloodspot' mangave and pyracantha in fall berry
Thank you again, Jenny, for sharing your garden with me. It's beautiful as always, even after a very difficult central Texas summer.
For anyone interested in more of Jenny's garden, especially in spring, read my other posts:
Jenny's flower-licious walled garden
Feeding the soul in Jenny's garden
Meeting Carol & a tour of Jenny Stocker's garden
All material © 2006-2011 by Pam Penick for Digging. Unauthorized reproduction prohibited.
posted in
Agaves
,
Birds
,
Containers
,
Decor
,
Doors
,
Edibles
,
Fall color
,
Garden art
,
Garden structures
,
Garden tours 2011
,
Grasses
,
Paths
,
Patios & decks
,
Roses
,
Seating
,
Succulents
,
Sunken garden
,
Texas natives
,
Walls
,
Wildflowers
,
Windows
,
Xeric plants
,
Yuccas