October 30th, 2011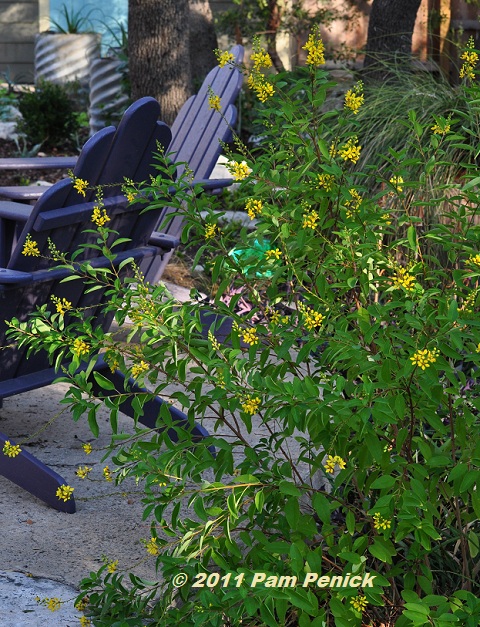 Is April the best month in the garden? May? No, surely it's October, when the Death Star shifts its beam to the Southern Hemisphere, nights offer cool relief, and we even get an occasional rain shower. The garden, released from its summer thrall, responds with elation, bursting into a second spring that's all the sweeter for having endured summer. Here are the happy summer survivors that I'm delighting in as October draws to a close.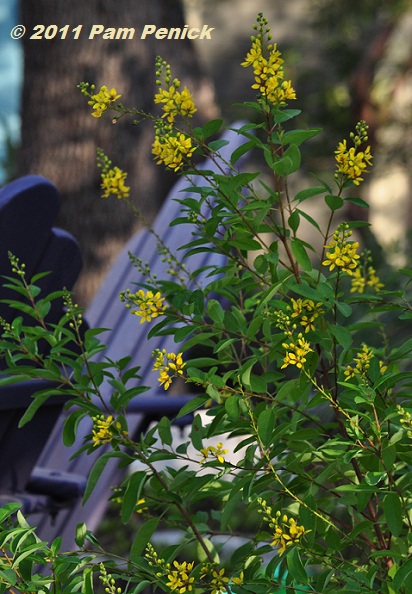 Golden thryallis (Galphimia glauca), also pictured at top, starts blooming in late summer in its part-shade location in my garden. Native to Mexico, it's hardy here in Austin but does drop its leaves after a hard freeze. Don't worry though; it leafs out again in spring.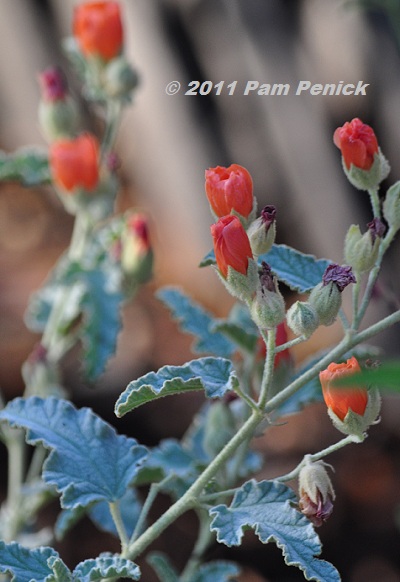 You won't meet a tougher sun plant than globemallow (Sphaeralcea incana). I have several green-leaf globemallows with coral-red blossoms…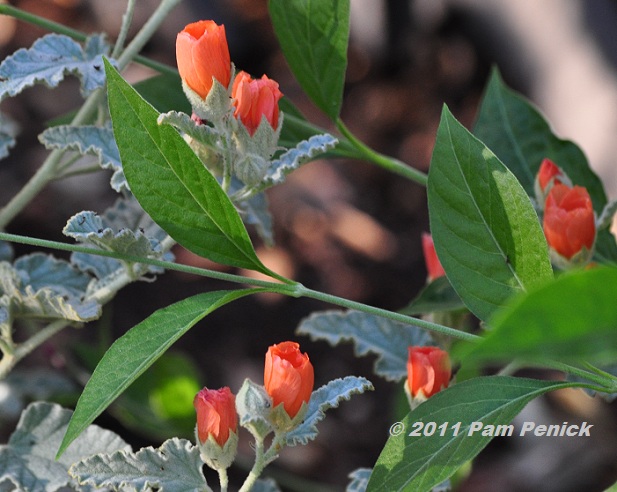 …but I just found this silver-leaf one with orange-popsicle-colored flowers at Barton Springs Nursery, marked half-off. Whoo-hoo!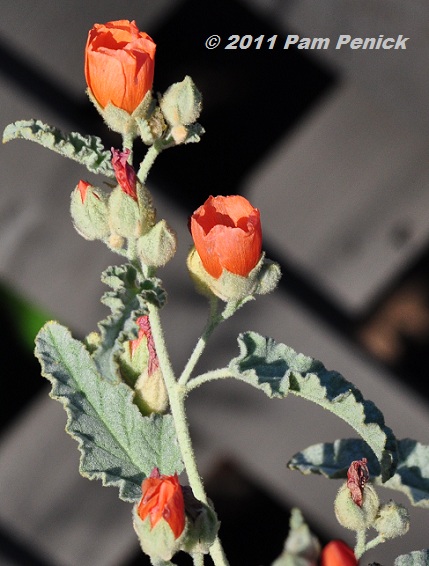 I love those frosty, fuzzy leaves and tissuey, cupped flowers.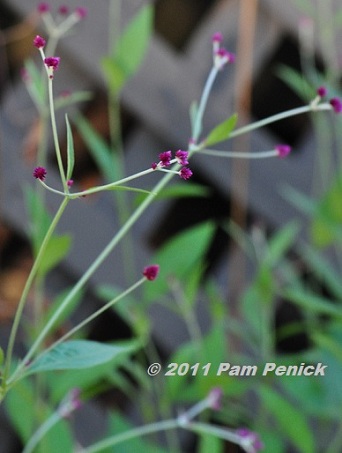 Airy 'Grapes' gomphrena is also doing its thing. Mine is a little lonely without something denser to thread through. I need to remedy that.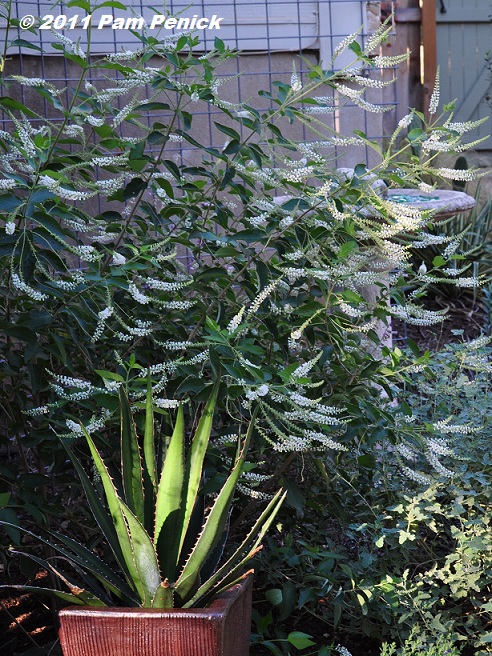 Scenting the sunny hillside path on the east end of my garden, sweet almond verbena (Aloysia virgata) is sending honeybees into a frenzy. Native to Argentina, this shrubby, coarse-leaved plant likes sun and tolerates drought well, though it grows taller and blooms more often with regular water. It's a tough plant for tough conditions, and although it dies back in winter, it responds well to a mid-February cut-back and flushes out again in spring.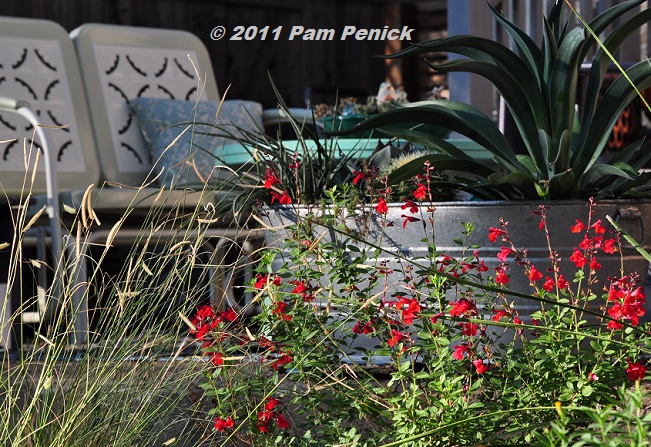 Everyone knows Autumn sage (Salvia greggii), though not everyone loves it because it can get woody and leggy if planted in too much shade or left unpruned. I cut mine back to 12 inches tall in mid-February, and then I prune it back by half again in late May/early June and in late August. Do that and you'll have full, bushy plants smothered in vibrant blossoms in spring and fall, with occasional flowering in summer.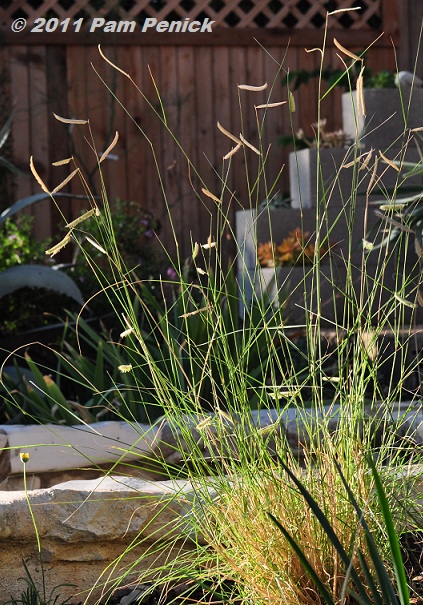 I couldn't resist the hype and am trying a trio of 'Blonde Ambition' grama grass (from The Great Outdoors) in my sunny raised bed. It's blooming with abandon, but it needs something more at its feet, perhaps threading through its tufty leaves. More to think on.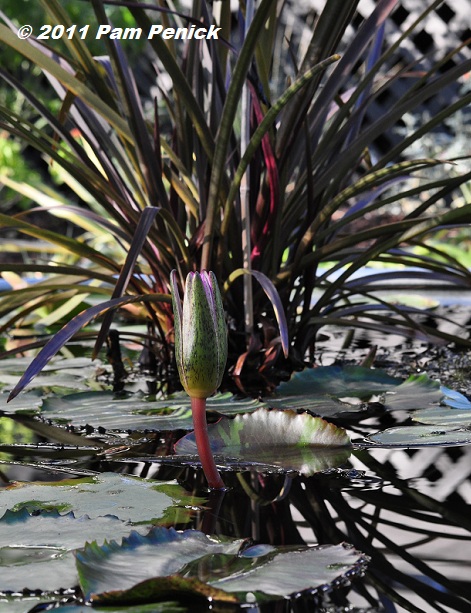 The water lilies in the stock-tank pond are winding down for the season, but I'm still getting a few flowers. This large, elevated bud of 'Madame Ganna Walska' looks pretty backed by the burgundy leaves of the pond crinum.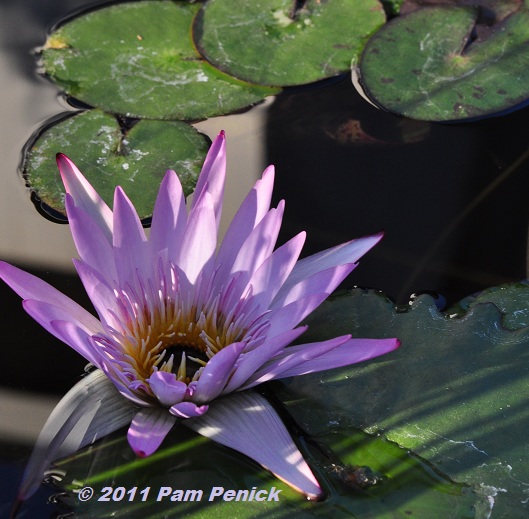 'Madame Ganna Walska' water lily in full glory—a passalong from East Side Patch.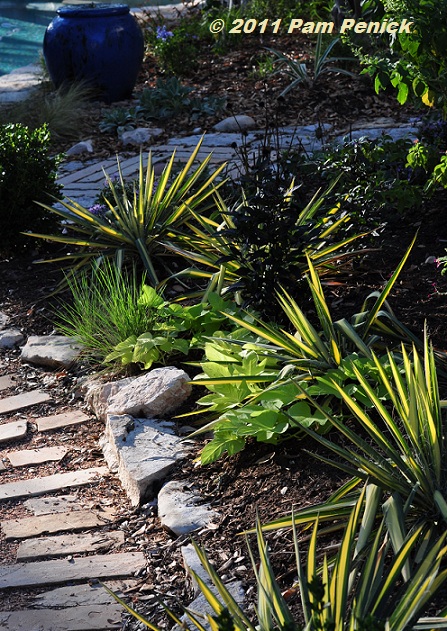 No flowering here, but I adore my curving line of 'Color Guard' yuccas.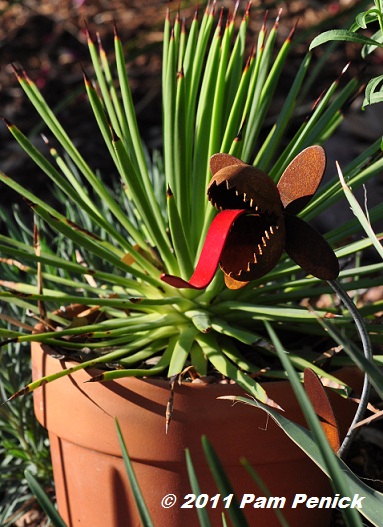 And agaves just laugh at summer's heat and ask, "What's all this fuss about October?"
All material © 2006-2011 by Pam Penick for Digging. Unauthorized reproduction prohibited.
posted in
2nd garden--2011
,
Agaves
,
Containers
,
Garden art
,
Grasses
,
Ponds
,
Succulents
,
Texas natives
,
Water gardening
,
Xeric plants
,
Yuccas