October 26th, 2011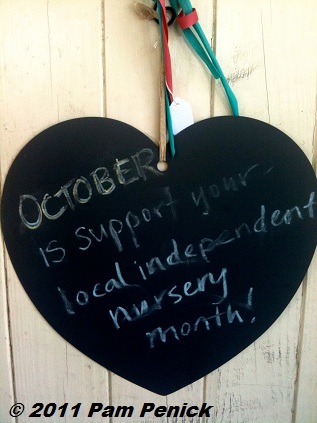 It's Support Your Independent Nursery Month! Each Wednesday in October I've posted about one of my favorite independent garden centers in the Austin area, including Barton Springs Nursery (where I photographed the chalkboard pictured above!), The Natural Gardener, and The Great Outdoors.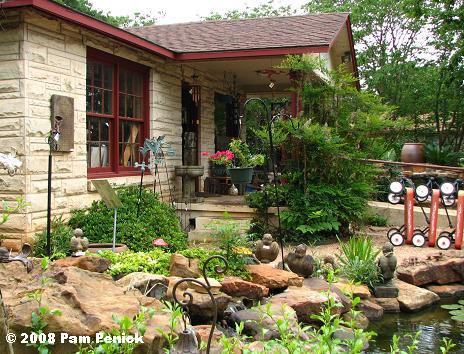 Today I'm shining a spotlight on Hill Country Water Gardens & Nursery in Cedar Park.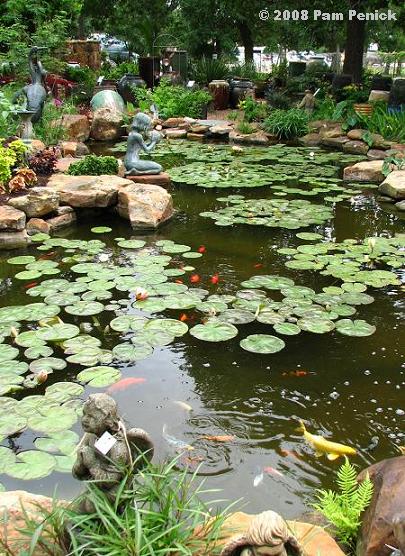 HCWG started out as a pond and fountain enthusiast's nursery and supplier. The grounds are dotted with numerous naturalistic and raised-edge ponds and fountains—more all the time—and they'll make you want one too. I started coming here when I made my first stock-tank pond and keep coming back for their great service, plant selection, and lovely display gardens.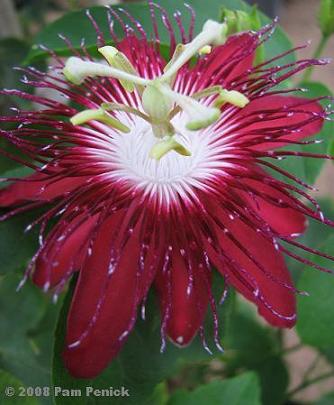 Over the years HCWG has expanded its inventory of non-pond plants, and these days you'll find a nice selection of native and adapted species, plus a tempting collection of tender and hardy succulents.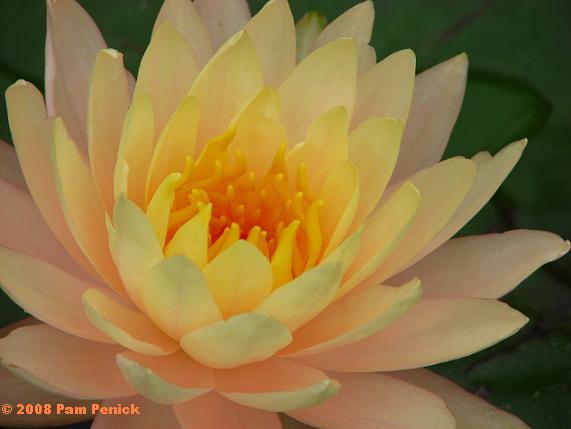 Right now it's the perfect time to buy and plant perennials, shrubs, and trees (and they've got plenty to choose from), but plan to visit next summer as well. Summer is high season for pond plants, with water lilies in the starring role. Pond season crescendos in June, when HCWG hosts a free and very popular Night at the Ponds event and sale. Enjoy wine tastings, tour the gardens, and enjoy the beautiful night-blooming water lilies.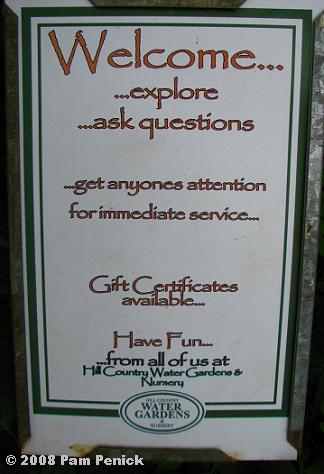 The staff at HCWG is friendly and helpful, especially operations manager Christopher Howell, who is knowledgeable and service-oriented toward the do-it-yourselfer, and horticulturist Nathan Unclebach, who's into agaves and other succulents and can answer all your plant questions. What's more, throughout the year the staff offers free Saturday morning classes on topics like installing disappearing fountains, building disappearing streams, and winterizing your pond.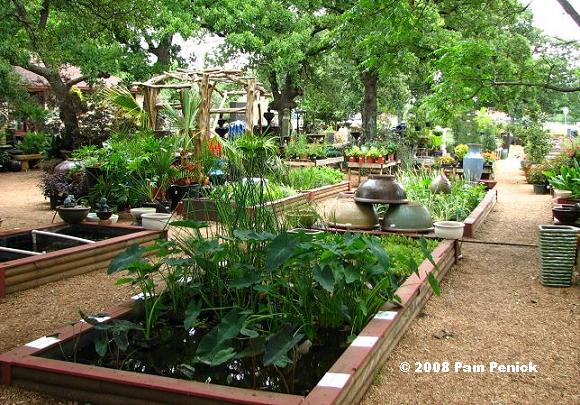 But if you don't want to do the work yourself, HCWG also offers installation of ponds and fountains. They'll even clean your pond and perform regular maintenance.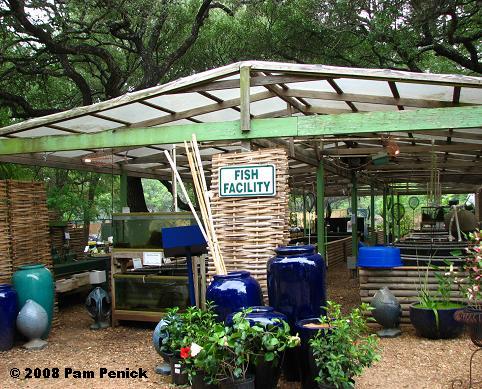 You can also purchase fish here…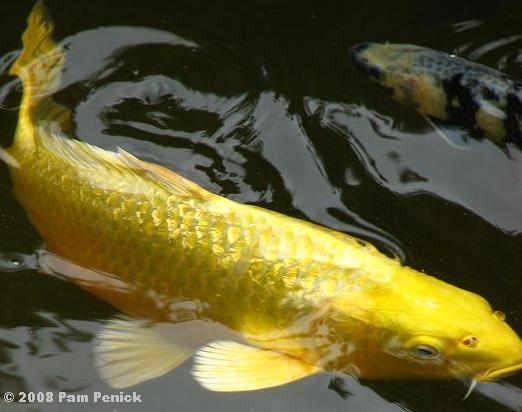 …from big koi…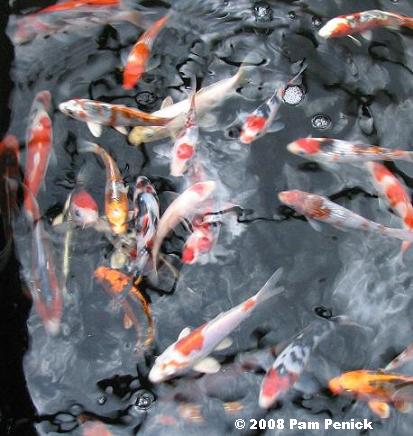 …to inexpensive comet goldfish.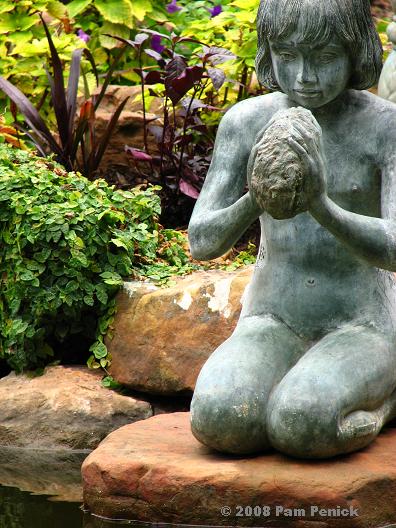 You'll find a good selection of statuary for your pond or garden, from elegant…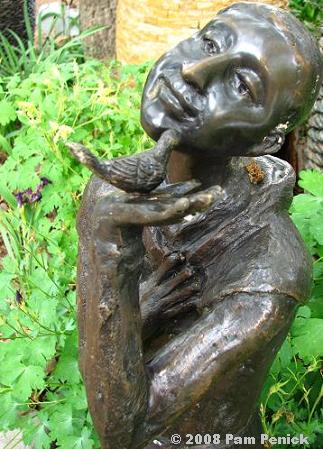 …to fanciful…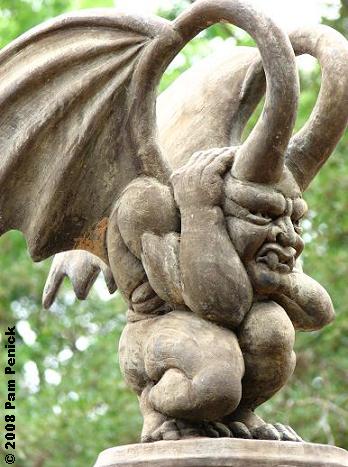 …to goth. I didn't get a picture, but they have Asian-style lantern sculpture too, which can be hard to find.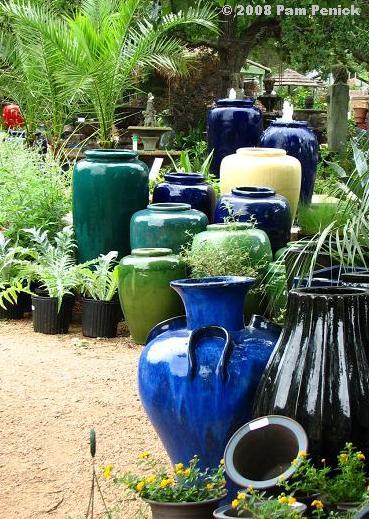 They carry hundreds of pots and other containers, perfect for planting up or making into a disappearing fountain.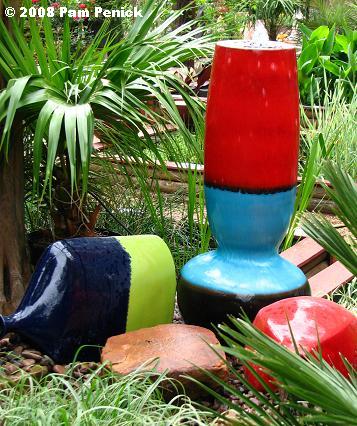 Yum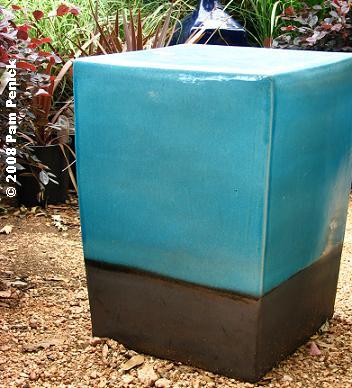 How about a stool or table to match?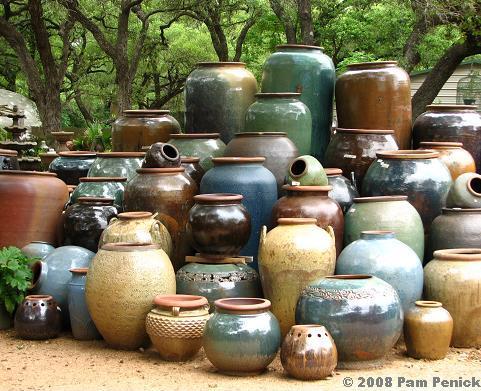 You could turn any one of these into a disappearing fountain. Or just tuck it unplanted into your garden as a focal point.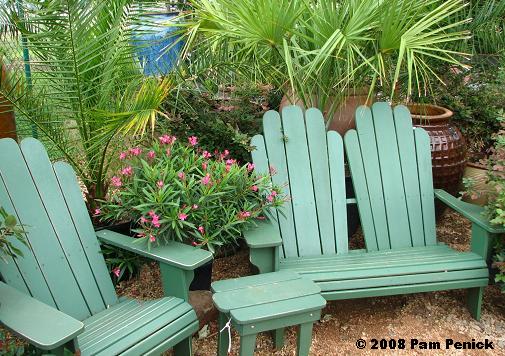 HCWG carries some outdoor furniture.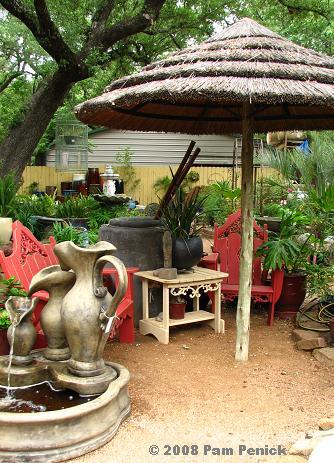 Tropical-loving gardeners can go whole hog with a tiki umbrella, carved furniture, and…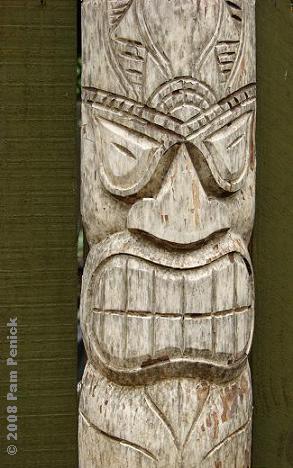 …tiki decor.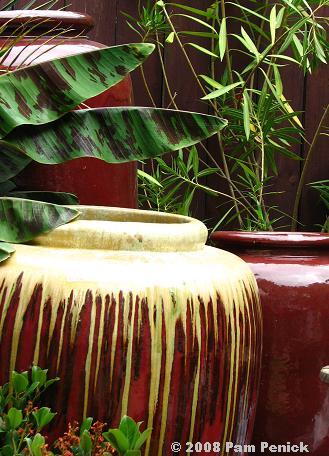 Chocolate-streaked canna, bamboo, and reddish-brown pots make an attractive combo.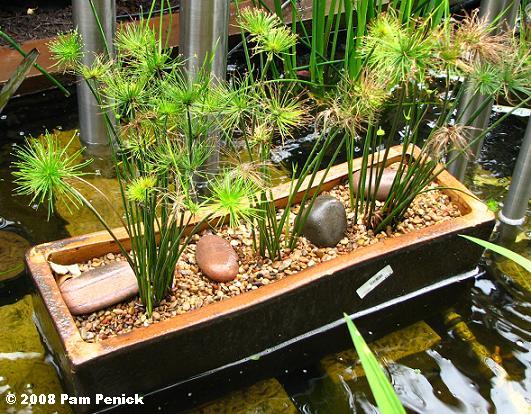 Water features don't have to be big. This is a pretty idea: dwarf papyrus in a simple container bog.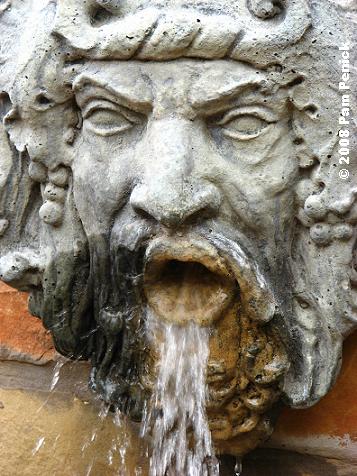 Or hang a wall fountain for an Old World look.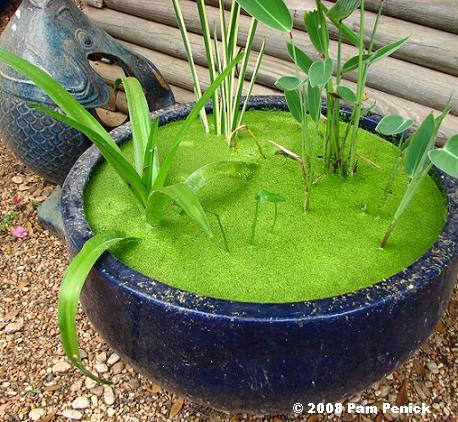 Don't have space for an in-ground pond? Make a tiny container pond like this one, and enjoy it on your patio.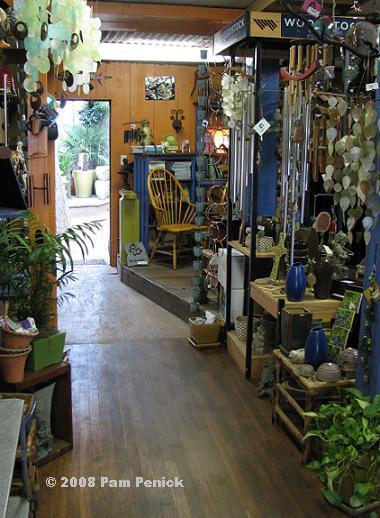 When your plant list is checked off, take time to browse the two gift shops, which offer garden decor, books, tools, pond supplies, fertilizer tablets, and fish food.
Hill Country Water Gardens & Nursery is an inspirational, full-service nursery, whether you're gardening in the dirt or in water. HCWG is active on Facebook too, posting lots of photos and mentioning sales, classes, and new arrivals, so check them out.
Want more independent nursery goodness? Check out my sidebar link Area Nurseries, where I've posted photo tours of many of our local garden centers and described what I like about each one. Austin gardeners are blessed with so many good local nurseries. Let's support them in this tough economy and help them stay in business. I can't imagine gardening without them. Can you?
Austin Nurseries Giveaway — Today is the last day to enter!
And don't forget about the Austin Nurseries Giveaway, which ends tonight at 11:59 p.m. I'm hosting a giveaway for a $100 gift certificate and a Fall Power Package from Barton Springs Nursery, and 7 other Austin bloggers are hosting giveaways from other area nurseries—including Hill Country Water Gardens. Visit all 8 blogs (click to find all the links) and leave comments to enter! Winners will be announced tomorrow. Update 10/27: Click for the winners of my Austin Nurseries Giveaway.
Also, 3 local bloggers posted today about Vivero Growers Nursery in Austin
Rock Rose
J Peterson Garden Design
Sharing Garden
All material © 2006-2011 by Pam Penick for Digging. Unauthorized reproduction prohibited.