October 19th, 2011
It's Support Your Independent Nursery month! Each Wednesday in October I'm posting about one of my favorite independent garden centers in the Austin area. Today I'm shining a spotlight on The Great Outdoors, located just south of the hip strip known as SoCo on South Congress Avenue. (This is an update of a recent post I wrote about TGO.)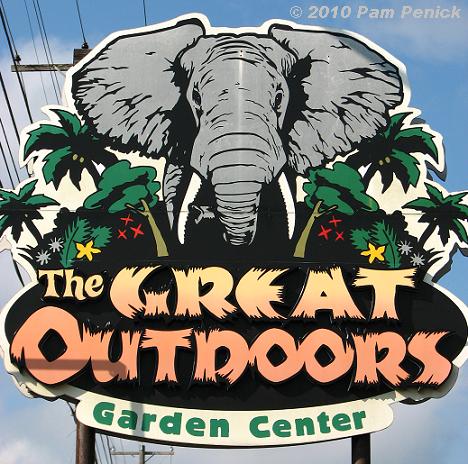 For a nursery within spitting distance of downtown, The Great Outdoors is surprisingly large, which befits a place featuring a nearly life-size topiary elephant as its mascot and another on its sign.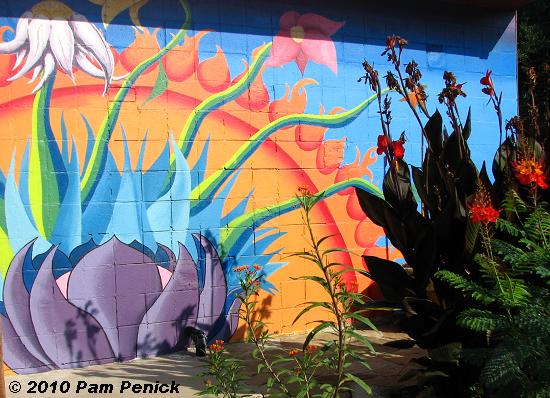 From the street you glimpse a colorful mural, a screen of ornamental grasses, cannas, Pride of Barbados…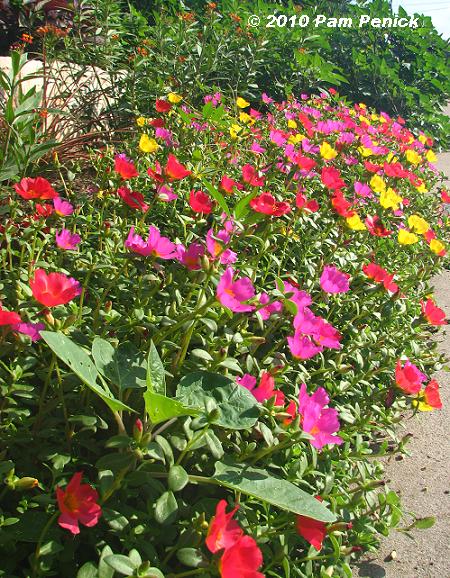 …and a rainbow of flowering purslane.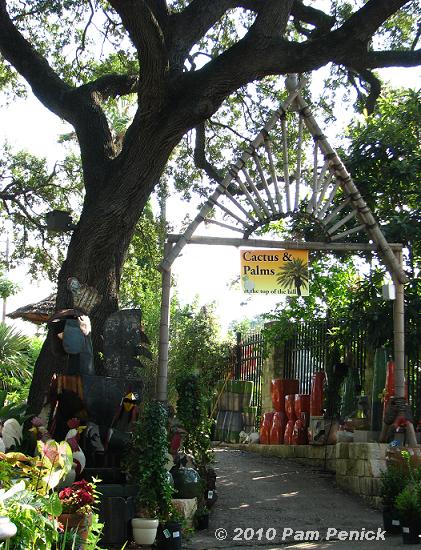 The nursery is situated on a sloping, live oak-shaded property, with shady paths leading to well-marked plant sections.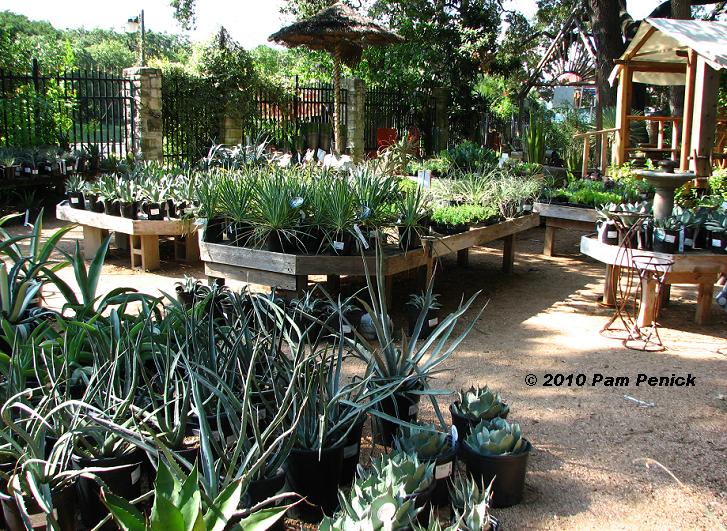 The succulent and cactus area is always tempting.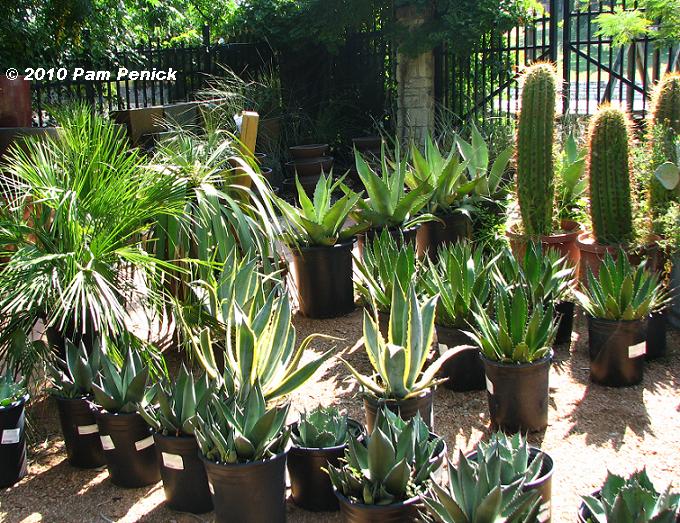 Mmm, look at all that agave goodness.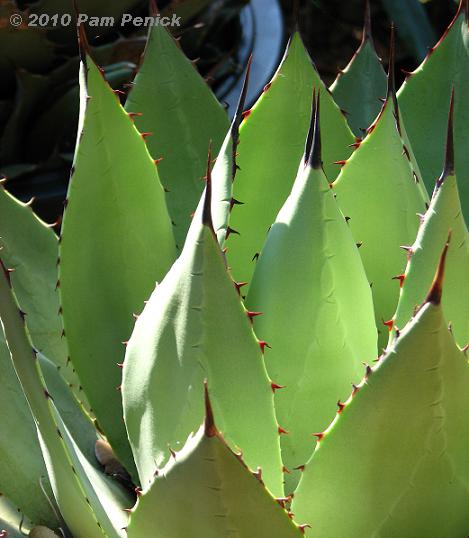 They're all so gorgeous.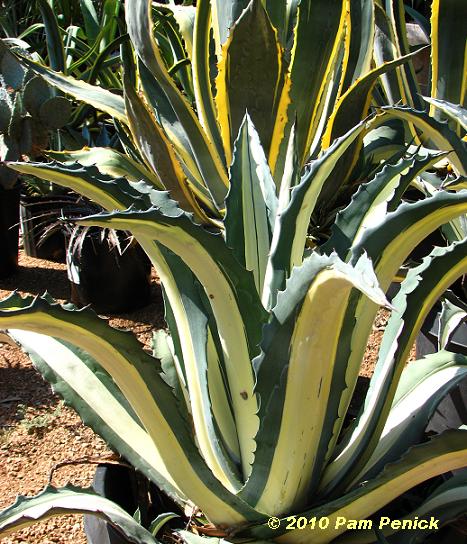 This is one of my current faves: Agave americana mediopicta 'Alba.'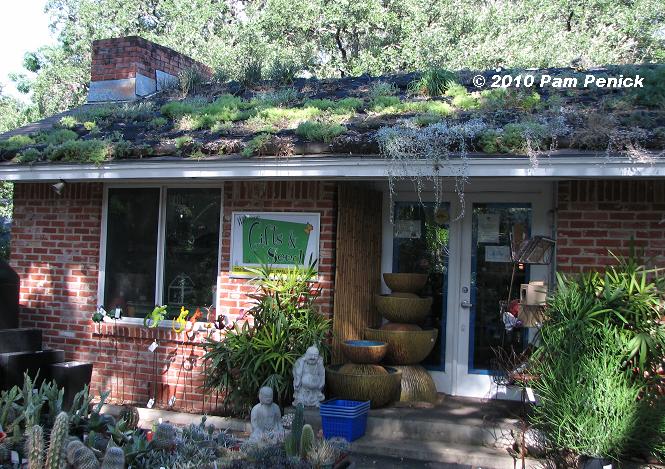 Down the hill, a gift shop surprises with a green roof.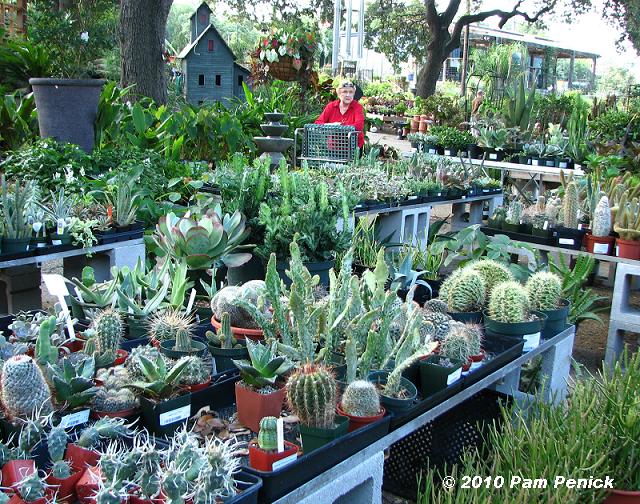 Smaller cacti and succulents are offered here.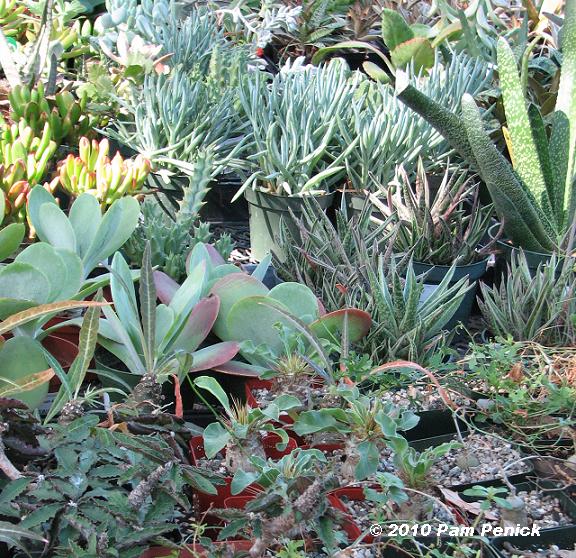 A lot of these are tender in our climate, but they can be treated as annuals or brought inside for the winter.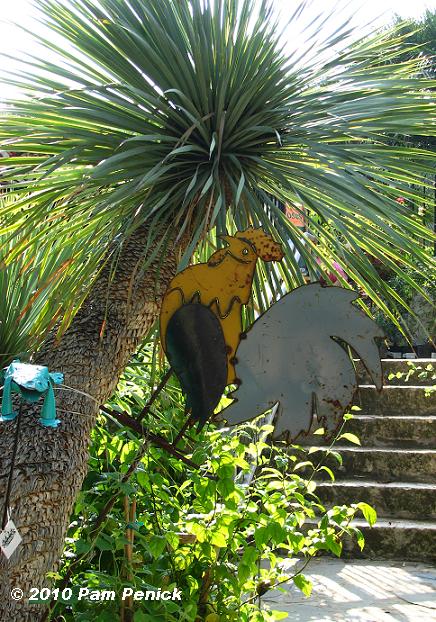 Fun garden decor abounds.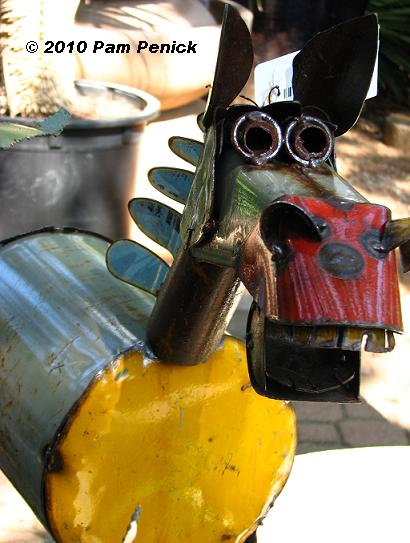 Don't look a gift horse in the mouth.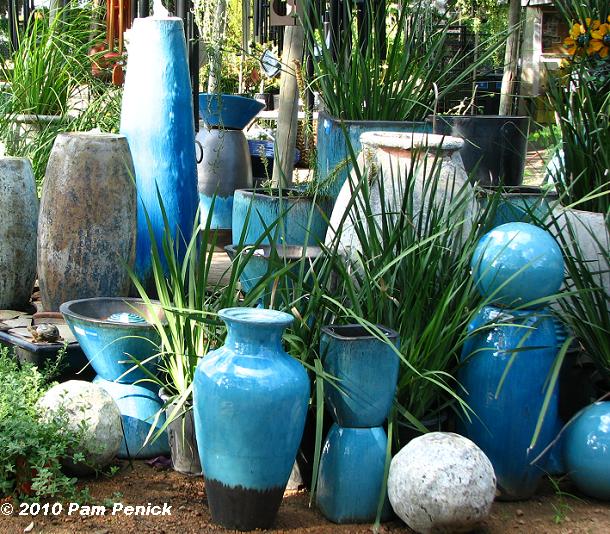 Tempting displays of glazed pots and fountains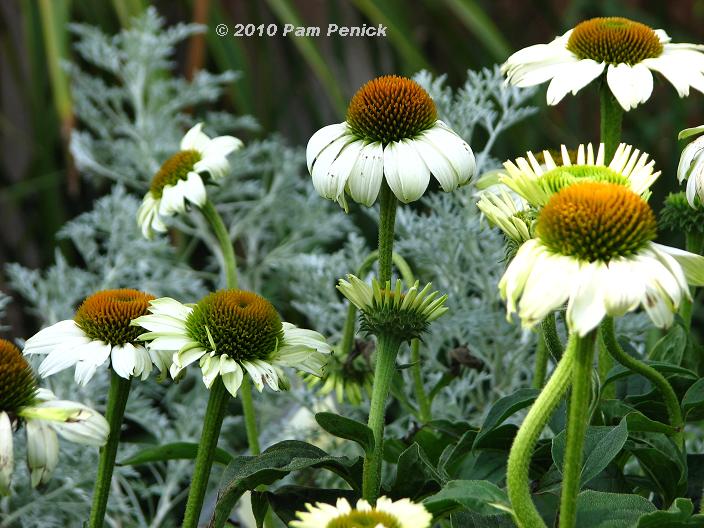 Here's a nice combo: white echinacea and silver artemesia. This would be perfect for a moonlight garden, and it's visually cooling during the day.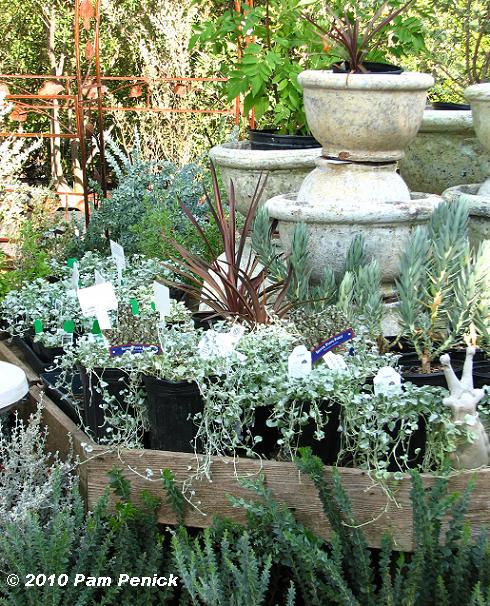 This is inspirational: silvery plants (acacia, silver ponyfoot, gopher plant) paired with white pots.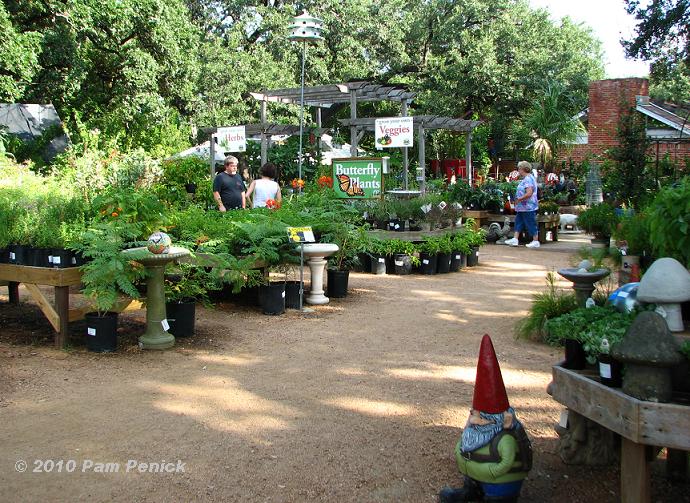 The sun-loving perennials and butterfly-attracting plants occupy the main part of the nursery, with a vegetable section under the arbor.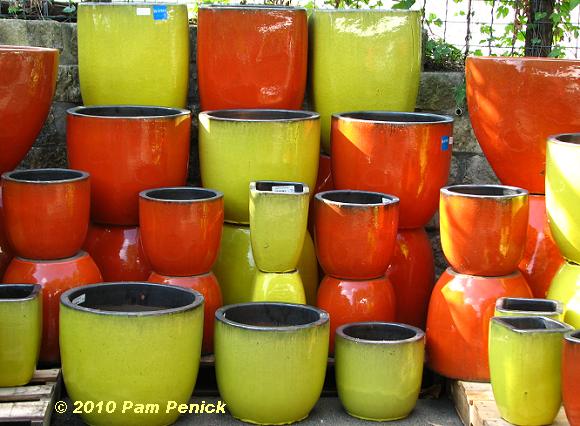 Pots for those hot-hued plants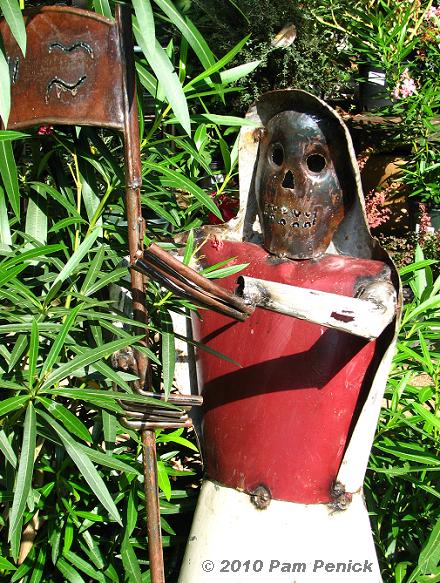 And when the death star is trying to kill your gardening joy, embrace summer (or Halloween) with grim reaper garden art.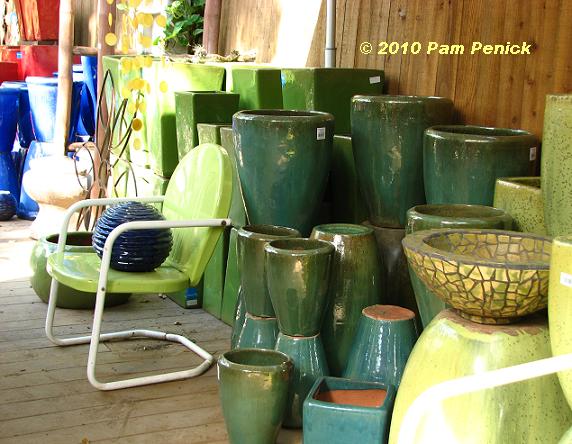 More pots—a rainbow of choices.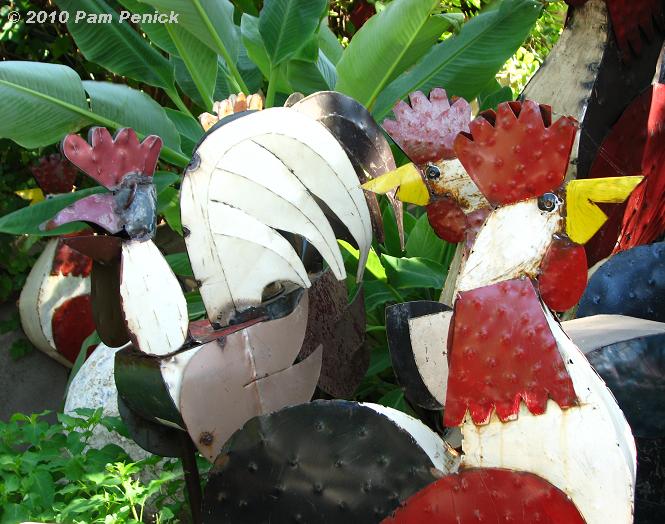 These metal roosters would be the perfect decor for all those Austin hen houses, and they're quiet too.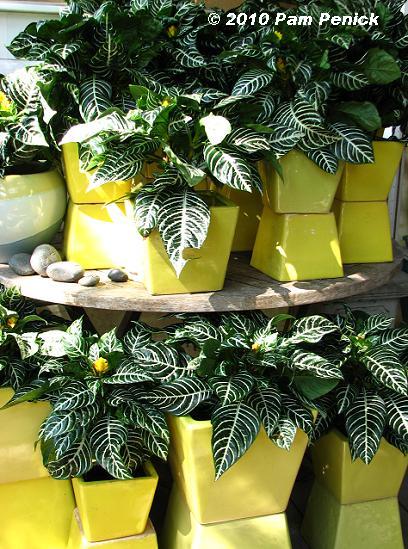 Zebra plant (Aphelandra squarrosa) in lemon-yellow pots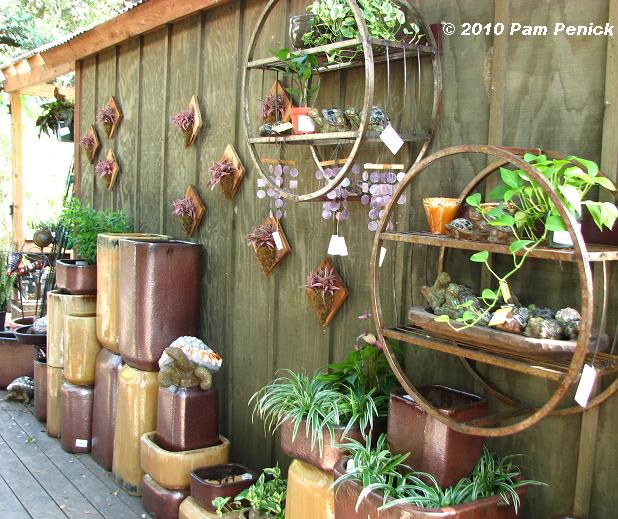 An eye-catching wall display near the checkout counter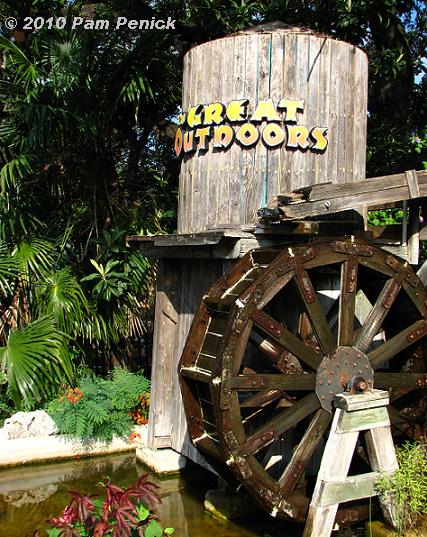 The Great Outdoors carries a good selection of natives and well-adapted perennials, as well as clumping bamboo, semi-hardy Australian acacias, tropicals, and agaves and other succulents. The garden art is fun and mostly of the kitschy variety, and you can find lots of glazed pots and a few water features for sale. A cafe with a shady deck sits at street level and overlooks the nursery, providing a great spot to take a break and ponder your plant list, which you're about to deviate from with some impulse buys. And who can blame you?
Join me next Wednesday as I post about Hill Country Water Gardens & Nursery. For a look back at my post about The Natural Gardener, click here. And please check out my sidebar link Area Nurseries, where I've posted photo tours of many of our local garden centers and described what I like about each one. Austin gardeners are blessed with so many good local nurseries. Let's support them in this tough economy and help them stay in business. I can't imagine gardening without them. Can you?
Also, check out these posts about The Great Outdoors by other Austin garden bloggers:
J Peterson Garden Design
Gardening in Austin
And don't forget about the Austin Nurseries Giveaway, going on now through October 26. I'm hosting a giveaway for a $100 gift certificate and Fall Power Package from Barton Springs Nursery, and 7 other Austin bloggers are hosting giveaways from other area nurseries. Visit all 8 posts and leave comments to enter!
All material © 2006-2011 by Pam Penick for Digging. Unauthorized reproduction prohibited.