September 19th, 2011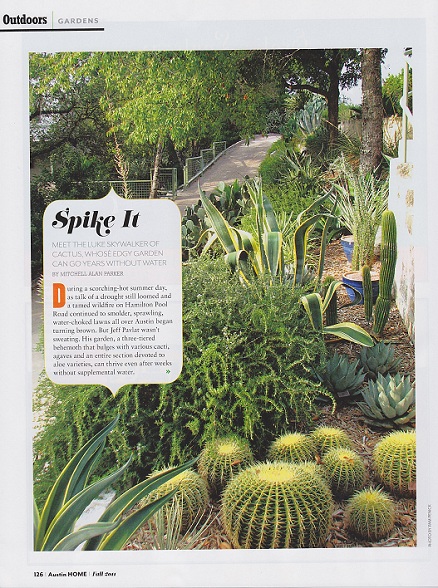 Austin Home's design issue (Fall 2011) lists 22 hot trends, and one of them is growing agaves as a drought-surviving plant. In that vein, they also ran an article on local succulent and cactus guru Jeff Pavlat, and they published one of my photos of his garden. Jeff's garden is surely coping with the drought and heat better than most, thanks to his water-thrifty—and otherworldly beautiful—plant choices.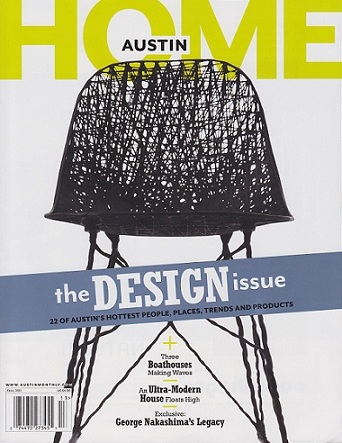 The Austin Home article is pretty brief and prone to exaggeration (the subtitle claims his garden "can go years without water"—um, I doubt that and am chalking it up to a non-gardener writer or editor), but it's a nice nod to Jeff's talent in showcasing the beauty of cactus, agave, yucca, and other spiky plants. If you'd like more, visit my two posts about Jeff's garden:
Going Vertical: Jeff Pavlat's Hillside Garden
Succulent extravaganza: More of Jeff Pavlat's garden
Update 9/20/11: I contacted Jeff about his watering regimen, and he confirms that he does water in dry summers like this one, although he can go several weeks between waterings: "I watered my garden [this summer] only once every 3 weeks (sometimes I let it go 4). I do water very heavily when I water. It takes 4 to 6 hours to hand water everything. My greenhouse gets watered every week with a few plants getting watered twice."
All material © 2006-2011 by Pam Penick for Digging. Unauthorized reproduction prohibited.