September 21st, 2011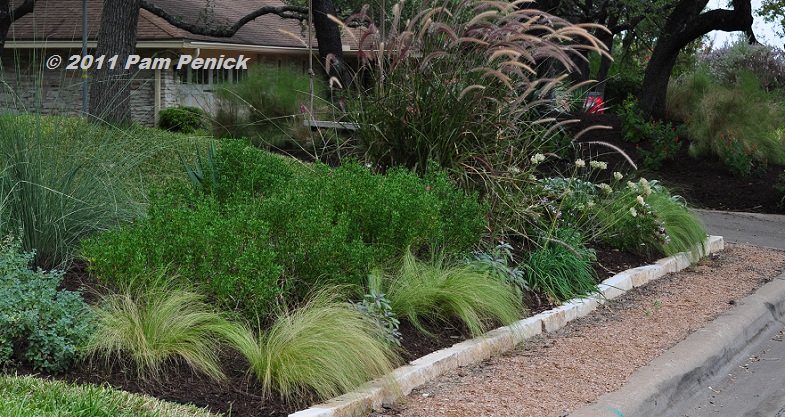 Now that the promise of fall is in the air (yeah, it's only going to be 96 F today in Austin), you might be thinking about that dead strip of lawn along the street and what to do about it. How about ripping out your "hell strip" and replacing it with a tough, drought-tolerant garden and a parking-strip sidewalk of gravel? That's what I did last spring, and I couldn't be happier with how it turned out.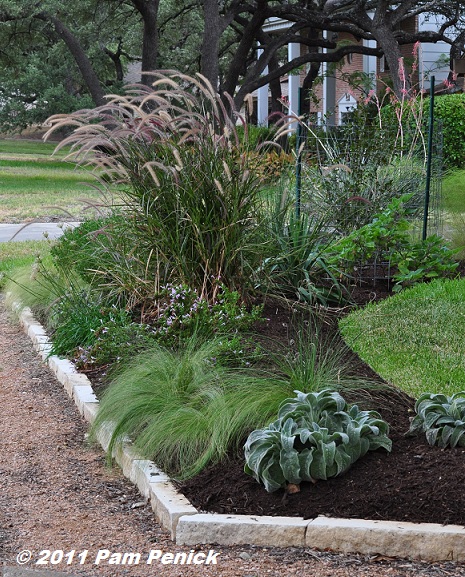 I often recommend this approach to clients who struggle to keep the grass watered and healthy along the street. And I insist on the need for a parking strip of some sort (stepping stones or concrete pavers also work, but river rock is a no-no because it rolls underfoot) because who wants to have guests crushing their plants when they get out of the car, and conversely, who likes struggling to get in or out of a car with plants catching at your clothes or poking you in the legs?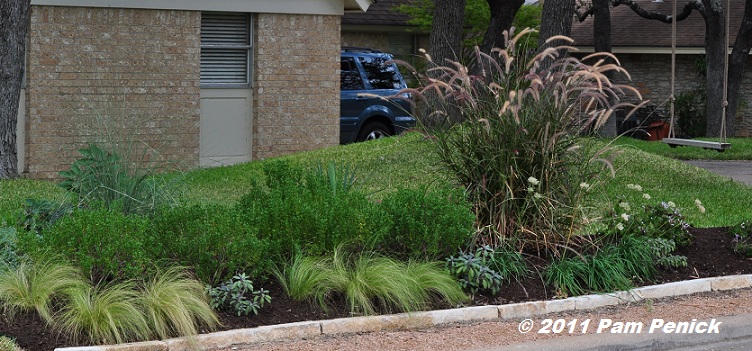 I dug out a strip two feet wide and four inches deep, edged it with chopped limestone, and then used a hand-held tamper to compact decomposed granite to make the parking strip along the street. Now when my guests arrive, they have something pretty to welcome them, and when the teenage boys across the street have their friends over, they can pile out of their cars without trampling anything.
When digging out my parking strip, I piled the excavated soil atop the new planting bed, creating a low berm that helps with drainage and also helps to screen the house from the street. I planted low growers along the streetside edge so that car doors can open over them: Mexican feathergrass, purple sage, and garlic chives. The taller layer is, from left to right: 5 Salvia greggii, backed by 'Pink Flamingo' muhly grass, datura, and softleaf yucca; a purple fountain grass (an annual); and, just off-screen, 3 Mexican oregano, a Texas sotol, and 3 'Helen von Stein' lamb's ear. This is a tough, xeric bed for morning to midday sun and afternoon shade. It would work equally well for full sun, with the exception, perhaps, of the lamb's ear.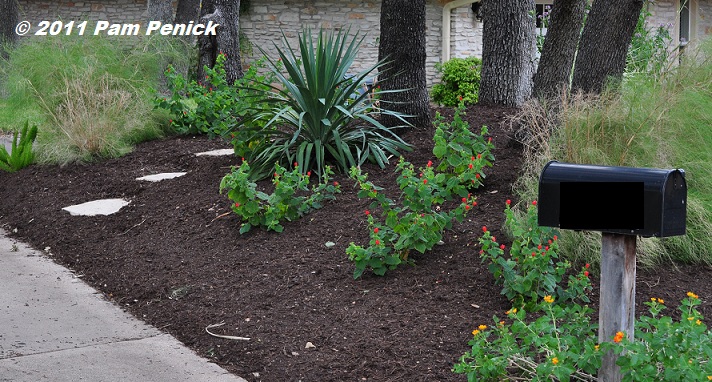 Also welcoming visitors, and replacing the tangled swath of Asian jasmine that used to grow in this island bed enclosed by the circular drive, is this dappled-shade garden of Turk's cap, softleaf yucca, bamboo muhly, foxtail fern, and (off-screen) 'Sparkler' sedge, Texas dwarf palmetto, and heartleaf skullcap. The bamboo muhly was hammered by last winter's hard freezes, but it survived and has finally filled out again. It does better in mild winters; maybe we'll get lucky this year. I lost the foxtail fern last winter and replaced it this spring. Everything else is very hardy, including the volunteer lantana under the mailbox that determinedly flowers even in too much shade.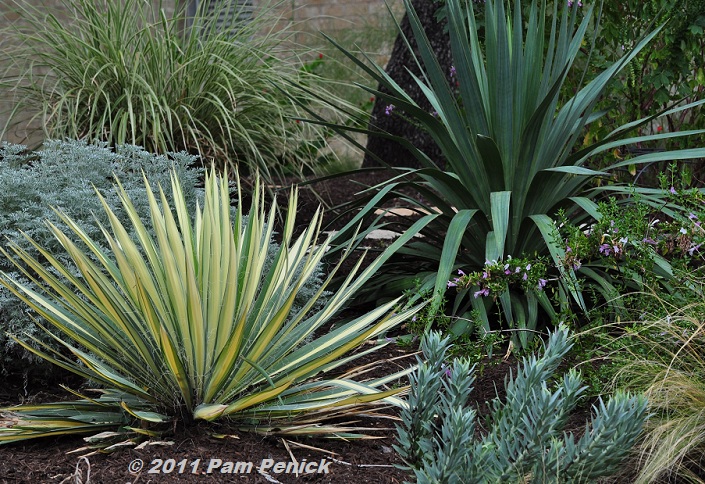 The other side of the island bed may be more familiar to regular readers. It's the sunnier side, and I show it more often because it has a trio of striking 'Color Guard' yuccas. There's also sun-loving and deer-resistant 'Powis Castle' artemisia, variegated miscanthus grass, softleaf yucca, gopher plant, Mexican oregano, and Mexican feathergrass.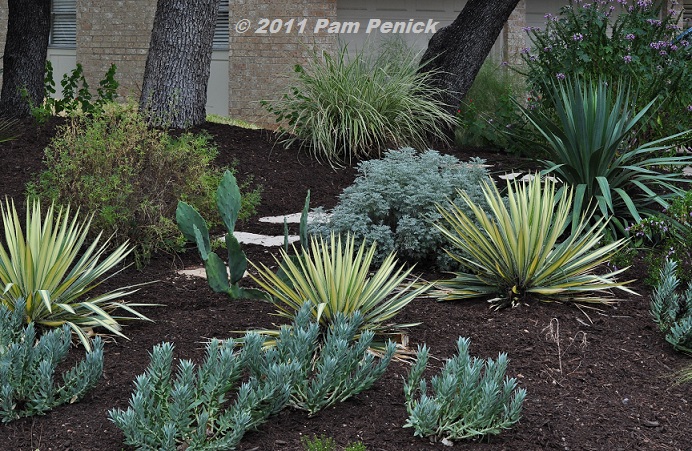 A wider shot reveals a drought-damaged (can you believe it?) copper canyon daisy on the left, a spineless prickly pear passed along by Jean of Dig, Grow, Compost, Blog, and (upper right) a luscious, full 'Senorita Rosalita' cleome, an annual that I replant every year. The deer ignore it. The bees and hummingbirds love it.
So much better than plain old lawn grass, don't you agree? And so much more welcoming for visitors—and me! Every time I pull into my drive I have something pretty to look at.
All material © 2006-2011 by Pam Penick for Digging. Unauthorized reproduction prohibited.
posted in
2nd garden--2011
,
Grasses
,
How I did it
,
Lawns
,
Paths
,
Sustainable Gardening
,
Texas natives
,
Trees
,
Water conservation
,
Xeric plants
,
Yuccas