August 30th, 2011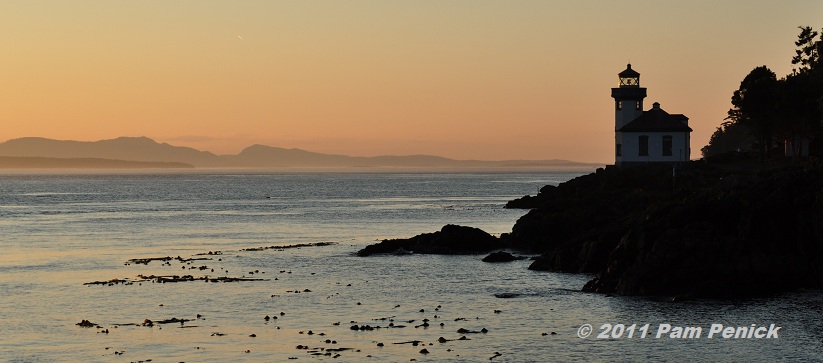 A chilly, misty, 6 a.m. ferry ride across the Rosario Strait late last month spirited me and my family from Anacortes, north of bustling Seattle, to charming Friday Harbor on San Juan Island, part of the archipelago known as the San Juan Islands of Washington State. Easily one of the most beautiful places I've visited, San Juan Island turned out to be the relaxing centerpiece of our Pacific Northwest vacation.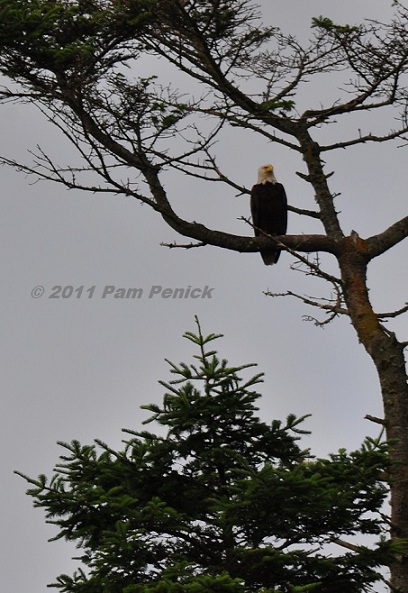 When we got off the ferry it was too early to check into our cabin outside of town, and the shops in Friday Harbor were still closed, so we drove our rental car up to Lime Kiln Point, a state park on the west side of the island known to be a good whale-watching spot. Along the way we saw this bald eagle perched high in a tree.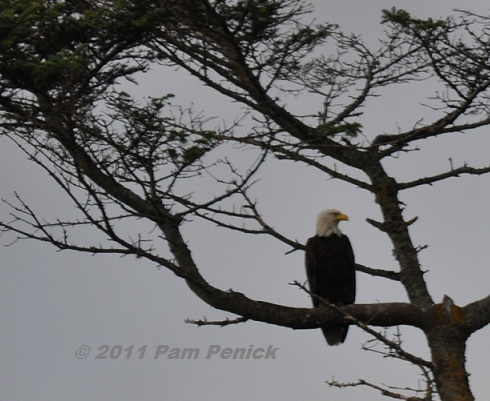 Our national bird, looking quite regal. When we got to Lime Kiln around 7:30 am, we—I laugh to admit this—felt so sleepy that we all took a nap in the car. We awoke 2 hours (!) later, refreshed but hungry, and without even getting out to see the park or its famous lighthouse, we decided to head back toward town and perhaps get a bite to eat. But just south of the park we glimpsed a scenic view and saw a pullout for Dead Man's Bay. It was a bright, beautiful day, and we couldn't resist seeing the view. Scrambling down a rocky trail, we found a deserted, pebbly beach and tide pools alive with fish, crabs, and small jellyfish. My husband and the kids went off to investigate the tide pools, and I sat on a water-bleached tree trunk, camera in hand, gazing out at the sparkling water and watching ships and boats go by.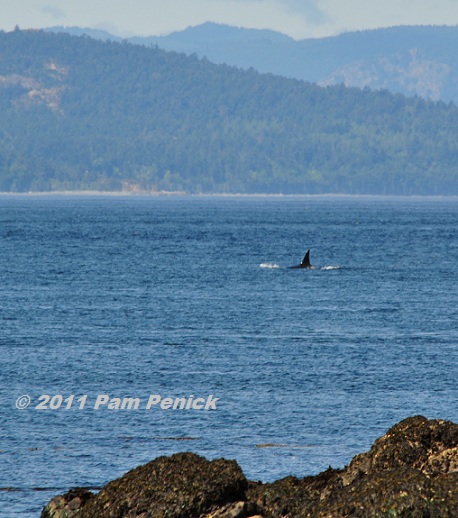 And then it happened: I heard a "Fwoosh" and spotted a tall, black dorsal fin disappearing below the surface.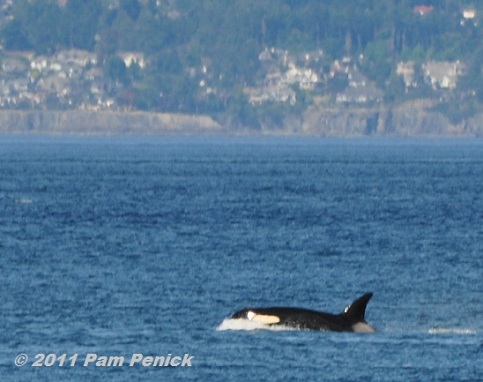 I jumped up and yelled "Orcas!" at my family, pointing past them at the water. A pod, or extended family, of killer whales was passing by, not 150 yards from shore. "Fwoosh, fwoosh" came the sound from their blowholes as each one surfaced to exhale and take another breath.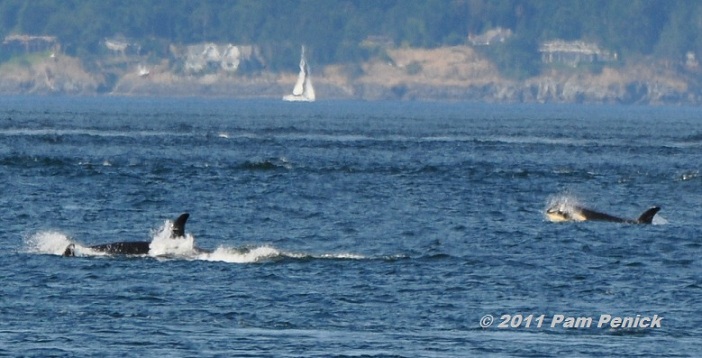 It was thrilling!


Whale-watching speedboats and other boats zoomed over to watch them too, but there on the beach, we had them all to ourselves. We listened to them breathe and watched them arcing through the water. After 10 minutes or so they disappeared. We stayed on the beach and 30 minutes later were rewarded with the sight of yet another pod passing by.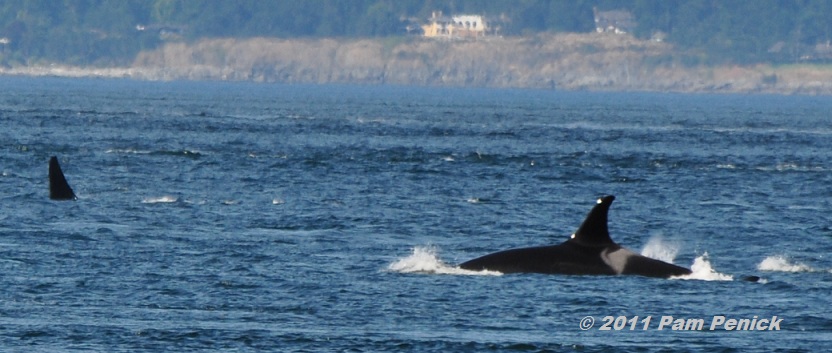 Three resident pods live in Puget Sound and dine almost exclusively on salmon around the San Juans, Victoria, B.C., and Vancouver, B.C. Transient pods of orcas arrive in the summer months; they eat sea mammals like seals and other types of whales (hence the name "killer whale"), as well as sharks and anything else they can catch (not people). They do not mingle with the resident pods but keep their distance, almost like a separate species. These are highly intelligent, long-lived creatures, and each pod has its own "dialect" and is led by a matriarch, whose offspring, male and female, stay with her for life.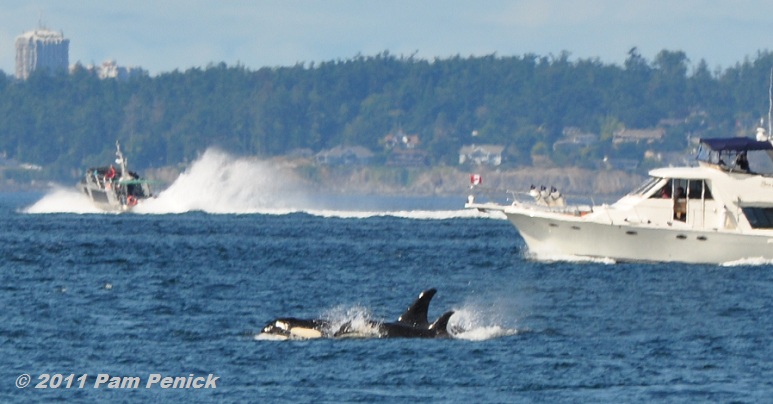 We saw a few calves as well. See the little dorsal fin beside the larger one?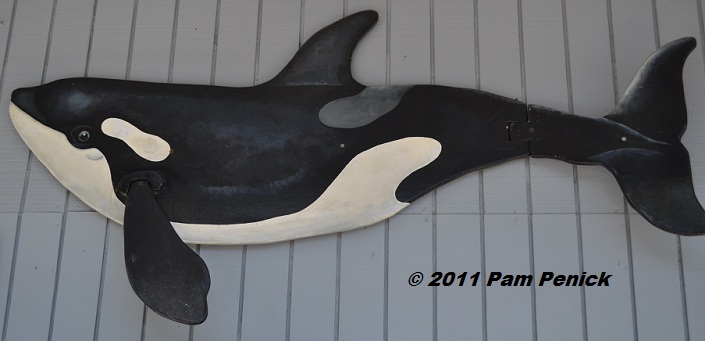 After that magical experience, we headed to Friday Harbor, where we spotted this sign advertising whale-watching excursions.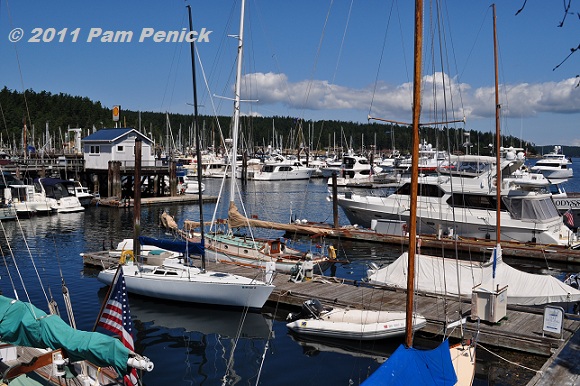 The harbor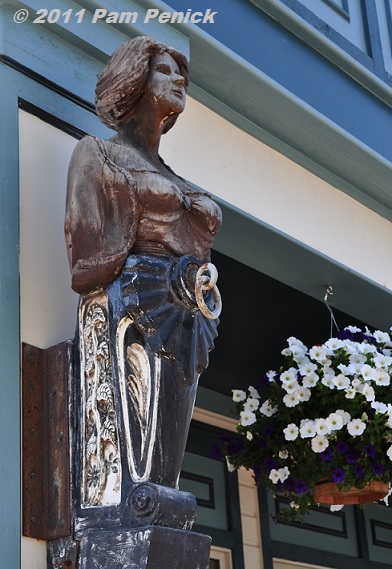 And this figurehead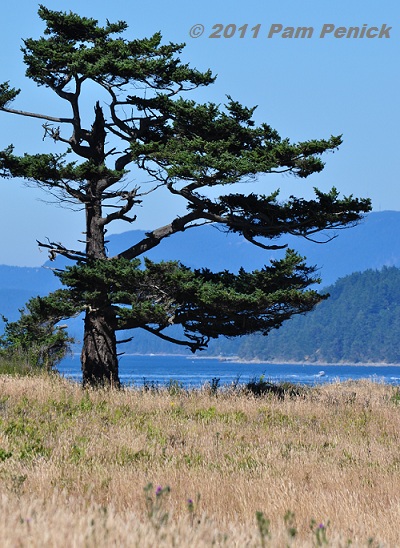 Later we visited the south side of the island and saw more pretty vistas at Cattle Point.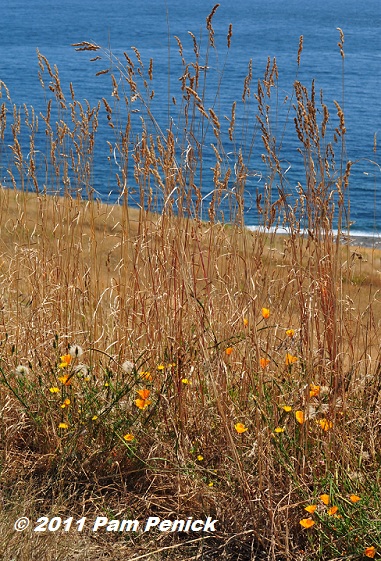 California poppies and grasses glowed in the late afternoon sun.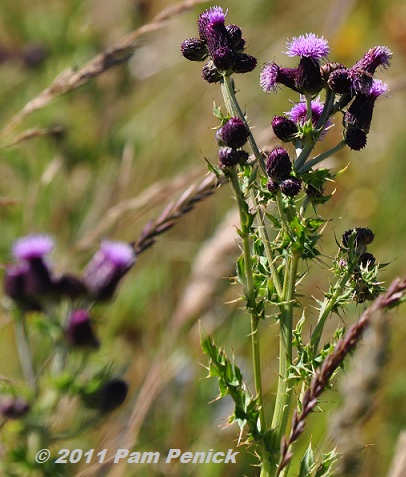 Spiky thistles were in bloom.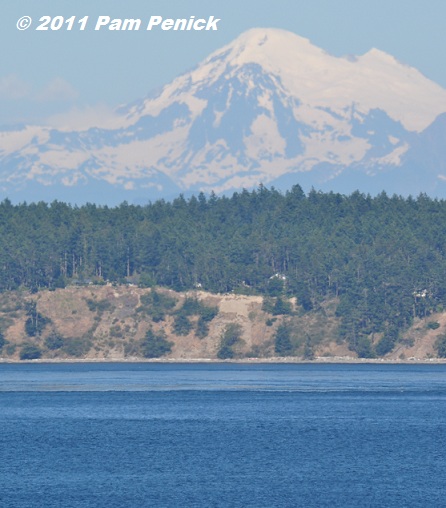 Mt. Baker in the Cascade Range stands tall over Lopez Island.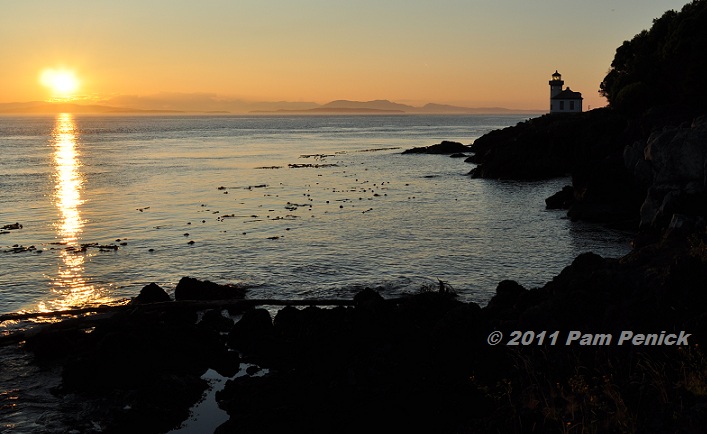 At the end of the day, Lime Kiln Point is the place to be for sunset views.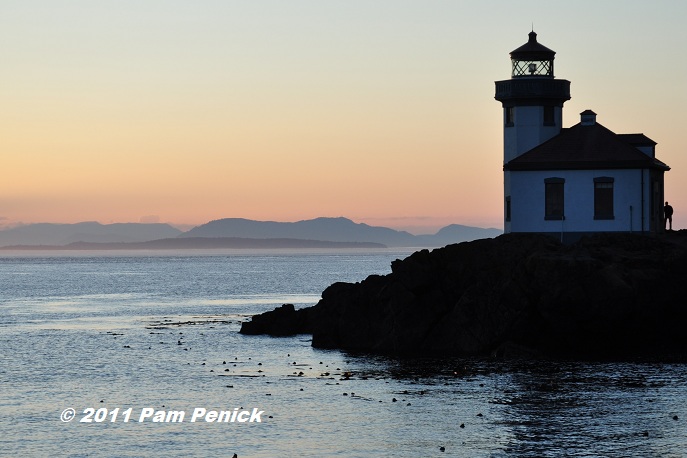 Lime Kiln Lighthouse is named for nearby kilns. Lime kilns on the island were important suppliers for the concrete and mortar used to rebuild San Francisco after the earthquake and fire of 1906. Sadly, keeping the lime kilns burning contributed to the deforestation of the island and subsequent erosion. A hundred years later, thankfully little of that damage is visible today.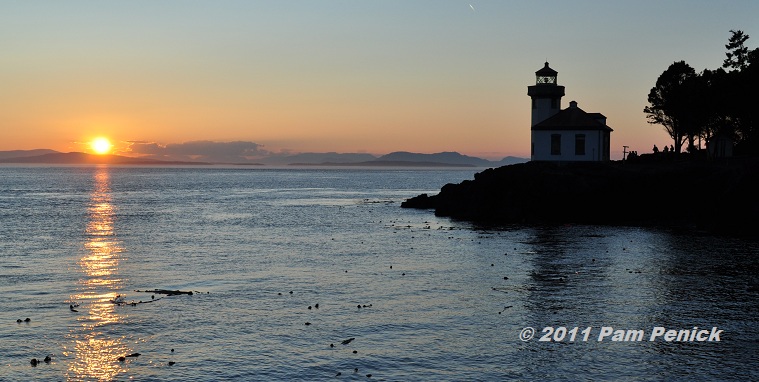 The sunset views at the west-facing lighthouse are stunning. That's Canada in the distance.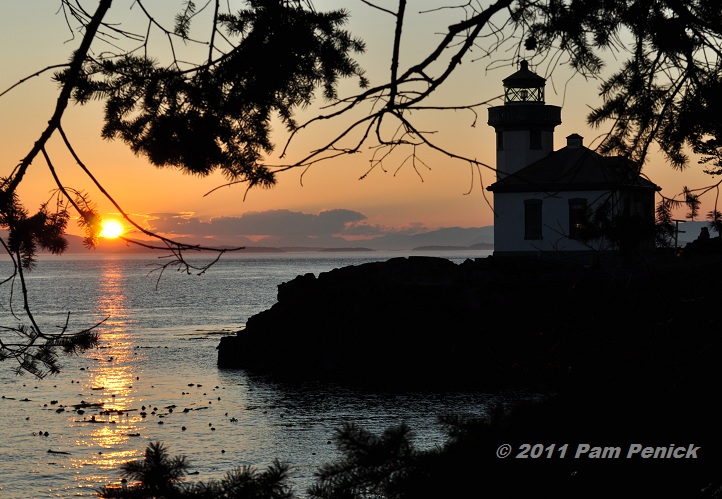 We joined a quiet group of sunset-watchers and some romantic-minded couples.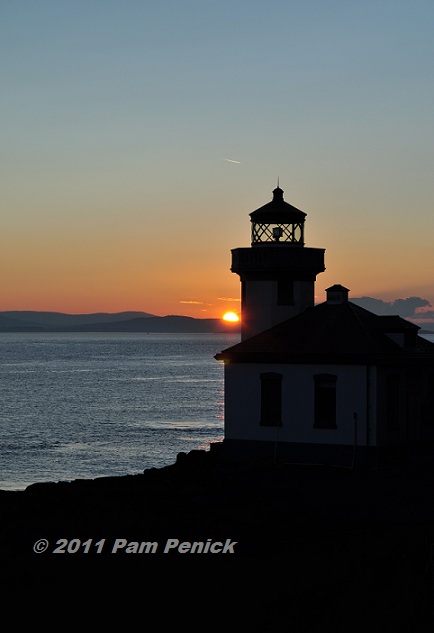 When the sun slipped behind the distant islands, we headed back to our cabin. That night we took the kids outside to look up at the stars, thickly strewn across the black sky, and saw the white trail of the Milky Way.
Up next: More whale-watching from Vancouver. For a look back at our visit to the Ballard Locks in Seattle, click here.
All material © 2006-2011 by Pam Penick for Digging. Unauthorized reproduction prohibited.