August 18th, 2011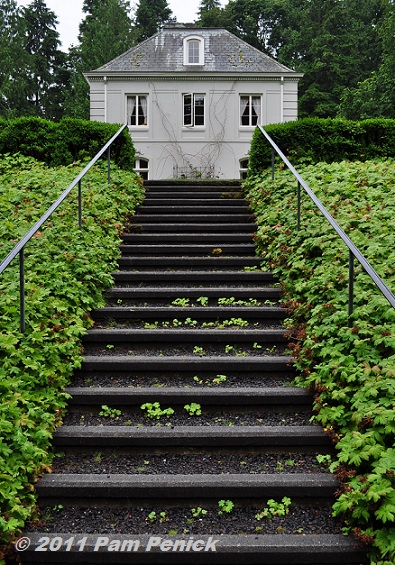 The Bloedel Reserve is a place of utter beauty and almost spiritual peacefulness. Rain drips quietly from mossy branches, and the color green wraps you in a soft embrace. I explored the grounds for two-and-a-half hours—not nearly enough time to see all 150 acres, but enough to walk some of the trails at a slow, reflective pace, in peaceful solitude and deep happiness.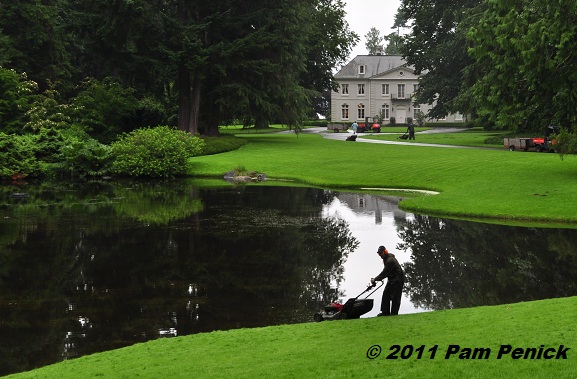 I visited the Reserve with other bloggers on the final day of the Seattle Garden Bloggers Fling last month. Only a 35-minute ferry ride from Seattle and then a short drive, the garden feels a world away from the bustle of the city. Our group toured on a Monday, when the Reserve is normally closed to visitors, so we did have to put up with a few noisy mowers as the groundskeepers did their work, but that was only where lawn rules, near the Bloedel family's former home, now a visitors center.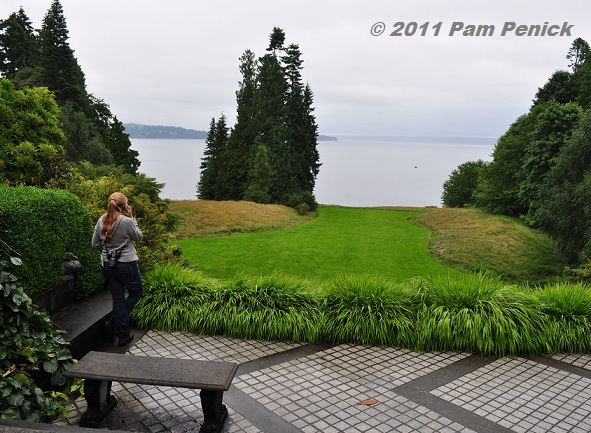 In back of the house, a terrace overlooks Port Madison Bay, blanketed this day in clouds. It was the only rainy day of my Seattle visit, and we even had thunder and lightning at the start of our tour. The staff were kind enough to share their umbrellas with us. However, photography was a little challenging as we tried to protect our gear from the rain.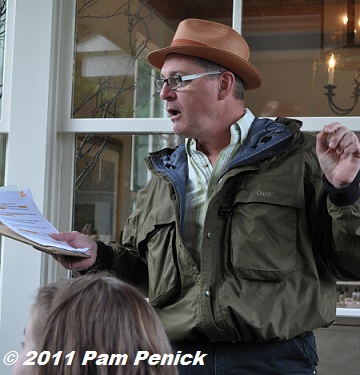 Professional photographer David Perry, who writes an introspective (and of course beautifully photographed) blog called A Photographer's Garden Blog, joined us to offer free, short seminars on taking better photos. He is an excellent and entertaining speaker. It was a treat to meet him after following his blog for several years.


The mowers interrupted his talk for a while but eventually fell silent. After sitting in on one of David's seminars and then eating a quick box lunch, I decided to embrace the silence of a solo exploration of the garden. I descended the stairs pictured at the top of this post and entered a forest trail.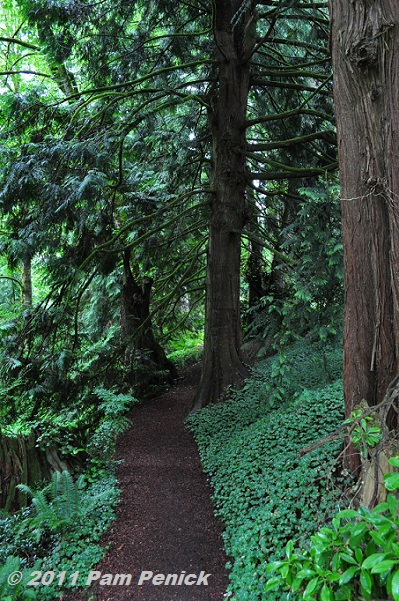 A hush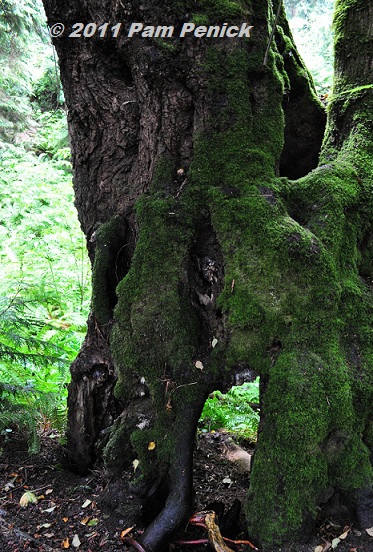 A sense of mystery and wonder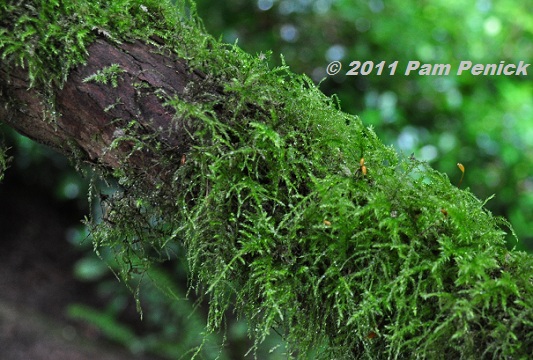 Moss cloaks everything in this climate, softening all hard surfaces with its ferny texture.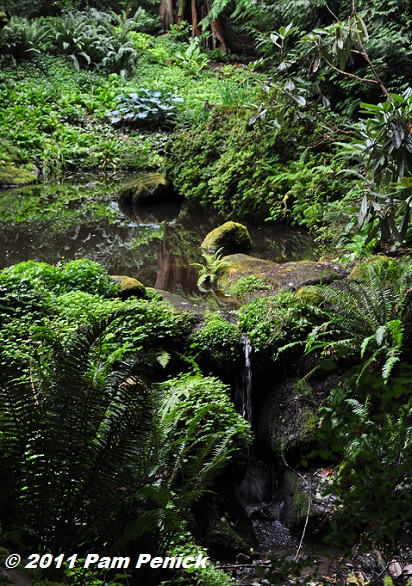 A chocolate-colored pond appeared, with a little waterfall…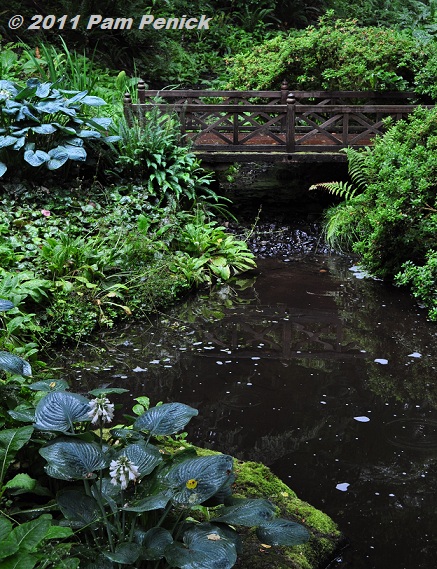 …and a footbridge crossing over.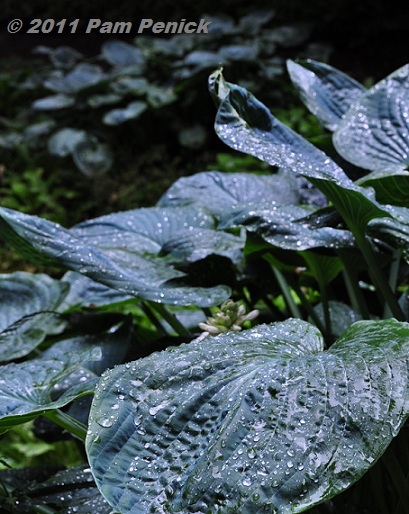 Silvery blue hostas along the bank, jeweled with raindrops, caught my eye.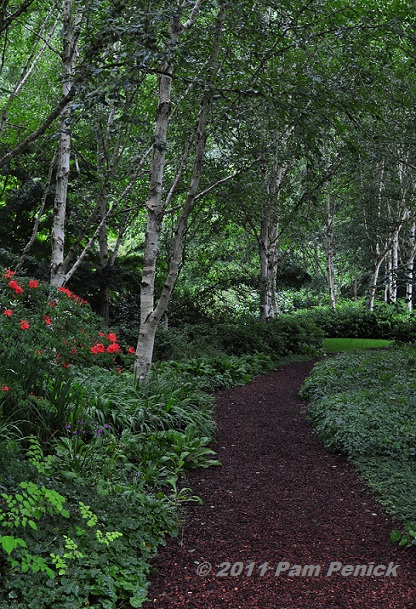 Further along the trail, the heaviness of hemlock, Douglas fir, and western red cedar gives way to an airy, naturalistic allee of birch.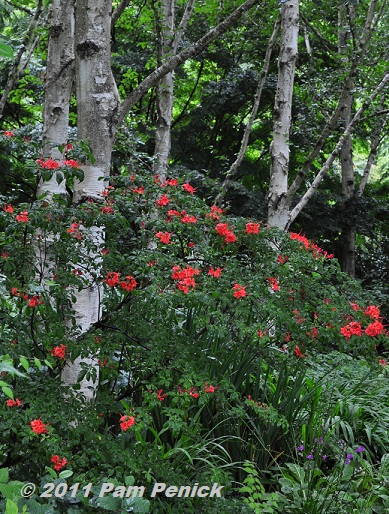 A single red-flowering shrub in bloom—could it be a rhododendron at this time of year?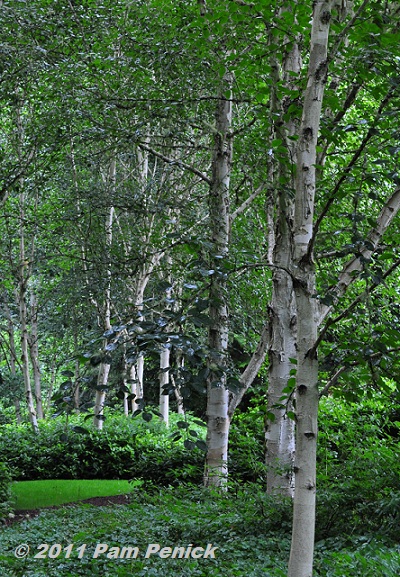 The slender white trunks shine in the filtered light.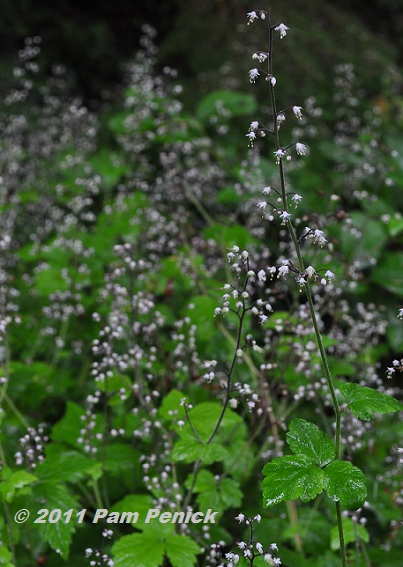 While trees and moss dominate the Bloedel—the highest and lowest layers—taller groundcovers are given a lot of play too.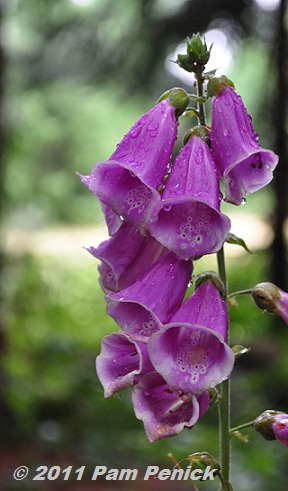 Nearby, a dainty cluster of pink bells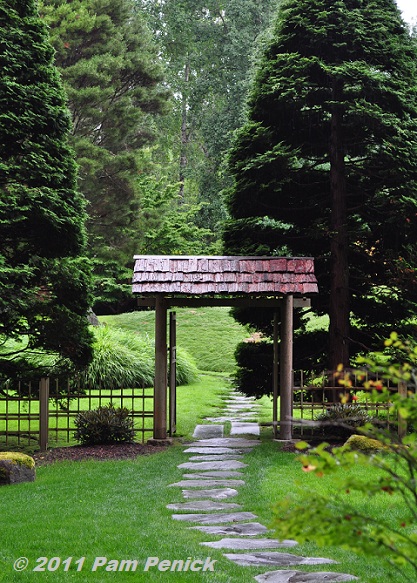 A Japanese garden occupies the center of the Reserve, with several inviting paths leading in, including this one.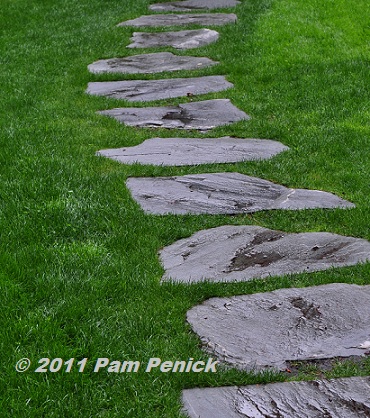 The simple beauty of wet flagstone set in grass…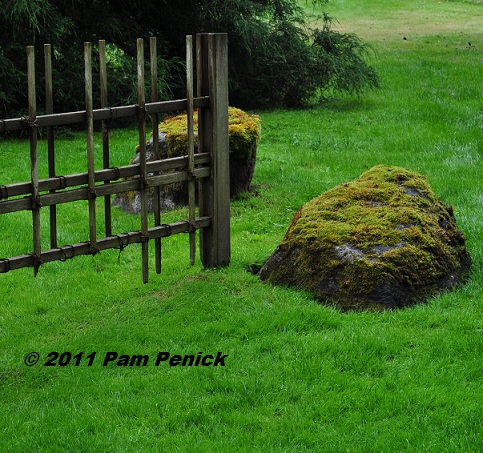 …and mossy boulders.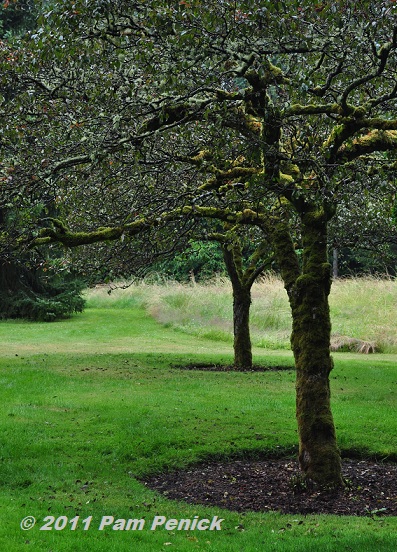 In spring I am sure these flowering fruit trees (cherry? apple? peach?), mossy-trunked and -limbed, awaken with a profusion of frothy blooms.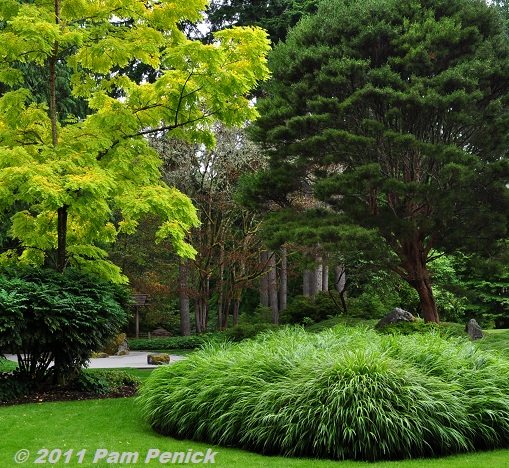 Beautiful texture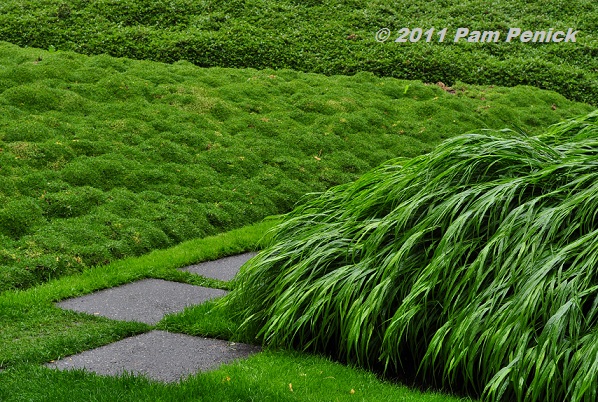 I admired this zig-zagging design of groundcovers.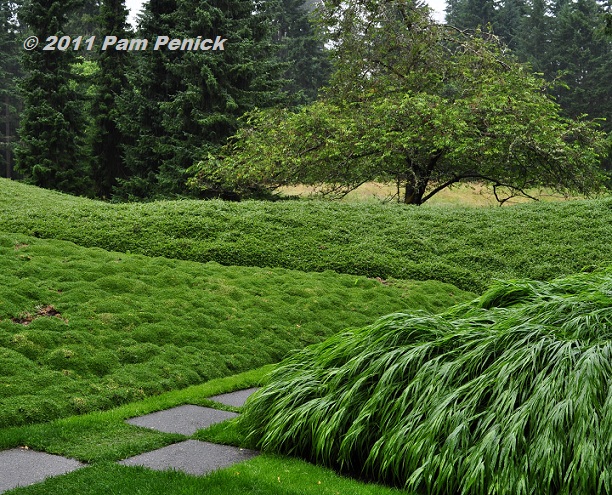 A wider view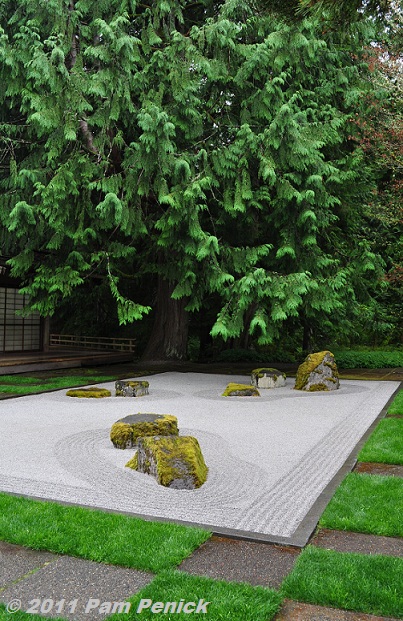 A Zen garden offers a restful spot for contemplation in front of the guest house, built to resemble a Japanese tea house.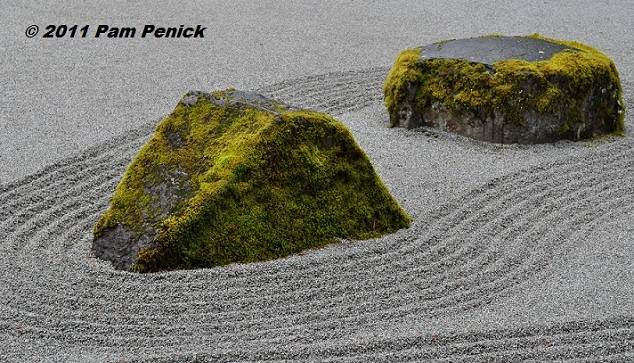 Stone and moss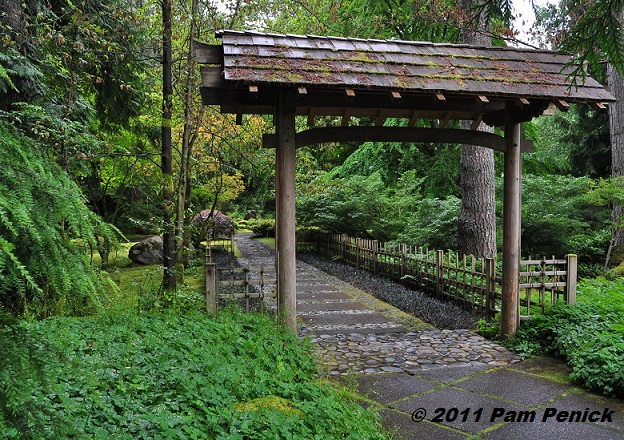 Another gate and a more formal walk lead out toward the moss garden, but I'm not ready to leave the Japanese garden just yet.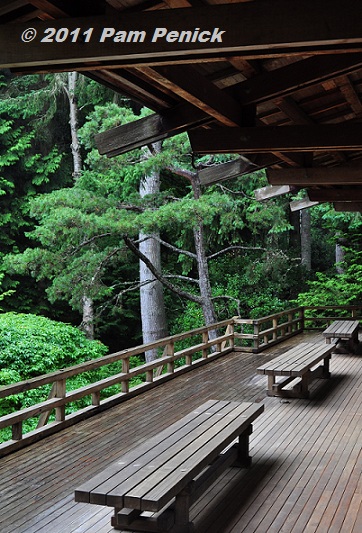 In back of the guest/tea house, a sheltered deck and benches…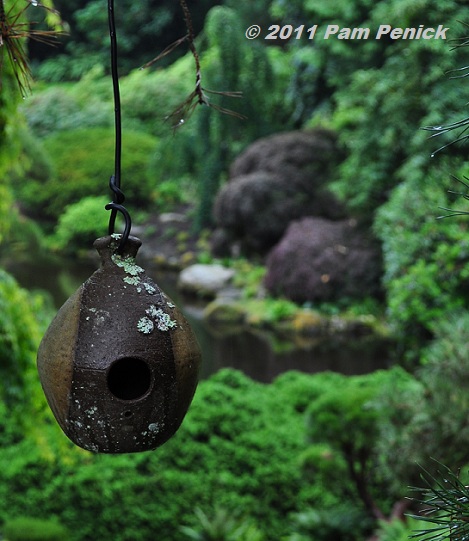 …an overlook…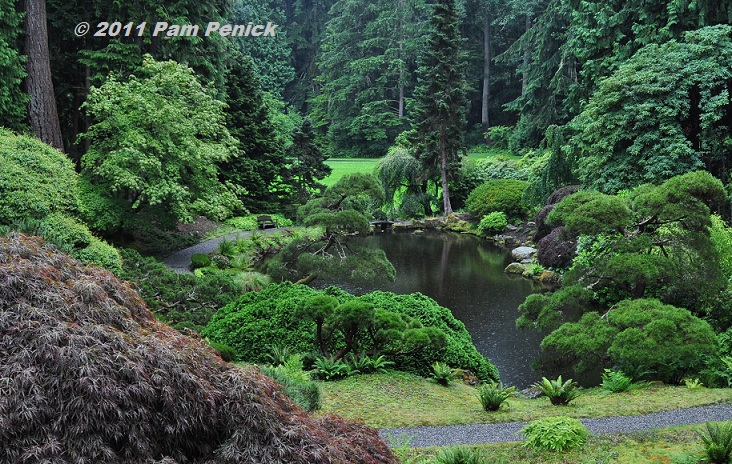 …and a view of pond and garden.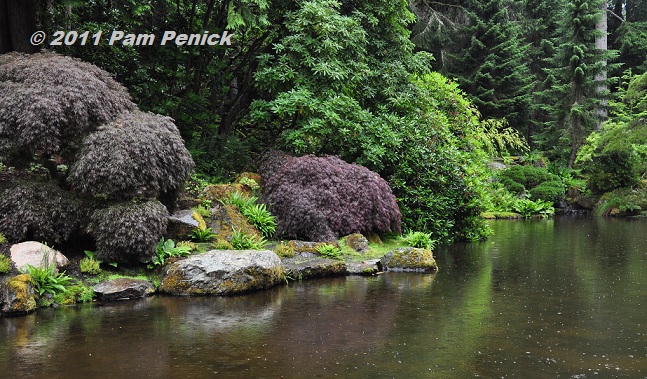 You can see raindrops on the pond.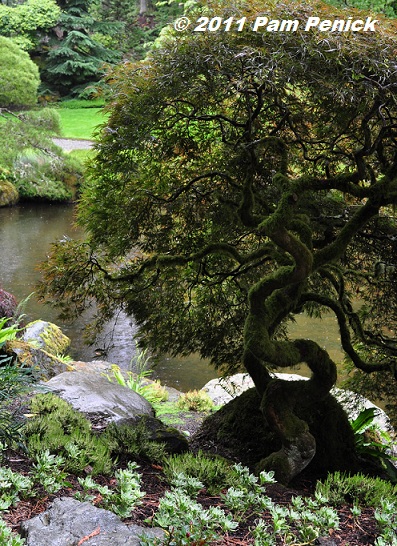 An elegantly contorted Japanese maple perches on one of the banks.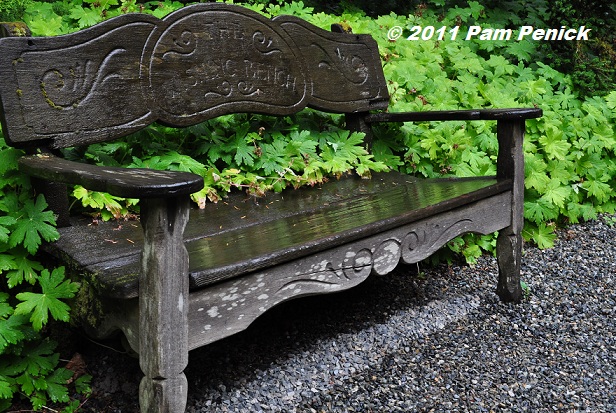 A "wishing bench" overlooks the pond too.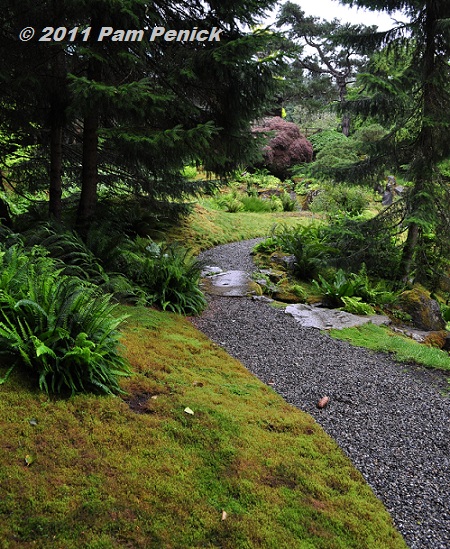 And now on to the moss garden.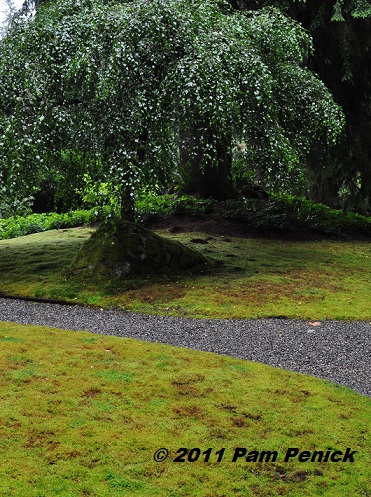 I'd never seen anything like these golden carpets of moss.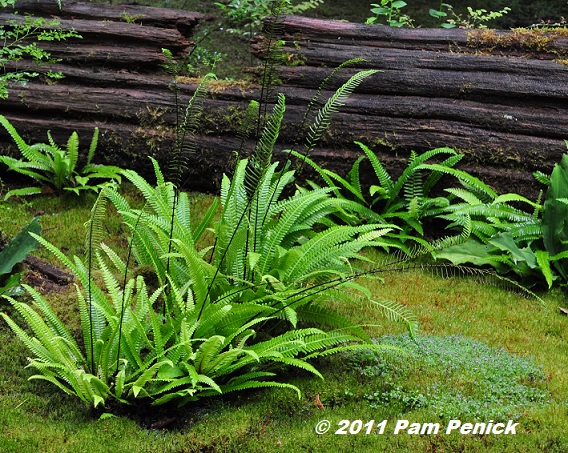 Ferns, artfully planted, are set off by frames of moss. New fronds stick up like feather quills.

The sinuous branches of trees leaning toward the light wear cloaks of moss.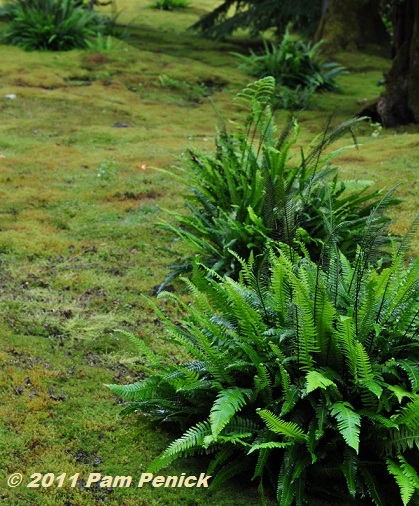 Such sumptuous, soft texture. This is a much gentler climate than that of thorny, prickly central Texas.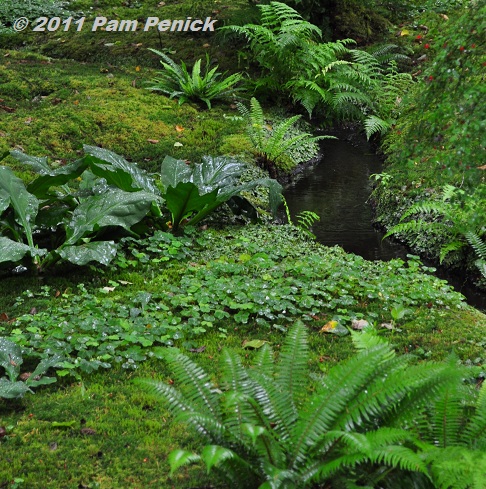 Near constant moisture makes it all possible.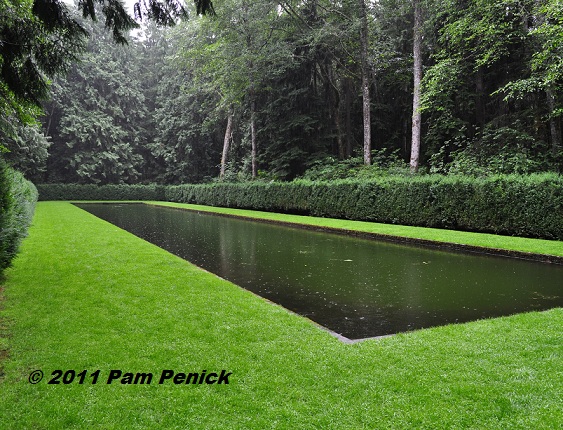 An opening in the woods, and a formal reflection pool appears. I understand that the Bloedels are buried here. I can't imagine a more peaceful resting place.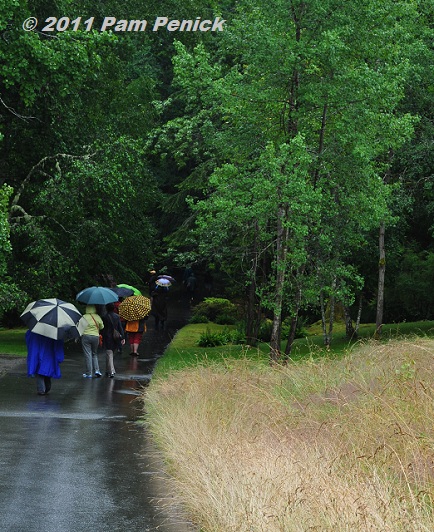 I don't feel that my words or pictures have done justice to the beauty, serenity, and quiet joy of the Bloedel Reserve. But I hope they inspire you to visit one day. I'm astonished to think that I'd never heard of the place until the Garden Bloggers Fling, because it's one of those incredible gardens that any lover of nature or gardens should visit.
Up next: A happy-hour, end-of-the-Fling visit to Dragonfly Farms Nursery in Kingston, WA. For a look back at the color-rich Farley Garden, click here.
All material © 2006-2011 by Pam Penick for Digging. Unauthorized reproduction prohibited.