August 13th, 2011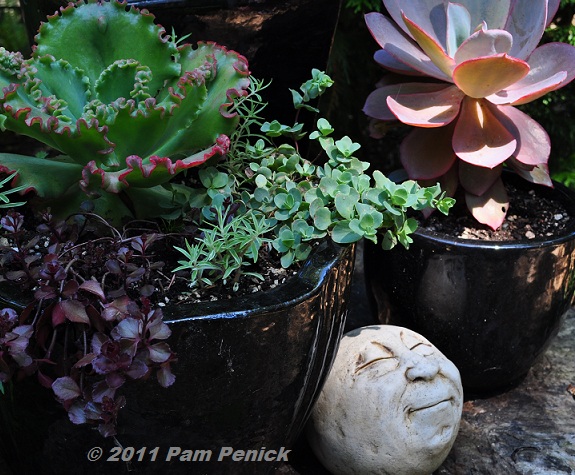 Faces upturned to the warm sunshine—that's how Seattleites greet the sun, when it appears
Woodland gardens were expected at the Seattle Garden Bloggers Fling last month. But mix in a classical folly dripping with flowers, glass art, reflective water features, a sophisticated outdoor-kitchen patio, and the magic of shade-to-sun transitions, and you have the garden of Denise Lane.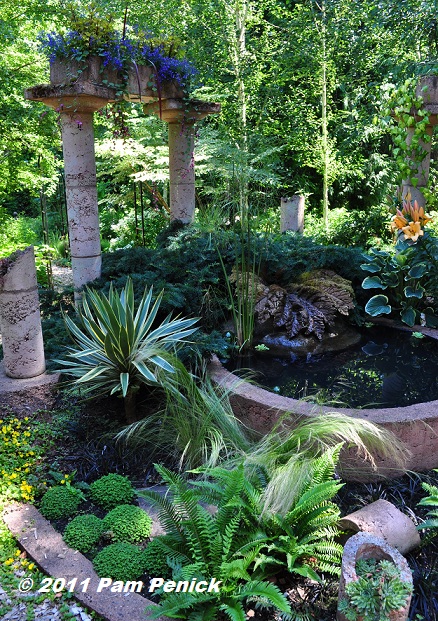 We enjoyed an al fresco lunch in the Lane Garden on Day Two of the Fling. Afterward 70+ garden bloggers dispersed through the 1-acre garden to explore its winding paths, shade gardens, and sunny glades. Not far from the patio where we ate, but hidden from view until you enter the space, stands a romantic, flower-topped "ruin" and circular pond.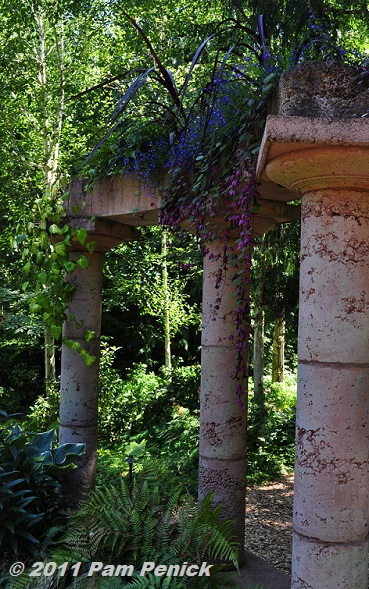 As if decayed over time, some of the columns are "broken," and flowering plants cascade from above…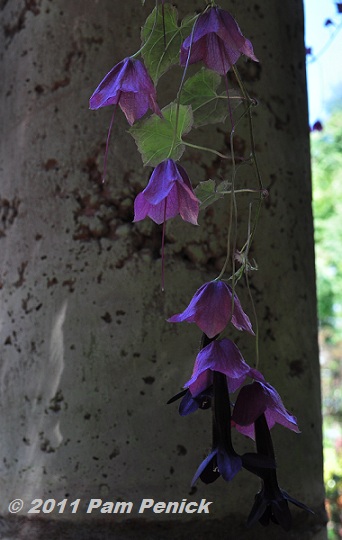 …including this trailing beauty.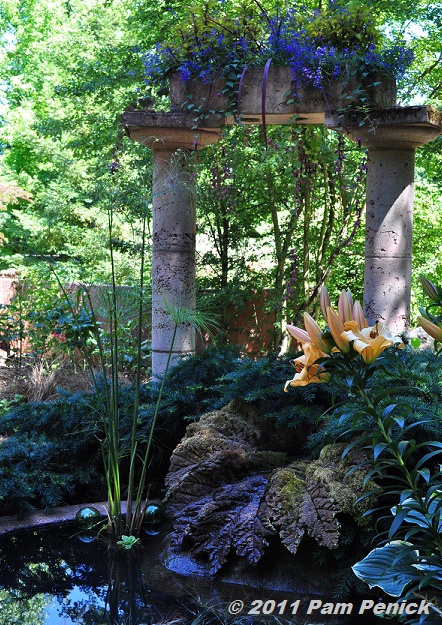 A cast of an enormous gunnera leaf, colonized by moss, is the source of a trickling stream that feeds the pond.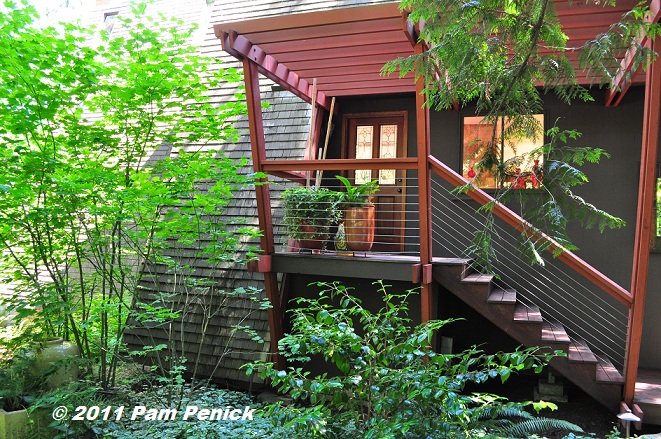 The home's contemporary entry is tucked into a woodland garden.

But in back a fancy outdoor kitchen and contemporary patio offers gathering space in the sun.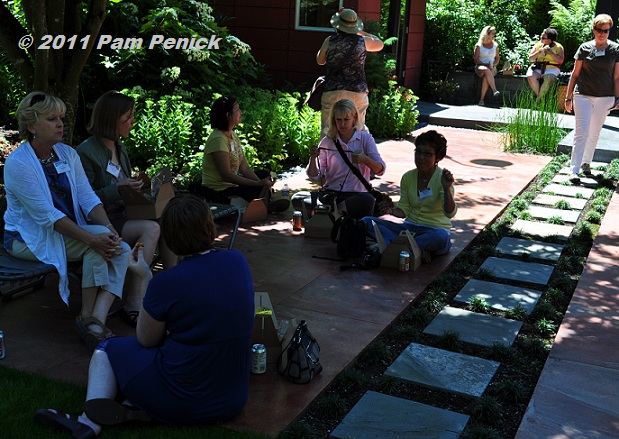 The day was surprisingly warm, so many bloggers retreated to the shade to rest and socialize.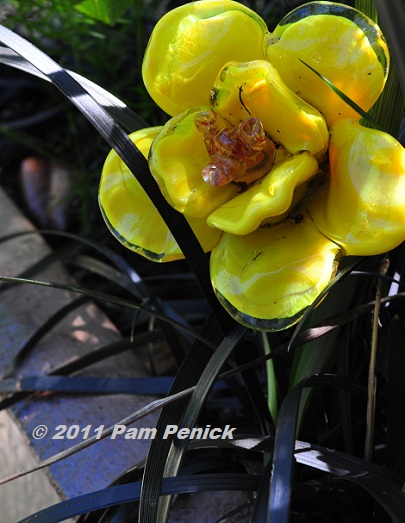 Colorful glass accents appear throughout the garden—and indeed, in many Seattle gardens we visited.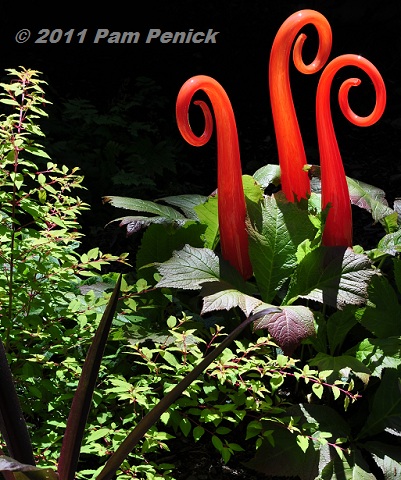 Seattle has a thing for glass blowing.

Clearly, no worries about hailstorms here.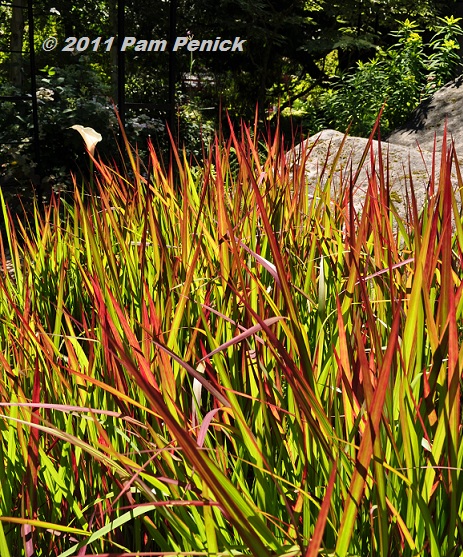 In the bright sunlight, blood grass glows like stained glass.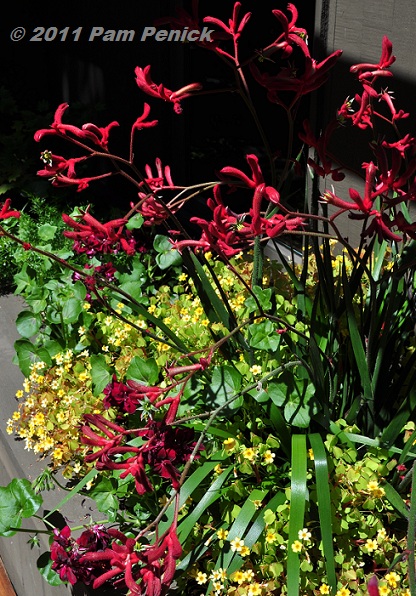 Hot colors seem to pulse.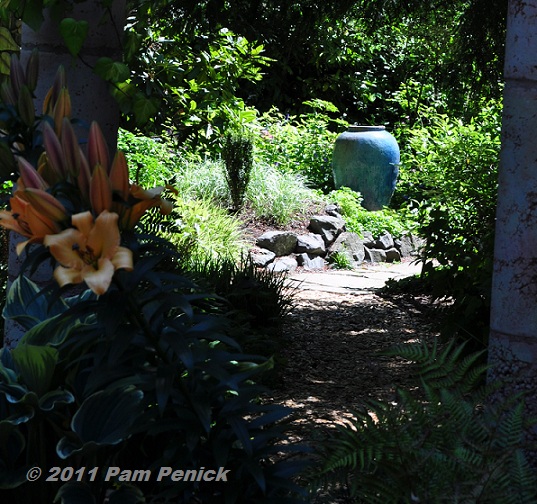 Transitions from shade to sun can be magical, and this garden makes the most of them. Here a blue pot beckons you onward from the ruin's protective columns.

Sunlight glances off fern fronds, creating a play of light even in the shadows.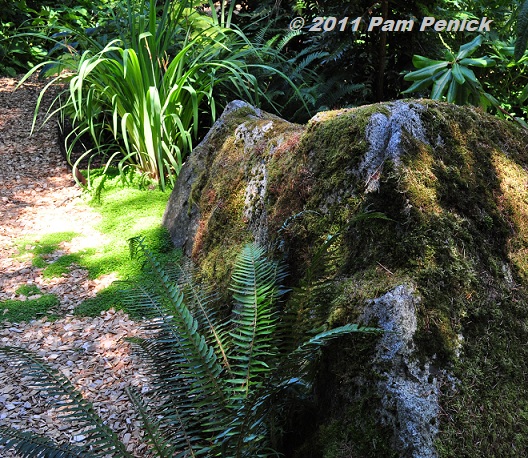 A rolling stone gathers no moss, but this massive boulder isn't going anywhere.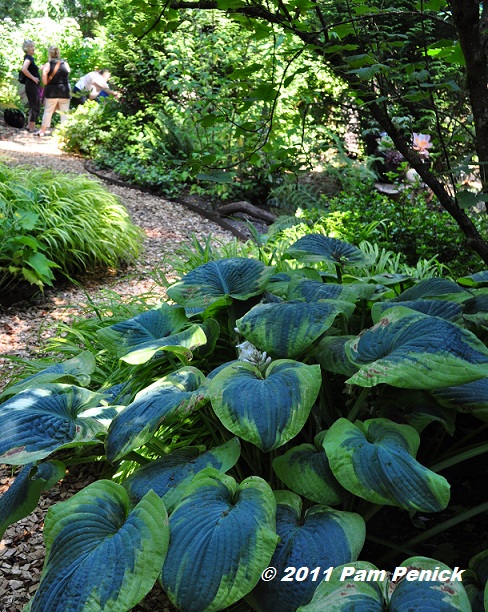 Hosta and a curving woodland path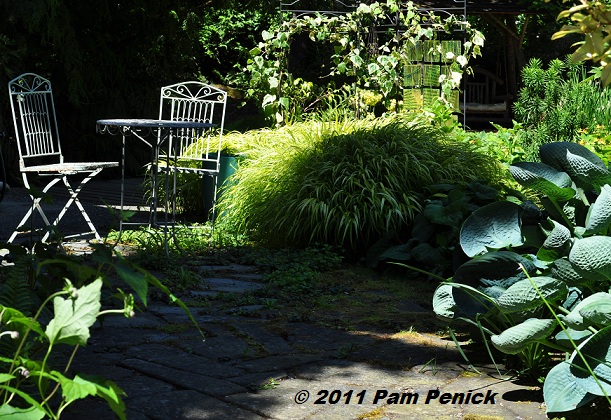 A bistro seating area catches a spot of sun and attracts the eye.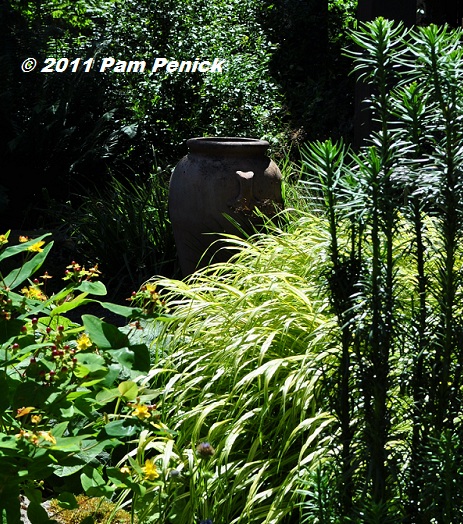 More sun and shade contrasts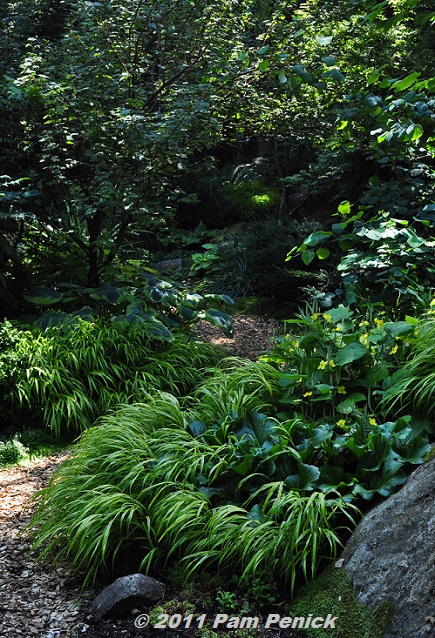 These curving paths are so enticing. You can't see what's around each bend, and so you are pulled along, eager to see what's next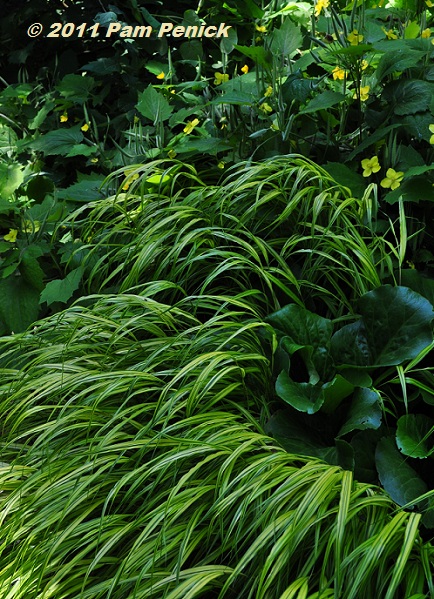 Japanese forest grass (Hakonechloa)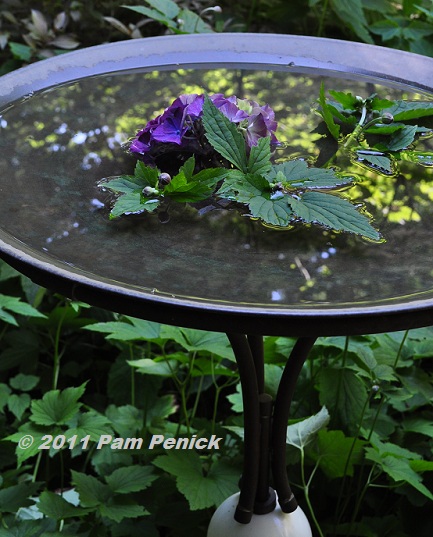 Floating in each birdbath—fresh-picked posies and leaves from the garden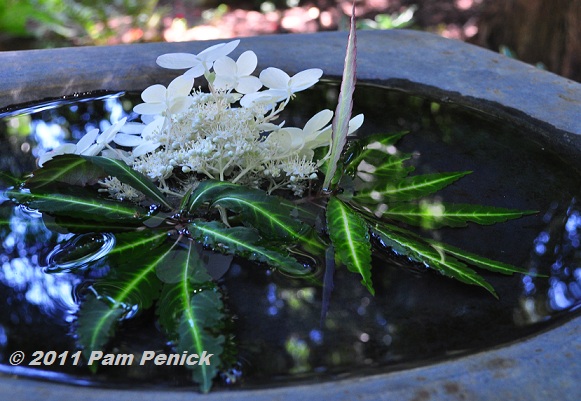 They look especially lovely in the shady woodland garden.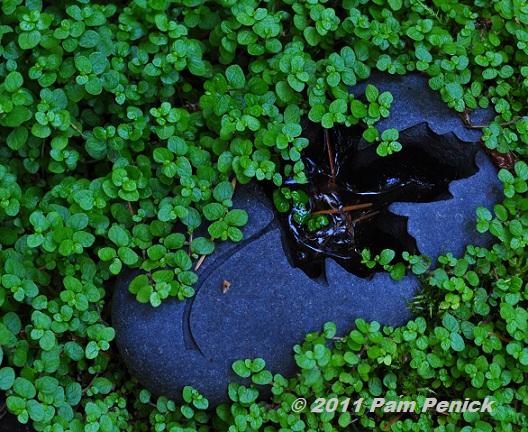 Even the smallest details are not overlooked. This rain-filled carved leaf lies in a fine-textured groundcover.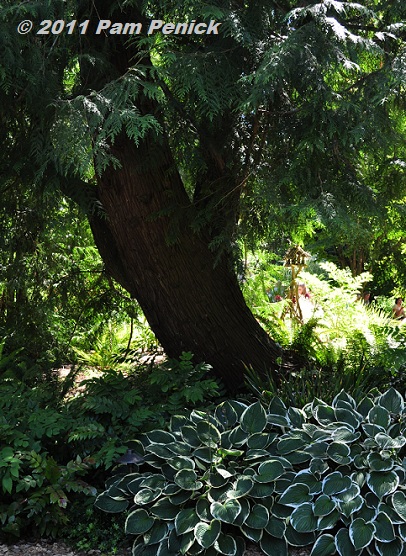 Trees receive their own starring role.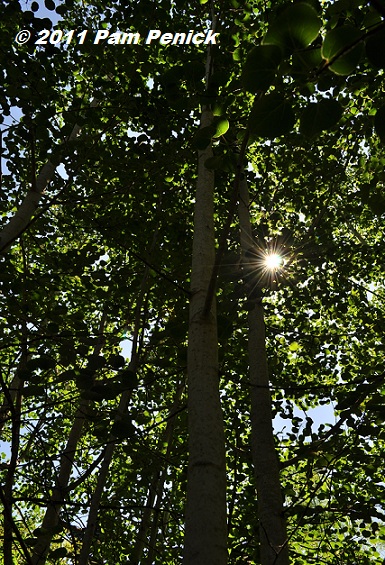 Tall, skinny birches nearly block the sun, which gamely tries to shine through.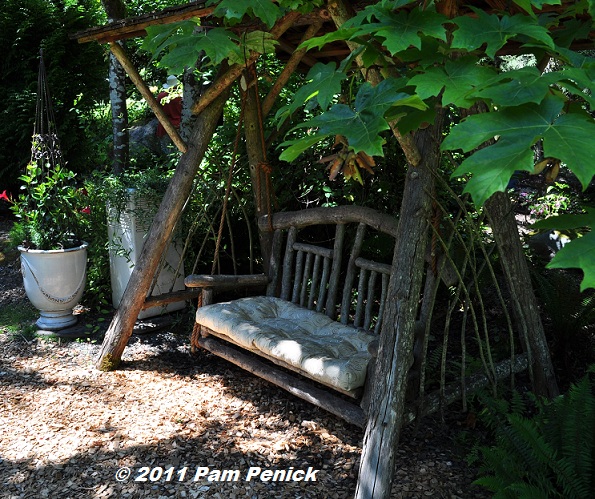 Tree magic is also manmade, like this swing constructed of massive branches…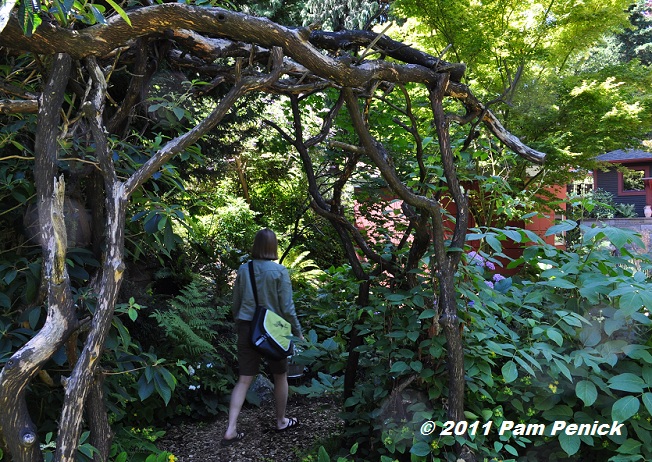 …and an arbor fashioned out of twisted, gnarled limbs.
Next up: A few pics from Bellevue Botanic Gardens and Pike Place Market. For a look back at the Epping Garden with its stunning downtown view, click here.
All material © 2006-2011 by Pam Penick for Digging. Unauthorized reproduction prohibited.